Pumpkin Gingersnap Pie is perfect for your Thanksgiving table. A creamy filling, crunchy ginger crust and maple whipped cream makes the most amazing combination.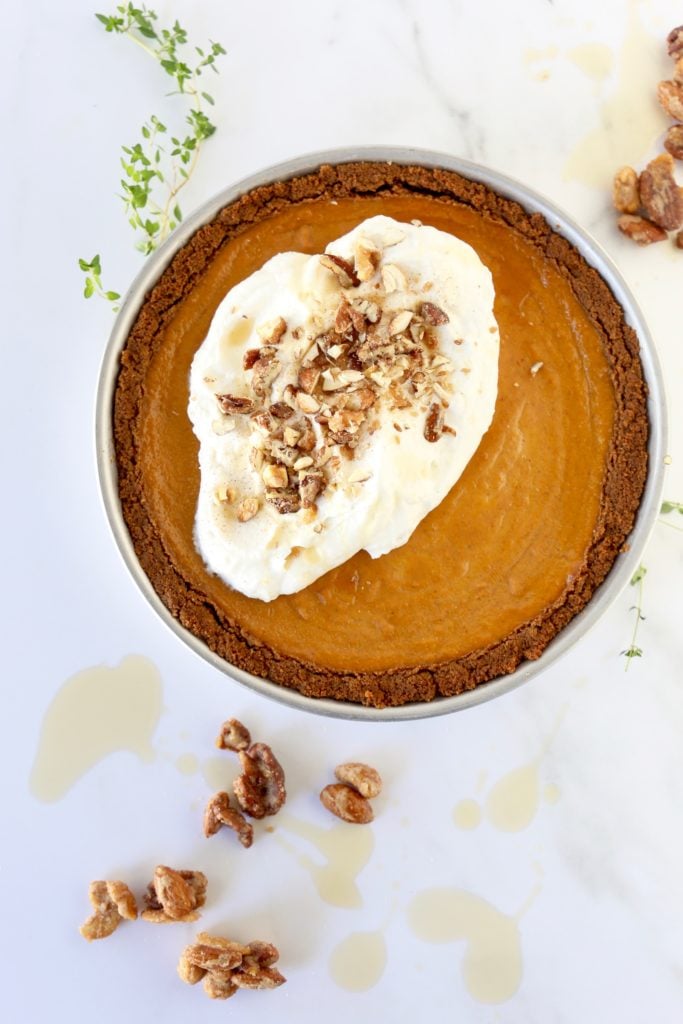 One week until my favorite day of the year! I really do love Thanksgiving, not just for the food but for the peaceful day spent purely to enjoy with family. There are no other obligations and no expectations, just good food and so many reasons to be thankful.
I know everyone has their FAVORITE pumpkin pie recipe and I have officially found mine, Pumpkin Gingersnap Pie. I do love most things pumpkin once September comes around, but I really only eat pumpkin pie on Thanksgiving Day. It is one of those desserts I can't over do it with and if I am going to eat it, it has to be GOOD.
I love this recipe, it is creamy, not overly sweet and has the perfect amount of spice. The crust is made of crumbled gingersnap cookies, which makes the best texture and rich flavor and the whipped cream is sweetened with maple syrup.
Pumpkin Gingersnap Pie
Ingredients
Gingersnap Crust
2 Cups

Gingersnap Cookie, Crushed

1/4 Cup

Unsalted Butter, Melted

1 Tbsp

Granulated Sugar
Pumpkin Pie Filling
1

(15oz) Can Pumpkin Puree

1

(14oz) Can Sweetened Condensed Milk

1/4 Cup

Sour Cream

1 1/2 tsp

Ground Cinnamon

1/2 tsp

Ground Ginger

1/2 tsp

Vanilla Extract

2

Eggs
Maple Whipped Cream
2 Cup

Heavy Whipping Cream

1/4 Cup

Powdered Sugar

2 Tbsp

Maple Syrup
Instructions
Gingersnap Crust
Preheat oven to 350 degrees F
In a food processor, pulse the gingersnap cookies until made into a fine crumb
In a small bowl combine the gingersnap crumb, sugar and butter and mix until combined
Press the gingersnap mixture into a pie pan and press until it cover the bottom and sides of the pie pan and packed tight
Set crust aside
Pumpkin Pie Filling
In a medium bowl, combine the pumpkin puree, condensed milk, sour cream, spices, vanilla extract and eggs
Whisk until smooth and pour into gingersnap pie crust
Bake the pie for 30-40 minutes or until the filling is firm and golden
Maple Whipped Cream
In a mixing bowl with whisk attachment, whisk the heavy cream until it starts to thicken
Add the powdered sugar and maple syrup to the heavy whipping cream and whisk until thick and stiff peaks (don't over mix)
Once the pie is cooled, spread the whipped cream on top of the pumpkin pie
Garnish with crushed candied nuts and drizzle with maple syrup
Notes
Garnish
Candied Nuts, crushed
Maple Syrup Drizzle
Thanks for stopping by and I can't wait to hear about all your Thanksgiving Pie creations!