Taking a classic chocolate chip cookie to the next level and super easy to serve a crowd.  Brown Butter Skillet Chocolate Chip Cookie made in a cast iron skillet with brown butter, loaded with chocolate chips and pecan only gets better when enjoyed warm with several scoops of ice cream.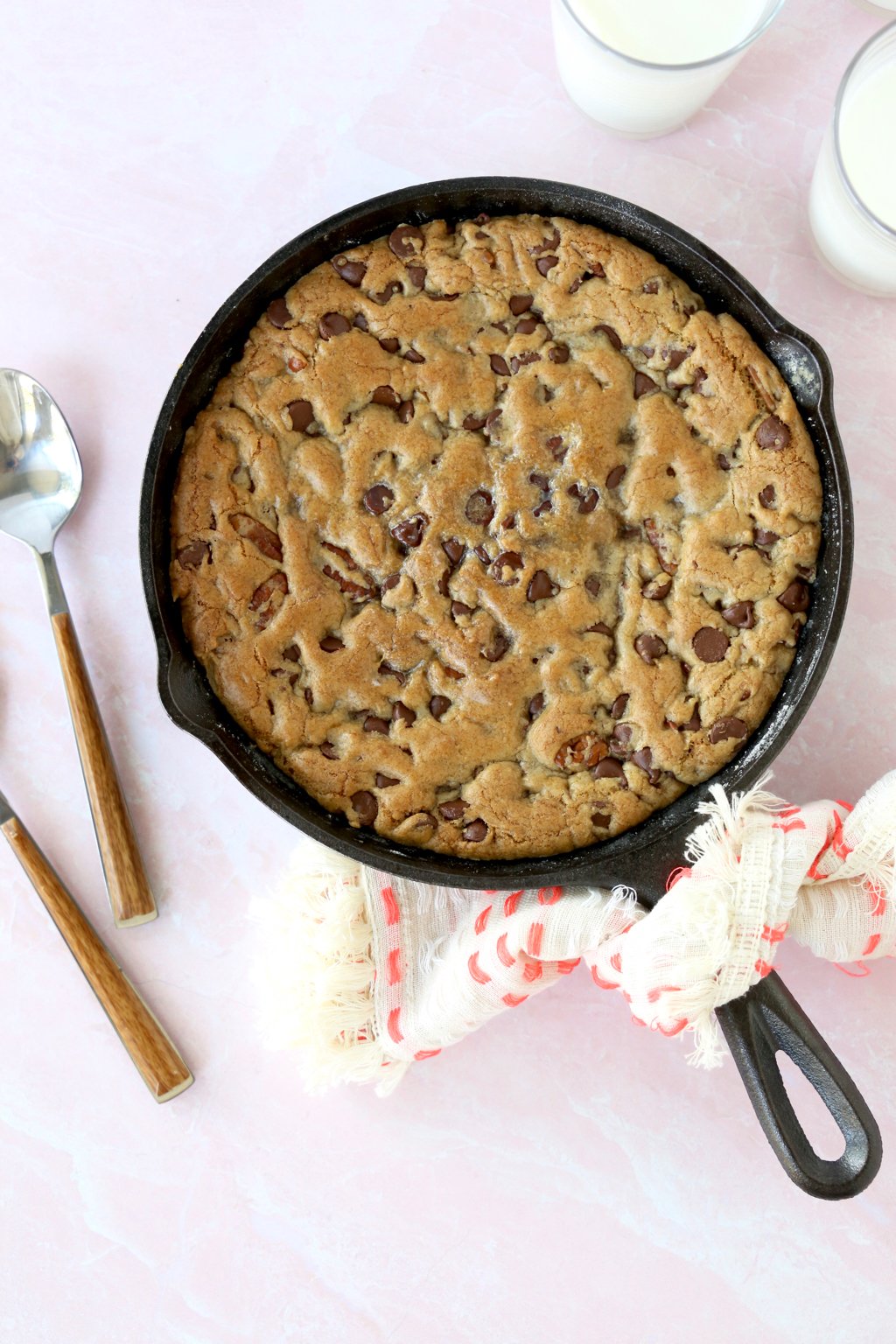 We have a love for chocolate chip cookies in our home and always creating new recipes with new ingredients to make them the best each time.  Grab your cast iron skillet and I promise you, it will be the best and easiest cookie you will make.
While summer is hot and it is hard to turn on your oven, this Brown Butter Skillet Chocolate Chip Cookie is worth it and it will serve a crowd in no time at all.  Using the skillet to brown the butter will add depth and a nuttiness to the flavor combined with semi sweet chocolate chips and pecan pieces, you are in for a treat.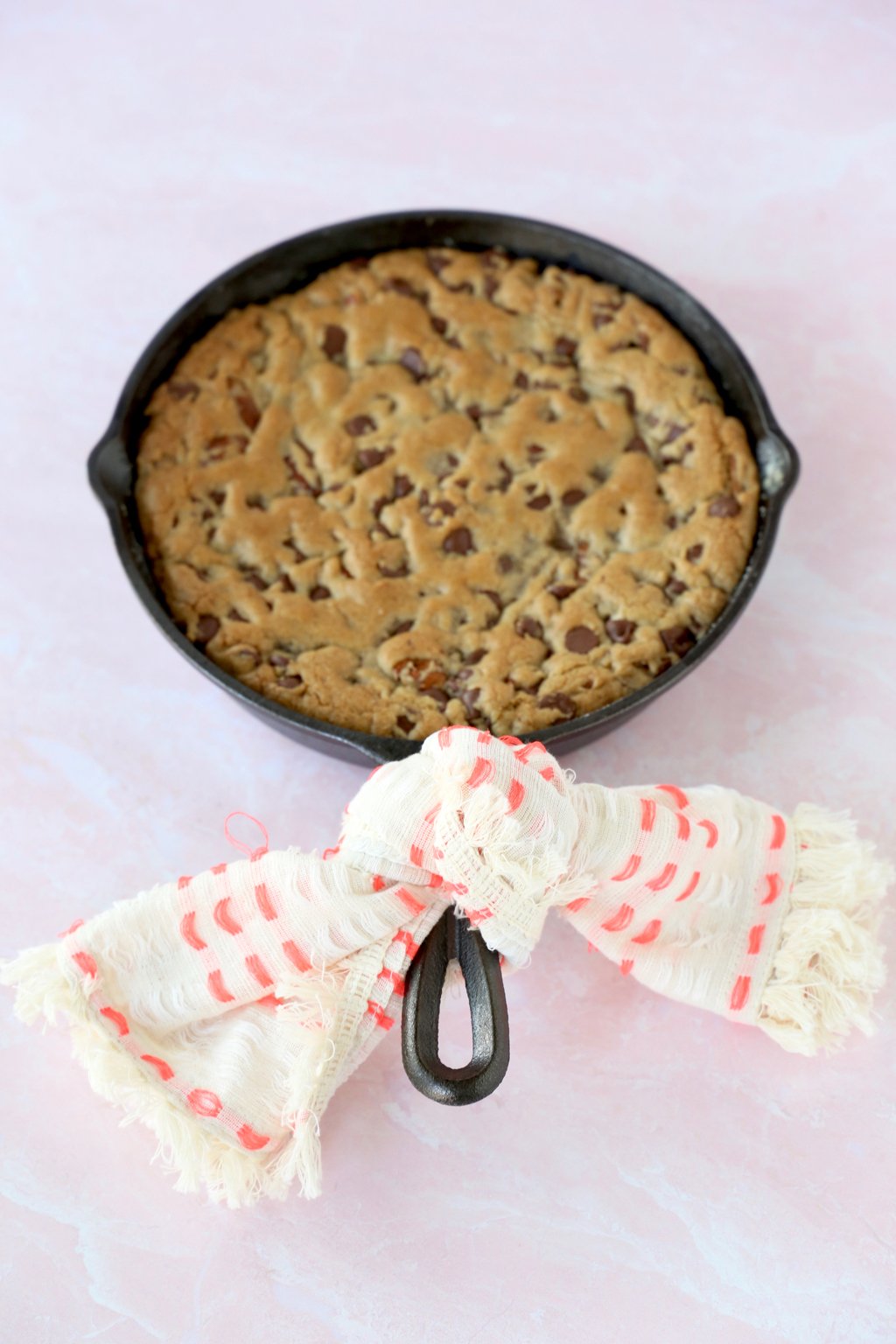 Browned Butter 
Melting the butter to stir into the cookie batter is a simple step in making this chocolate chip cookie, but browning the butter will add a great flavor that is so worth it.  Add a ½ cup of butter to the cast iron skillet and let it melt completely.  Once it is melted you will want to stand by to be sure that it browns but does not burn.  The butter will start to bubble and then a foam will cover the top, stir the butter slowly with a spatula so that you can see the color of the butter changing.  Once the butter starts to brown the foam will slowly go away and you will see the golden color shine through and a some speckles of the caramelized butter on the bottom of the pan.  Turn the oven off and allow the butter to cool completely before continuing on with the skillet cookie batter.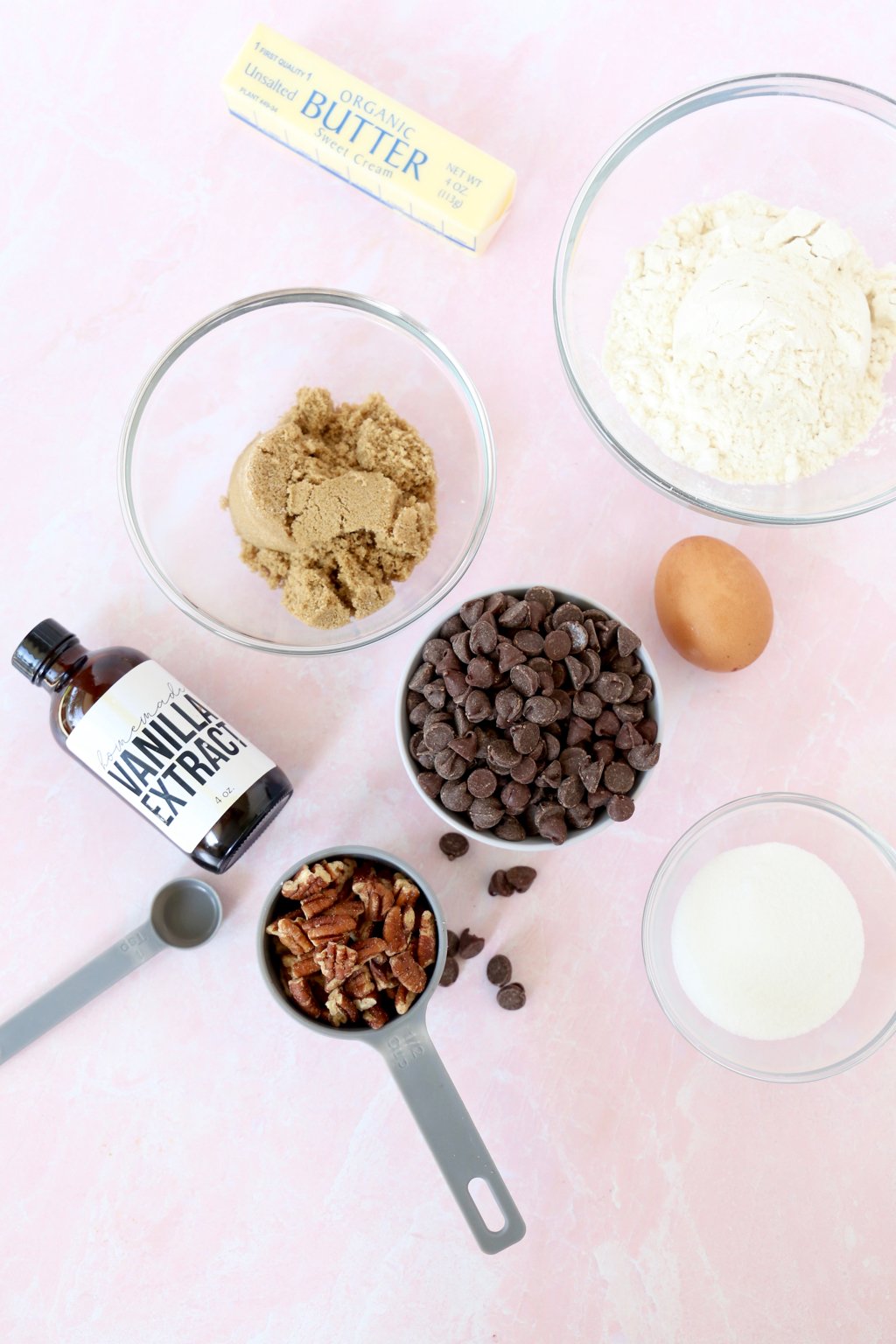 Sugar
My favorite cookie recipes combine light brown sugar and granulated sugar for sweetness and texture.  The light brown sugar adds a moist and chewy texture to the cookies because of the molasses that in brown sugar.
Egg
Use one large egg and whisk it into the melted butter and sugar combination.
Flour
All purpose flour is most commonly used in cookie batter recipes.  Although all purpose is tested and recommend I have made this Brown Butter Skillet Chocolate Chip Cookie with 1 to 1 Gluten Free Flour and it works great!
Baking Soda
Baking soda, baking powder or both are commonly used in chocolate chip cookie batter, but this recipe is only using baking soda.  Baking soda is the leavening agent that helps create a soft and fluffy cookie
Semi Sweet Chocolate Chips
In a skillet cookie, the more chocolate the better and this one is loaded with chocolate chips.  I prefer semi sweet but if you enjoy dark chocolate or milk chocolate these can be substituted as well.
Pecans (0ptional)
Loading up the skillet cookie is a fun way to personalize this to be your go to recipe.  Add pecans for extra crunch and a nutty flavor, but almonds, walnuts or even a salty treat like pretzels can be added to the batter.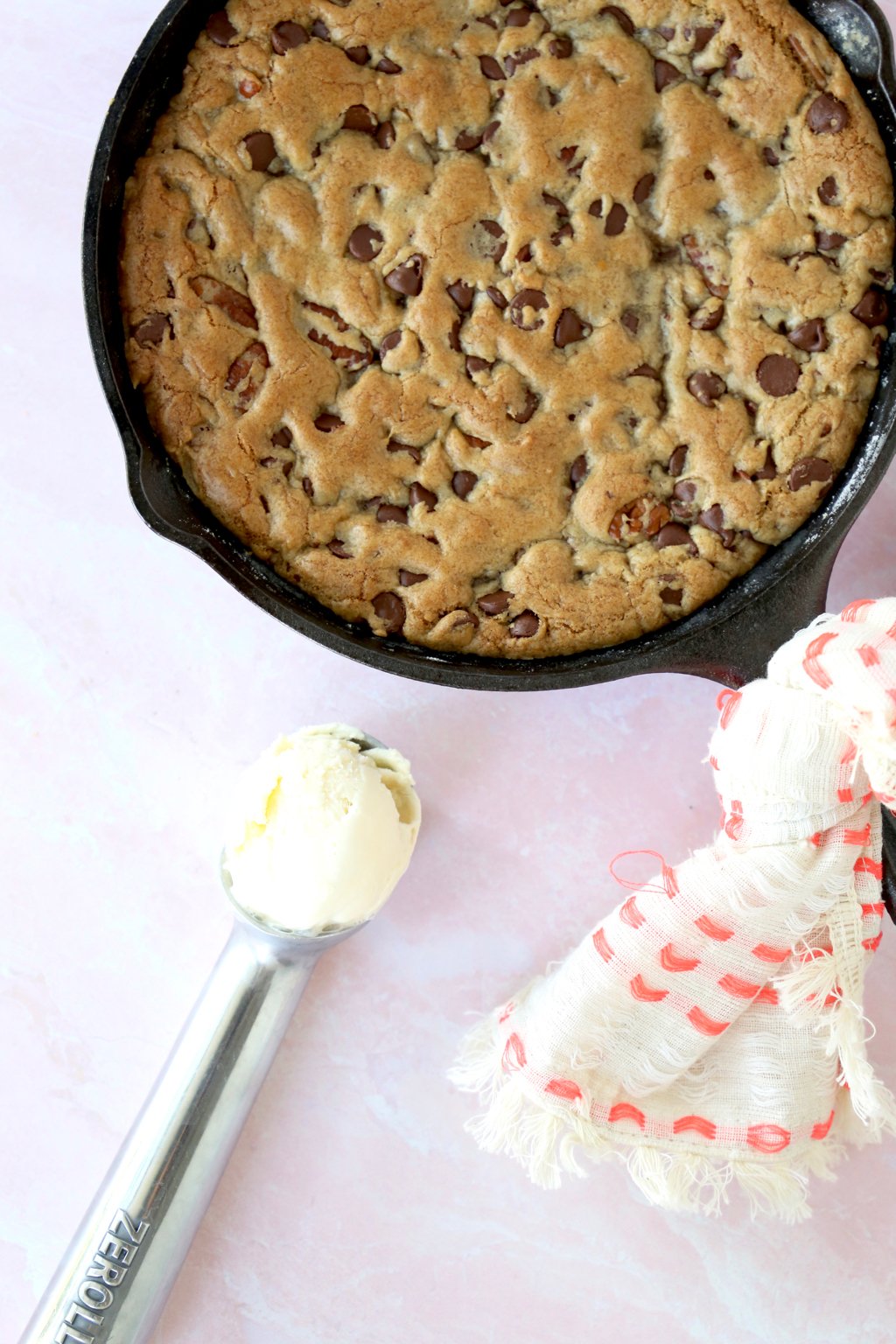 The biggest scoop or three of your favorite ice cream is all that is left to make this the best Brown Butter Skillet Chocolate Chip Cookie.  The warm cookie with the cold and creamy ice cream is exactly what you need this summer.  Happy Baking!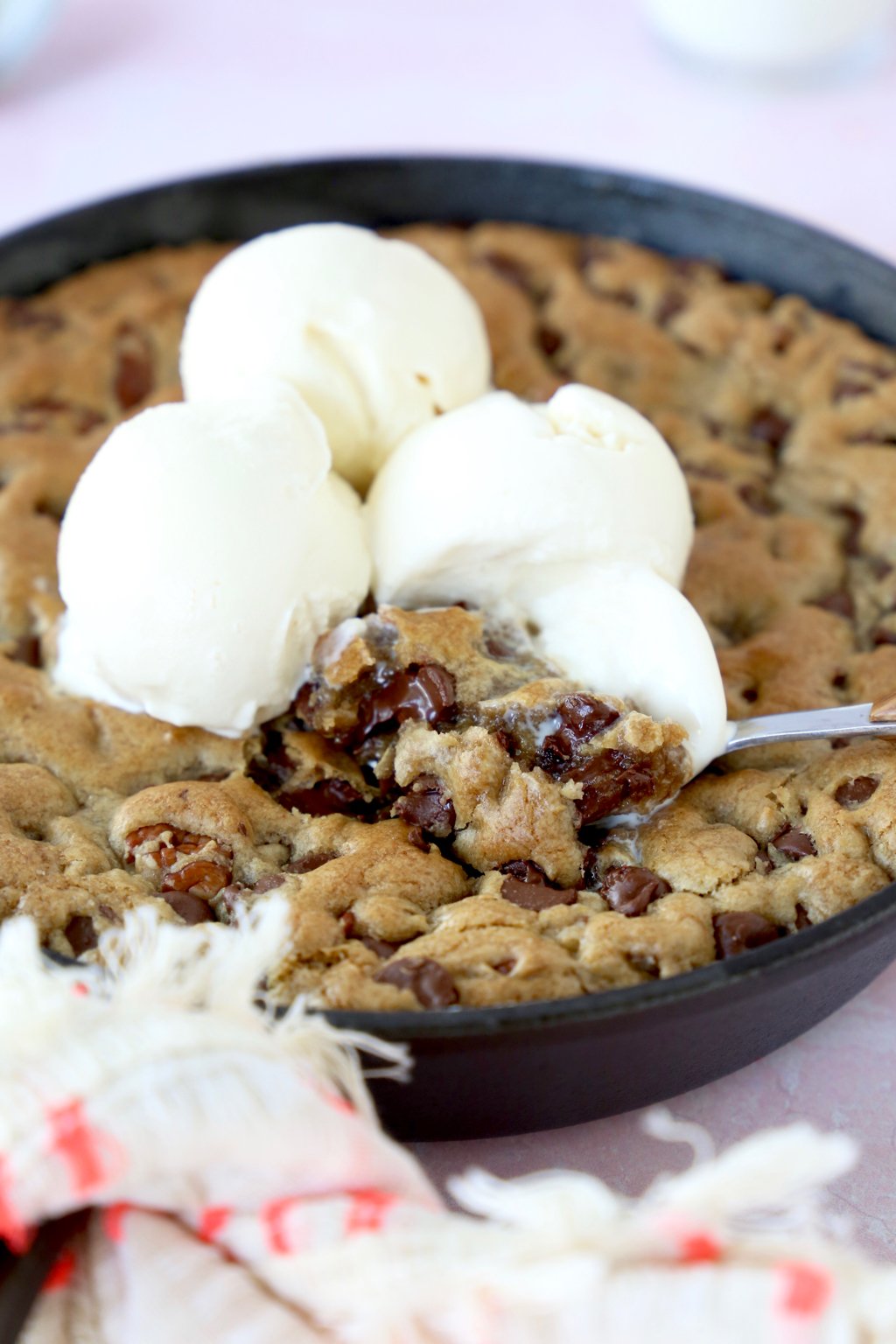 Print
Brown Butter Skillet Chocolate Chip Cookie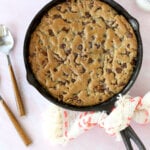 1 ¼ Cups all purpose flour
½ teaspoon baking soda
½ teaspoon salt
½  Cup (1 stick) unsalted butter
½ Cup Light Brown Sugar
¼ Cup Granulated Sugar
½ teaspoon Vanilla Extract
1 Egg
1 ½  Cup Semi Sweet Chocolate Chips
½ Cup Chopped Pecans (optional) 
Instructions
Preheat oven to 350 degrees F 

Place the butter in a 8 inch cast iron skillet and melt until lightly golden in color; turn off the stove and it will continue to turn into brown butter

Allow the brown butter to cool completely

In a small bowl combine the flour, baking soda and salt; set aside  

Once the butter is cooled, pour the butter into a medium mixing bowl and whisk together with the light brown sugar and granulated sugar

Whisk the egg and vanilla extract into the butter and sugar mixture and mix until fully combined 

Gradually add flour, baking soda, and salt mixture and mix until fully combined

Fold the chocolate chips and pecan pieces into the cookie batter 

Spread the Brown Butter Chocolate Chip Cookie Dough back into the 8 inch cast iron skillet 

Bake for approximately 13-15  minutes or until the top is light golden brown (it keeps baking once it is out of the oven so don't over bake it!)

Allow the Brown Butter Skillet Chocolate Chip Cookie to cool for 5 minutes before serving with ice cream and spoons for all to enjoy!  
*remember the cast iron skillet will be hot so serve with caution