The breakfast of summer, Tropical Avocado Smoothie is loaded with healthy fats, fruit, and antioxidants! It's the perfect way to keep cool and get amazing nutrients!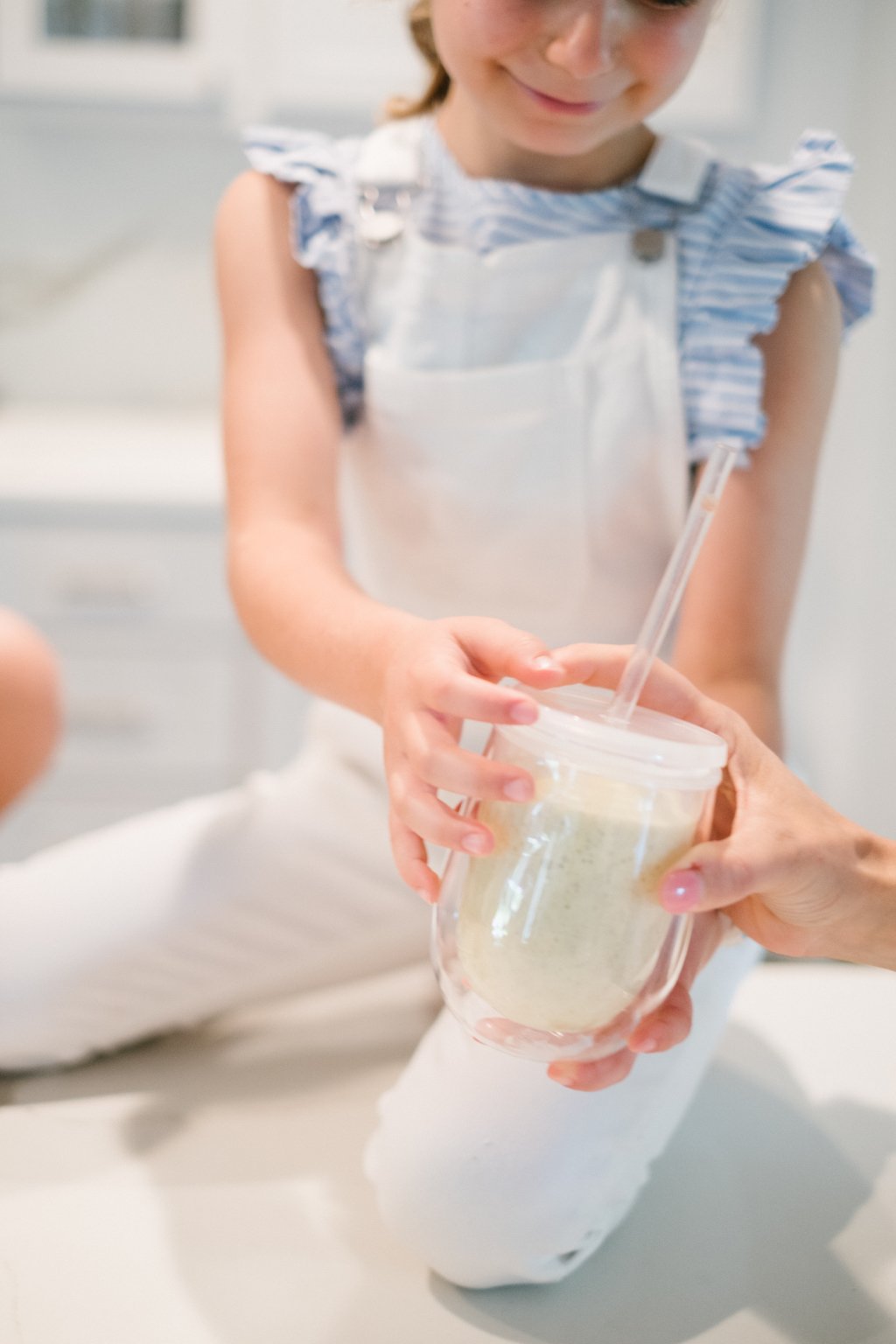 I have decided that June is going to be Kids in the Kitchen Month on Joy + Oliver! Since my girls are out of school they have a list of things they want to bake and learn this summer. This makes my heart so happy! Smoothies, cupcakes, french macarons and so much more is on their list. We have some other super fun things coming for you in the next week, but first up is our favorite smoothie.  
Without fail, a smoothie is requested every morning or afternoon and I'm kind of craving them as well. With the heat coming on strong, a Tropical Avocado Smoothie is so refreshing and loaded with healthy fats, fruit, and antioxidants.  
Smoothies are so refreshing and give a hint of sweetness. They are the perfect snack since they are filling enough to carry us through to the next meal. Although a smoothie can be loaded with just fruit, I try to add ingredients that will benefit myself and my family throughout the day. Adding avocado to your smoothie will add a creamy texture and because it is a healthy fat, it will keep you full much longer. 
Mango, pineapple, and banana are a few of my favorite flavors that will make you feel like you're relaxing on a beach with your favorite frozen cocktail. Avocado pairs perfectly with all the fruit. Adding chia seeds will top this smoothie off with not only great flavor but will have several health benefits…just a bonus! Chia seeds are amazing, nutrient-dense little seeds! They are high in antioxidants and fiber, and they will add protein to your day. 
The best part about smoothies is that now my girls can make their own. They love playing around with flavors and really just playing with the blender 🙂 Another fun summer treat option is a Strawberry Banana Smoothie Popsicle! Hope you are having a great summer and try to get your kids in the kitchen with you!
Ingredients
Mango- frozen chunks for the best consistency, no ice needed!
Pineapple- frozen chunks of pineapple, too!
Banana- a fresh, ripe banana works best
Avocado- half of a peeled avocado adds creaminess
Chia seeds- for all the extra nutrients!
Almond Milk- to give the smoothie its perfect smooth, creamy texture
Directions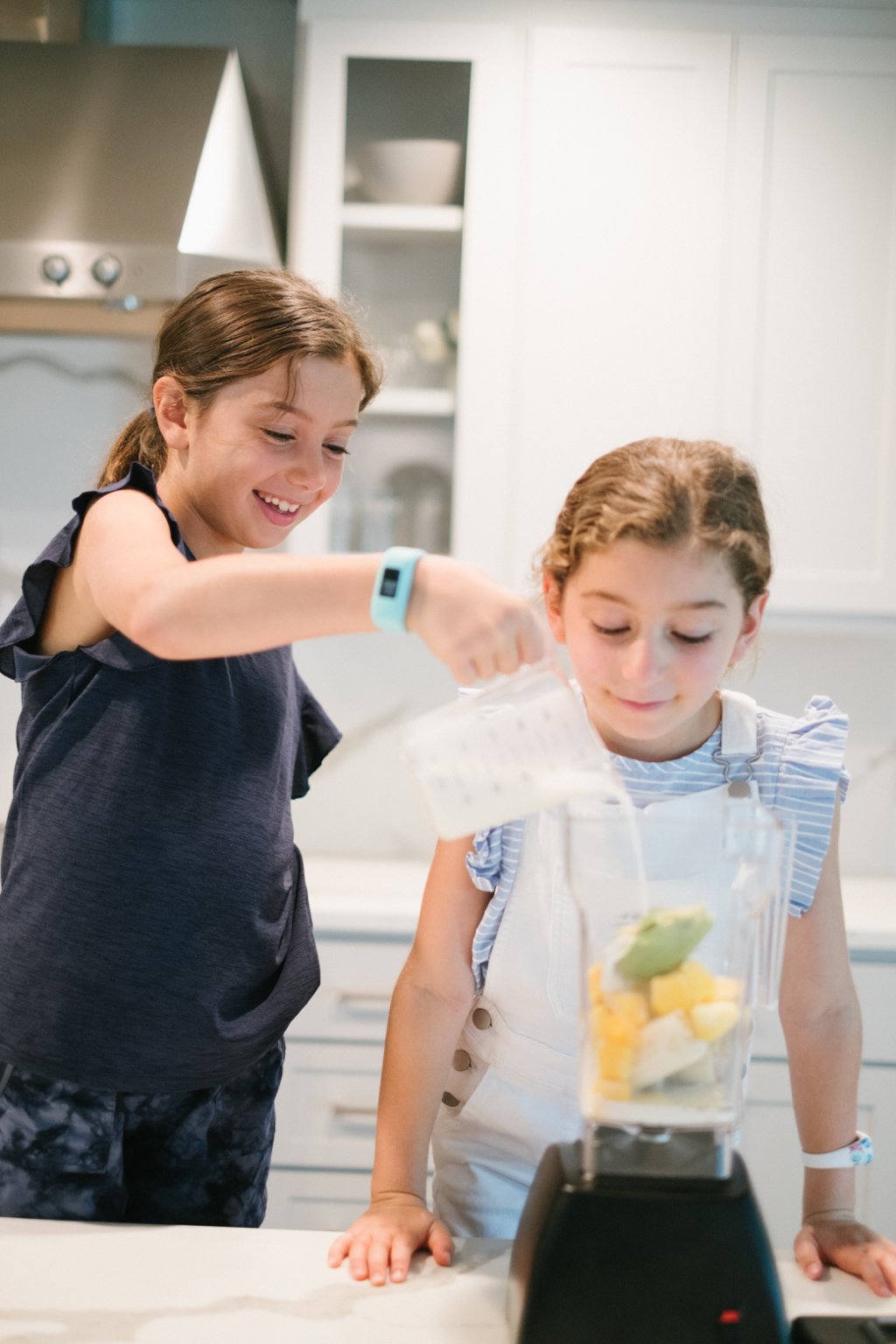 Put all the ingredients in a blender
Blend until smooth
Enjoy!
Tips For The Best Tropical Avocado Smoothie
You can really use any milk you want, but almond milk is a great dairy free option that's still creamy!
Feel free to include other add ins that are amazing in smoothies, like: plain greek yogurt, flaxseeds, spinach, or protein powder.
If you want to make this smoothie quickly when you're on the go, plan ahead by measuring a cup of the frozen mango and pineapple and place it in a plastic bag in the freezer. Then all you have to do is dump those and the rest of the ingredients in the blender and go!
Photography by Stephanie Drenka
More Recipes You Will Love
Thank you for visiting Joy + Oliver. If you tried this recipe, please leave a 5 Star Review in the recipe card and save all your favorite recipes to Pinterest!
Please visit us on Instagram, Facebook and Pinterest for more of our favorite recipes that you will love!
Print
Tropical Avocado Smoothie
The breakfast of summer, Tropical Avocado Smoothie is loaded with healthy fats, fruit, and loaded with antioxidants!
1 Cup

Frozen Mango Chunks

1 Cup

Frozen Pineapple Chunks

1

Banana, Fresh

½

Avocado, peeled

1 Tbsp

Chia Seeds

1 Cup

Almond Milk
Instructions
In a blender combine all ingredients
Blend until smooth
Serve immediately
Shop my kitchen!