Hazelnut Plum Linzer Cookies are a festive gluten free cookie that is nutty, buttery and filled with ground hazelnuts, a dash of cinnamon, sandwiched with a smooth plum jam and cut into the sweetest heart shape to share with the ones you love!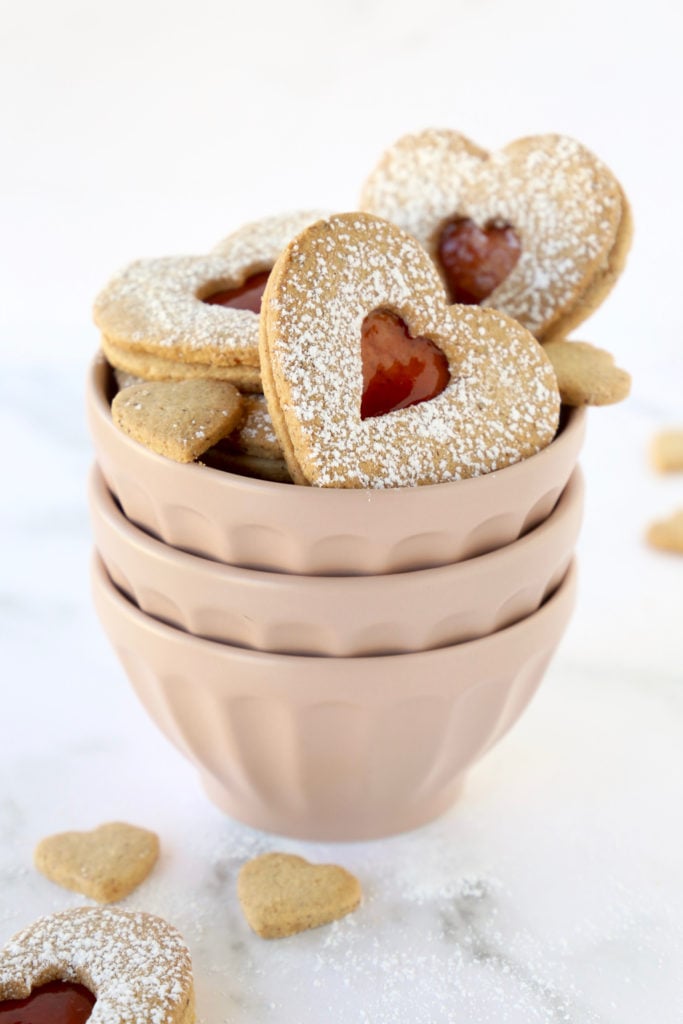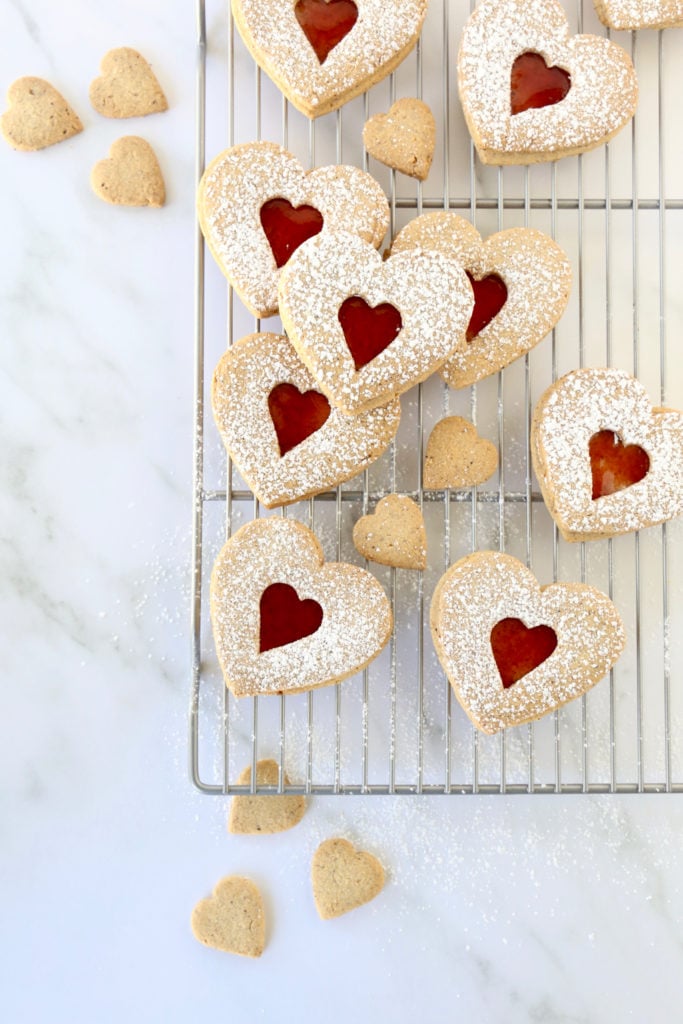 Hazelnut Plum Linzer Cookies are my love language.  Its not just the cute heart shape that makes these gluten free Hazelnut Plum Linzer Cookies so perfect.  They are nutty, buttery, made with gluten free flour, toasted ground hazelnuts, a dash of cinnamon and plum jam that seals the deal!
This cookie was dreamed up on a recent trip to Napa.  While we were enjoying some amazing wine, plum jam was paired with cheese and I kind of fell in love.  PLUM JAM…I knew that I needed it and I knew that I had to create a recipe with it.  Hazelnut Plum Linzer Cookies was the first thing that popped in my head.
Linzer cookies originated for Austria and come from the original linzer torte.  A linzer torte is a full size pastry/tart that has a crust, a jam center and a lattice top.  The Linzer Cookie gives you similar flavors but in a smaller portion.  I love that these cookies can be baked into different shapes to celebrate a specific season.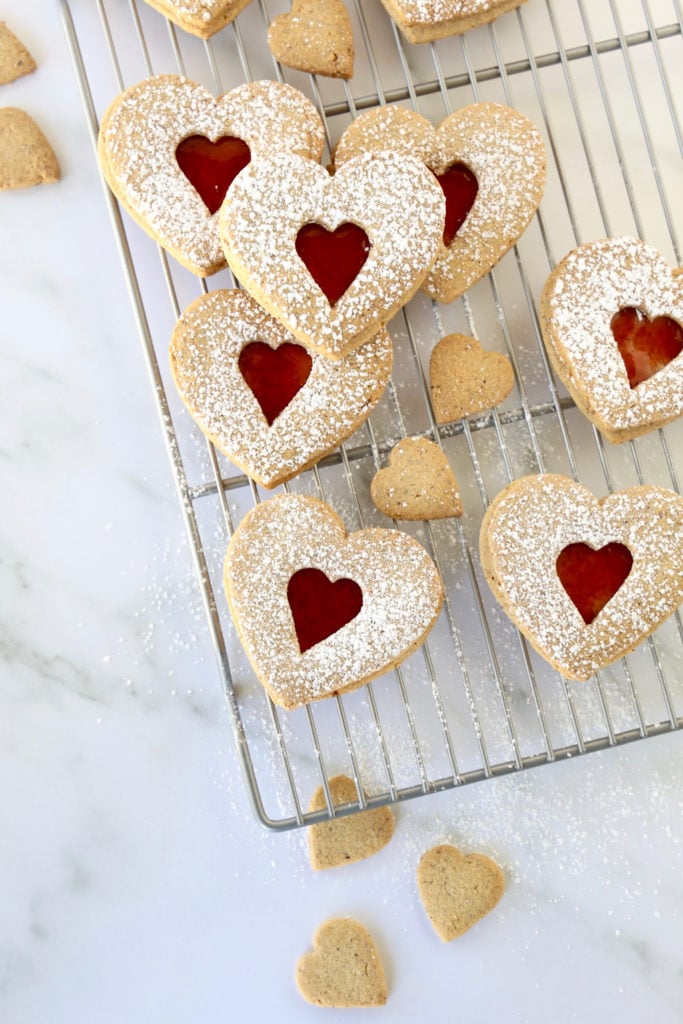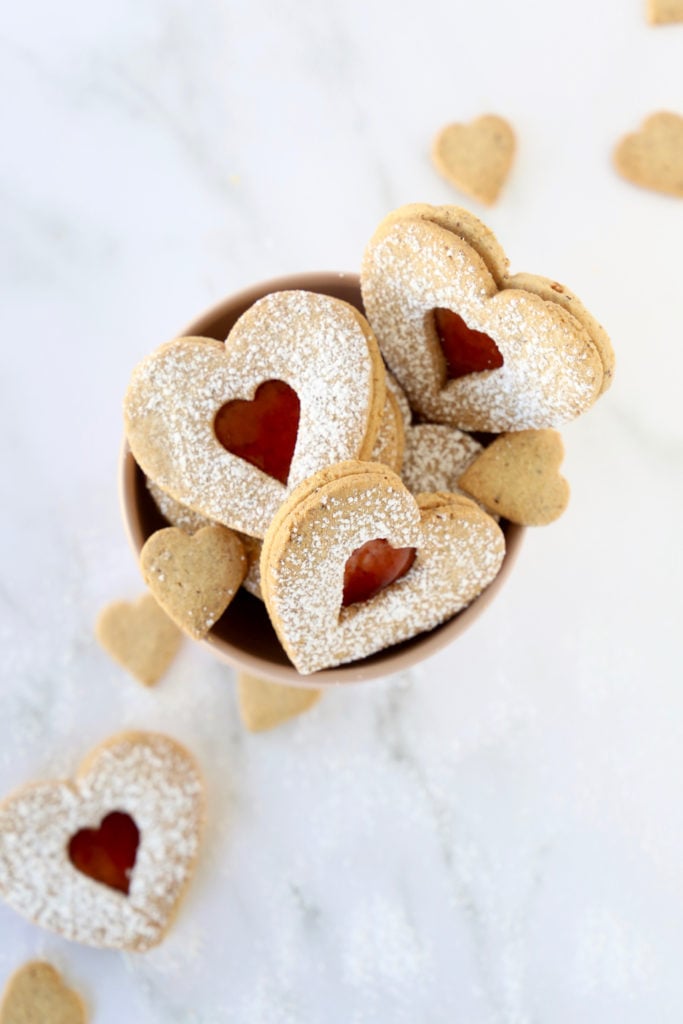 Shop Items To Make This Recipe 
Print
Hazelnut Plum Linzer Cookies (Gluten Free)
1 Cup Hazelnuts, toasted
2 Cups Gluten Free Baking Flour (I prefer Bob's Red Mill 1to1 Baking Flour)
½ tsp Baking Powder
¼ tsp Cinnamon
¼ tsp Salt
1 Cup Unsalted Butter, room temperature
1 Cup Light Brown Sugar
2 Lg Egg Yolks
1 tsp Vanilla Extract
Plum Jam
Powdered Sugar
Instructions
Preheat oven to 350 degrees F and prepare a baking sheet with parchment paper
Spread the hazelnuts on the baking sheet and toast for 10 minutes
Once the hazelnuts are cooled, roll them around to remove the loose skin (you don't have to remove all of the skin from the hazelnuts, just whatever falls off naturally after toasting)
In a food processor, combine the hazelnuts, gluten free flour, baking powder, cinnamon and salt; pulse the dry ingredients until nuts are finely ground and the same consistency as the flour
Place the butter and sugar in the bowl of an electric mixer and beat until creamy
Scrape down sides of bowl and slowly add the egg yolks and vanilla extract; mix until fully combined
Add dry ingredients to the egg mixture and mix until ingredients have come together and formed a ball
Remove the dough from the mixing bowl and knead on a lightly floured surface (use gf flour) until smooth and shape into a disc
Wrap the dough in plastic wrap and chill for 1 hour
When you are ready to bake the cookies, remove the dough from the refrigerator and allow the dough to slightly soften before rolling out
Preheat the oven to 350 degrees F and line two baking sheets with parchment paper
On a lightly floured surface, roll out the dough to ⅛ inch thick
Using a 2"-3" heart shaped cookie cutter, cut the dough and place on the prepared baking sheets
Using a smaller heart shaped cookie cutter, approximantely ½" heart shape, cut a heart out of the center of half of the cookies
Bake the cookies for 10-12 minutes or until they are slightly golden around the edges
Remove the cookies from the oven and allow them to cool completely
Dust the linzer cookies that have the heart cut out of the center with powdered sugar; set aside
Spread a thin layer of plum jam on the heart shaped cookie base
Sandwich the cookies together
Serve or store in an airtight container until ready to serve!
Keywords: Gluten Free Hazelnut Linzer Cookies