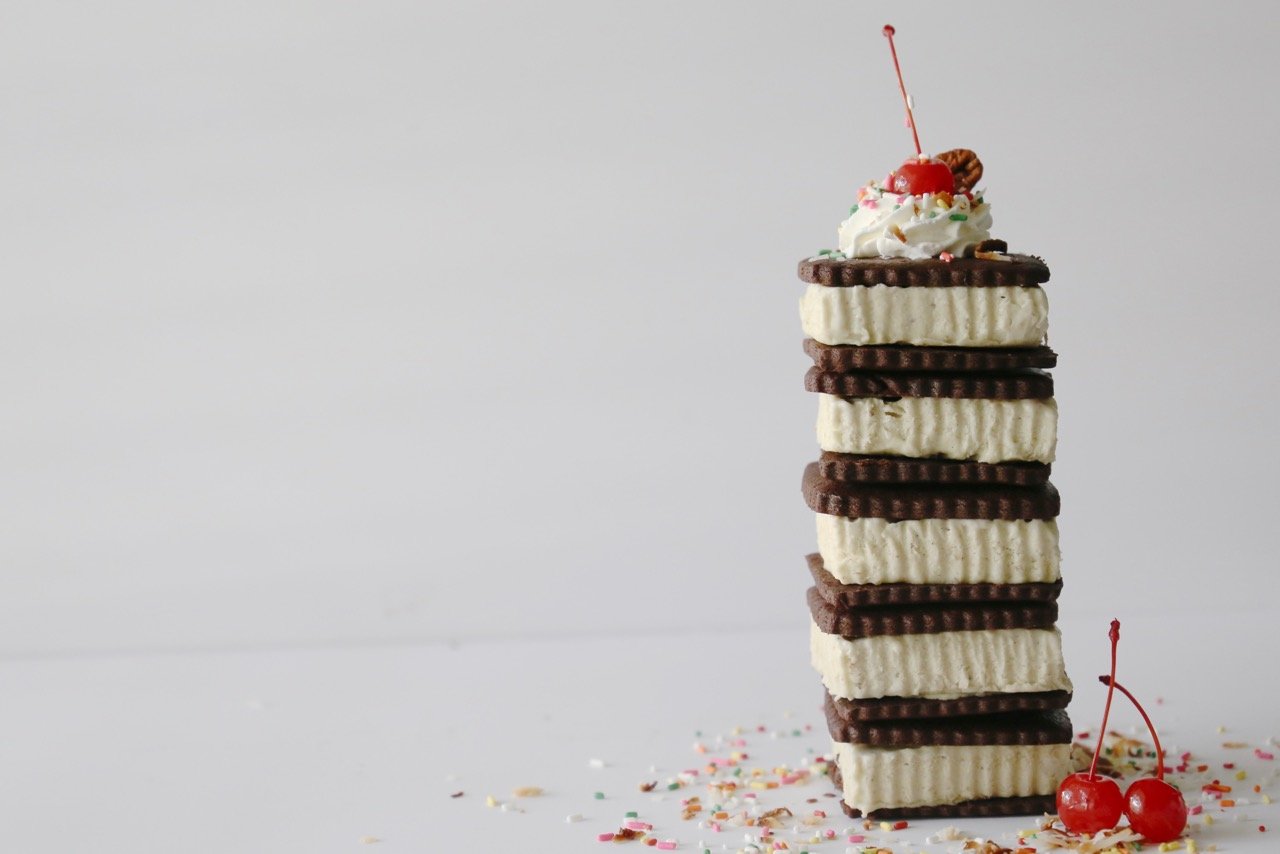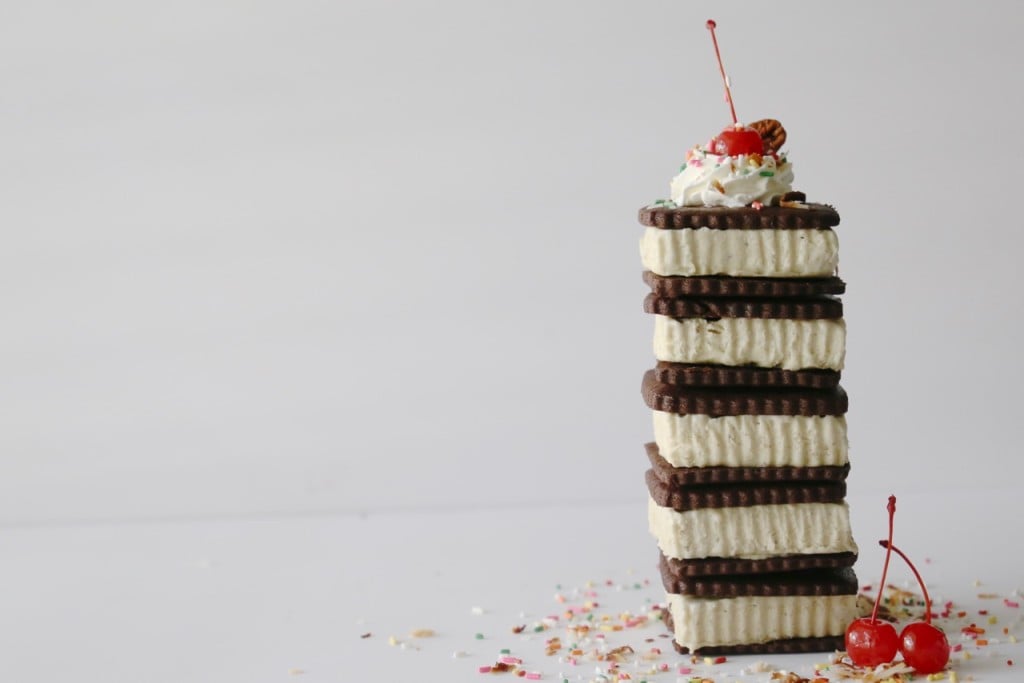 Summer is upon us and until I had kids I never realized the importance of keeping busy, cooling off and chilling out.  There is a fine balance between keeping our kids active and boredom.  The stage of life my girls are in is quite confusing, you sign them up for every camp out there and when they are home two seconds, they want to know what's next, but what I have slowly figured out is that a little home time is really what they need. They don't need their every day filled to the brim with no time to run around outside in the sprinklers, play old fashion board games and just enjoy a moment of quite reading and craft time.  These moments seem the most calm and the ones I tend to enjoy most with them.
Both of my girls love helping in the kitchen, which is wonderful and messy all in one, but I am thankful for their interest in cooking and baking.  As the heat kicks in, it is hard to focus on anything else but ice cream and we have loved creating this frozen treat smashed between two of our favorite cookies, brownies, graham crackers or really anything that goes with our favorite ice cream flavor at the time.
Roasted banana split ice cream sandwich is one of our favorites and it is perfect for a dinner party, backyard barbecue or just a quiet night at home. Set out all the topping you would need and let your guests create their own. Making homemade ice cream sandwiches is the perfect project for you and your kids but these old fashion frozen treats are also making a comeback and can be found at some of our favorite bakeries, ice cream shops and restaurants.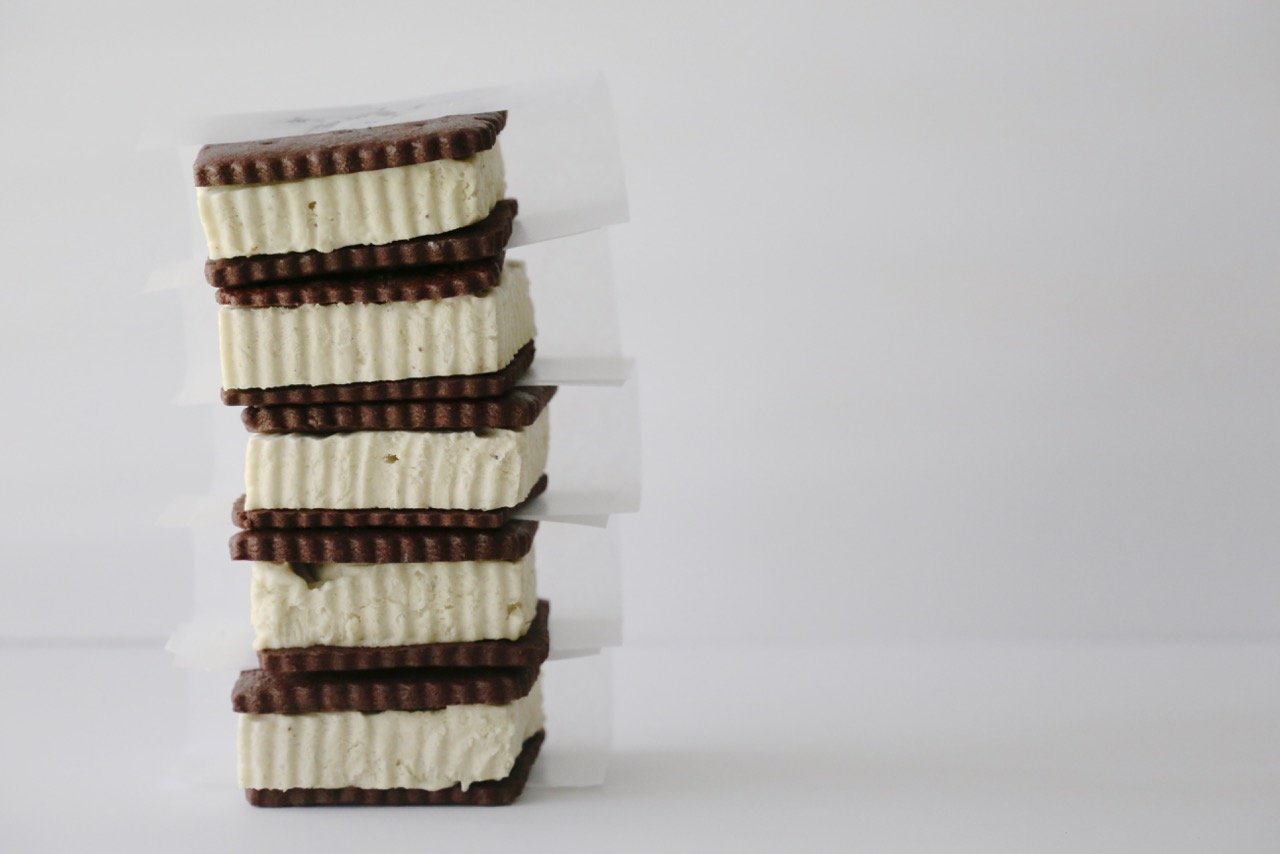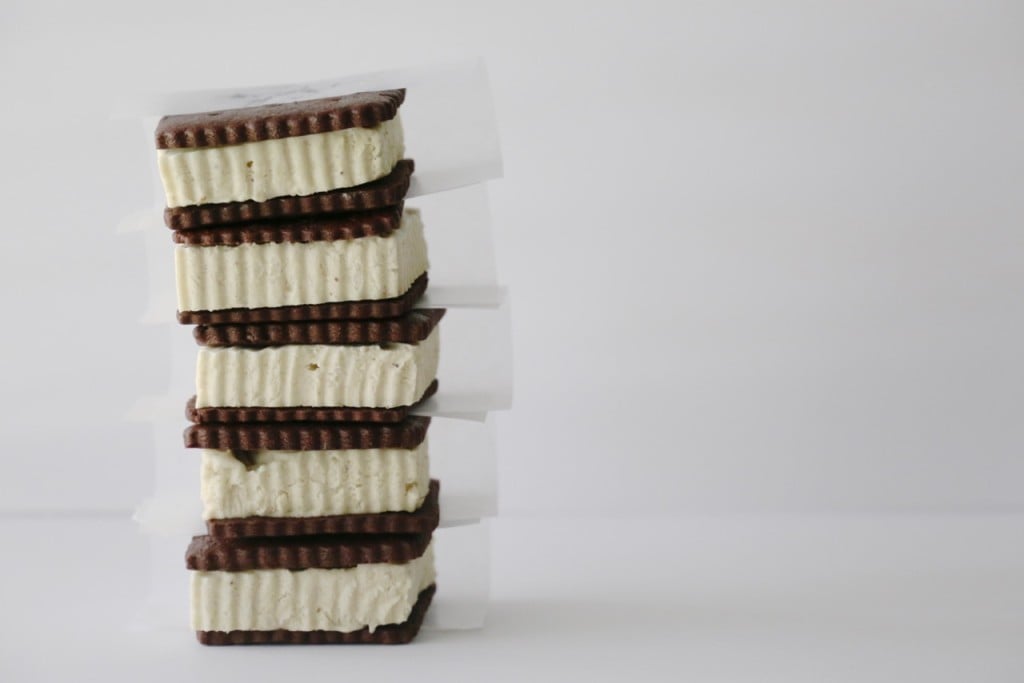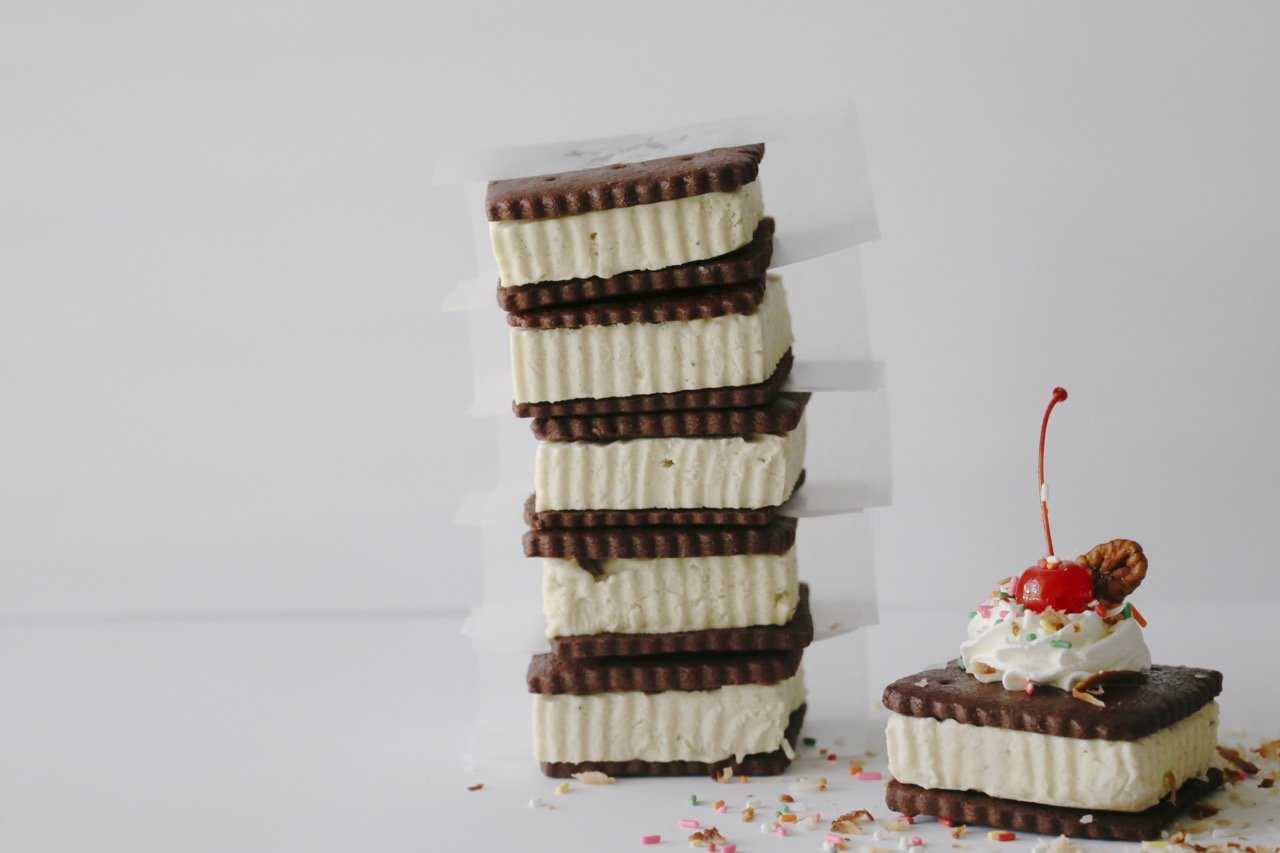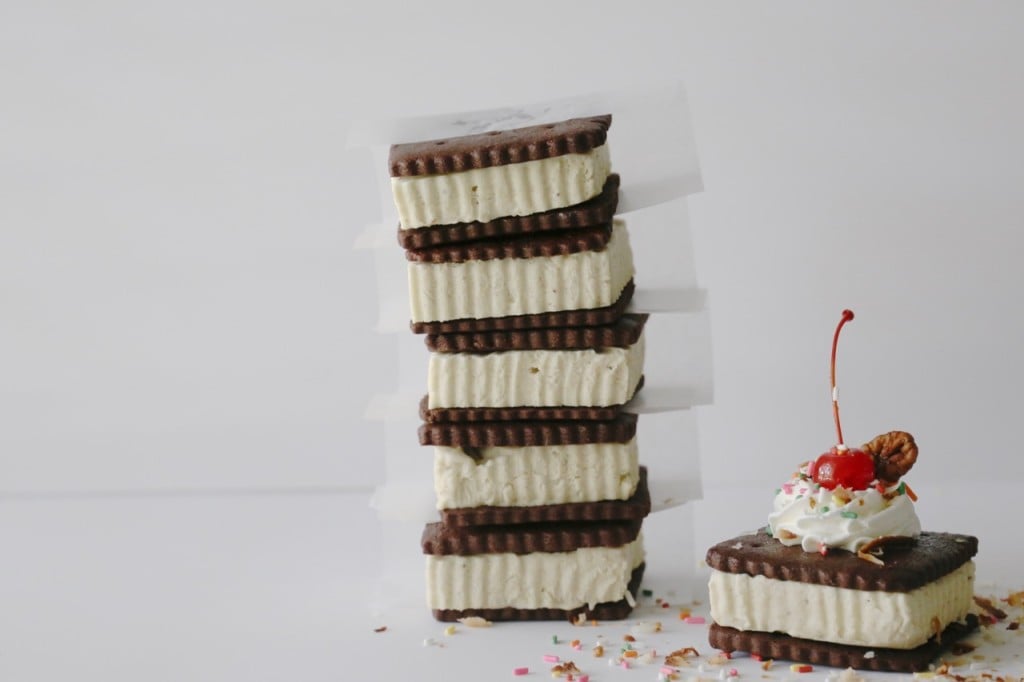 Print
Roasted Banana Split Ice Cream Sandwiches
Chocolate Cookie
2 Cups

All Purpose Flour

½ Cup

Cocoa Powder

¼ tsp

Salt

1 Cup

(

2

sticks) Butter, Unsalted

1 ½ Cups

Powdered Sugar

2

Egg Yolks

1 tsp

Vanilla Extract
Roasted Banana Ice Cream
3

Bananas

2 Cups

Heavy Cream

1 Cup

Whole Milk

1 Cup

Granulated Sugar

5

Egg Yolks

1

vanilla bean, split
Instructions
Chocolate Cookie
Preheat oven to 350 degrees F
Combine flour, cocoa powder and salt and set aside
In a large mixing bowl, cream together butter and powdered sugar and mix until smooth
Add in eggs yolks and vanilla extract and mix until combined
Scrape down butter mixture and slowly add dry ingredients until dough has come together
Remove the dough from the mixing bowl, shape into a rectangle, cover with plastic wrap and refrigerate for approximately 1 hour or until chilled
Roll the chocolate dough to ¼ inch thick and cut into 3 inch squares and place on parchment lined sheet pan
Using a skewer, poke nine evenly spaced holes into each cookie before baking
Bake for 15 minutes at 350 degrees F
Allow the cookies to cool completely before assembling
Roasted Banana Ice Cream
Preheat oven to 325 degrees F
Place 3 unpeeled banana on a parchment lined sheet pan and roast until skin is completely black, approximately 20 minutes
Allow the bananas to cool completely, peel, mash and set aside
In a bowl, whisk together the egg yolks and half of the sugar
In a saucepan combine heavy cream, milk, ½ of sugar and vanilla bean
Once it comes to a simmer, slowly whisk ½ of the milk mixture into egg yolk mixture
Add the egg yolk mixture back into the saucepan, stirring constantly for 1 minute
Add the mashed bananas into custard and cook for 3-4 minutes or until custard becomes thick and coats the back of a wood spoon
Using an immersion blender, pulse mixture until smooth
Strain mixture into a large bowl to remove any cooked eggs or banana pieces
Cover custard and refrigerate until cold
Once the mixture is cold, make the ice cream according to your ice cream machine instructions.
Spread the frozen ice cream into a 9x9 inch parchment lined pan, cover and freeze overnight
Remove the molded ice cream from the pan and cut into 3 inch squares
Assemble Ice Cream Sandwiches and freeze until ready to serve
Serve with optional toppings or enjoy on their own!
Notes
Toppings: (optional)
Fresh Whipped Cream
Maraschino Cherries
Chopped Pecan
Toasted Coconut
Chocolate Sauce
Where to find the best Ice Cream Sandwiches in Dallas:
Liz, owner of Joy Macarons has taken her famous French Macaron and sandwiches them with homemade ice cream for the most amazing Ice Cream Sammy's. The combinations are endless with flavors like Thai Tea, Guava/Coconut, Butter Pecan and Cereal Milk but why not try them all.
A new ice cream shop coming to Dallas, Milk Cream, has put a twist on the traditional ice cream sandwich and instead stuffs their ice cream in a dense doughnut like bun. You will be able to indulge in these milky buns this summer on Ross Ave.  Milk Cream is estimated to open July 23rd.