When love is in the air, so are desserts! A Valentines Dessert Board is the best way to spoil your loved ones with all their favorite things this Valentines Day.
Grabbing all things sweet, some a little salty and adding a touch of fruit will go a long way when you arrange them on your favorite board or platter. Think of your favorite cheese and meat board and swap the cheese for chocolate and the meat for cookies and you are all set to go!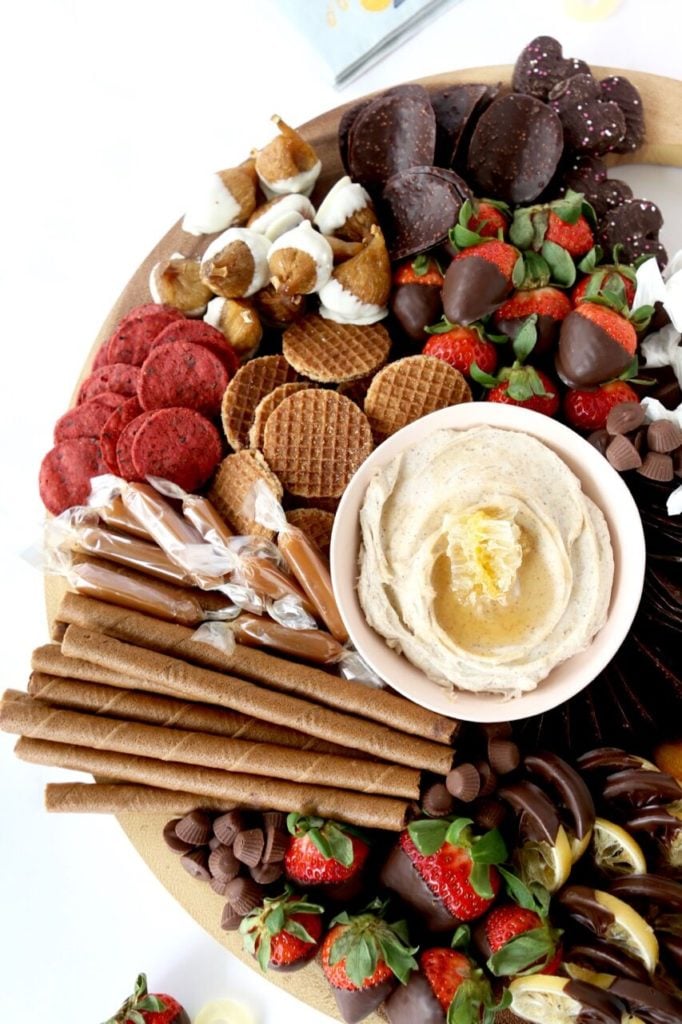 Sweet Dip
I like start my boards with a flavor profile and a dip that would go with all the items. Honey Cinnamon Mascarpone Dip can be whipped up quickly and has a touch of sweet, perfect for fresh fruit, cookies and wafers. Whipping together mascarpone cheese, heavy whipping cream, honey and cinnamon is the perfect combo to start the Dessert Board off.
Chocolate Dipped Fruit
There is no better way to enjoy fresh or dried fruit then to dip them in chocolate. Dark chocolate, milk chocolate or white chocolate add the perfect amount of sweet and looks so beautiful at the same time. Fresh strawberries, bananas, orange slices are just a few types of fruit that are great dipped in chocolate. Dried apricots, fig and candied lemons are also a perfect addition
Cookies and Wafers
I love to choose an assortment of cookies and wafers, some chocolate coated, lemon, caramel filled and hazelnut pirouettes. A variety of shapes, sizes and colors are the best way to choose the cookie and wafer that go on your board.
Candies
Homemade or store bought, adding candies that go along with your theme, add color and a custom touch to your dessert board. Gummies, caramel candies, nougat, brandied cherries, chocolate truffles and peanut butter cups are perfect for sprinkling throughout.
Sometimes Salty
Adding a touch of salt to you dessert board always compliments the flavors. Adding chocolate dipped potato chip or chocolate dipped pretzels is a great surprise that will give balance to all the sweet.
Print
Honey Cinnamon Mascarpone Dip
1

(8 ounce) Mascarpone Cheese

¼ Cup

Heavy Whipping Cream

2 Tbsp

Honey

½ tsp

Ground Cinnamon
Instructions
In a food processor combine the mascarpone cheese, heavy whipping cream, honey and cinnamon
Pulse until Mascarpone is fluffy
Transfer to a serving dish and refrigerate until ready to serve