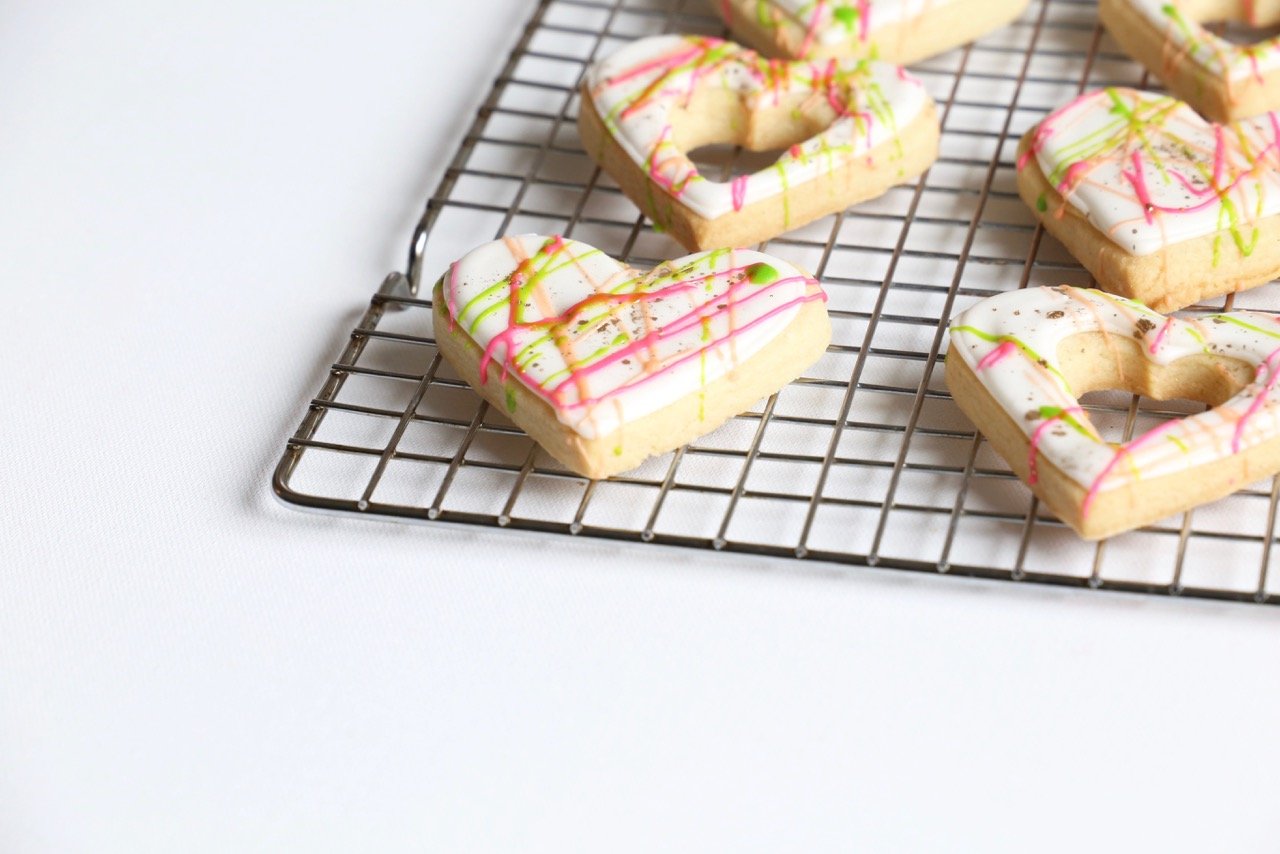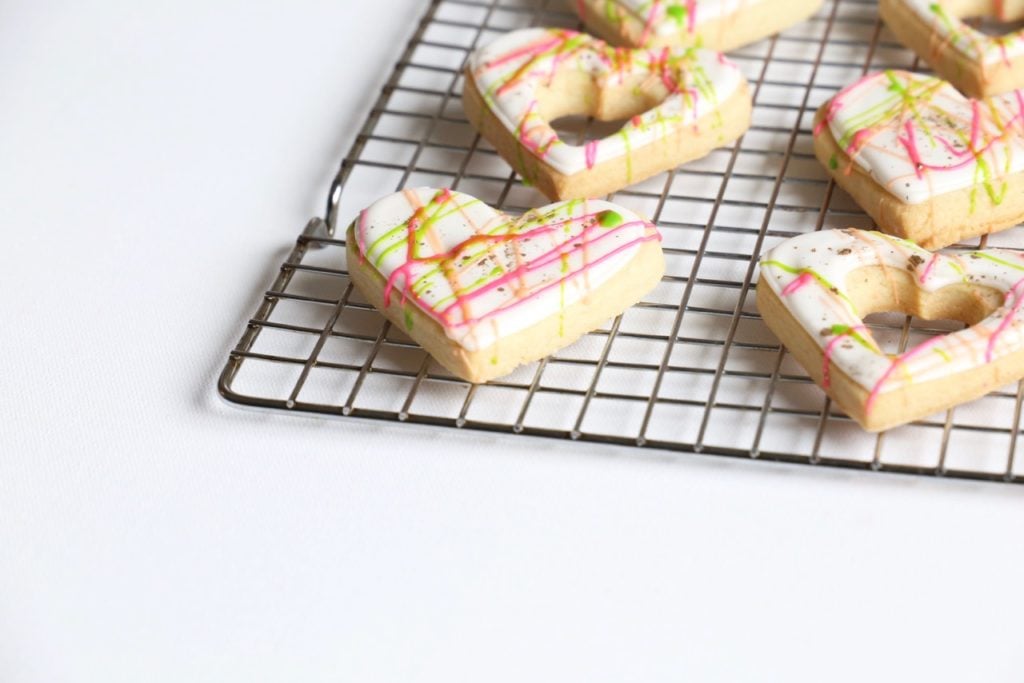 If there is one thing that I look forward to in the month of February is spreading the love and making my sweet family of five feel a little more special than they already do on a daily bases. My husband and I tend to celebrate the small stuff, the big stuff...ALL the stuff because I feel like they deserve it and we want to give it. We love celebrating ½ birthdays, good grades, sleeping through the night and something as small as waking up smiling....it's the littles things when you have a 7, 4 and 16 month old 🙂
Shortbread cookies make an appearance in our house for all the occasions. Every birthday has a themed and decorated shortbread cookie and same with all the holidays. Valentines day is the perfect day to throw a little flour around the kitchen (it might get messy) and bake up our family favorite Shortbread Cookies decorated with royal icing.
As I was decorating these, I was inspired by all the artists in my Instagram feed and decided to do a splatter paint detail that you and your littles can do together!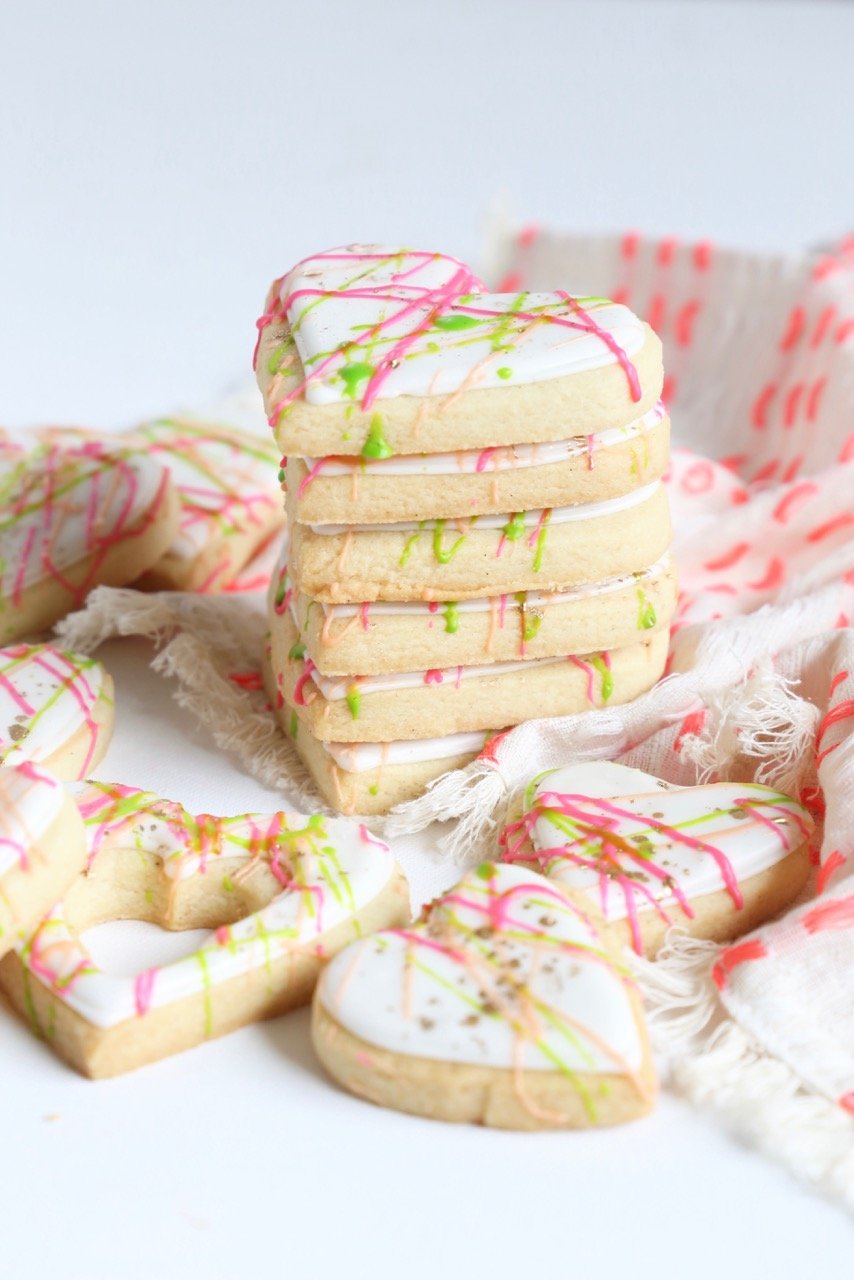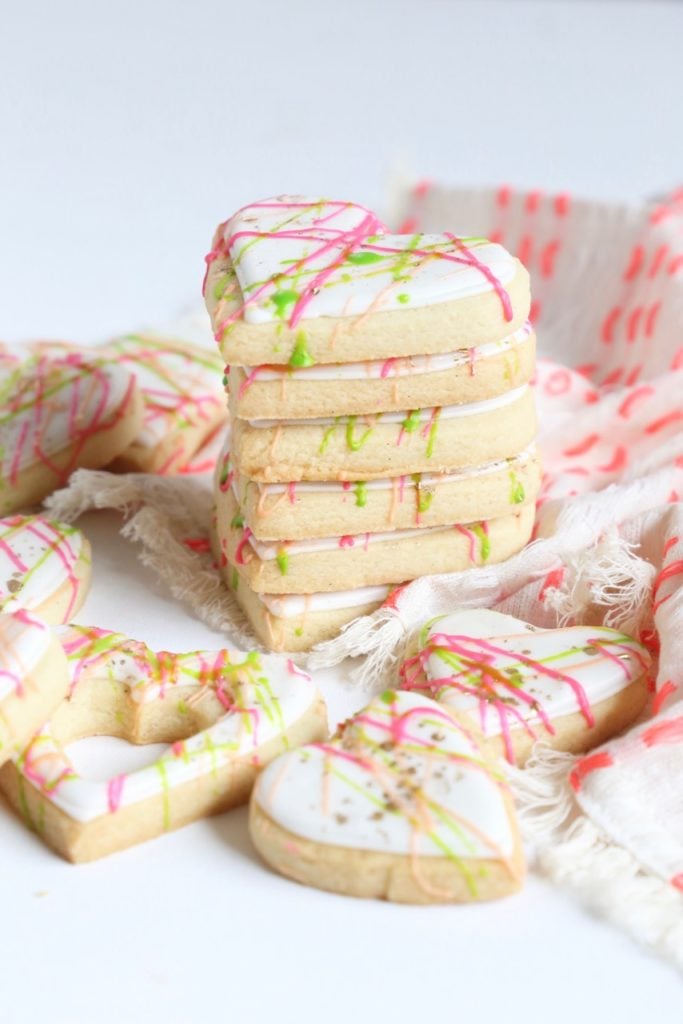 Vanilla Bean Shortbread Cookies
Shortbread Cookie
1 Cup

Granulated Sugar

2 Cups

Unsalted Butter

1

Egg

1

Vanilla Bean or

1 tsp

Vanilla Bean Paste

4 Cups

All Purpose Flour
Royal Icing
6 Cups

Powdered Sugar

3

-

4

Eggs Whites, Pasteurized (add more or less eggs to adjust consistency)

½ tsp

Vanilla Extract
Instructions
Shortbread Cookies
Preheat oven to 350 degrees F and prepare sheet pans with parchment paper
Cream sugar and butter in a mixing bowl with a paddle attachment
Add eggs and vanilla bean; mix on low speed until egg is fully incorporated
Slowly add in the flour and mix until dough comes together into a ball
Place dough on a floured surface and gently kneed until smooth
Wrap dough in plastic wrap and refrigerate for 30 minutes
Once the dough is chilled, roll out into ⅛" thick and cut into desired shape
Bake cookies at 350 degrees for 14-18 minutes or until lightly golden on the edges, turning half way
Allow the cookies to cool before glazing and decorating
Royal Icing
Combine powdered sugar, eggs whites and vanilla in a mixing bowl with paddle attachment and mix on medium speed for 5 minutes or until icing is smooth
Divide the icing into 4 bowls
Save one bowl for white icing for the base of the cookie
Mix one bowl with hot pink food coloring
Mix one bowl with lime green food coloring
Mix one bowl with orange food coloring
Using the white icing, fill a pastry bag and pipe the icing to cover the top of the cookie
Allow the white icing to dry for 10 minutes
Place the colored icing in individual pastry bags and splatter the color onto the white icing to make it look like splatter paint
Allow the cookies to dry before serving or dry overnight to place in cellophane bags and use as party favors!