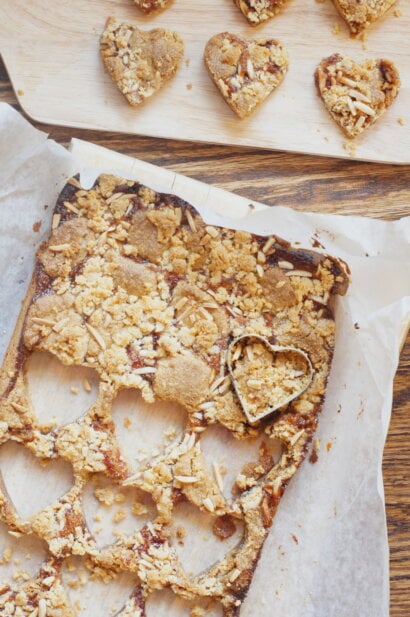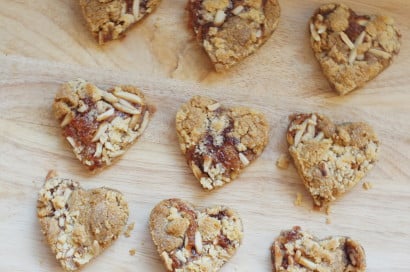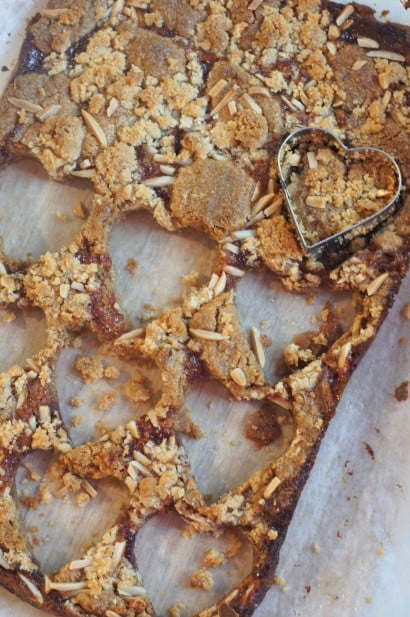 Feeling very excited over here...I have come up with a recipe that I love as much as my kids do and it can be eaten at breakfast or dessert and I don't feel bad about it!
If you are like our family, we have a serious love for "PEANUT BUTTER AND jelly" (we like to sing it around here:) and sometimes it is a battle to get Sophie to want anything else for lunch. So I have been working on a recipe that she will love just as much, but could be a healthy addition to her breakfast routine...and I did it! Yay! Although, for this recipe I have removed the peanut butter and replaced it with almond butter for so many more wonderful benefits.
After teaming up with Nuts.com and learning all the health benefits that go along with almonds (and they taste amazing as well), these bars got even better.
The addition of almond butter, to replace peanut butter and almond flour, to replace all purpose flour, you are treating yourself to a high protein and gluten free treat...and your kids will love it as well!!
Check out Nuts.com for over 2,000 items that can be shipped straight to you.
Print
Almond Butter & Jelly Bars
Bar Recipe
1

stick (4 oz) unsalted butter

¾ cup

granulated sugar

½ tsp

vanilla extract

1

large eggs

1 cup

almond butter

1 ½ cups

almond flour

½ tsp

baking powder

½ tsp

salt

1 cup

strawberry jam (or flavor of your choice)
Crumble Recipe
1 cup

almond flour

2 tbsp

sugar

1 tsp

salt

4 tbsp

butter, melted

⅓ cup

almonds, slivered
Instructions
Preheat oven to 350 degrees F
Line a 9x13 pan with parchment paper
In a large bowl with paddle attachment, cream the butter and sugar until fluffy
Add vanilla extract, eggs and almond butter and mix until combined
Slowly add almond flour, baking powder and salt to almond butter mixture and mix just until combined
Spread the ¾ of the batter evenly into prepared pan with a spatula
Spread the strawberry jam over batter
Drop small globs of the remaining dough over the strawberry jam
Make the crumble topping and sprinkle to cover top of jam
Bake for 25-30 minutes or until golden
Cool in pan before cutting into squares or hearts
Crumble Topping
In a small bowl combine the almond flour, sugar, salt and melted butter and stir until it comes together
Stir in the slivered almonds
Sprinkle over jam
Make crumble topping and sprinkle to cover the top