Loaded with chocolate, cherries and a moist chocolate buttermilk cake, Black Forest Ice Cream Cake is elegant yet full of excitement!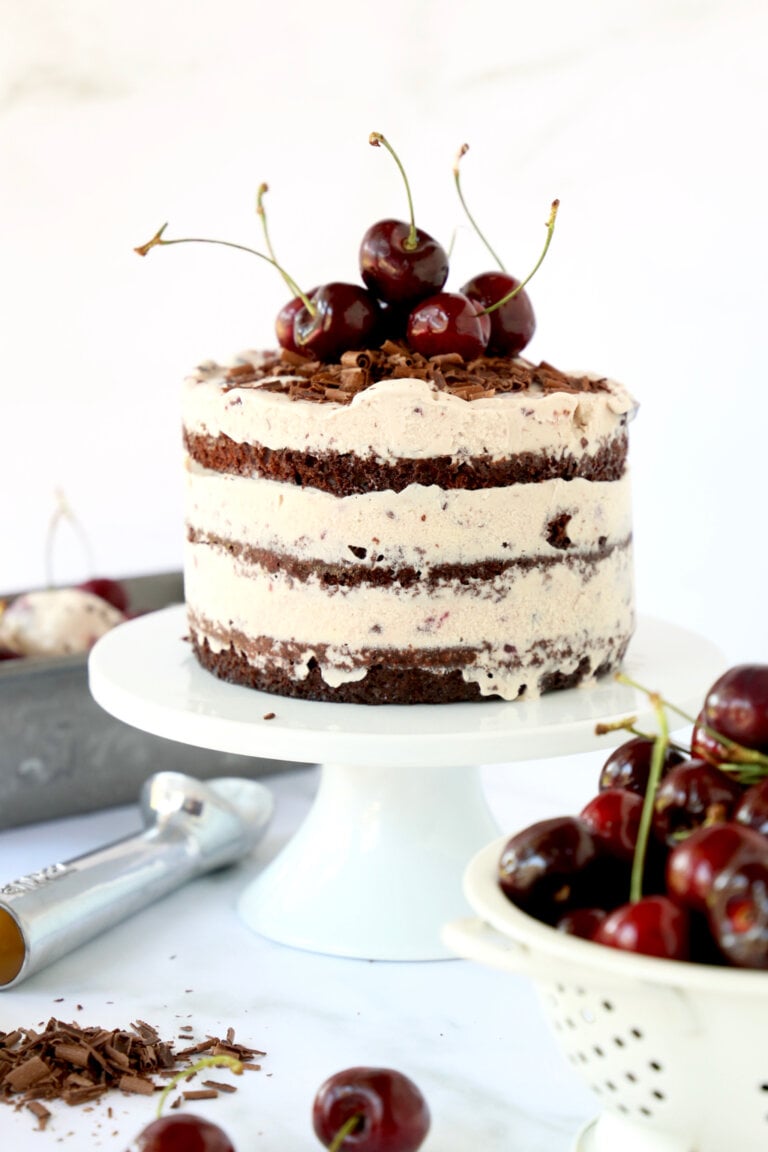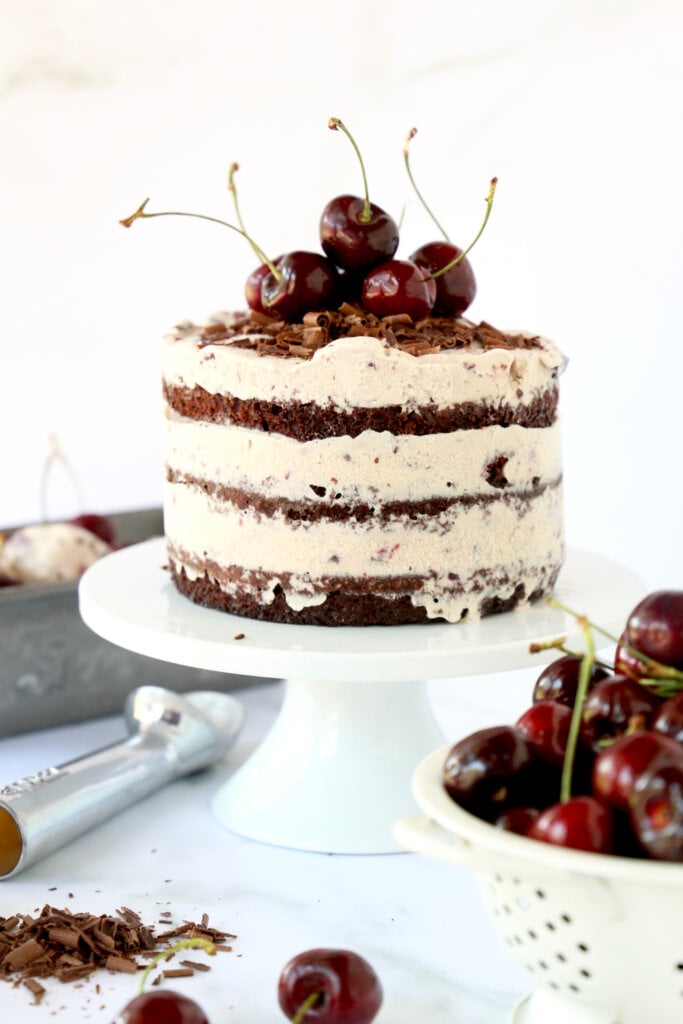 We might be nearing the end of summer, but the temperatures are hotter than ever which makes us all scream for ice cream. A childhood favorite and something that was always store bought, ice cream cake, can be recreated in your own kitchen, and it will be even better on a hot summer day. Layers of chocolate cake and cherry filled ice cream makes this Black Forest Ice Cream Cake warm weather approved and a crowd pleaser!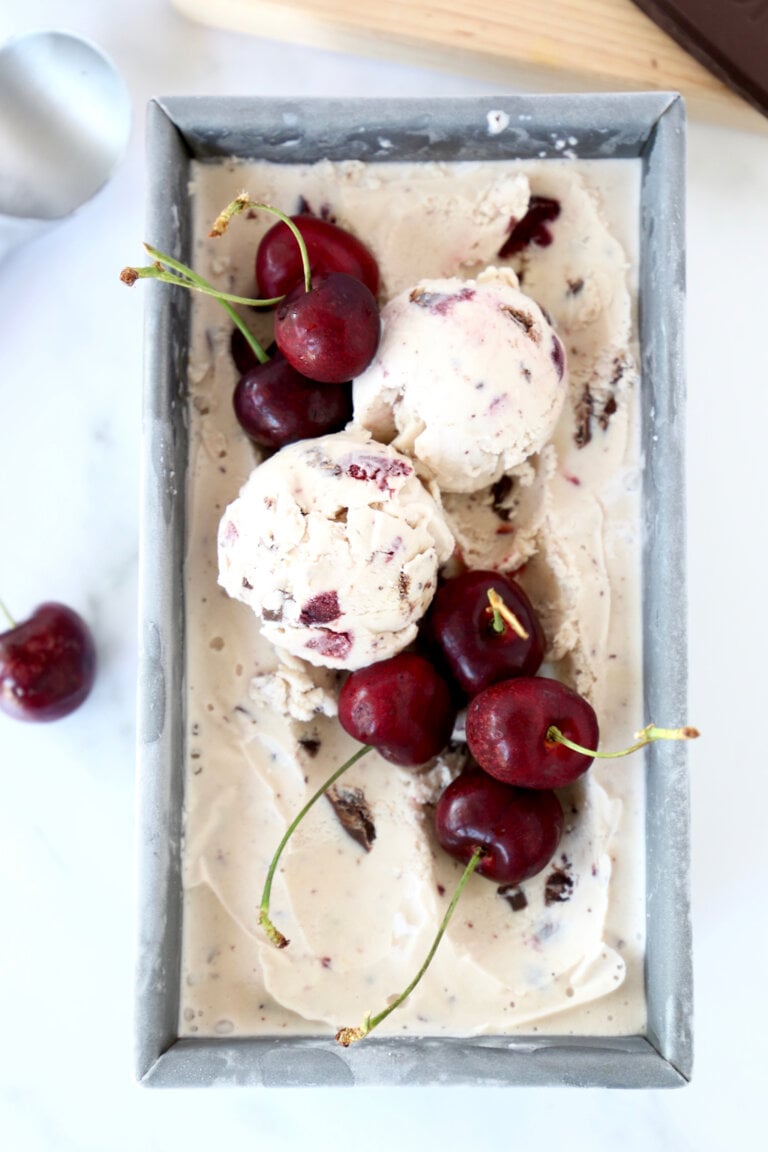 Black Forest Ice Cream
Making ice cream might seem daunting, but heres the deal, it so good and once you make it once you will want to make it again and again. If you are short on time, you can definitely buy vanilla ice cream and mix it up with black cherries and shaved chocolate…we won't tell! Vanilla Bean Ice Cream starts with a custard base. Heavy cream, milk, sugar, egg yolks and vanilla bean are warmed over a low heat until the custard thickens. Once the custard is made, it will be refrigerated for several hours or overnight. The ice cream base is poured into the ice cream machine and this is where the magic happens. Chopped black cherries and shaved chocolate will be added at this time to create the tastiest Black Forest Ice Cream.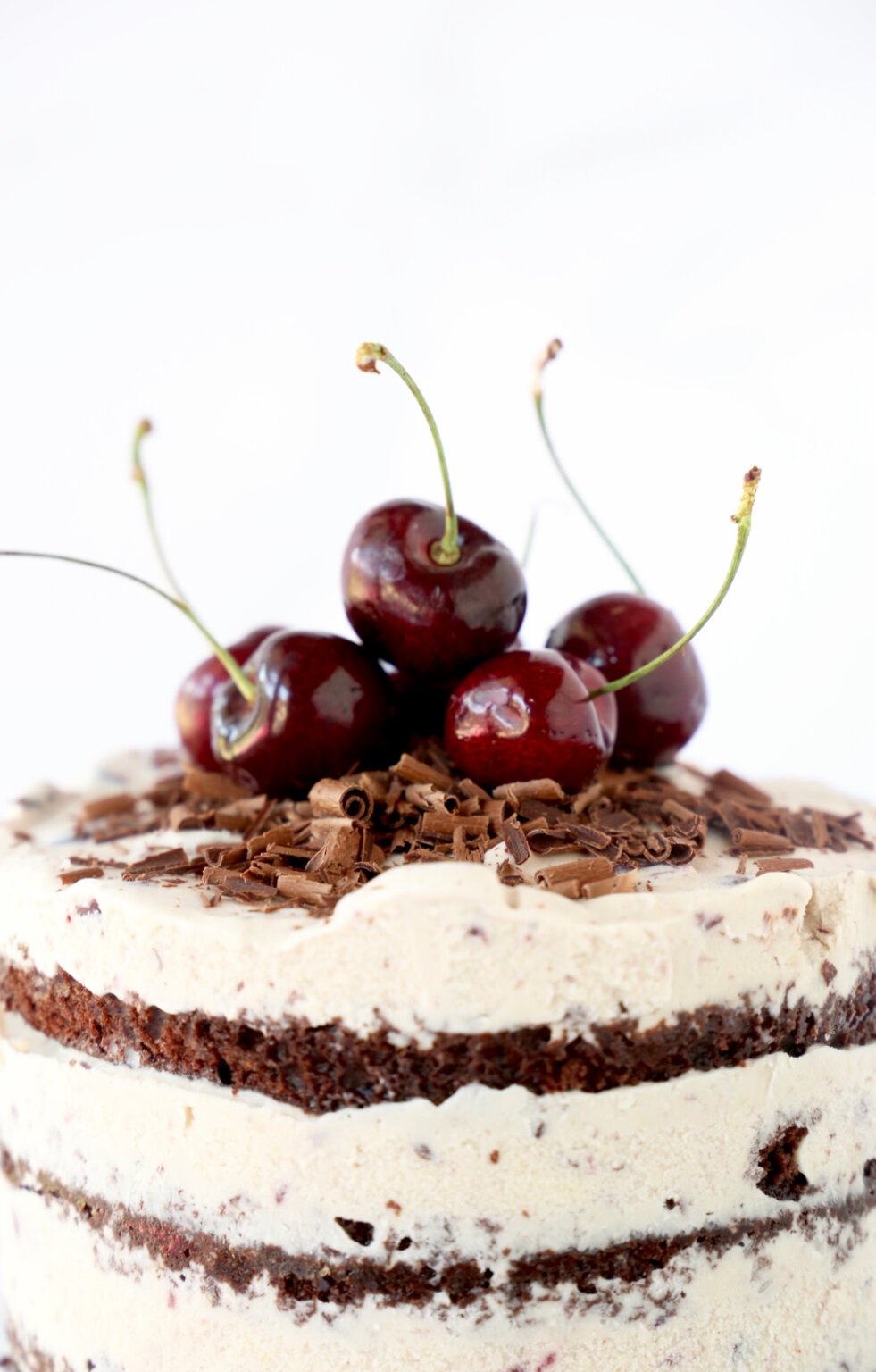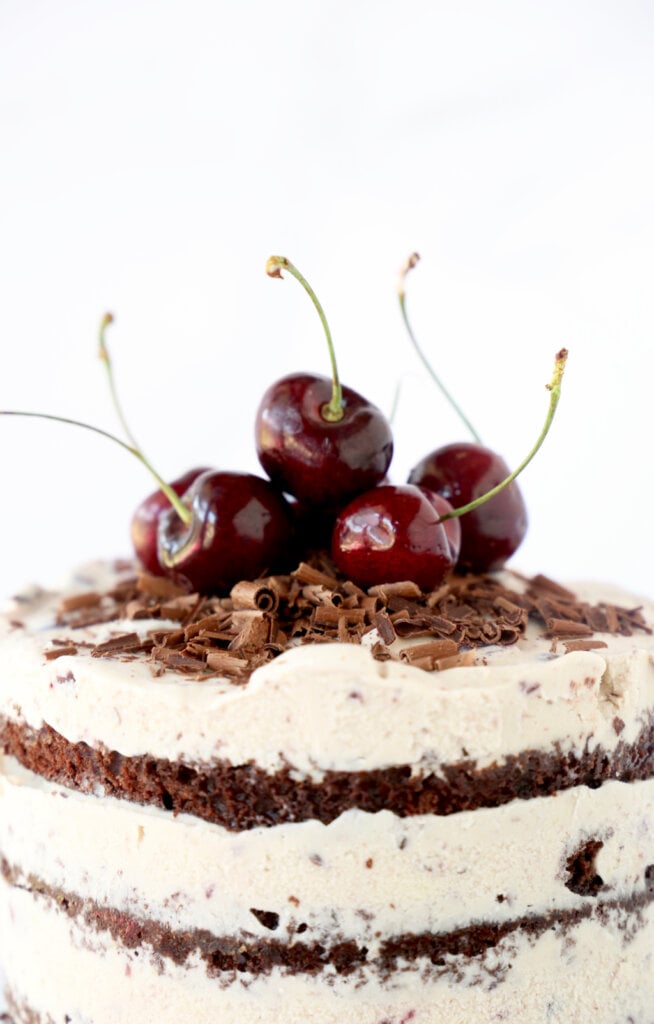 Buttermilk Chocolate Cake
Layering ice cream with a super moist cake is key and three layers of buttermilk chocolate cake pairs perfectly with Black Forest Ice Cream. Buttermilk Chocolate Cake is a simple recipe that has the addition of black coffee to boost the flavor of chocolate and creates a perfectly moist cake that is as good frozen as it is fresh!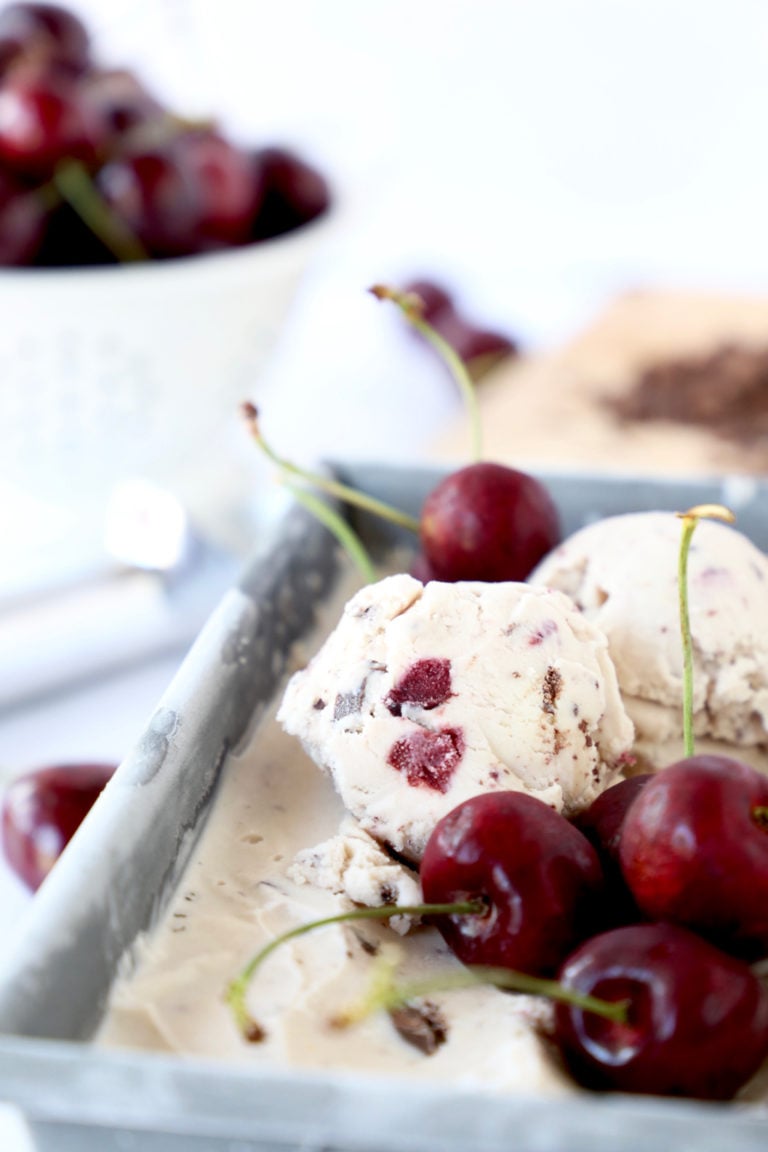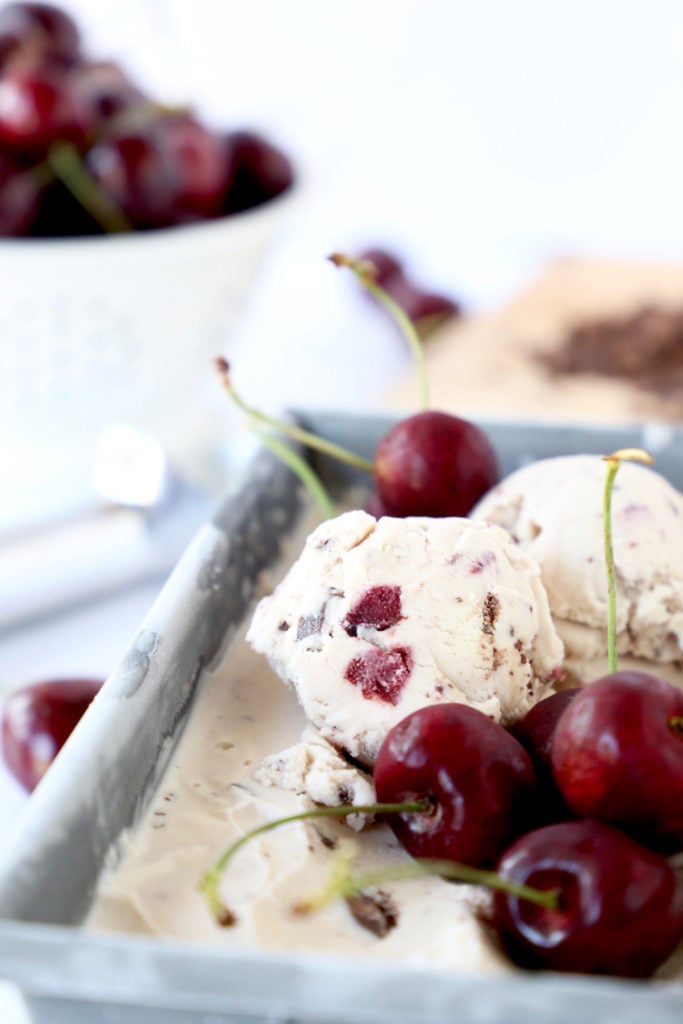 Cherry Liqueur Simple Syrup
I add simple syrup to all of my cake recipes and this one is no different. Cherry liqueur will add additional cherry flavor to each layer of cake. Combine equal part of water and sugar to a saucepan and bring it to a boil until the sugar is dissolved. This simple syrup recipe is perfect for cakes, cocktail or a gourmet lemonade.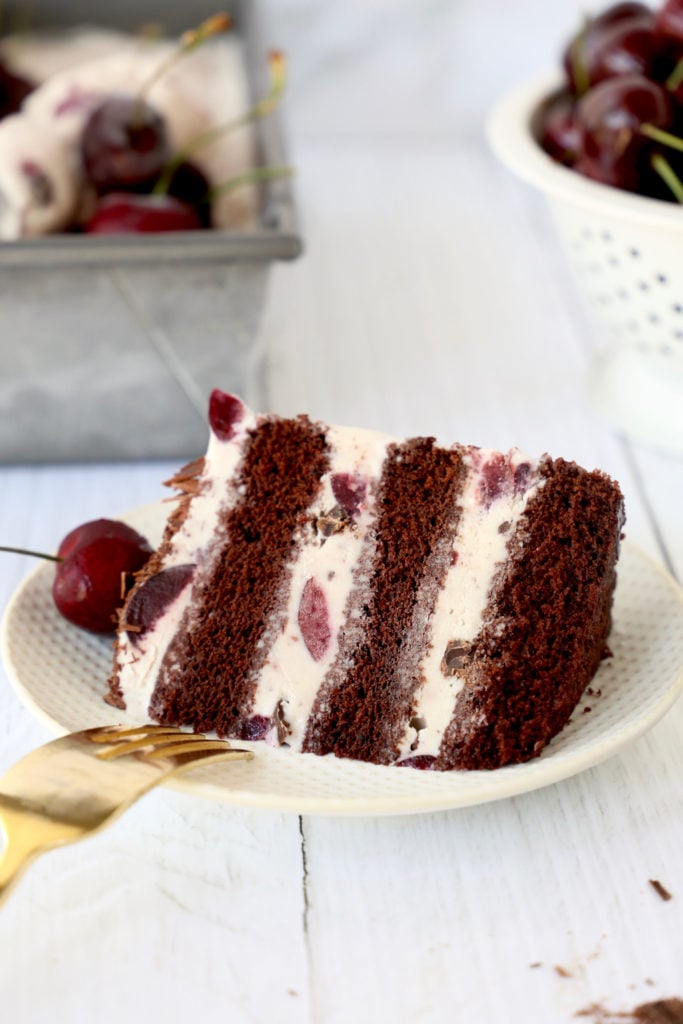 The combination of Vanilla Bean ice cream loaded with black cherries and shaved chocolate layered between a moist buttermilk chocolate cake and cherry liqueur simple syrup is a spin on a traditional Black Forest Cake. Black Forest Ice Cream Cake is so flavorful, full of texture and is perfect for any birthday celebration or back yard bbq!
Print
Black Forest Ice Cream Cake
Chocolate Buttermilk Layer Cake
Black Forest Ice Cream
Cherry Liqueur Simple Syrup
Garnish: Chocolate Shaving & Fresh Black Cherries
Instructions
Once cakes have cooled completely you can start layering with ice cream
Use an 6 inch cake ring to layer the ice cream cake
Place the cake ring on cake stand or plate
Place one cake layer in the cake ring
Using a pastry brush add the cherry liqueur simple syrup to the cake layer and then spread the ice cream (slightly softened); repeat with chocolate cake, simple syrup and ice cream until you have three layers of cake
Place is in the freezer until you are ready to serve
Garnish the cake with chocolate shavings and fresh black cherries
Print
Chocolate Buttermilk Layer Cake
1 Cups

All Purpose Flour

1 Cups

Granulated Sugar

½ Cup

Cocoa Powder

1 tsp

Baking Powder

¾ tsp

Baking Soda

½ Cup

Buttermilk

¼ Cup

Vegetable Oil

1

Eggs

½ tsp

Vanilla Extract

½ Cup

Hot Coffee or Boiling Water
Instructions
Preheat oven to 350 degrees F
Prepare (3) 6" Cake Pan with spray and the bottom lined with parchment paper
In a medium bowl, combine the flour, sugar, cocoa powder, salt, baking soda and baking powder; whisk until combined, set aside
With a paddle attachment, mix together buttermilk, oil, eggs, and vanilla extract
Add the dry ingredients and mix on medium speed until batter is smooth and all ingredients are fully incorporated
On low speed, slowly add the boiling water to the batter and mix until fully combined
Divide batter into 3-6 inch cake pans
Bake at 350 degrees for 25-30 minutes or until cake springs back at the touch
Allow the cakes to cool for 10-20 minutes before removing from the pan
Print
Black Forest Ice Cream
2 Cups

Heavy Cream

1 Cup

Whole Milk

½ Cup

Granulated Sugar

4

Egg Yolks

1 tsp

Vanilla Extract

1 Cup

Black Cherries, Fresh (pitted) or Frozen

½ Cup

Semi Sweet Chocolate, Chopped
Instructions
Whisk together the granulated sugar, egg yolks and vanilla extract; set aside
In a medium saucepan, combine heavy cream and milk; bring to a simmerl
Temper the eggs by whisking ¼ cup of heavy cream mixture into the egg mixture and whisk until smooth
Pour the egg mixture into the remaining heavy cream mixture in the saucepan over medium heat and stir continuously until the ice cream base thickens and coats the back of a wooden spoon
Remove from the heat and strain through a fine mesh strainer to remove any cooked egg yolks and then pour the ice cream base into a bowl, cover with plastic wrap and allow it to come to room temperature
Once the custard is at room temperature, refrigerate the custard for 3-4 hours to thicken
Pour the Ice Cream into an ice cream machine and churn according to manufacturer's instructions
Fold chopped cherries and chopped chocolate to the ice cream and pour into an airtight container or metal loaf pan and place in the freezer until ready to use
Print
Cherry Liqueur Simple Syrup
½ Cup

Granulated Sugar

½ Cup

Water

2 Tbsp

Cherry Liqueur
Instructions
In a small saucepan combine sugar and water and bring to a boil
Once the sugar is dissolved, turn the heat off and pour in the cherry liqueur
Let the simple syrup cool completely before using