Crunchy, chewy, chocolate and nutty, Chocolate Nutella Ganache French Macarons is the perfect petit cookie for all of life's special occasions!
I cannot be more excited and more proud of these beautiful and over the top good French Macarons.  After coming home from a beautiful family vacation at the beach, all my daughter wanted to do was learn how to bake French Macarons.  This is a dessert that I love to make for all of our special occasions and a cookie that all of my kids have known from birth.  They love everything about these cookies; the colors, the unique filling and the size!  Sophie has been very interested in learning how to make these petit treats and Sunday was the day.  We had a baking lesson that ended in the perfect round, turquoise in color and rich chocolate Nutella French Macarons.
Baking with Kids
What I am slowly learning, you have to be mentally prepared to bake with your kids!  I loved the idea of one on one baking, taking our time, letting her measure out all the ingredients on her own, explaining why certain ingredients are in the recipe and how they affect the final product and watching her light up when they came out of the oven.  This was fun and I can't wait to do it again!
French Macarons
One of my favorite cookies and definitely one of hers, can bring out so much creativity.  The color of the shell is totally up to you.  Typically it is a good idea to match the shell with the filling, but Sophie really loved the idea of a vibrant turquoise shell with a chocolate Nutella filling.  These were ingredients we had available in the pantry and something that she loves and so do I!
The Process
Whisking the eggs whites to a stiff peak was the first and most important step to learn.  Sophie cracked the eggs, added them to the mixing bowl and turned up the speed.  She didn't have much patience for the egg whites to whisk, but I explained to her that this was the most important step to making sure that the French Macarons rise perfectly.  Next, the two step process of pulsing the powdered sugar and almond flour in the food processor and then sifting it to remove any lumps and make a very smooth and delicate cookie.  Last but not least, folding the batter calls for patience and precision and something that might be a challenge for kids, but is a really great lesson in baking and in life!
We are already talking about our next flavors we will make for you all and you are going to LOVE it!  So until then, happy baking and take the time to bake with your kids…it is worth all the mess!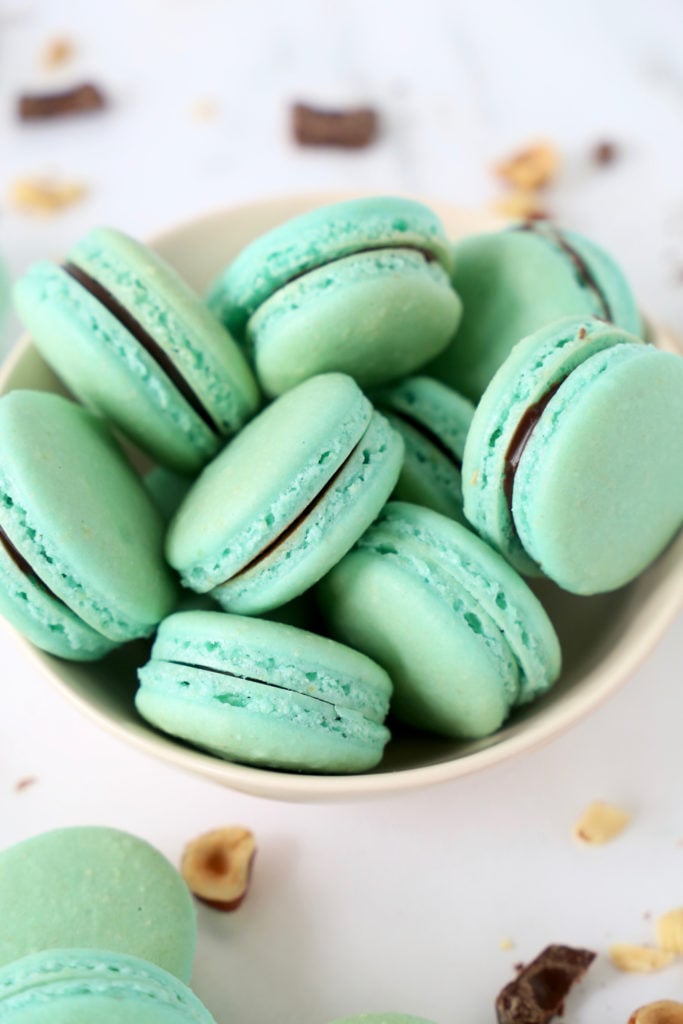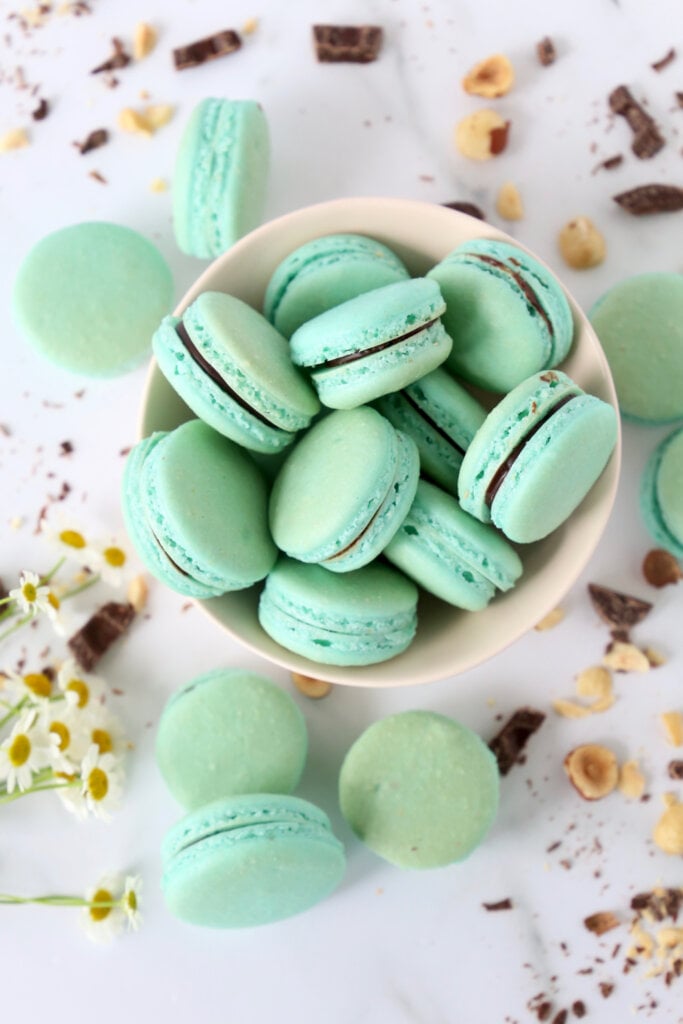 Here is what you need:

Print
Chocolate Nutella Ganache French Macarons
Classic French Macarons

1 ½ Cup

(

200 grams

) Powdered Sugar

1 Cup

(

115 grams

) Almond Flour

3

(90 grams) Egg Whites

1 Tbsp

(

8 grams

) Egg White Powder

¼ Cup

(

30 grams

) Powdered Sugar
Turquoise Gel Food Coloring (optional)
Chocolate Nutella Ganache

1 Cup

Semi Sweet Chocolate Chips

½ Cup

Heavy Whipping Cream

¼ Cup

Nutella
Instructions
Classic French Macaron DIrections:
Preheat oven to 325 degrees F and line two baking sheet with parchment paper or a silpat
Sift together the almond flour (115 grams) and powdered sugar (200 grams) into a large bowl; set aside
In a mixer with whisk attachment, whisk egg whites and egg white powder until stiff peaks
Slowly add in powdered sugar (30 grams) to egg whites
If you are adding a color, add two drops of food coloring to the meringue
Remove the bowl from the mixer and fold in the powdered sugar and almond flour mixture
Fold until smooth and can make ribbons with batter (do not over mix)
Transfer the batter into a piping bag and pipe 1.5" round about an inch apart onto a sheet pan lined with parchment paper or a silpat
Let the macarons sit on the sheet pan for 20 minutes before baking
Bake for 12 minutes
Remove the macarons from the oven and allow to cool before filling
Make the filling of your choice while the macarons are cooling (the filling can also be made in advance)
Fill half of the macaron shells with filling of choice and then stack the other half of the cookies on top
Enjoy immediately or store in airtight container in the refrigerator for 24-48 hours
Chocolate Nutella Ganache
In a small bowl, combine the chocolate chips and nutella; set aside
In a small saucepan bring the heavy cream to a simmer
Remove the heavy cream from the heat and pour over semisweet chocolate chips and nutella
Slowly whisk the ganache until fully combined and chocolate is smooth and thick
Refrigerate the ganache for 2-3 hours or until the ganache is thick and paste like