The tart flavors of cranberry and key lime come together to make a mouth watering holiday tart. Cranberry Lime Tart is as festive to eat as it is to look at.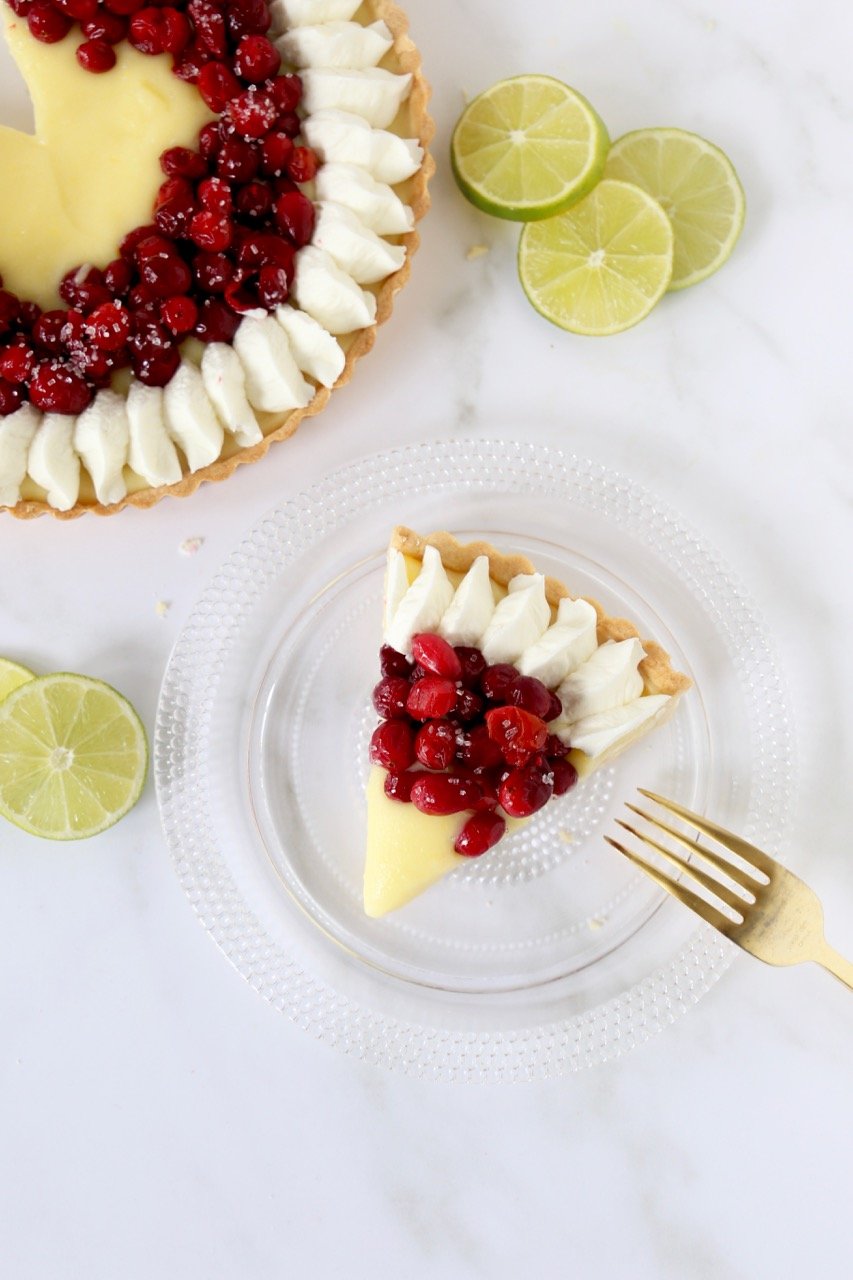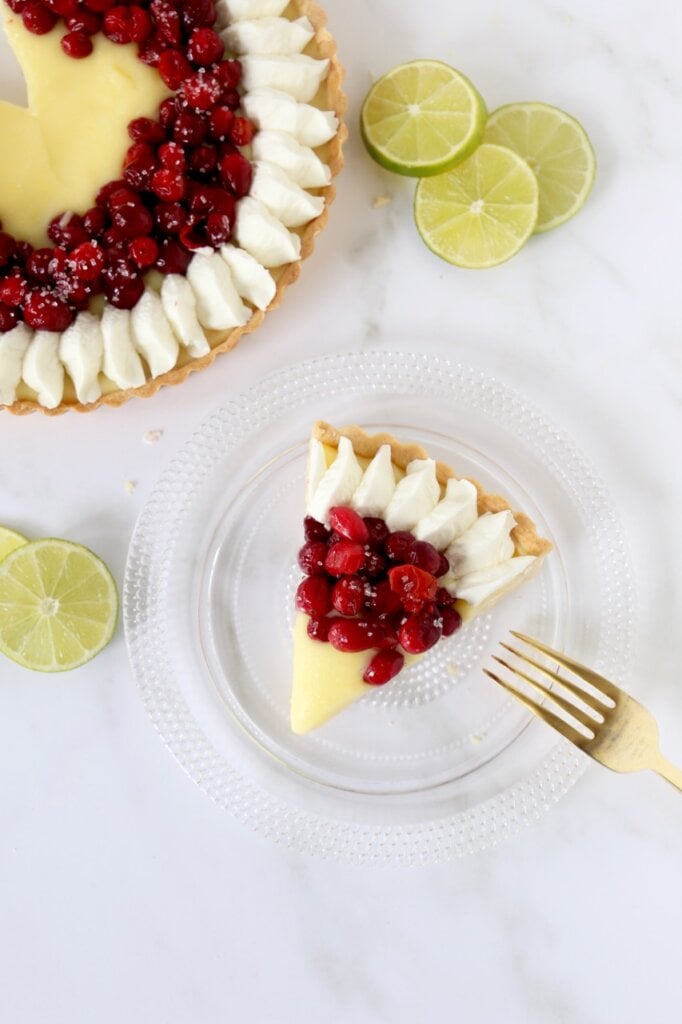 As Thanksgiving sneaks up on us, we are all trying to create the perfect menu, whether they are family traditions or new and improved recipes. This year I am excited to team up with seven of my blogger friends to help you create a special menu for your Thanksgiving Table (find all the recipes below). I have got you covered on one of my all time favorite desserts, Cranberry Lime Tart. Key lime might not be the first flavor that comes to mind when you are preparing your Thanksgiving meal, but it is a flavor that we all love. The tart flavors of key lime paired with a sweetened cranberry compote is the perfect combination in this Cranberry Lime Tart.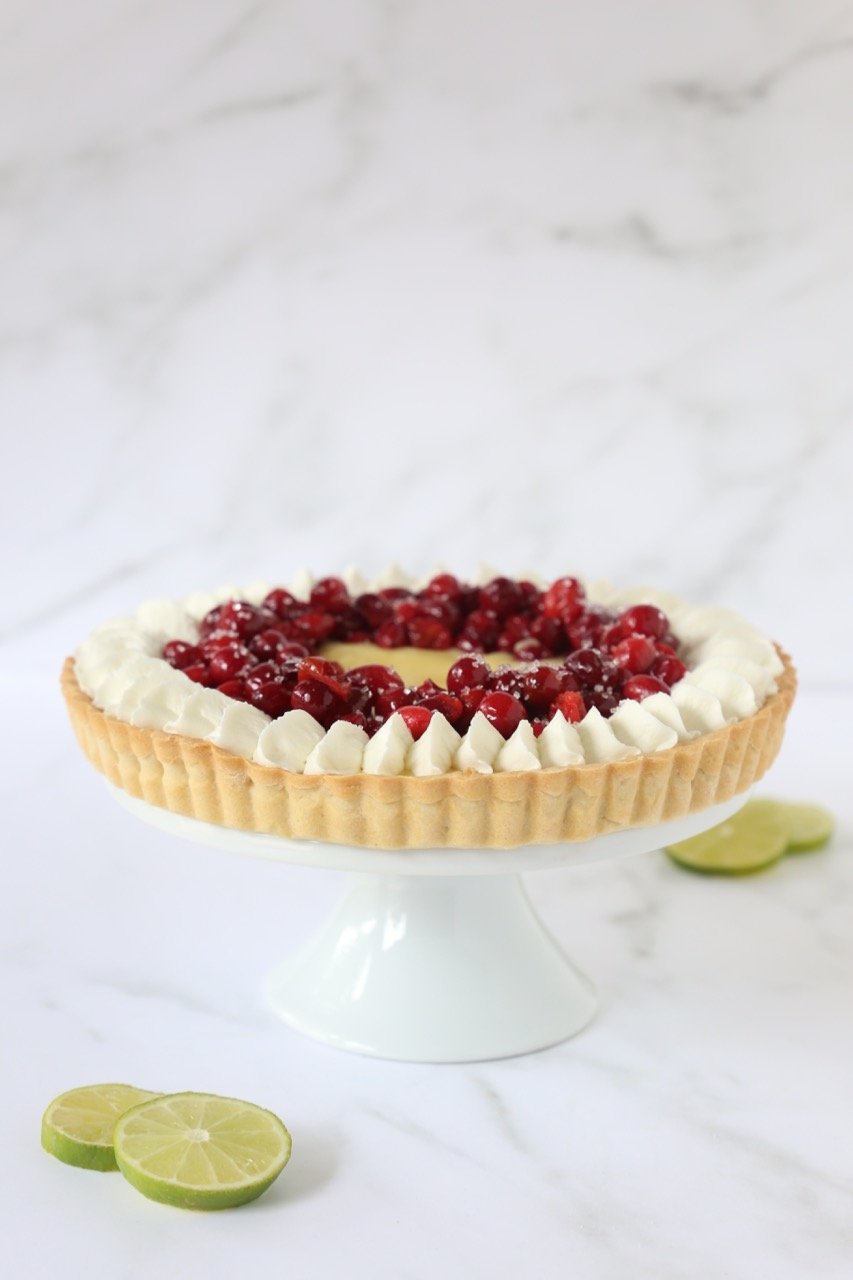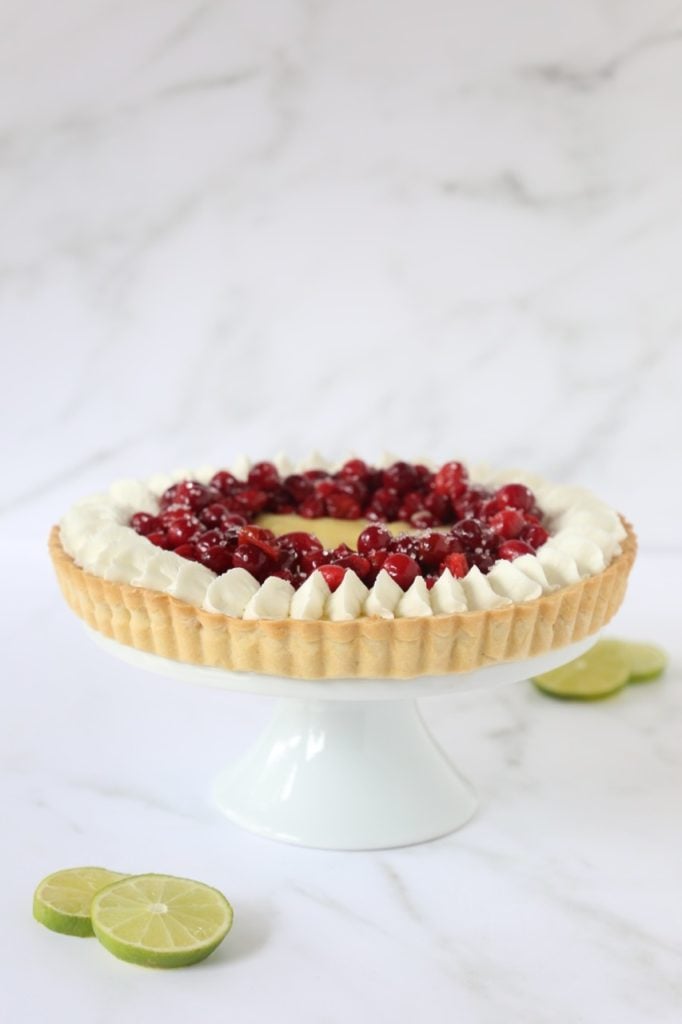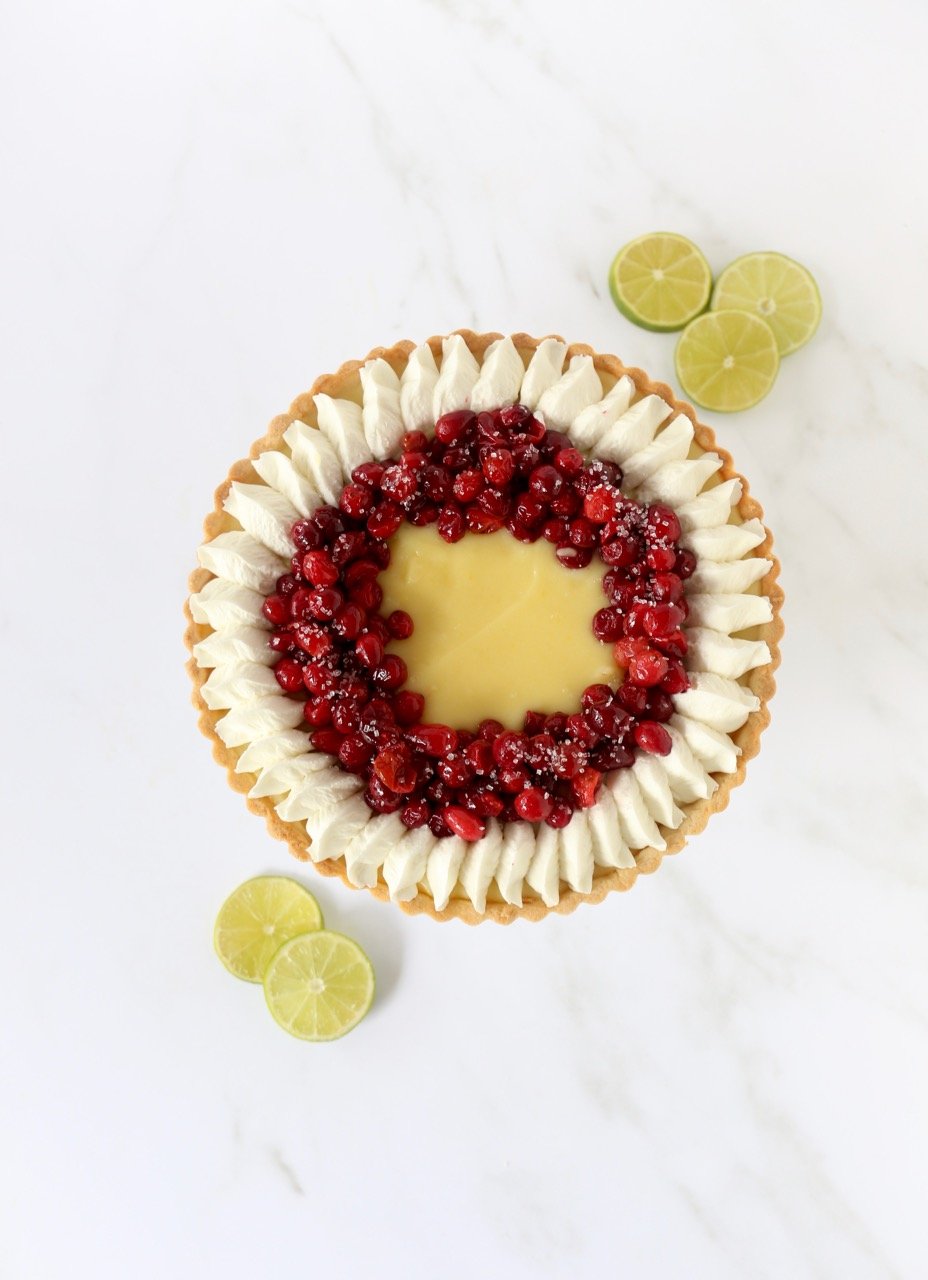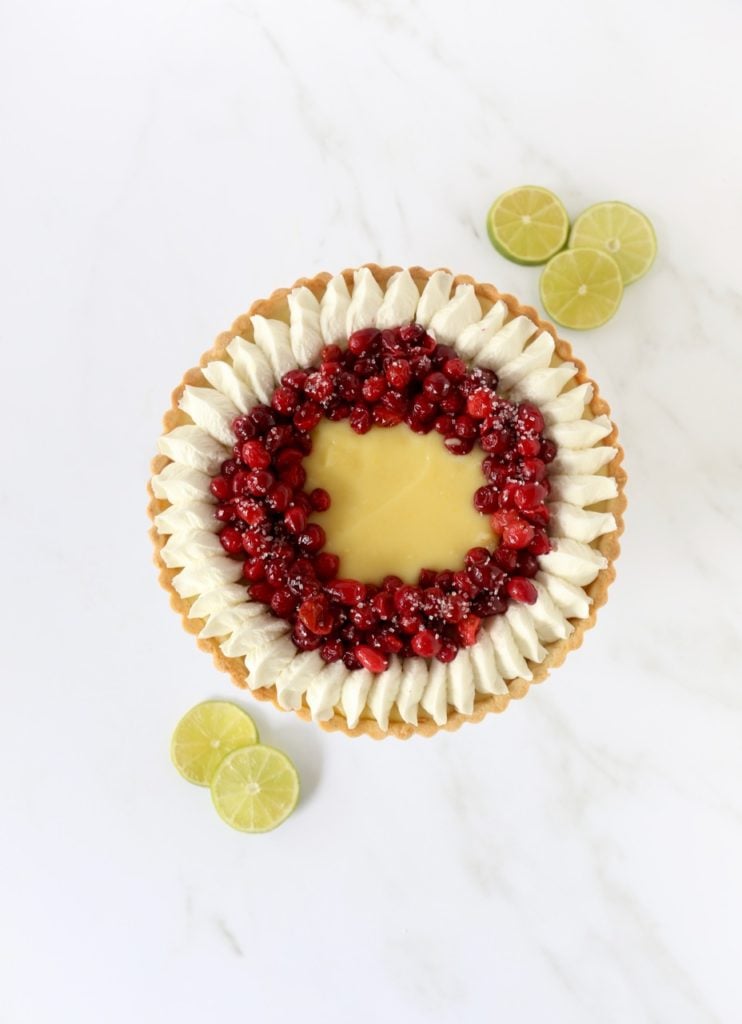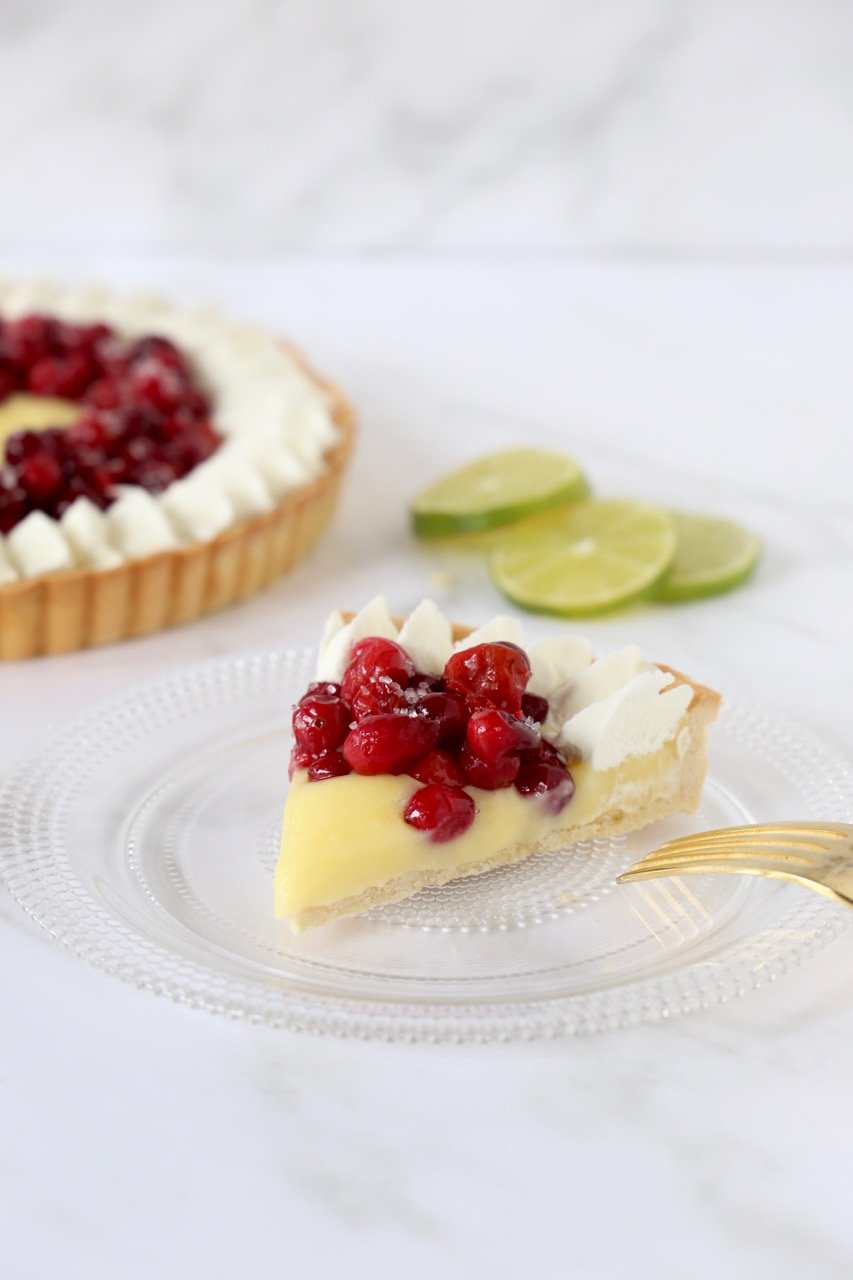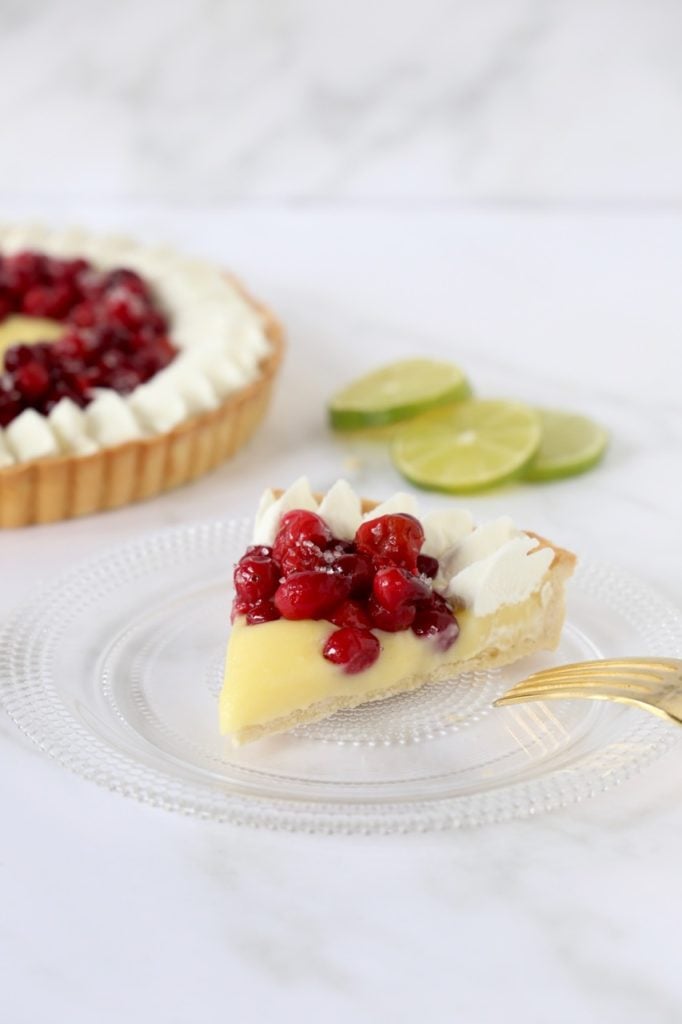 Cranberry Lime Tart
The tart flavors of cranberry and key lime come together to make a mouth watering holiday tart.  Cranberry Lime Tart is as festive to eat as it is to look at.
Pate Sucree (Dough)
1 Cup

Unsalted Butter, Softened

¾ Cup

Powdered Sugar

2

Eggs

¼ tsp

Salt

½ tsp

Vanilla Extract

2 ½ Cups

All Purpose Flour
Key Lime Curd
1 ¼ cup

sugar

1 cup

key lime juice

5

eggs

1 ½ cup

+

2 tbsp

butter, unsalted
Cranberries
1 Cup

Granulated Sugar

1 Cup

Water

1 tsp

Cinnamon
zest of

1

orange

2 Cups

Fresh Cranberries
Whipped Cream
2 Cups

Heavy Whipping Cream

¼ Cup

Granulated Sugar

1 tsp

lime zest
Instructions
Dough
Preheat oven to 350 degrees F
In a mixer fitted with a paddle attachment, cream together butter and powdered sugar
Scrape down the butter in between mixing
Add in eggs, salt and vanilla extract to the butter mixture
Add the flour and mix until fully combined
Remove the dough from the mixing bowl and lightly knead on a floured surface until smooth
Form the dough into a ball and wrap with plastic wrap and refrigerate for 1 hour or overnight
Once the dough is chilled, roll the dough out on a floured surface to ⅛ inch thick
Place the dough in a 9" round tart pan and press down the bottom and sides of the tart to create an even and smooth shell
Refrigerate the shell for another 30 minutes
Place a piece of parchment paper in the center of the tart shell and fill it with rice or pie weights
Bake the tart shell for 15 minutes or until a light golden color
Remove the pie weights and parchment paper and return to the oven for another 5 minutes
Allow the tart shell to cool before filling
Key Lime Curd
combine all ingredients in a bowl
place bowl over a saucepan with simmering water
stir over low heat
curd is complete when the consistency is thick and coats the back of a wood spood
strain the curd and cool completely before refrigerating
Cranberries
In a small sauce pan, bring sugar, water, cinnamon and orange zest to a boil
Once the sugar is dissolved, add the cranberries in to the saucepan
Cook the cranberries until they start to pop, but you do not want them to over cook
Remove the sauce pan from the heat and allow the cranberries to sit in the syrup for 10 minutes
Strain the cranberries and allow them to cool completely before placing on the tart
Whipped Cream
In a mixing bowl attached with the whisk, whisk the heavy cream on medium speed until it starts to thicken
Add in the granulated sugar and lime zest and continue whisking until the cream is stiff (do not over mix)
Assembly
Fill the tart shell with the key lime curd
Pipe a layer of whipped cream around the edge of the tart shell
Place the cranberries around the edge of the whipped cream or you can cover the entire center of the tart
Garnish with sugar crystals
Refrigerate until ready to serve
Enjoy!
The entire Ultimate Friendsgiving Menu is listed below. Be sure to pin the image below on Pinterest so that you can easily reference all these fabulous recipes!
The Ultimate Friendsgiving menu includes:
Sweet Potato Crostini with Blue Cheese and Honey from Desiree at Beautifully Seaside
Spiced Ginger Orange Cranberry Baked Brie from Alicia at The Lush List
Swiss Green Bean Casserole from Brooke at KBStyled
Cinnamon Apple Cider Margarita from Courtney at A Thoughtful Place
Cranberry Lime Tart by Me! at INK Foods
Friendsgiving Whole30 Salad with Homemade Ranch from Andrea at Loubies and Lulu
Mama Mary's Apple Pie from Sara at Haute and Humid
Smoked Turkey "Pate" from Elizabeth and Lolli at Lolli and Me
Thanks for stopping by INK Foods!