The best Bakery Style Chocolate Chip Cookies are thick, perfectly soft in the center, golden around the edges and loaded with semi sweet chocolate chips.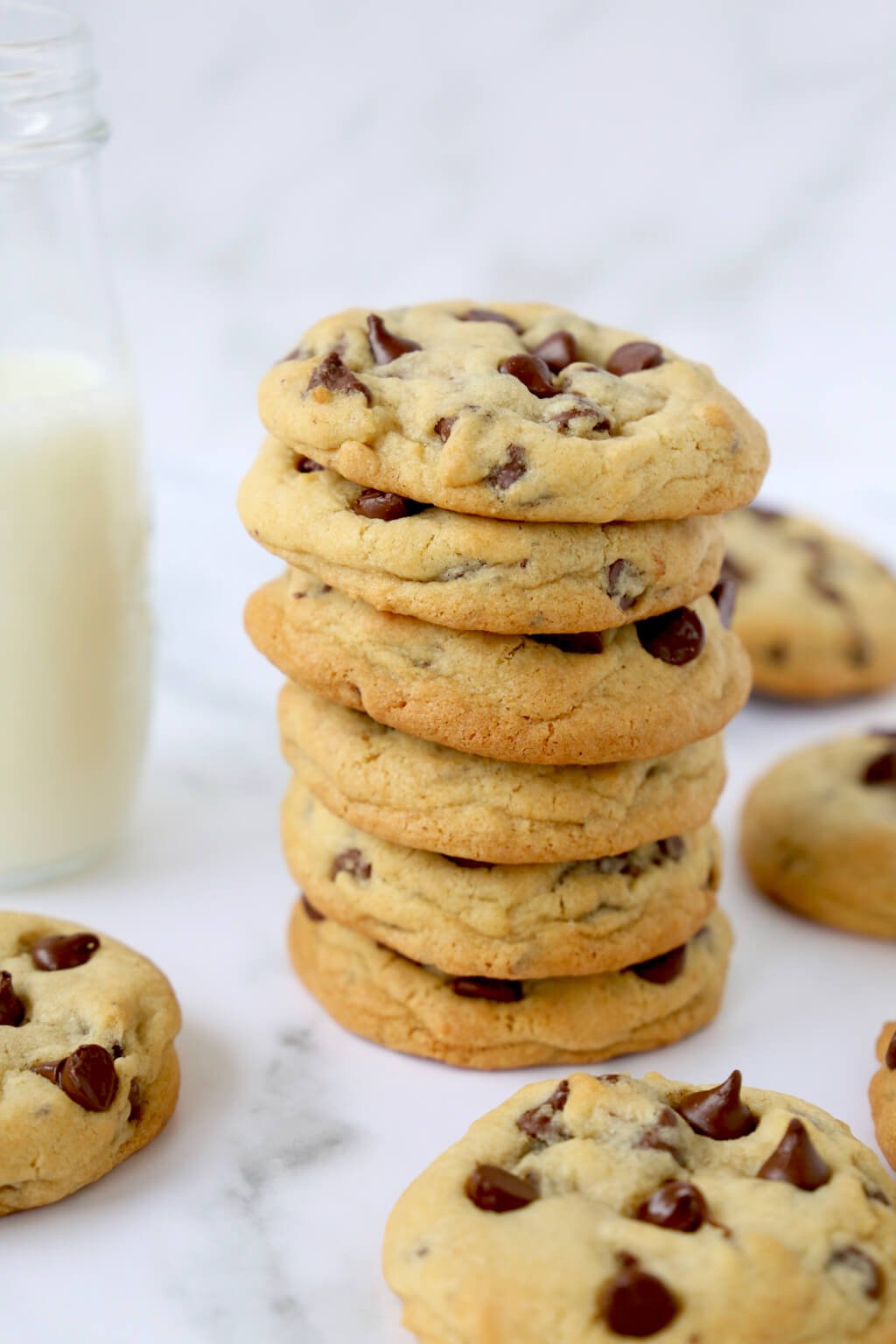 There is nothing better than walking into a neighborhood bakery and enjoying the smell of fresh baked cookies and even better chocolate chip cookies.  When I owned a bakery,  it was always the chocolate chip cookies that sold out every day and without fail something everybody loved.  There is something so special about the flavor, texture and childhood memories this cookie provides.  There is a lot of pressure to have the best chocolate chip cookie and why not make it in your own home.  Bakery Style Chocolate Chip Cookies are freshly baked, thick, super soft, a beautiful golden edge and loaded with chocolate chips.  Take these cookies to the next level by sprinkling sea salt on top of each cookie right when they come out of the oven!
The Ingredients That Makes This Bakery Style Chocolate Chip Cookie The Best
The quality of your ingredients and the temperature of your ingredients are going to be the key to your success when making these Bakery Style Chocolate Chip Cookies.  There are so many chocolate chip cookies out in the world, so you want to serve the best of the best.  Make sure to use high quality ingredients and set them out to be used at room temperature.
All Purpose Flour-Unbleached All Purpose Flour is the base to making these cookies great.  Make sure to measure the flour and level the top to provide the exact amount that you need.
Baking Soda-Using baking soda will ensure that your cookie will puff up and will give a perfect soft texture
Corn Starch-The addition of corn starch is not in every cookie recipe, but I promise this will keep your cookies extra soft
Salt-I love the addition of salt to enhance the flavor of your cookie
Light Brown Sugar-Combining light brown sugar with granulated sugar give the cookie more depth in the flavor and provides a softer texture
Granulated Sugar-The perfect amount of sugar will make the cookie sweet but not to sweet.  You want to be able to enjoy every bite without having sugar overload
Eggs-eggs will allow the cookies to spread and create a beautifully thick center that will be super soft
Vanilla Extract-Add vanilla extract for an extra touch of flavor
Semisweet Chocolate Chips-there is not chocolate chip cookie without the chocolate chips, so this is ingredient has the spotlight.  I love semi sweet chocolate chips because they are not as sweet as other chocolate chips.  If you prefer another type of chocolate, you can customize this to your liking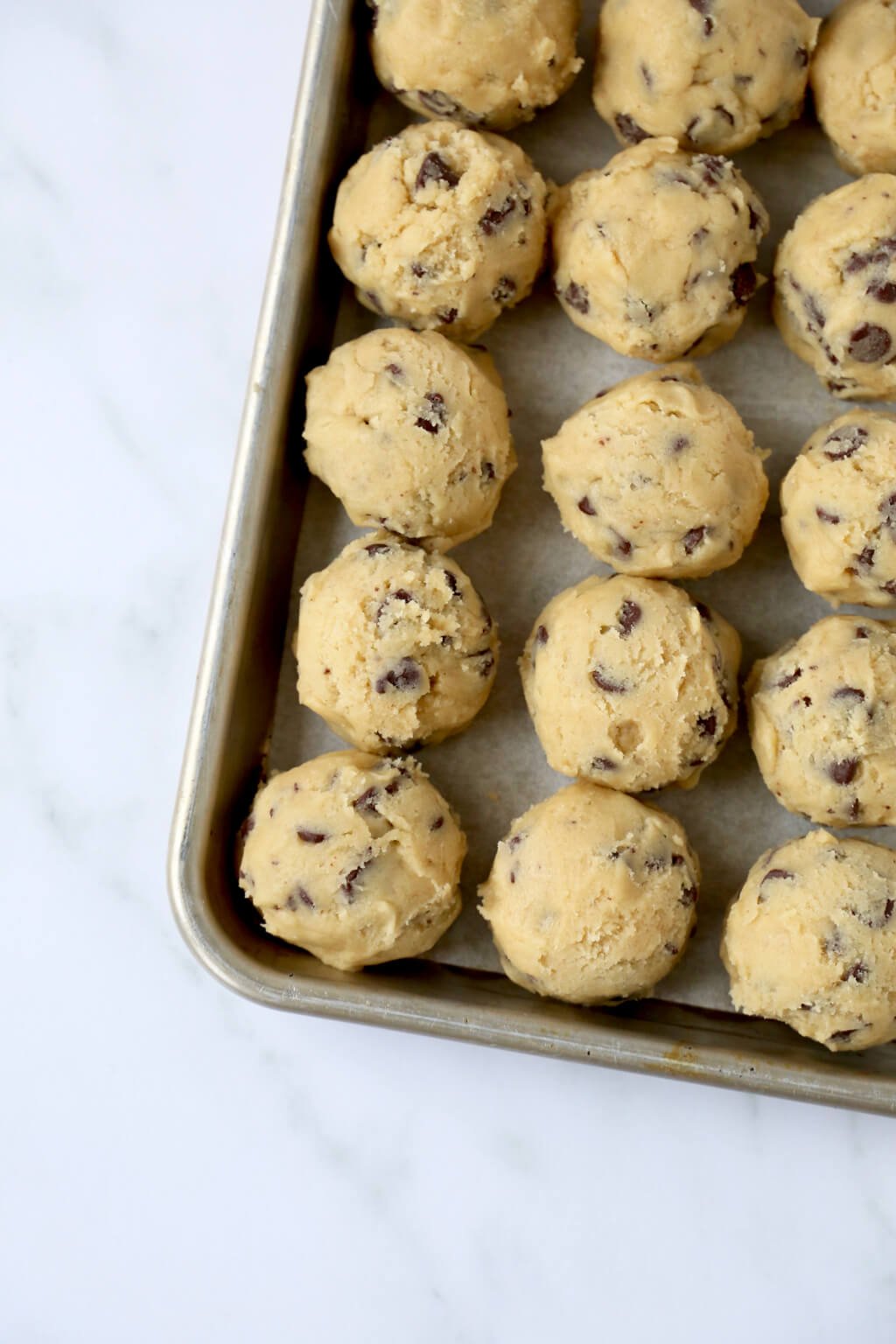 How To Make The Best Bakery Style Chocolate Chip Cookies
combine the all purpose flour, baking soda, cornstarch and salt; set aside 

Using room temperature ingredients, cream together the unsalted butter, light brown sugar and granulated sugar until combined and creamy
Add the eggs, one at a time, scraping down the sides in between each addition; Mix until the eggs are fully combined
Slowly add the dry ingredients into the butter mixture and mix until all ingredients are incorporate but do not overmix (scrape down the sides of the bowl to ensure all ingredients are fulling incorporated)
Mix in 1 ½ Cup Semi Sweet Chocolate Chips to the cookie batter (save the remaining ½ cup for the top of the cookies)
Scoop the cookie batter into balls (2 inches round or 2 ½ ounces in weight) and place them 3-4 inches apart on the prepared baking sheet
Top each cookie dough ball with extra chocolate chips and gently press the cookie to flatten the rounded cookie top (do not press the dough to be flat)
Bake the cookies for 11-12 minutes (the edges will be a light golden color and the center will still look slightly undercooked)
Remove the cookies from the oven and allow them to cool for 5-10 minutes
Enjoy
Tips & FAQ's
Make sure your ingredients are room temperature
Do not over mix the cookie dough
The cookie dough does not need to be refrigerated before baking
Slightly press the rounded top of the cookie down before baking
Make sure to separate the cookie dough on the baking sheet at least 3 inches apart to avoid the cookies from crashing
Add Sea Salt right when the cookies come out of the oven to take these to the next level
Freeze the Cookie Dough-once the dough is make, scoop the dough into balls, refrigerate to harden and then place the dough balls in a zip loc bag and freeze until ready to serve
Thaw Cookie Dough-remove the cookie dough from the freezer and allow it to sit at room temperature until thawed out before baking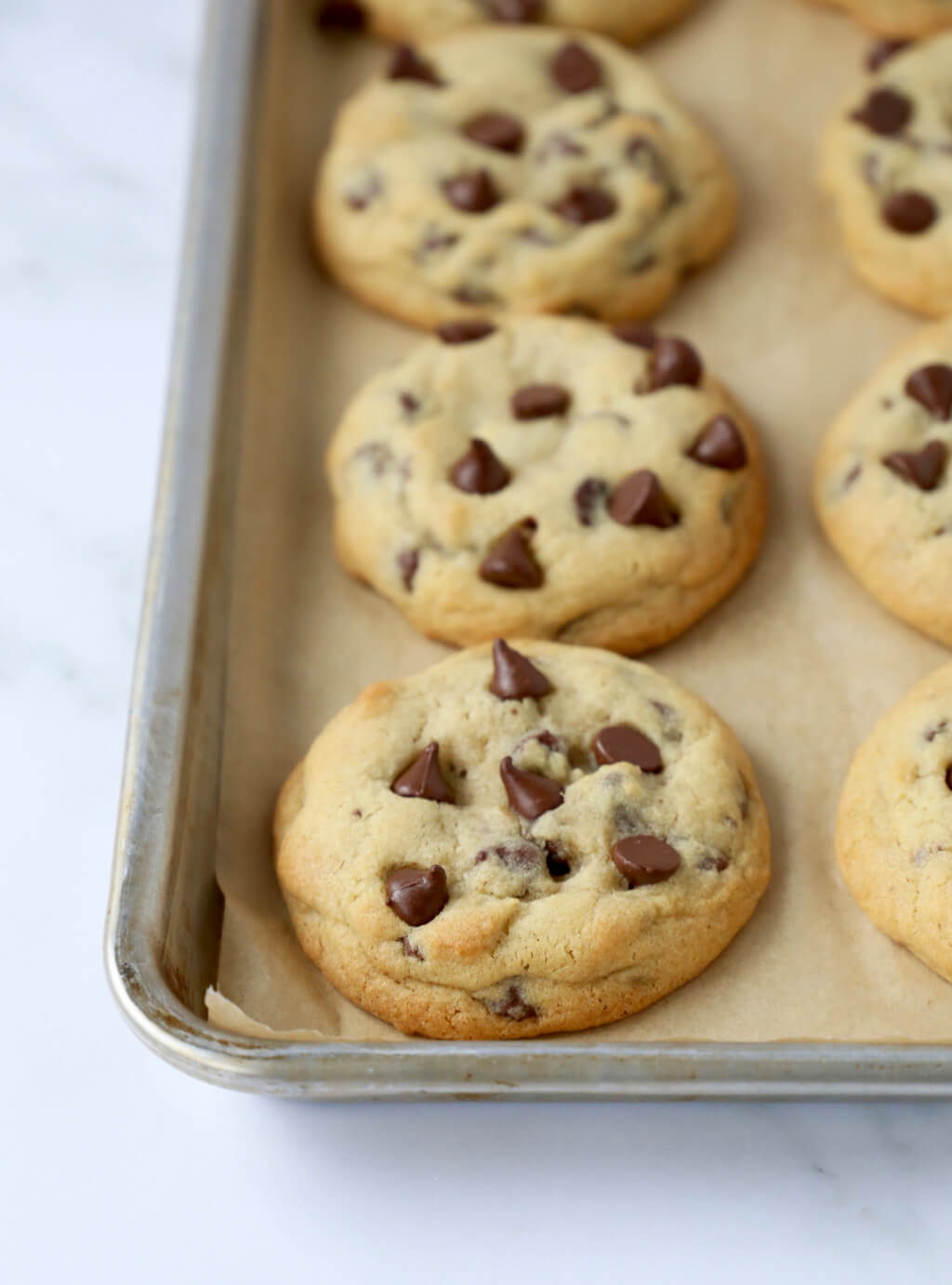 More Cookies You Will Love
The Best Chocolate Chip Pecan Cookies
Oatmeal Chocolate Chip Cookies 
Soft and Chewy M&M Cookies 
Print
Bakery Style Chocolate Chip Cookies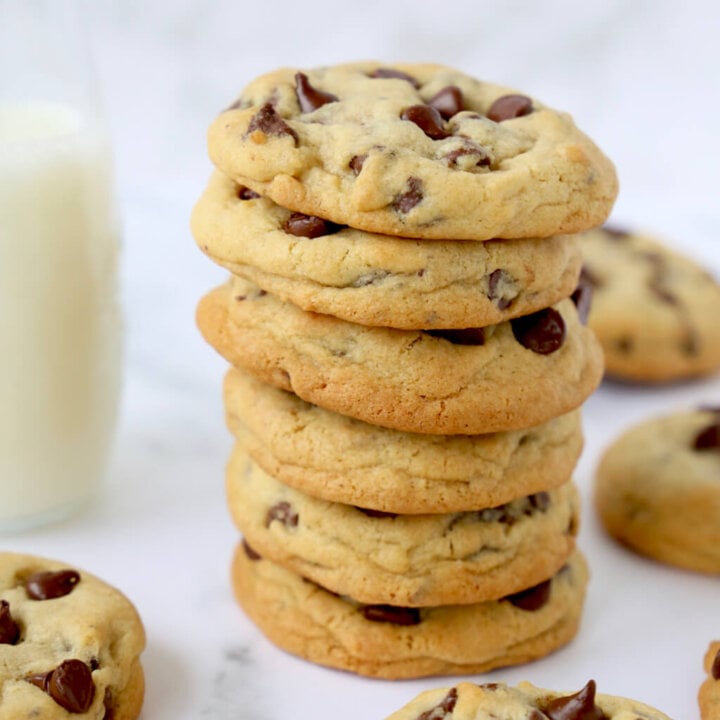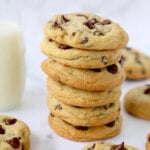 Author: kristen massad
Prep Time:

10 minutes

Cook Time:

12 minutes

Total Time:

22 minutes

Yield:

17

-

18

1

x
Category:

Cookies
2 ¼ Cup All Purpose  Flour
1 teaspoon Baking Soda
1 teaspoon Cornstarch
½ teaspoon Salt
¾ Cup Unsalted Butter
¾ Cup Light Brown Sugar
½ Cup Granulated Sugar
2 Eggs
2 Cups Semi Sweet Chocolate Chips
Instructions
Preheat oven to 350 degrees F and prepare a baking sheet with parchment paper
In a medium bowl, combine the all purpose flour, baking soda, cornstarch and salt; set aside
In a mixing bowl with paddle attachment, cream together the unsalted butter, light brown sugar and granulated sugar until combined and creamy
Add the eggs, one at a time, scraping down the sides in between each addition; Mix until the eggs are fully combined
Slowly add the dry ingredients into the butter mixture and mix until all ingredients are incorporate but do not overmix (scrape down the sides of the bowl to ensure all ingredients are fulling incorporated)
Mix in 1 ½ Cup Semi Sweet Chocolate Chips to the cookie batter (save the remaining ½ cup for the top of the cookies)
Scoop the cookie batter into balls (2 inches round or 2 ½ ounces in weight) and place them 3-4 inches apart on the prepared baking sheet
Top each cookie dough ball with extra chocolate chips and gently press the cookie to flatten the rounded cookie top (do not press the dough to be flat)
Bake the cookies for 11-12 minutes (the edges will be a light golden color and the center will still look slightly undercooked)
Remove the cookies from the oven and allow them to cool for 5-10 minutes
Enjoy warm or store in an airtight container
Notes
Make sure your ingredients are room temperature
Do not over mix the cookie dough
The cookie dough does not need to be refrigerated before baking
Slightly press the rounded top of the cookie down before baking
Make sure to separate the cookie dough on the baking sheet at least 3 inches apart to avoid the cookies from crashing
Add Sea Salt right when the cookies come out of the oven to take these to the next level
Freeze the Cookie Dough-once the dough is make, scoop the dough into balls, refrigerate to harden and then place the dough balls in a zip loc bag and freeze until ready to serve
Thaw Cookie Dough-remove the cookie dough from the freezer and allow it to sit at room temperature until thawed out before baking
Keywords: The Best Chocolate Chip Cookies