A cookie for all to love!  Loaded with chocolate chips, pecans, gooey in the center and crunchy on the outside, Mudslide Cookies are to good to pass up and they are naturally gluten free! Made with only a short list of ingredients and one bowl, these are better than a bakery and made in your own home!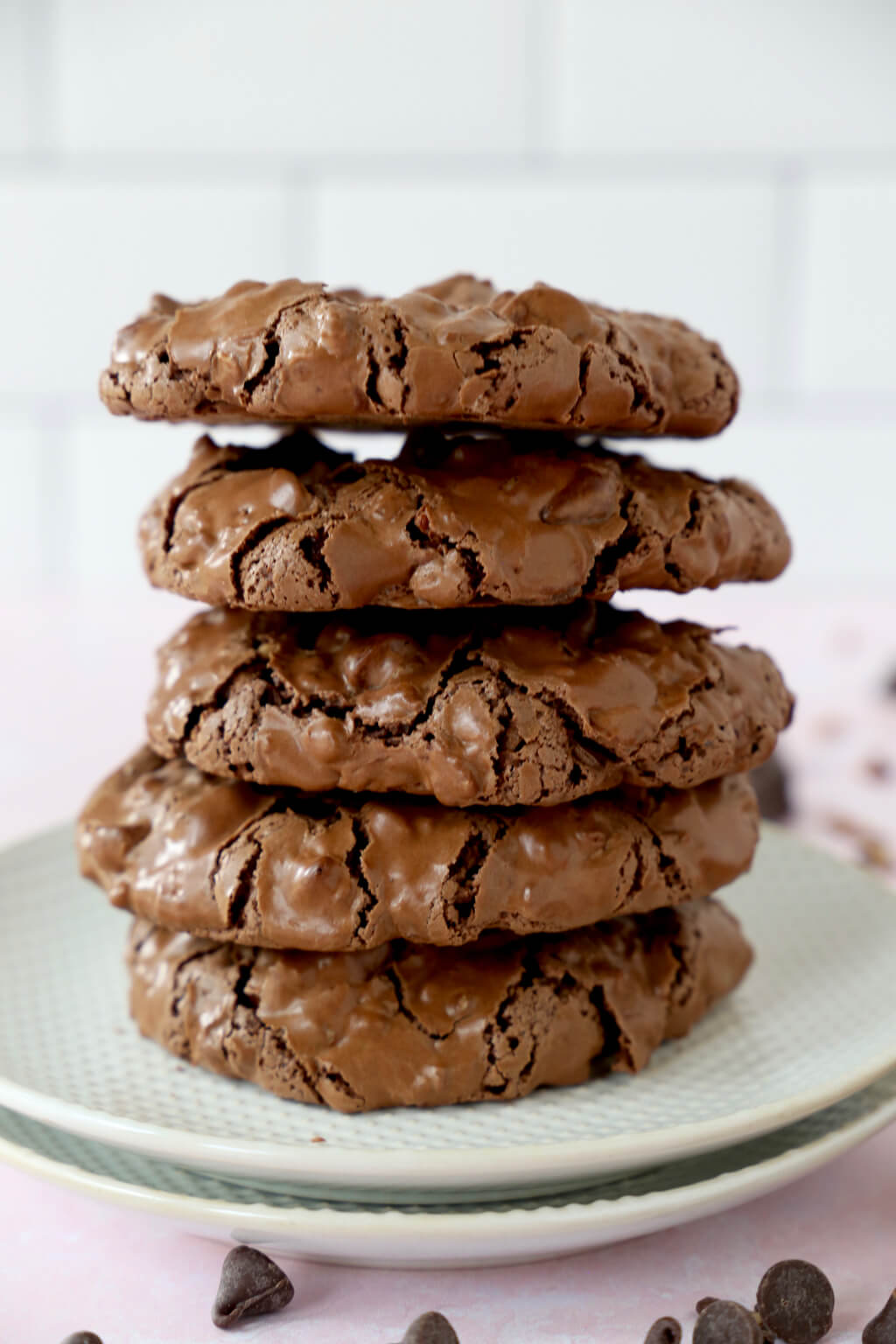 Given the name Mudslide Cookies because they kind of look like mud when they are being made, these are one of the easiest and best cookies you are going to make and your family is going to fall in love.  I have made this cookie off and on for many years, but I never have forgotten how great it is and how simple it is to make…and gluten free.  With only one bowl and a short list of ingredients these cookies will be in your oven in no time and ready to enjoy.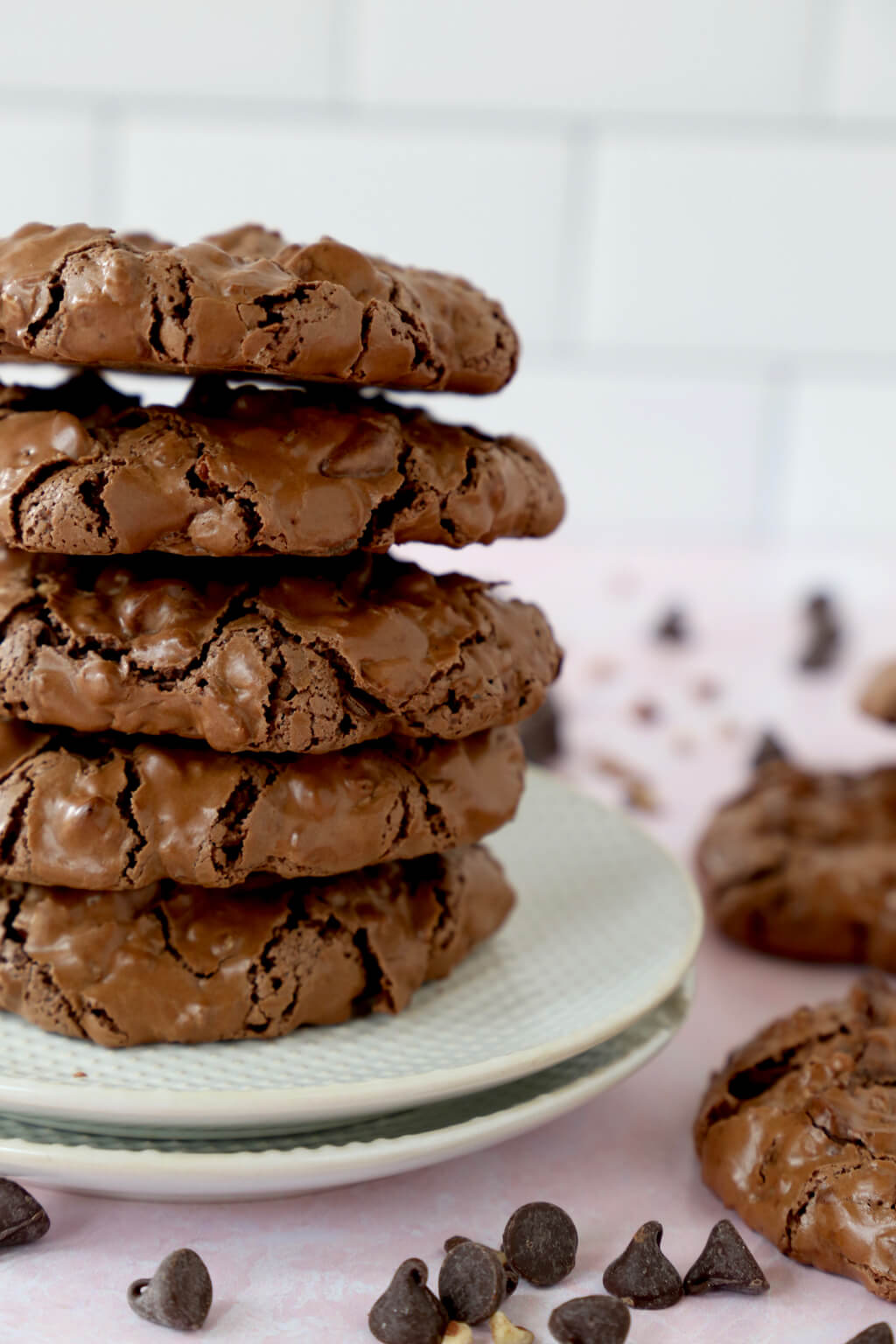 How To Make Mudslide Cookies
Made with powdered sugar, cocoa powder, salt, egg whites, vanilla extract, semi sweet chocolate chips and pecans Mudslide Cookies are a one bowl cookie batter and no mixer required.  Once all the ingredients are mixed together the cookie batter will be very thick and glossy, but I prefer to let the batter sit for an extra ten minutes to thicken up even more.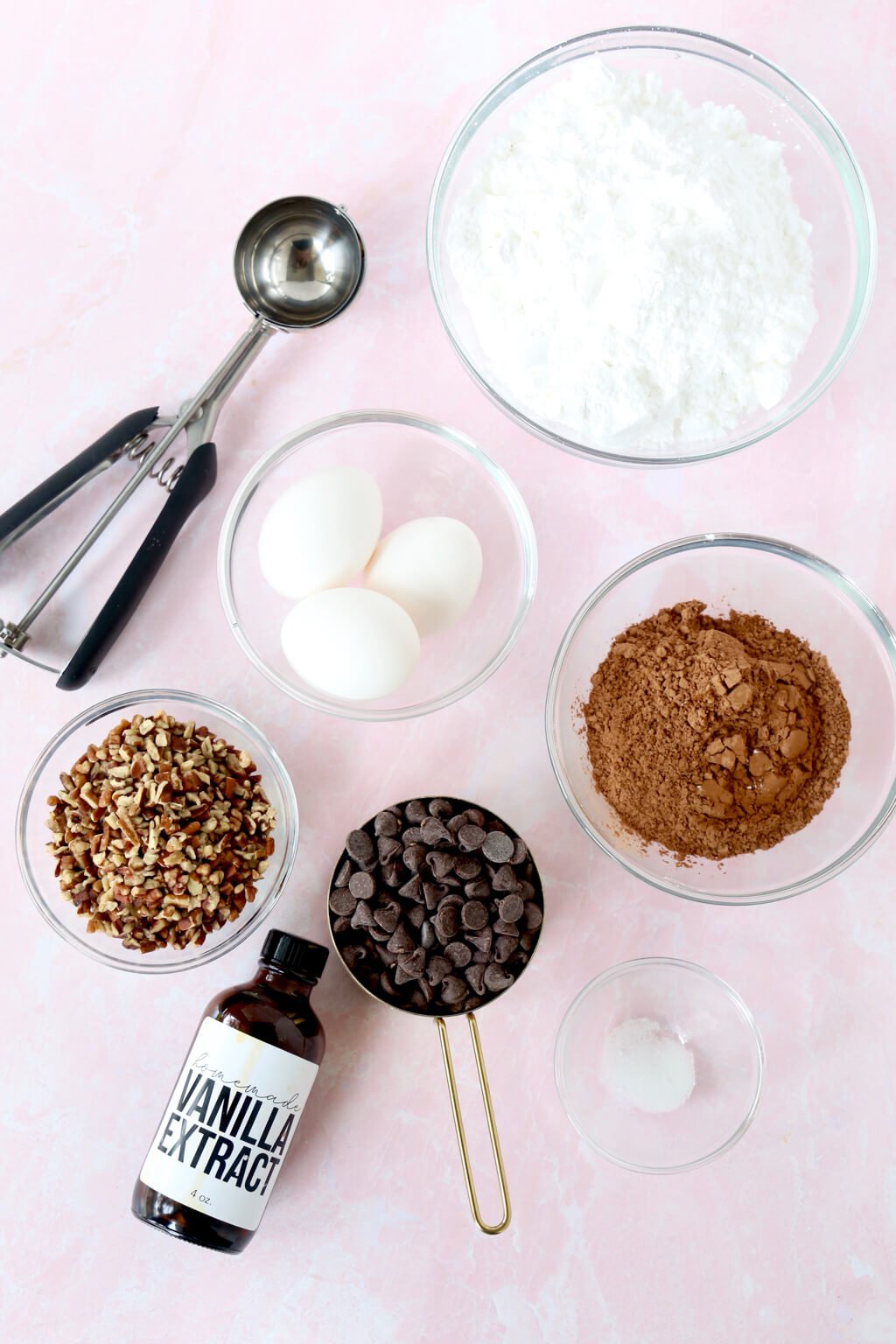 Baking Mudslide Cookies
Once the batter is prepare, scoop the batter onto a prepared sheet pan, leaving about three inches in between each cookies because they will spread (slide) to become a large and delicious chocolate cookies.  I use two sheet pans and bake six cookies on each pan to be sure they do not run into each other.  Mudslide Cookies will bake at 350 degrees F for 11-12 minutes and the cookie will crack and will turn a slightly lighter shade of brown.  Once the cookies are baked, remove the cookies from the oven and allow them to cool completely before removing from the pan.  The cookies will be very soft while they are hot but will slightly harden on the outside as they cool off.   
Gluten Free and Optional Dairy Free
The best part about these amazing chocolate cookies is they are naturally gluten free.  No need for flour to make these decadent mudslide cookies and if you want to make them dairy free, just use a dairy free chocolate chip and you are all set!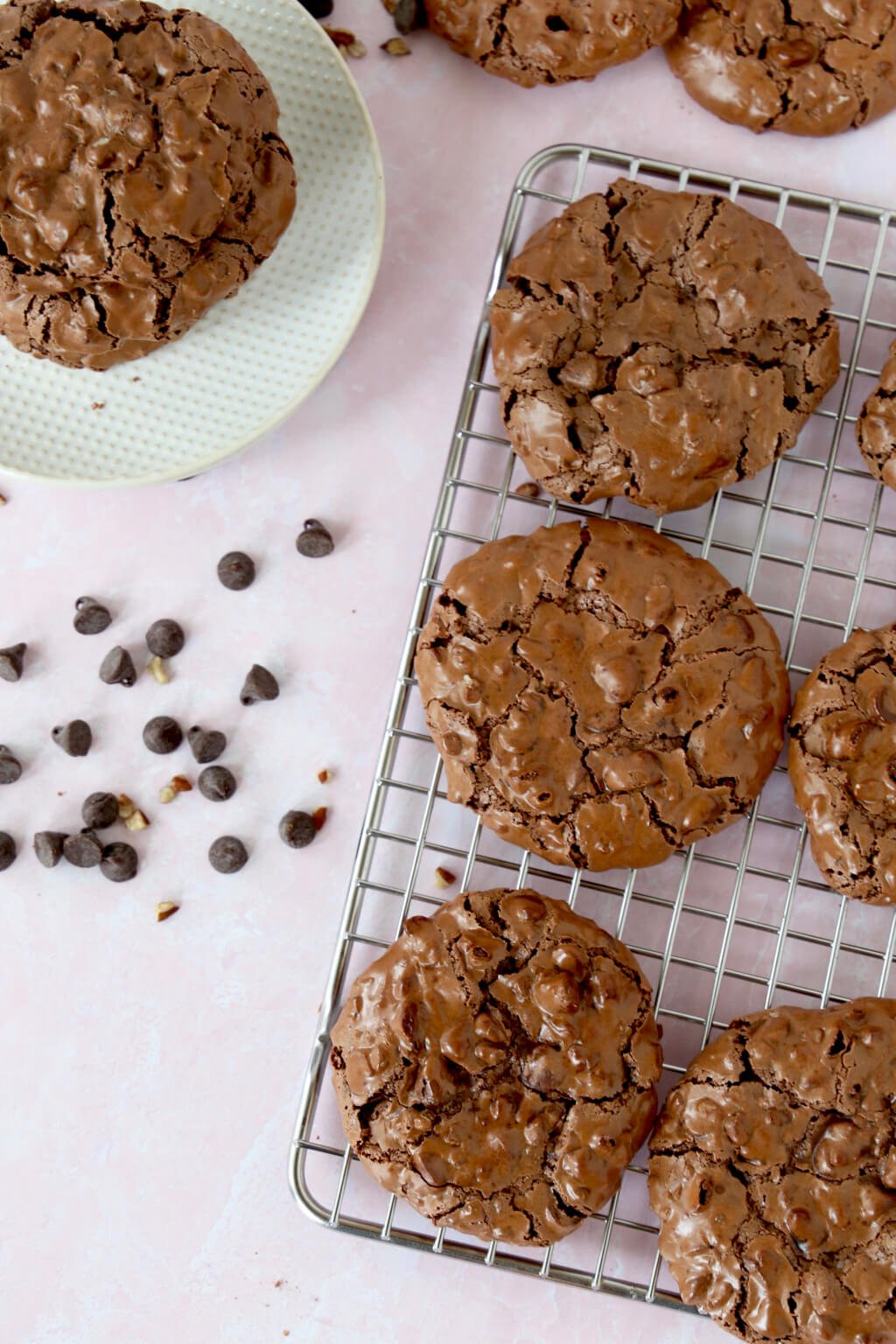 More Cookies and Bars To Love
Black and White Cookies 
Soft and Chewy M&M Cookies 
Pecan Bars 
Chocolate Crackle Cookies 
The Best Chocolate Chip Pecan Cookies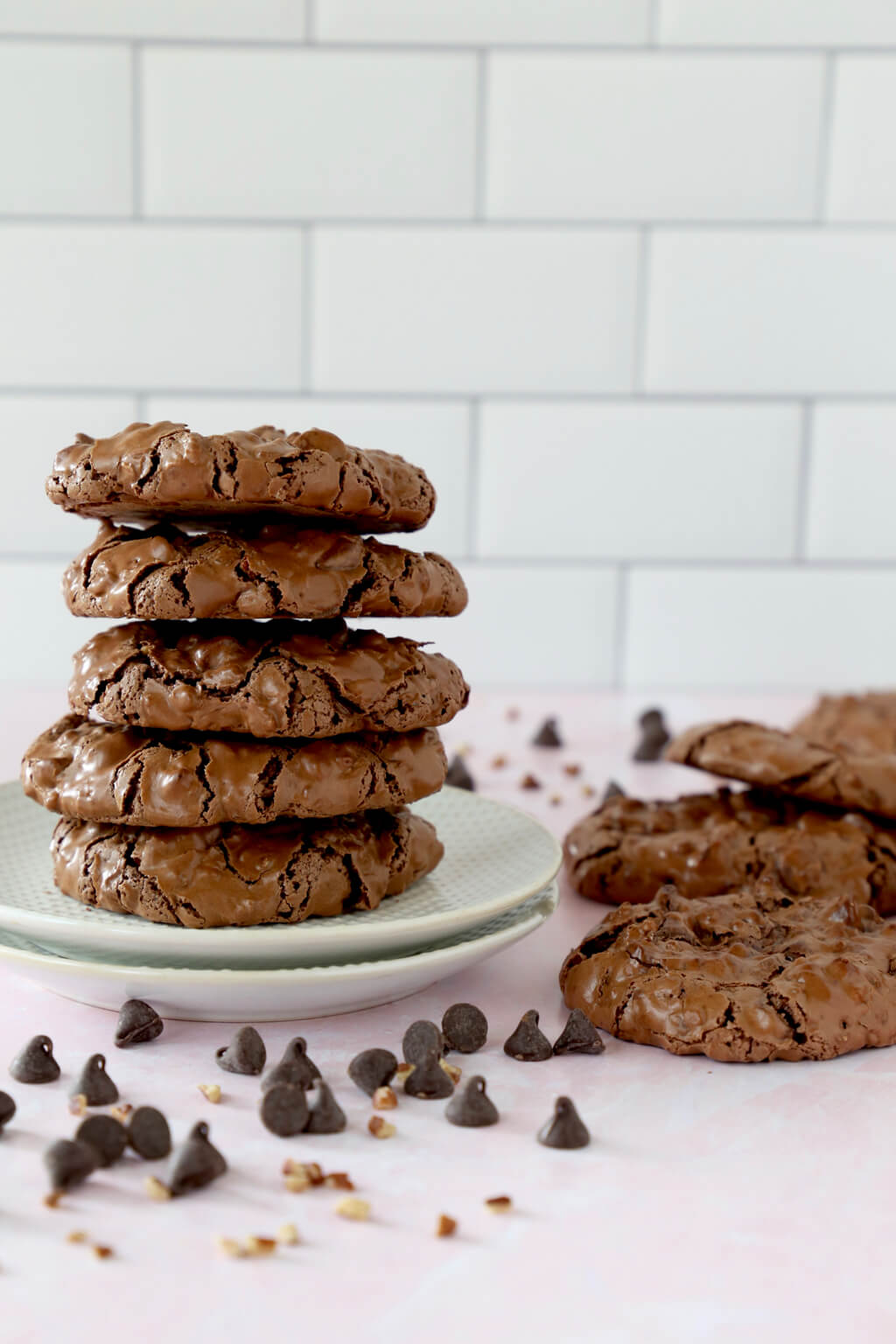 Print
Mudslide Cookies(Gluten Free)
2 ¾ Cup Powdered Sugar
¾ Cup Cocoa Powder
¼ teaspoon Salt
3 Large Egg Whites
1 teaspoon Vanilla Extract
1 Cup Semisweet Chocolate Chips
¾ Cup Chopped Pecans 
Instructions
Preheat oven to 350 degrees F and prepare (2) baking sheets with parchment paper
In a large mixing bowl, combine the powdered sugar, cocoa powder and salt; whisk together to combine
Add in the egg white and vanilla extract and whisk until the cookie batter becomes thick and sticky and all ingredients are fully combined and smooth
Using a spatula, fold in the semisweet chocolate chips and the chopped pecans
Allow the cookie batter to sit for 5-10 minute to slightly thicken
Using a ¼ cup or Ice cream scoop, scoop the cookie batter onto the parchment lined baking sheets spaced apart (I only fit six cookies on one sheet pan)
Bake for 11-12 minutes until the cookies are crackled on the top and the batter looks fully cooked through
Remove the cookies from the oven and allow them to cool completely before removing them from the sheet pan (they will be very soft until cooled)
Serve the cookies or store in an airtight container
Mudslide cookies are best enjoyed the day they are baked!