Spring Charcuterie Board is made up of beautiful colors, fresh veggies, fruits, cured meats and a few bites of sweets! Each board is perfect for midday snacking and gathering with the whole family!
As spring roles around I am always craving fresh produce, color and bright dishes and a fun way to enjoy healthy snacks with our family. We love to entertain outdoors and a charcuterie board is the best way to feed a crowd with a variety of options for everyone!
Ingredients
Fresh Veggies-Colorful veggies such as cucumbers, endives and carrots are great options to share with a crowd and perfect for dipping.
Fresh Fruits- Grapes are always the perfect addition for cheese and meats boards, but you can always add any fruit you love.
Cured Meats- Prosciutto is a thinly sliced Italian cured ham that has a salty flavor and pairs well with all veggies and cheese.
Cheese- Soft, semi soft, semi hard and hard cheese are all the options that you can choose for a charcuterie board. I love cubed cheddar cheese and a spreadable goat cheese for spring.
Crackers- Salty and crunchy crackers are the perfect addition paired with cheese and cured meats.
Dips- Make your own or buy your favorite, but adding a seasonal dip can be the center of your beautiful snack board. This Green Goddess Dip from Trader Joes is a family favorite.
Sweets- Add a few sweet treats to your salty and savory charcuterie board, such as chocolate or a seasonal cookie. For spring or easter, flower shortbread cookies and Cadbury Chocolate Easter Eggs are a colorful and a delicious addition.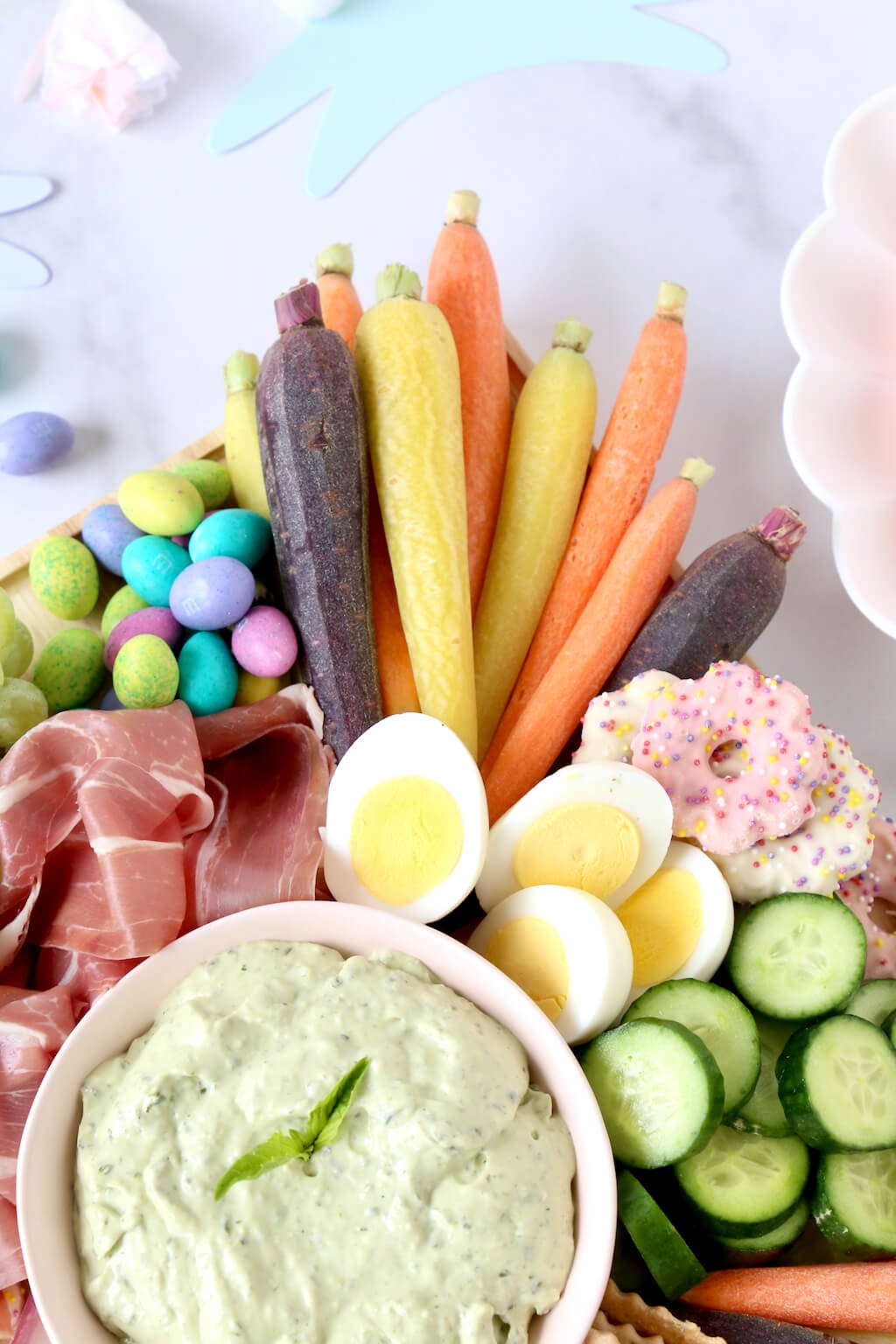 Step-by-Step Instructions
When putting together a Spring Charcuterie Board, adding a variety of color, texture, salty and sweet options are important. Know the crowd you are serving and then choose ingredients to their liking.
Pick A Board-Once you know the amount of people you are serving, choose a board that will can be filled to fit your crowd.
Gather Your Ingredients- Pick your ingredients that go along with the season. For springs I gathered fruits, veggies, a small amount of cured meats, our favorite Green Goddess Dip, some hard boiled eggs, chocolates and cookies.
Assemble- Put together your board using all your ingredients. There is not a specific way to design your board, but I always start with my dips placed in a bowl and set in the middle of the board.
Garnish & Decorate- Garnish your board with fresh herbs and decorate to go with a holiday or season that you are celebrating. For spring and Easter I chose to decorate my table with bunny garland, decorative plates to serve on and some super cute wood stacking bunnies.
FAQS and Expert Tips
Charcuterie Board Serving Size- Two ounces of meat and cheese per person is a perfect amount when serving a charcuterie board as an appetizer. If you are serving it as meal you can double to the amount of meat and cheese.
Mix Up The Textures- The best part of a charcuterie board is the options you get to choose from. Make sure to mix up the flavor and texture profile and make sure there is something for everybody.
Make It Kid Friendly- If you are entertaining a crowd with kids, make them their own charcuterie board with mild cheeses, simple meats (salami and turkey) and some basic veggies and fruit that they would love.
Related Recipes
Spring Vegetable Crudités and White Bean Dip
Spring Frittata
Heirloom Tomato Tart
Floral and Fruit Ice Cubes