Also known as my favorite cookie EVER, Black and White Cookies are not even one hundred percent cookie.  They are a cake like cookie "drop cake" that is glazed half and half with a vanilla icing and a chocolate icing and if you know them you love them!  
Traveling to NYC to visit family as a child is where my love for these unique cookies started.  After living in New York during culinary school I taste tested my way to find the best Black and White Cookie in the city and to this day, every time I travel to New York, my first stop is a black and white cookie and my last stop is a black and white cookie.
There is something so unique and special about this cookie that is not all cookie.  It is made and taste similar to a cake and a cookie combined, the best!  Glazed half and half with vanilla and chocolate icing, there is only one way to eat these cookies…right down the middle.
How To Make The Best Black and White Cookie
Made with simple ingredients, these black and white cookies are a combination of cake and cookie.  Made with cake flour to create a light and fluffy texture, baking soda, salt, only one egg, granulated sugar, butter and buttermilk!  The buttermilk reacts with the baking soda and adds a great flavor to the cookie.
Once the cookies is baked, the next best thing…the icing. Half vanilla and half chocolate is the key to making this cookie so special.  The icing is made of powdered sugar, corn syrup for extra shine, vanilla extract, milk and cocoa powder for the chocolate half.  If you want to darken the color of the chocolate icing, you can add 2-3 drops of black food color.   
Other Fun Facts About The Black and White Cookie
The black and white cookie is famous in NYC but also became very popular after making an appearance on Seinfeld.
The Black and White Cookie is also known as a half-and-half cookie or a half moon cookie .
This is actually not a cookie, but a "drop cake".
It is believed that the Black and White Cookie was created in 1902 by Bavarian family that owned a bakery in Manhattan.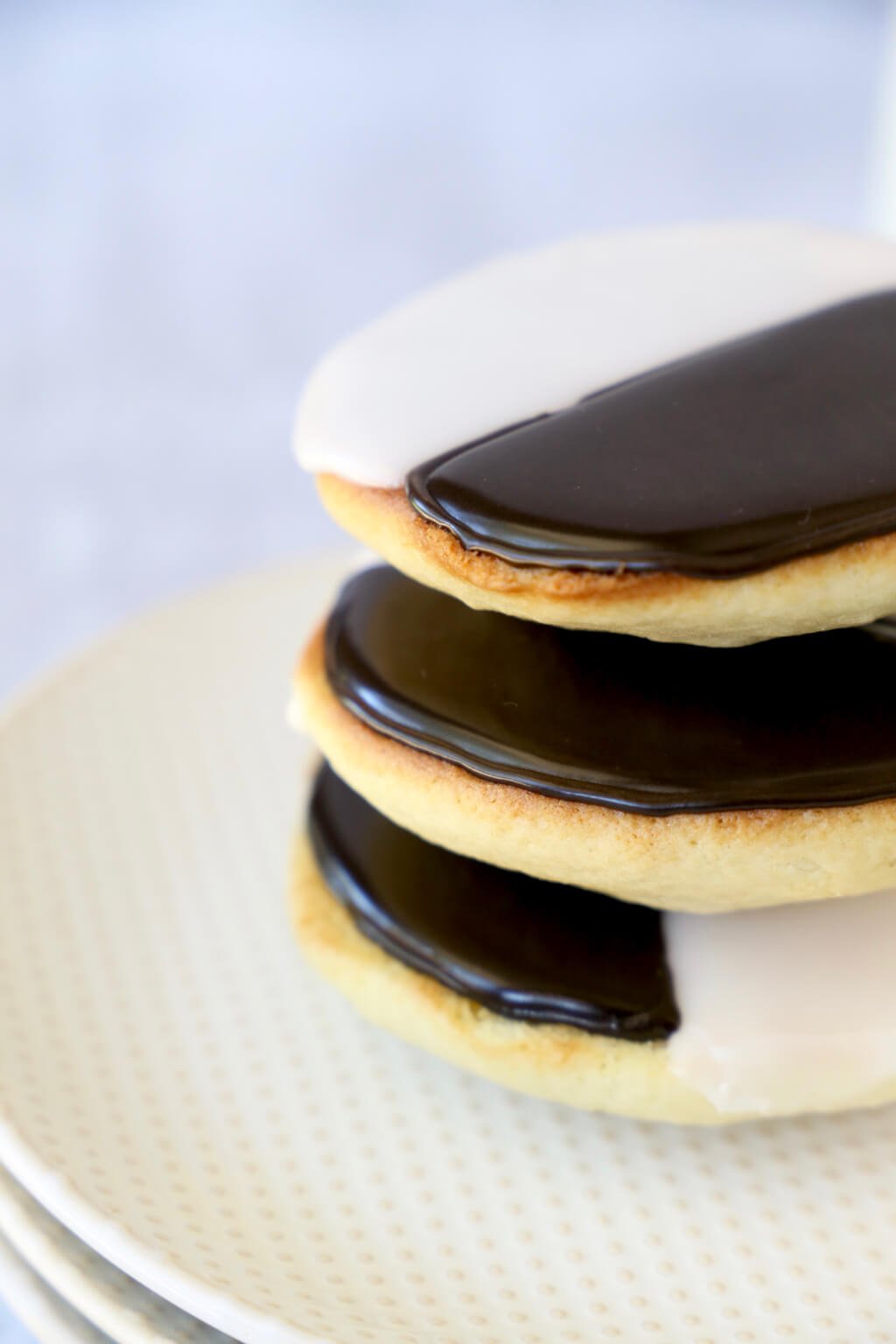 Print
Black and White Cookies
Cookie Batter
1 ¼ Cup Cake Flour
½ teaspoon Baking Soda
¼ teaspoon Salt
⅓ Cup Unsalted Butter
½ Cup Granulated Sugar
1 Egg
⅓ Cup Buttermilk
½ teaspoon vanilla extract 
Icing
3 Cups Powdered Sugar
2 Tablespoons Corn Syrup
½ tsp Vanilla Extract
4-5 Tablespoons Whole Milk, separated
3 Tablespoons Unsweetened Cocoa Powder
optional: 2-3 drops black food color 
Instructions
Preheat oven to 350 degrees F and prepare two sheet pans with parchment paper
In a medium bowl, combine the cake flour, baking soda and salt; set aside
In a mixing bowl with paddle attachment, cream together the unsalted butter and granulated sugar until smooth and creamy
Add the egg to the butter mixture and mix until fully combined
Alternate adding the flour mixture with the buttermilk and vanilla extract until all ingredients are added and ingredients are fully incorporated
Scoop ¼ cup of batter on the prepared sheet pans leaving about 4 inches in between each cookie so that they don't bake into each other
Bake the cookies for 10-12 minutes or until they spring back at the touch
While the cookies are cooling, prepare the icing
In a medium bowl combine the powdered sugar, corn syrup, vanilla extract and 3-4 tablespoons of milk and whisk until smooth
Divide the icing in half and save one half for vanilla and prepare the other half whisking together the cocoa powder and black food color (optional) with the icing and add the additional milk if needed
Turn the cookies flat side up and begin icing half of the cookies with the vanilla icing
Once you have completed all the cookies, repeat with the chocolate icing
Allow the cookies to dry for 30 minutes before serving!
Store the cookies in an airtight container for 2-3 days for best flavor!
Enjoy! 
Keywords: Black and White Cookie