Soft and Chewy M&M Cookies are the ultimate lunch box treat.  Small is size but big is flavor and personality, these bite size cookies are made with melted butter, light brown sugar and granulated sugar for a soft texture and loaded with chocolate chips and mini M&M's.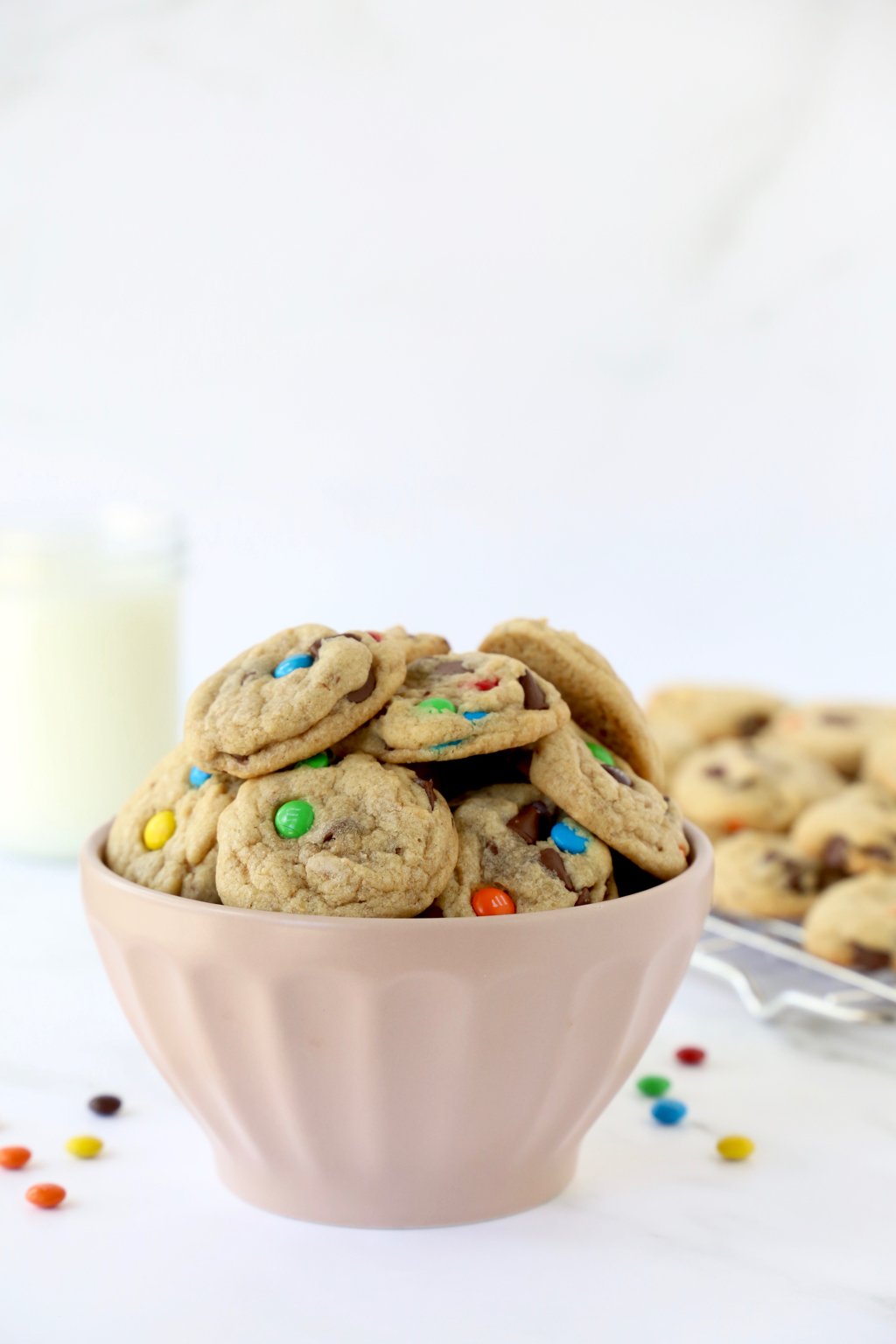 Chocolate chip cookies are always the best, but Soft and Chewy M&M Cookies are even better!  The small colorful gems of mini m&m's make everything so much better when you are a kid (and adult) and when they are added into the softest and chewiest cookie, you are in for the ultimate treat.
The Ultimate Lunch Box Cookie
As the school year begins for most, whether virtual or in person, lunch boxes are always top of mind.  I know that we are always so ambitious at the beginning of the year to make the perfect lunch and it might start to dwindle as the year goes on but heres the deal…these Soft and Chewy M&M Cookies will be a lunch box favorite all year long.  These cookies are just the right size, chewy in texture and mixed with color mini m&m's for a special surprise.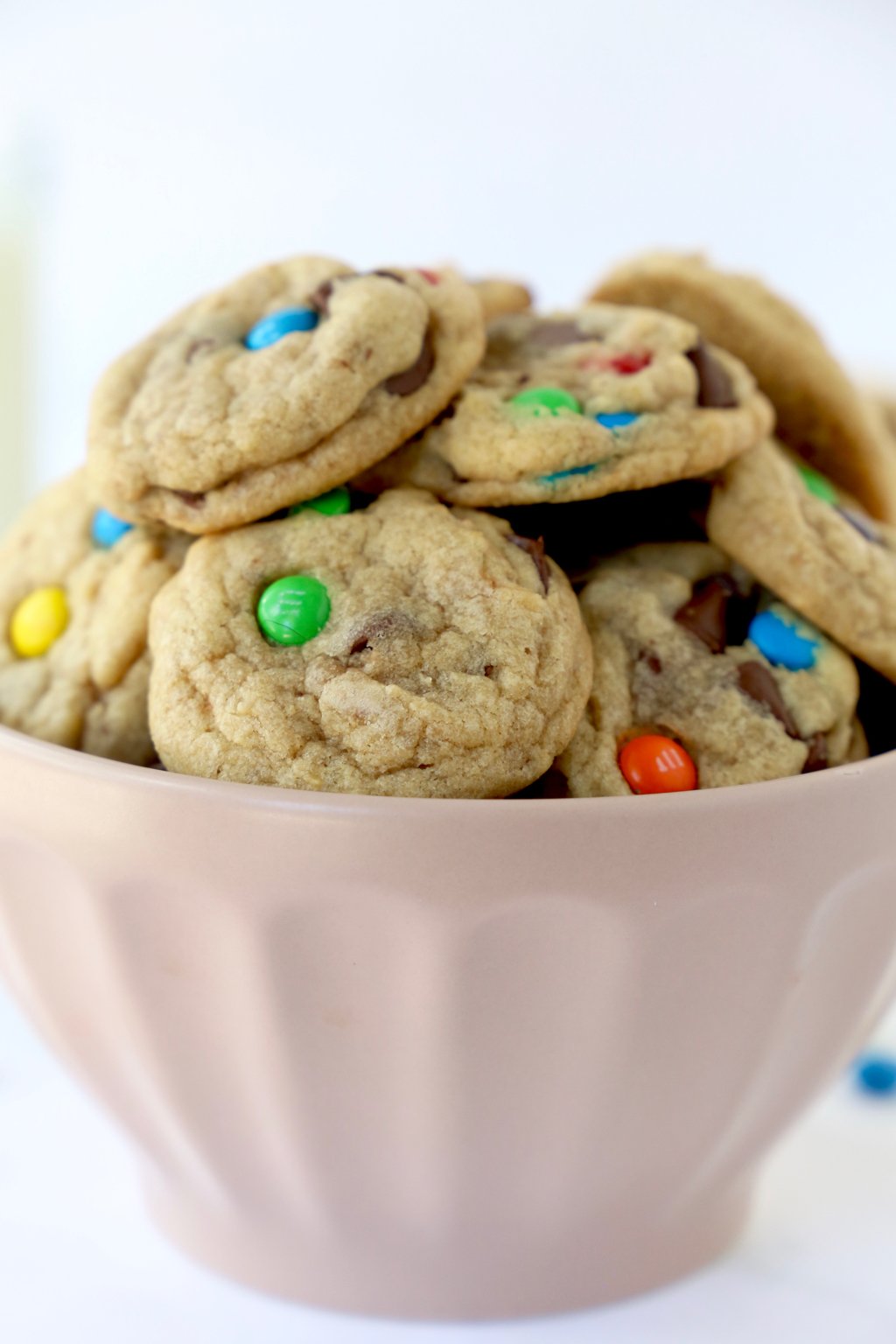 How To Make The Softest and Chewiest Cookies
There are so many ways to make a chocolate chip cookie but using highest quality ingredients are the key to success.  Soft and Chewy M&M Cookies are just that, soft and chewy.  Made with melted butter,  brown sugar and granulated sugar to create the soft texture, baking soda, only one egg, chocolate chips and mini m&m candies makes these bite size cookies to good to just eat one.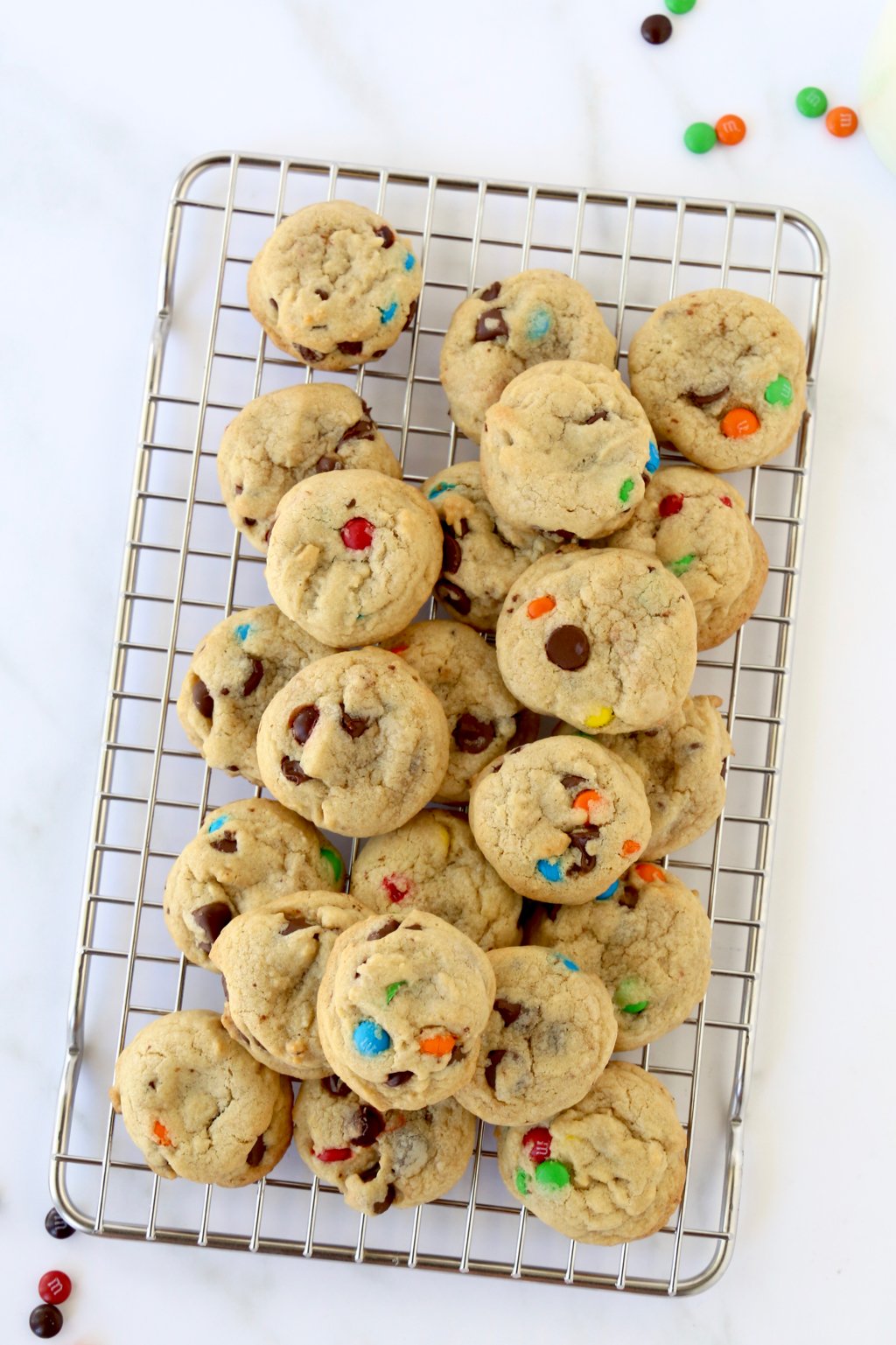 Ingredients You Need To Make Soft and Chewy M&M Cookies 
All Purpose Flour
Baking Soda
Salt
Unsalted Butter, Melted
Light Brown Sugar
Granulated Sugar
Vanilla Extract
One Egg
Semi Sweet Chocolate Chips
Mini M&M's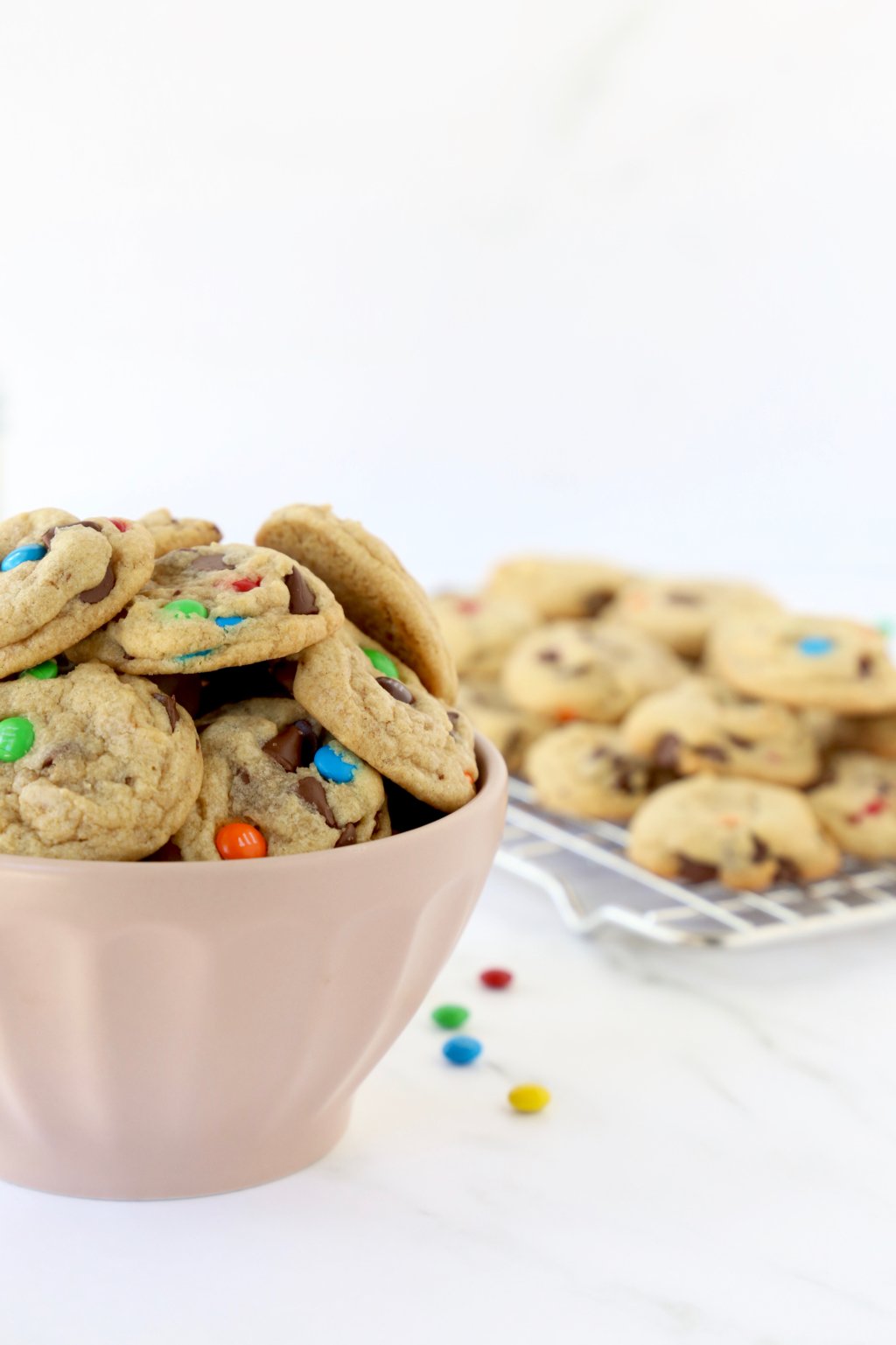 Print
Soft and Chewy M&M Cookies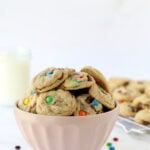 1 ½ Cup All Purpose Flour
½ teaspoon Baking Soda
¼ teaspoon Salt
½ Cup Unsalted Butter, Melted
½ Cup Light Brown Sugar
¼ Cup Granulated Sugar
1 teaspoon Vanilla Extract
1 Egg
¾ Cup Semi Sweet Chocolate Chips
½ Cup Mini M&M 
Instructions
Preheat oven to 350 degrees F and prepare a sheet pan with parchment paper 

In a medium bowl, combine the flour, baking soda and salt; set aside 

In a small microwave safe bowl, melt the butter to be almost fully melted but not hot 

In a mixing bowl with paddle attachment, combine the melted butter, light brown sugar, granulated sugar and vanilla extract; mix until combined and creamy

Add the egg to the butter mixture and mix until fully combined 

Slowly add the dry ingredients into the butter and sugar mixture and beat on medium speed until smooth

With the mixer on low speed, add in the chocolate chips and mini M&M's 

Using a 1 tablespoon scoop or spoon, scoop the batter into a ball and place on the prepared sheet pan about 3 inches apart.  

Place the sheet pan in the preheated oven for 6-7 minutes (cookies will still be very light in color...do not over bake)

Remove the cookies from the oven and allow them to cool completely 

Store in an airtight container for 3-4 days or freeze if you are not enjoying immediately
Keywords: Soft and Chewy M&M Cookies