Elegant Caramel Dipped Pears will make the most beautiful and delicious addition to your thanksgiving table.  Juicy pears dipped in the creamiest and soft caramel, white chocolate and tied with a grateful and thankful tag.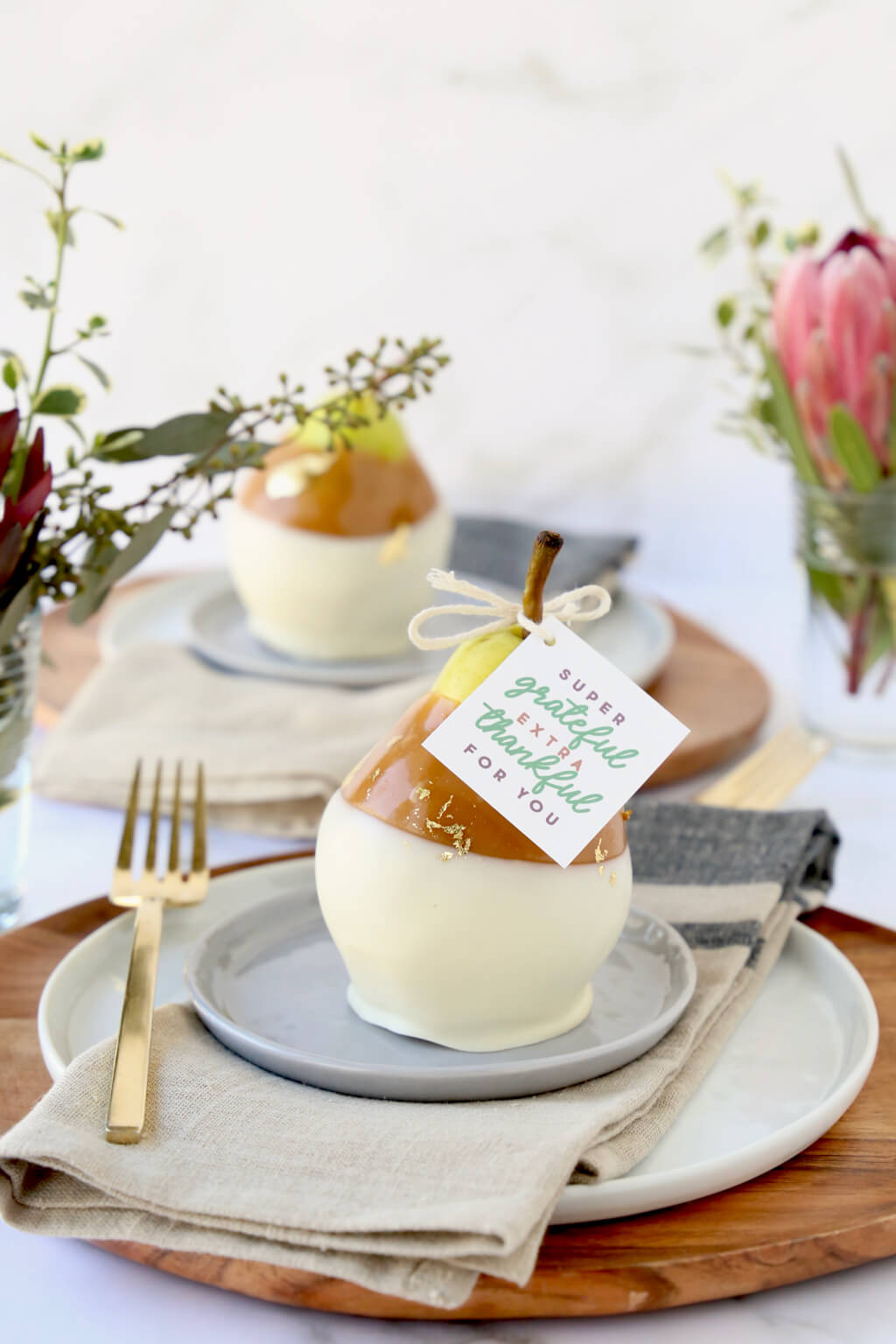 Feeling extra grateful and so thankful this year and ready to celebrate with family.  There are so many ways to make this thanksgiving holiday extra special and keep it intimate around your table starting with your place setting for each guest.  Caramel pears are the perfect addition to your table, that look beautiful and festive, serve as a place card and can also be enjoyed after your thanksgiving feast.   
Caramel Pears are so much fun to make and even more fun to eat.  Similar to a traditional caramel apple, caramel pears bring all the fall flavors using sweet and juicy green bartlett pears, dipped in homemade creamy and smooth caramel glaze and then coated in white chocolate for an elegant look.  Tag each Caramel Pear with a Grateful and Thankful Gift Tag and you are sure to make your guests feel extra loved.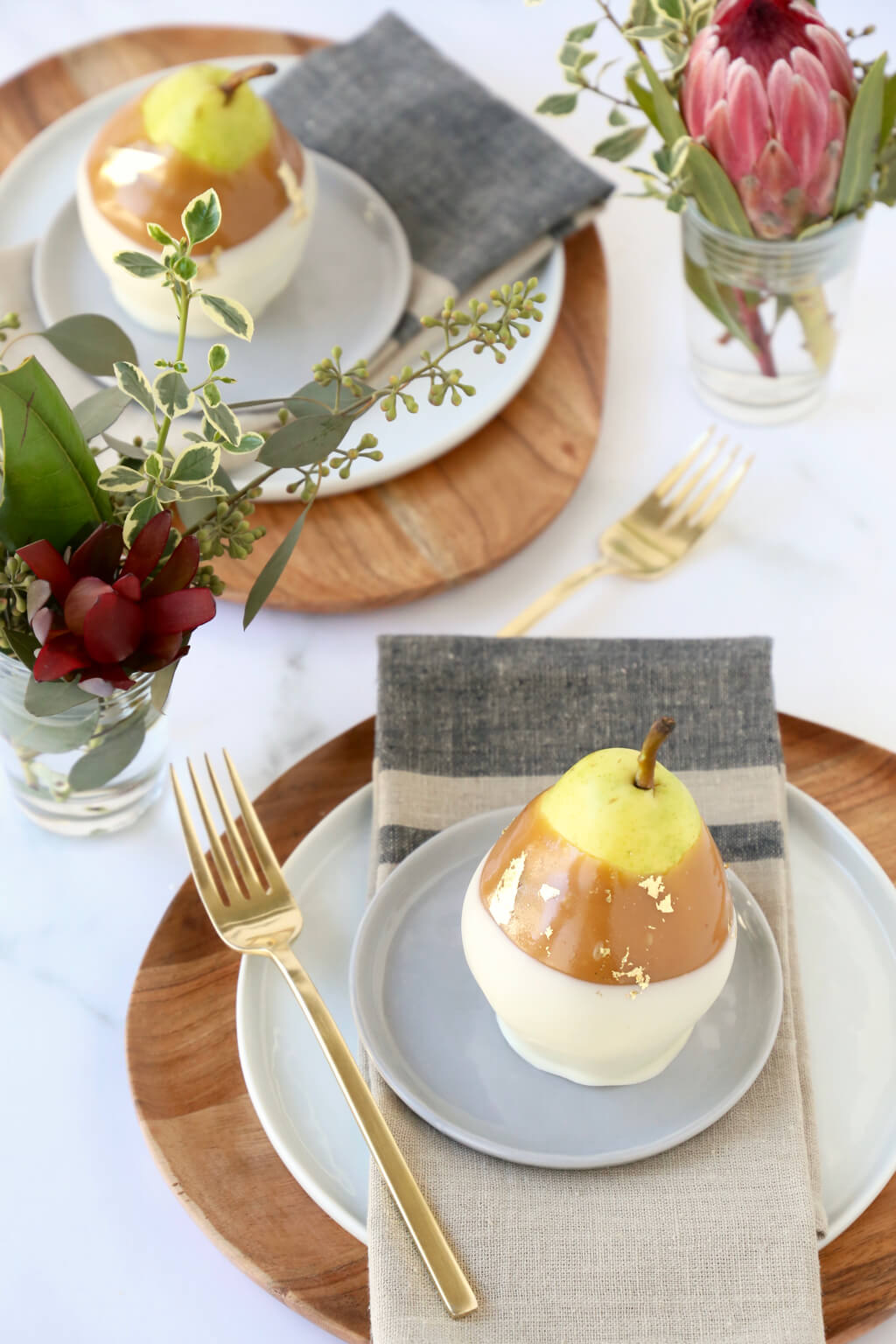 How To Make Caramel Dipped Pears 
Fancy to look at, delicious to eat and simple to make!  Start by picking the perfect pear, green bartlett Pears goes so well with the creamy caramel glaze.  Making the caramel glaze will take a little bit of time and a candy thermometer, but it is well worth the wait.  Light brown sugar, butter, sweetened condensed milk, corn syrup and maple syrup are all combined into a large saucepan and brought to 238 degrees F or softball stage on the thermometer.  Once the caramel reaches this temperature, remove the caramel from the stove and pour into a heat proof bowl and allow the temperature to drop to 200 degrees F before dipping.  Dip the pears quickly to ensure that the caramel doesn't cool off to much and will get to hard to dip.  The caramel will take about one hour to set on the pear and then you are ready to dip in the white chocolate glaze.  The contrast in color and the flavor combination of the caramel with the white chocolate is spot on.  Melt the white chocolate and coconut oil in a microwave safe bowl until smooth and you are ready to dip.  Allow the white chocolate to harden and then you are ready to serve, gift or use as a place setting.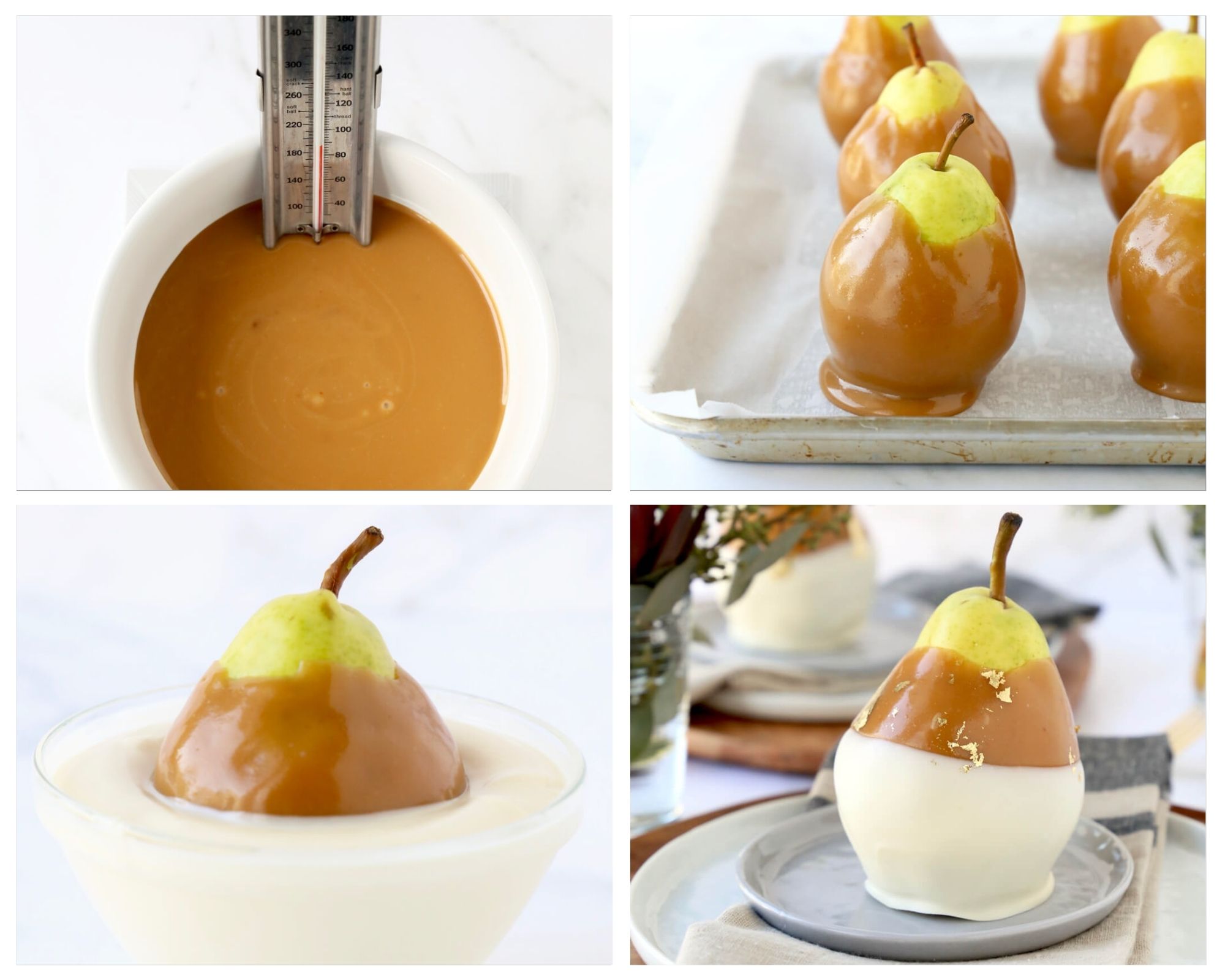 Setting The Perfect Thanksgiving Table 
While festivities might be small, setting a beautiful table will make your holidays feel extra special.  Create a classic table setting using a charger, dinner plate, dessert plate and napkin all layered.  The design of your plates will reflect the style of your home, so I chose to go with neutral while incorporating a wood charger for a fall and rustic feel.  Fresh flowers always add a seasonal touch and color to the table, keep things elegant and simple with a whimsical array of greens with a few pops of color.  These flowers and leaves can be found in your garden or can be purchased at you local market.  For the finishing touch, place something special on each plate to let your guest know you made something just for them.  The Caramel Dipped Pear is the perfect place setting addition because its beautiful and can be enjoyed as a dessert or gifted as a favor to your guest.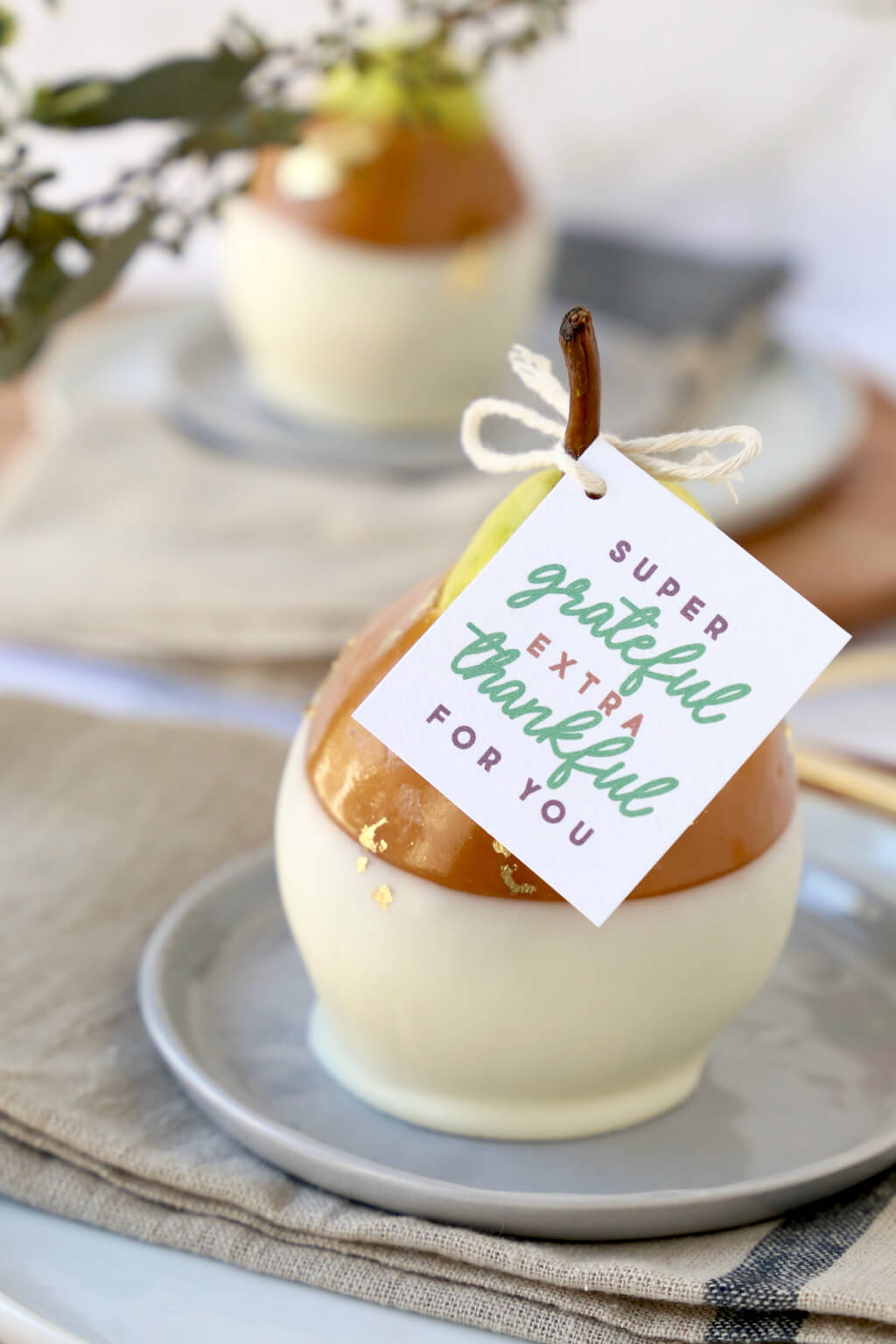 More Thanksgiving Desserts To Add To Your Table 
Pumpkin Gingersnap Tart 
Deep Dish Apple Pie
Apple Cider Aperol Spritz
Homemade Whipped Cream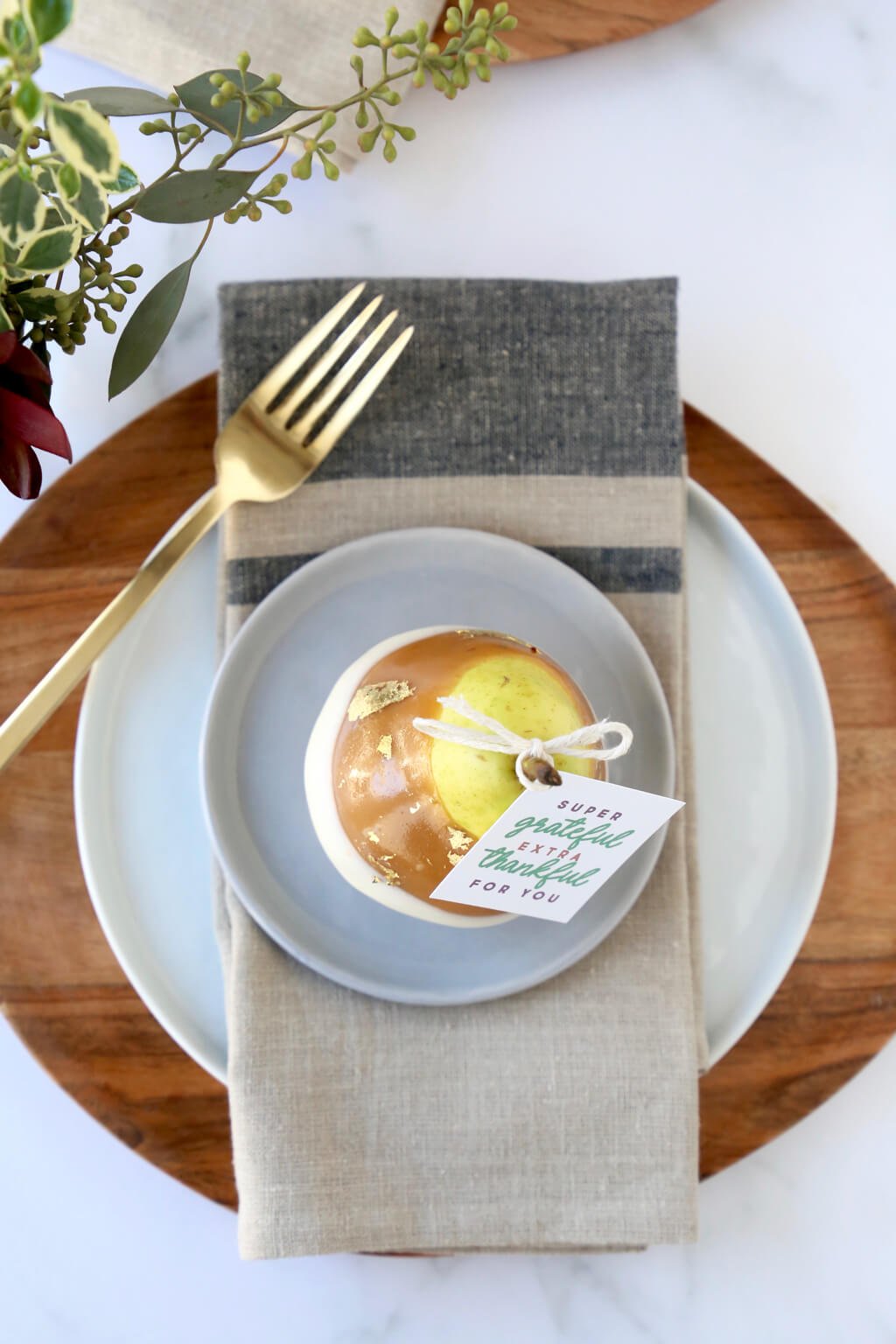 Print
Caramel Dipped Pears
Caramel Glaze
2 ½ Cups Light Brown Sugar
1 Cup Unsalted Butter
1 14-Ounce Can Sweetened Condensed Milk
½ Cup Corn Syrup
⅓ Cup Maple Syrup
1 teaspoon Vanilla Extract
½ teaspoon Salt
6 Bartlett Pears 
White Chocolate Glaze
2 Cups White Chocolate Chips
1 Tablespoon Coconut Oil 
Instructions
Prepare the pears:

wash the pears and allow them to dry completely 

Place the pears on a large sheet pan lined with parchment paper; set aside  

Prepare the Caramel Glaze:

In a large saucepan, combine the light brown sugar, butter, sweetened condensed milk, corn syrup, maple syrup, vanilla extract and salt

On medium heat, stir the mixture continuously until the sugar dissolves 

Allow the sugar mixture to reach 238 degrees F on a candy thermometer 

Remove the saucepan from the heat and pour the caramel into a large heat proof bowl and allow it to cool to 200 degrees F

Dip the Pears:

Once the caramel has come to 200 degrees F, dip the pears to cover ¾ of the pear

Place the pears on the parchment lined baking sheet pan and allow them to cool completely for 1 hour 

Prepare the White Chocolate Glaze and Dip:

Once the caramel pears are set, melt the white chocolate chips and coconut oil in a microwave safe in 30 second increments until the white chocolate is melted and smooth

 Dip the caramel pears in melted white chocolate and place them on the parchment lined baking sheet to dry

Once the white chocolate has hardened you are ready to place them on your thanksgiving table, package them to gift or enjoy them