Perfectly packaged apples wrapped in a classic pie dough make Apples Dumplings a fall treat that is sure to be enjoyed on your Thanksgiving table!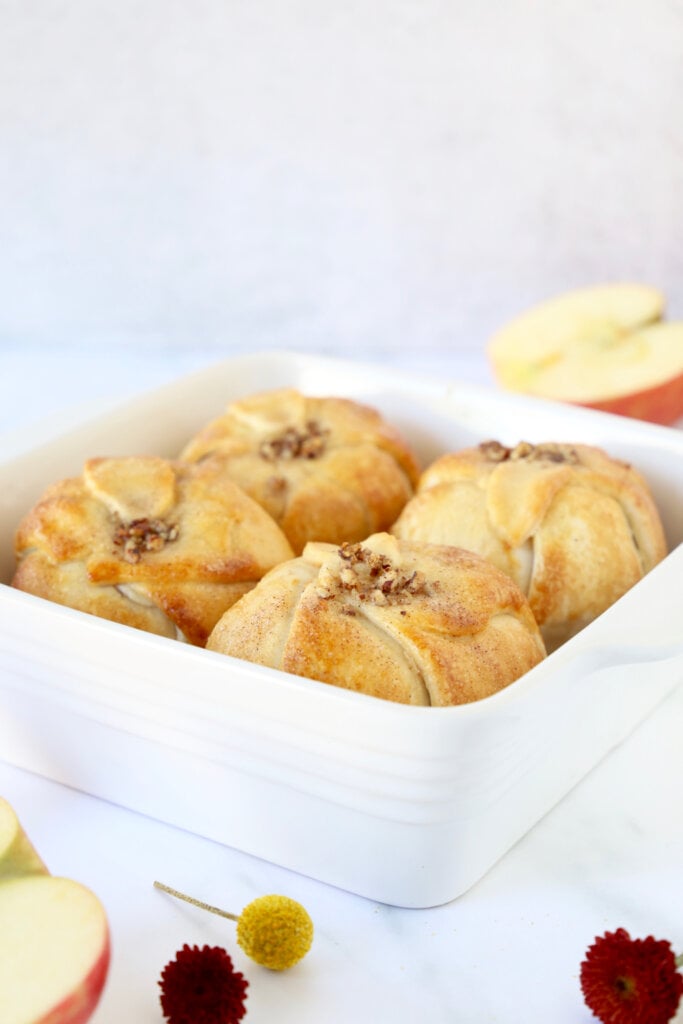 We are breezing through the fall season and let me tell you, it's not all about pumpkins! Apples are one of the quintessential flavors of fall and there are hundreds to choose from! Each variety of apple has so many unique qualities; color, sweet or tart, crunchy or soft, and all levels of juiciness. They can be eaten on their own, have so many wonderful health benefits and apples are the perfect fruit for baking. Having apple pie at your Thanksgiving table is a must, but apples have so much more life than just in a pie! This apple dumpling recipe is one of three awesome apple recipes I have coming for you!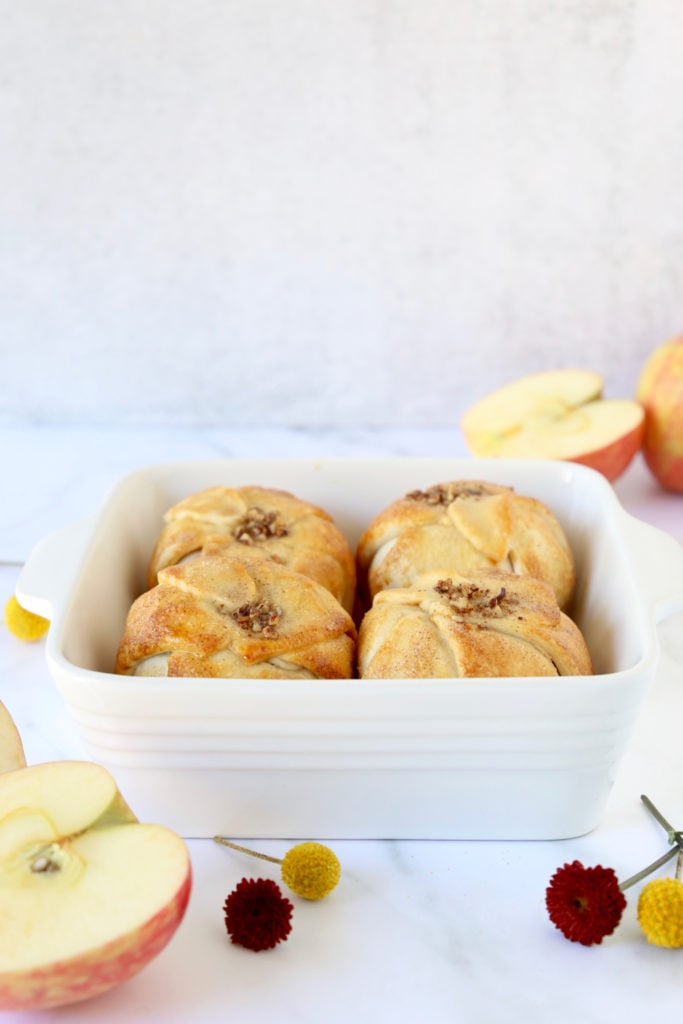 Apple Dumplings
Individual puffs of gooey pastry dough filled with cinnamon sugar stuffed apples, does it get any better than that. Apple dumplings are a true southern delight that takes apple pie to another level. Large apples, honey crisp or granny smith, peeled and cored filled with a brown sugar, butter, chopped pecans and cinnamon mixture, wrapped like a beautiful package in a homemade or store bought pie dough and glazed with a cinnamon sugar sauce. Apple Dumplings are just what you imagine your southern grandma whipping up in her kitchen!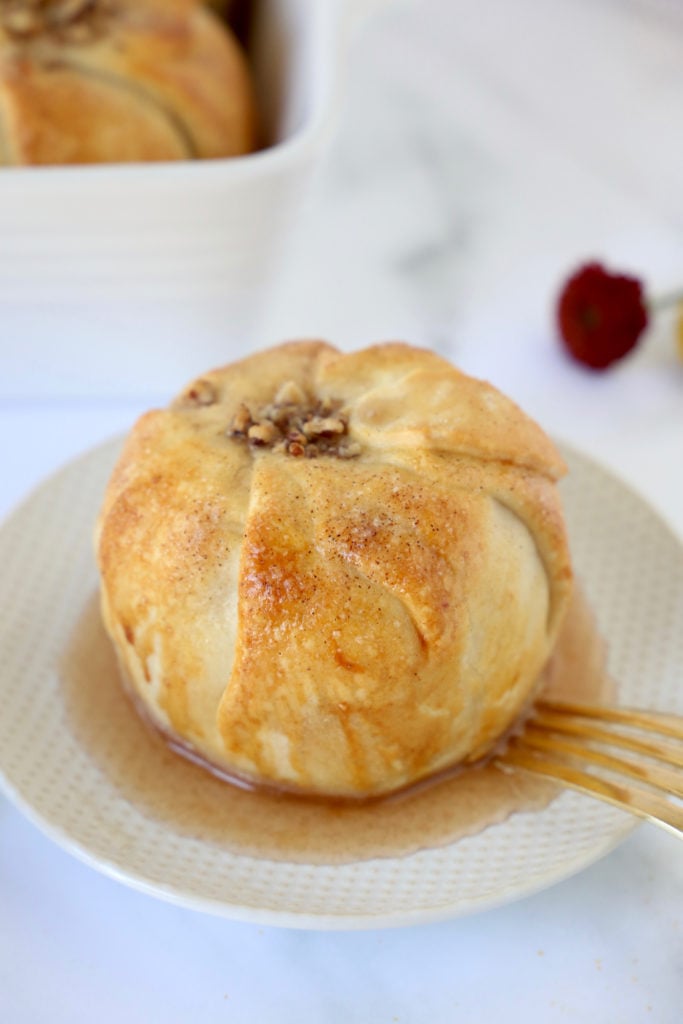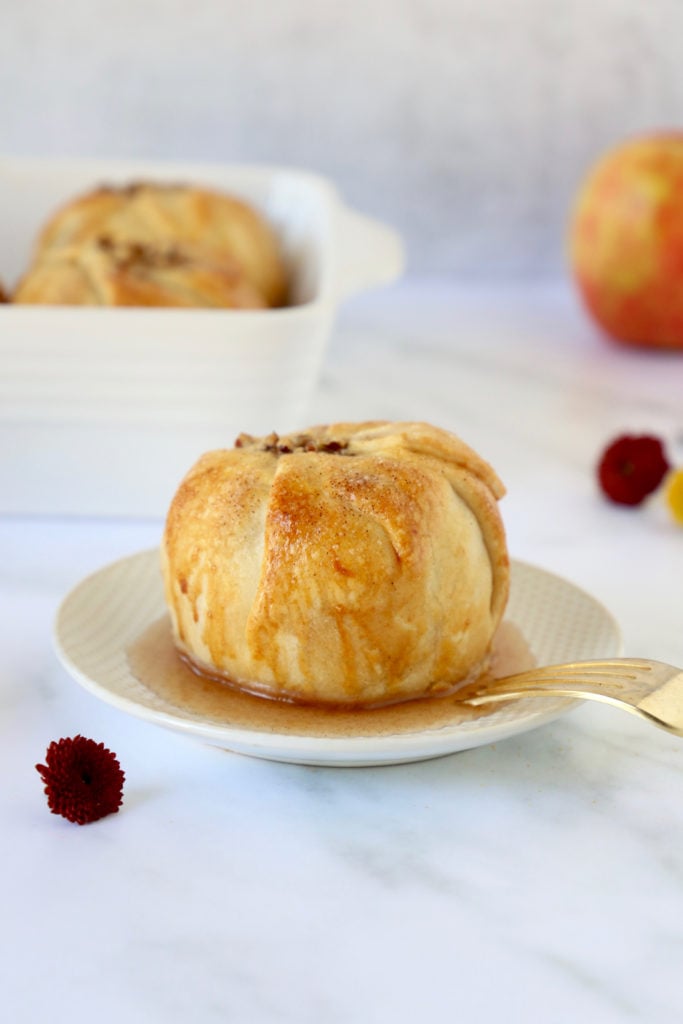 Print
Apple Dumplings
2

RecipesPerfect Pie Dough or 4 Pre Made Pie Dough Rounds (

2

Packages)

8

Honeycrisp Apples, peeled and cored

½ Cup

Light Brown Sugar

1 tsp

Cinnamon

¼ tsp

Ginger

2 Tbsp

Unsalted Butter, Melted

3 Tbsp

Chopped Pecans
Sauce

1 ½ Cups

Granulated Sugar

2 Cups

Water

½ tsp

Cinnamon

4 Tbsp

Unsalted Butter
Cinnamon Sugar

4 Tbsp

Granulated Sugar

1 tsp

Cinnamon
Combine both ingredients and store in an airtight container
Instructions
Preheat oven to 350 degrees F
Prepare the sauces: In a medium saucepan, combine the granulated sugar, water, cinnamon and butter; bring to a boil
Let the sauce boil for 2-3 minutes to allow it to thicken a little bit
Remove the pan from the heat and allow the sauce to cool while making the dumplings
In a small bowl, combine the light brown sugar, cinnamon, ginger, melted butter and chopped pecans; stir until mixed together; set aside
Using one sheet of dough at a time, knead the dough into a ball and divide it in half
Roll the dough into a 6 inch round disk; place the peeled and cored apple on the dough
Fill the hole in the apple with the brown sugar mixture and sprinkle some on top of the apple
Wrap the dough around the apple, making sure that the entire apple is covered; garnish the apple with a leaf made from the dough scraps
Repeat with remaining dough and apples
Place all the apples in a baking dish, pour the caramel sauce all over the apple dumplings and allow the remaining sauce to pool at the bottom of the baking dish
Sprinkle the apples with cinnamon sugar*
Bake for 30-35 minutes or until the pie dough is golden brown
Remove the Apple Dumplings from the oven, spoon the sauce over the apples and serve warm!