A classic Deep Dish Chocolate Pecan Tart can not be left out of your Thanksgiving table, it is the ultimate fall dessert that we all know and love.  Made in a deep dish tart pan for extra filling, semisweet chocolate chips, pecan halves and the gooiest filling made of light brown sugar, butter, eggs and corn syrup.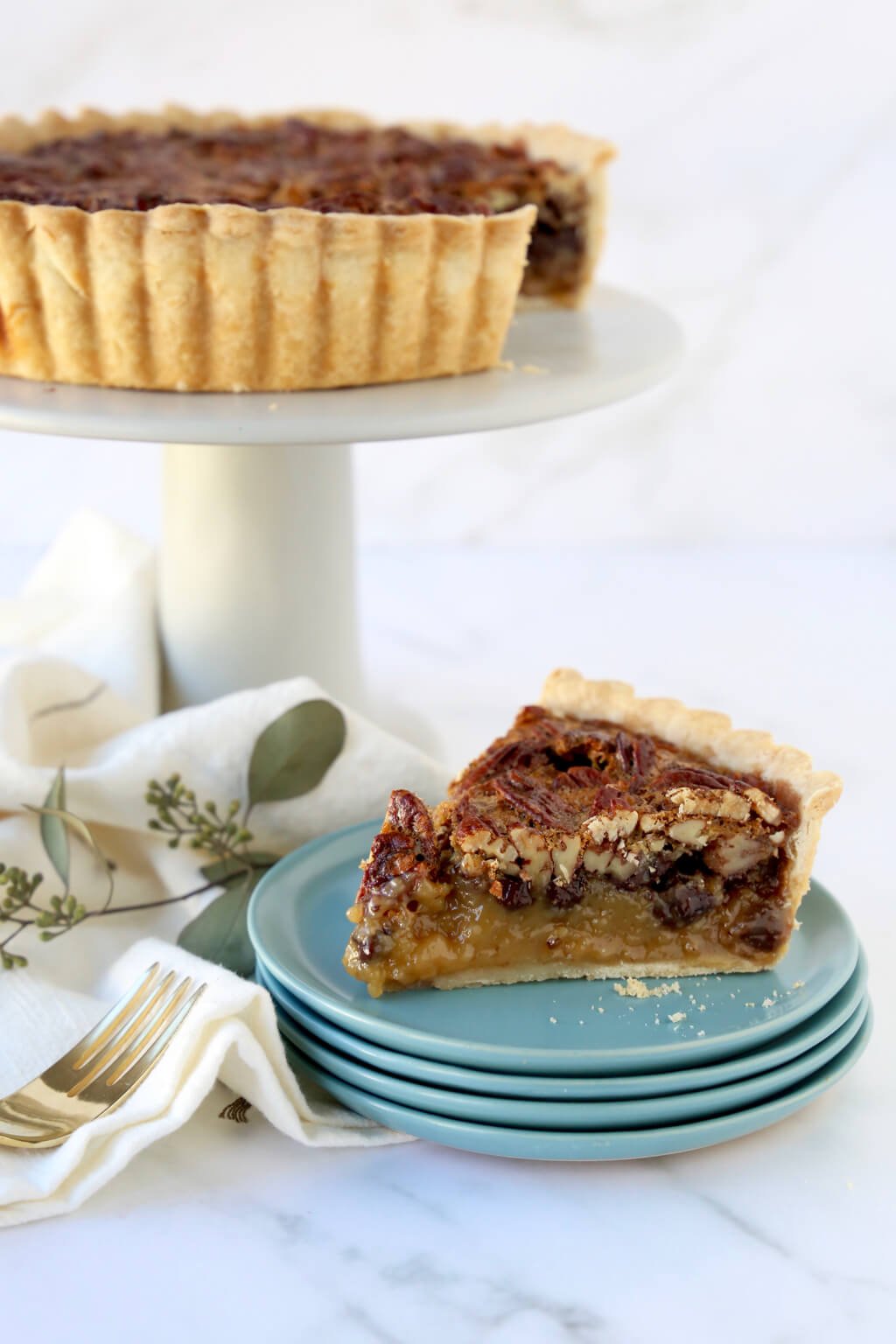 As we are making our menus for one of the biggest feasts of the year, it is important to have a variety of tarts and pies that our family and guest will love.  A smaller more intimate setting still deserves the best of the best when it comes to finishing off our thanksgiving meal with dessert.  Deep Dish Chocolate Pecan Tart is one that is a classic flavor during this season and this is the absolute best recipe.  Using a deep dish pie pan or tart pan will ensure that you have all the gooey filling of pecan pie that we all love.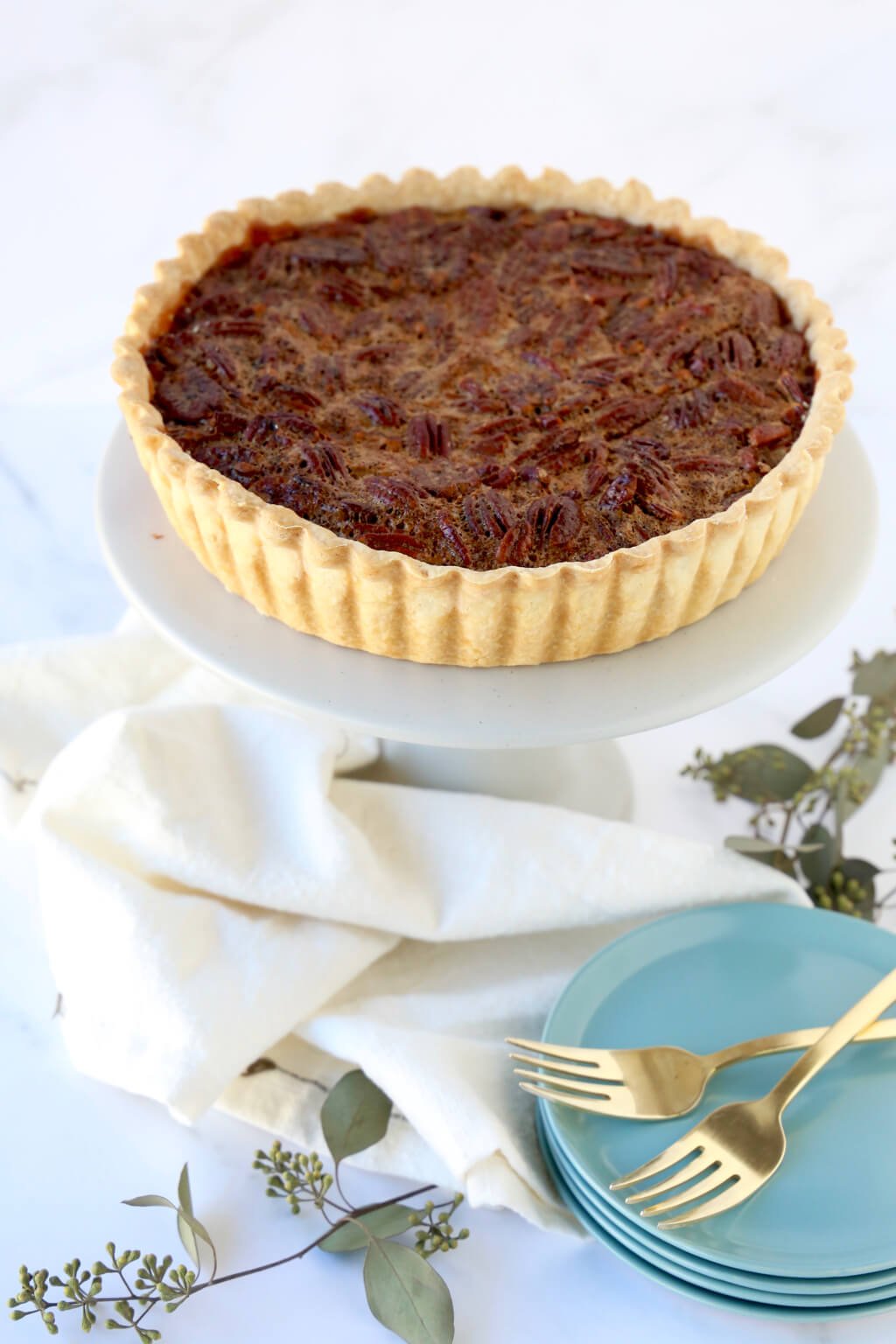 How To Make Deep Dish Chocolate Pecan Tart  
Tarts are so beautiful to look at and equally as delicious to eat and using a deep dish tart pan makes sure that you get all the filling you deserve.
Starting with a flakey crust is going to give this pie the perfect base.  Pate Briśee is a flakey and buttery pie dough that I use for so many of my tarts and pie recipes.  It is made in a food processor by combining the flour, salt and sugar and then cutting the butter into the flour to create a super fine crumb and will make the dough extra flakey once it is baked.
One layer of chocolate chips and and one layer of pecan halves cover the bottom of the unbaked pie dough.  Whisk together all the ingredients of the pecan pie filling and then pour it over the pecan pieces to fill ¾ of the tart shell.  Once the deep dish chocolate pecan pie is baked, the filling will puff up, it will turn a dark golden color and the center will be slightly jiggly but set around the edges.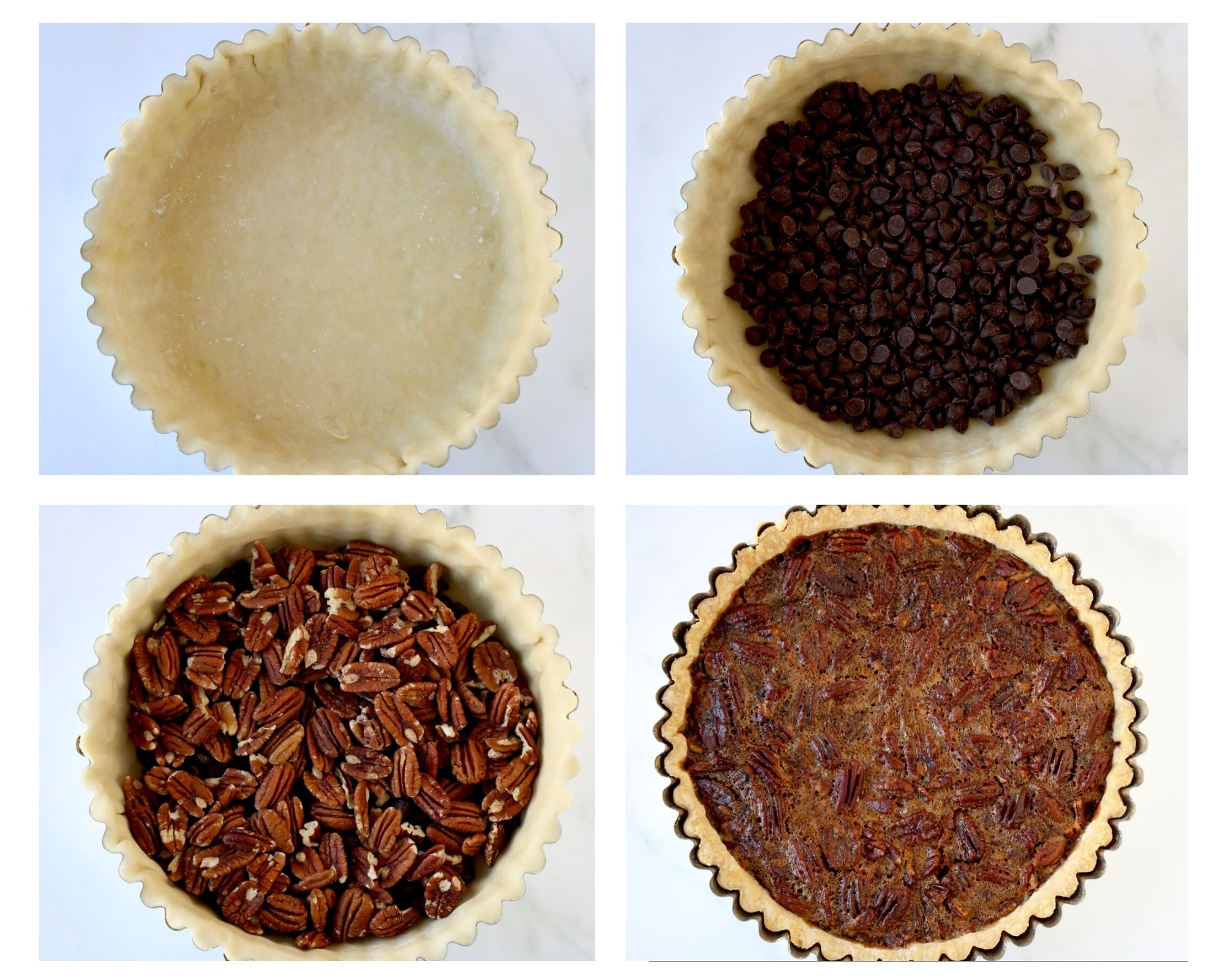 Tips To Make The Best Deep Dish Chocolate Pecan Pie

Whether you make homemade or use store bought make sure that your crust is flakey and tender
If you have extra pie dough left over, knead it back together and then wrap and refrigerate for another use
You will know the pie is finished baking when the filling slightly puffs up and has a slight jiggle in the center
Allowing the pie to cool completely before cutting is important to allow the filling to set
What You Need To Make The Perfect Tart and Pies
Making sure that your kitchen is stocked with ingredients as well as baking equipment is important during the holidays.  There is always an increase in baking and it is time to restock and refill.  Here are a few necessary items to make the best tarts and pies this holiday season.
Tart Pans and Pie Dishes
There are a variety of tart pans and pie dishes that can be used.  I love tart pans that have a removable bottom to make removing the baked tarts so much easier.  Keep a 9 inch tart pan and a 9 inch deep dish tart pan on hand for all your baking needs.  A classic pie dish is a sample in our kitchen and used for a variety of things.  I love a good clean white ruffle edged pie dish allow the pie to take the spot light.
Food Processor
A bigger item in your kitchen but will be used all the time.  Using a food processor is my favorite way to make a flakey and tender pie dough.
Rolling Pin
Grab you favorite style and get rolling.  There are so many varieties of rolling pins and it really just depends on how you are most comfortable rolling.  I love a french rolling pin and use mine several times a week
Shop My Must Haves 

More Tarts and Pies To Enjoy On Thanksgiving
Deep Dish Apple Tart 
Caramel Nut Tart 
Pumpkin Gingersnap Tart 
Triple Chocolate Cream Pie 
Cranberry Lime Tart
Mini Tarts and Pies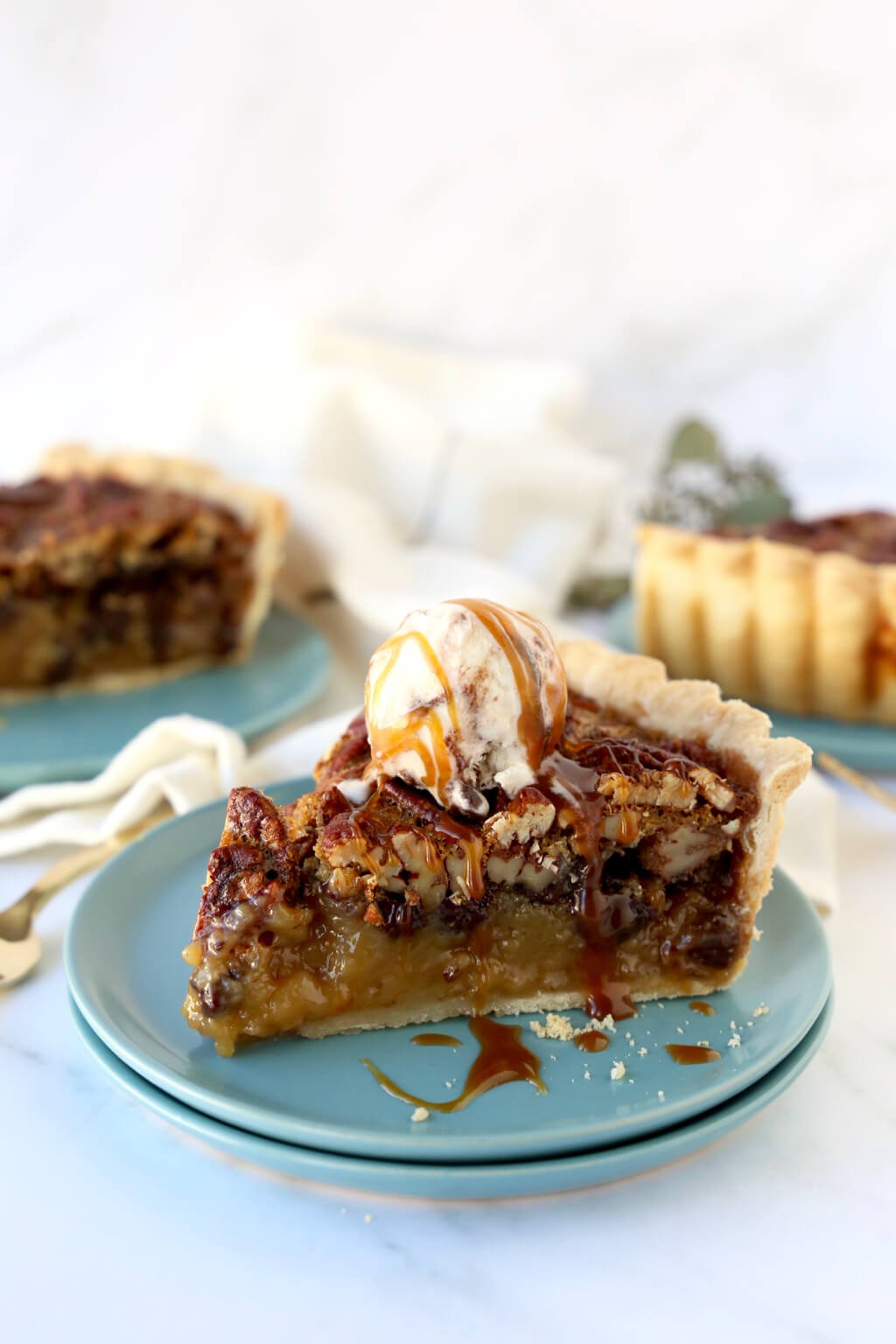 Print
Deep Dish Chocolate Pecan Tart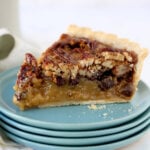 Author: kristen massad
Prep Time:

30min

Cook Time:

60min

Total Time:

1 hour 30 minutes

Yield:

12

1

x
Category:

Desserts
Pate Brisee (Flakey Pie Dough)
2 ½ cups all purpose flour
1 Teaspoon salt
1 Teaspoon sugar
1 Cup butter, chilled and cut into small pieces
¼ to ½ Cup ice water

Chocolate Pecan Filling
1 ¼ Cup Light Brown Sugar
4 Tablespoons Unsalted Butter, Melted 
½ Teaspoon Salt
5 Eggs
1 ½ Cups Light Corn Syrup
1 Teaspoon Vanilla Extract
2 Cups Pecan Halves
1 ½ Cup Semisweet Chocolate Chips  
Instructions
Prepare The Pate Brisee (Flakey Pie Dough)
Place flour, salt and sugar in the bowl of a food processor and pulse to combine

Add the chilled and cubed butter and pulse until it looks like a course meal

Continue pulsing and slowly add water at a slow stream and process just until the dough comes together

Remove the dough from the food processor onto a lightly floured work space and knead the dough until fully combined

Form a disc with the dough and wrap the dough in plastic wrap and refrigerate for 30 minutes 
Prepare The Pecan Pie Filling
In a large mixing bowl, whisk together the light brown sugar, melted butter and salt until smooth 

Add the eggs, corn syrup and vanilla extract and continue whisking until fully combined
Prepare and Assemble The Deep Dish Chocolate Pecan Tart 
Preheat the oven to 350 degrees F

Roll out the pie dough on a lightly floured surface to ⅛ inch thick

Transfer the dough to a 9 inch deep dish tart pan or deep dish pie pan and gently press the dough to take the shape of the pan

Leave approximately 1 inch of dough hanging over the edge, cutting the remainder of the dough off by pressing down on the edge of the tart pan to create a smooth and even cut

Sprinkle the chocolate chips on the bottom of the tart followed by the pecan halves 

Pour the pecan filling over the chocolate chips and pecan pieces to fill pie dough ¾ full

Place the Deep Dish Chocolate Pecan Tart in the oven and bake for 55-60 minutes or until the top becomes a dark golden color, the filling starts to slightly puff up and only the very center has a slight jiggle.  

Remove the tart from the oven and allow it to cool for one hour at room temperature  and refrigerate for one to two hours to allow the center of the pecan tart to set  

Once you are ready to serve, remove the pie from the refrigerator and allow it to come back to room temperature 

Serve and Enjoy!  
Keywords: Chocolate Pecan Tart