This Pumpkin Gingersnap Tart will be the perfect addition to your Thanksgiving table. The crunchy ginger crust complements the creamy filling, and maple whipped cream tops off this amazing Fall treat.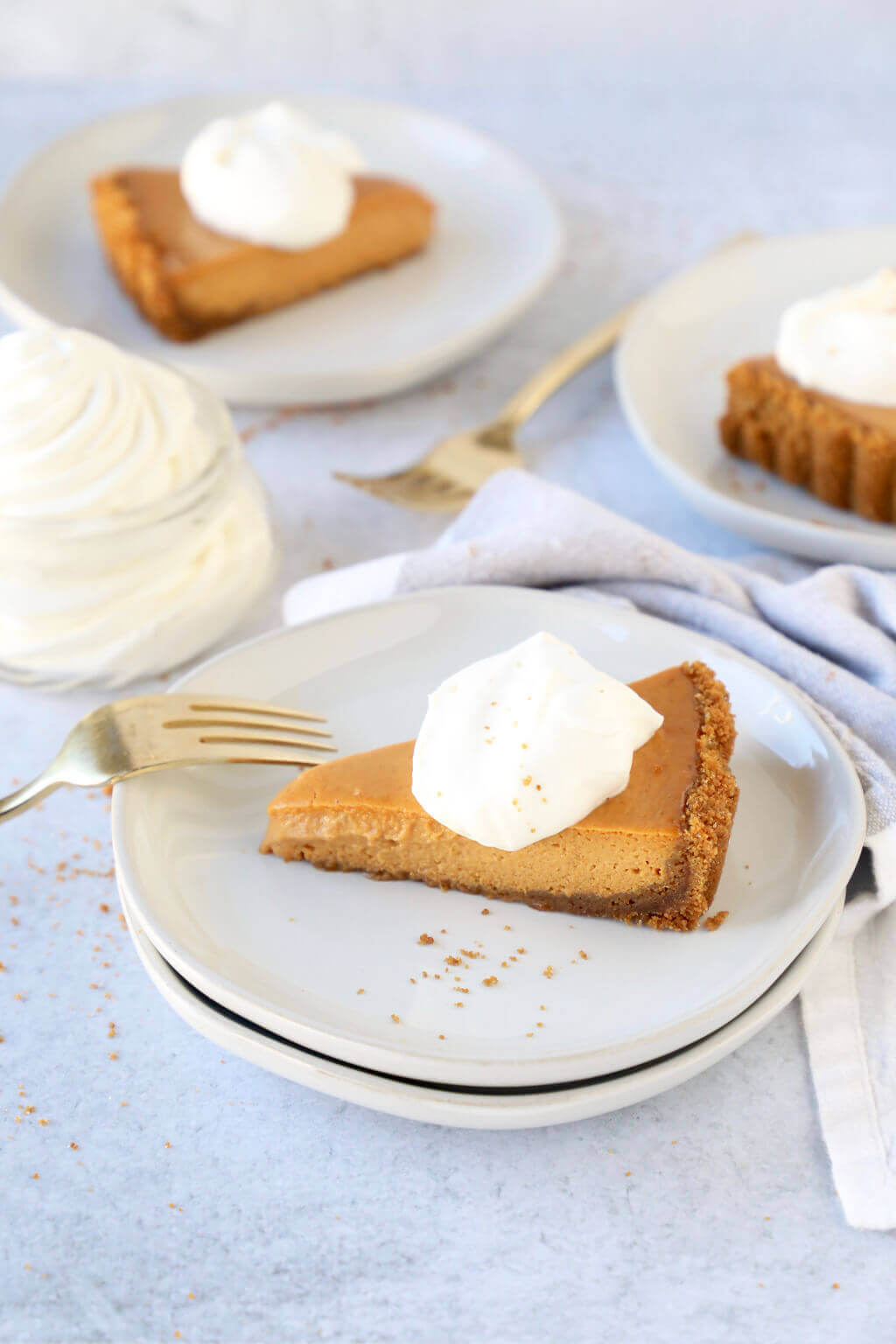 As we continue into the Fall season, tarts and pies are top of mind and I am here for all of it. With Thanksgiving on the horizon, I am excited to share my favorite tarts with you throughout the month. This Pumpkin Gingersnap Tart is one that will be a fan favorite on your table. If you're looking for a twist on classic pumpkin pie, you're in luck!
In this delectable tart, simple and classic flavors are combined and poured into a gingersnap cookie crust. If you choose to go the more traditional route, you can use our Perfect Pie Dough Crust instead of the gingersnap cookie crust and you will have a pumpkin tart all will love.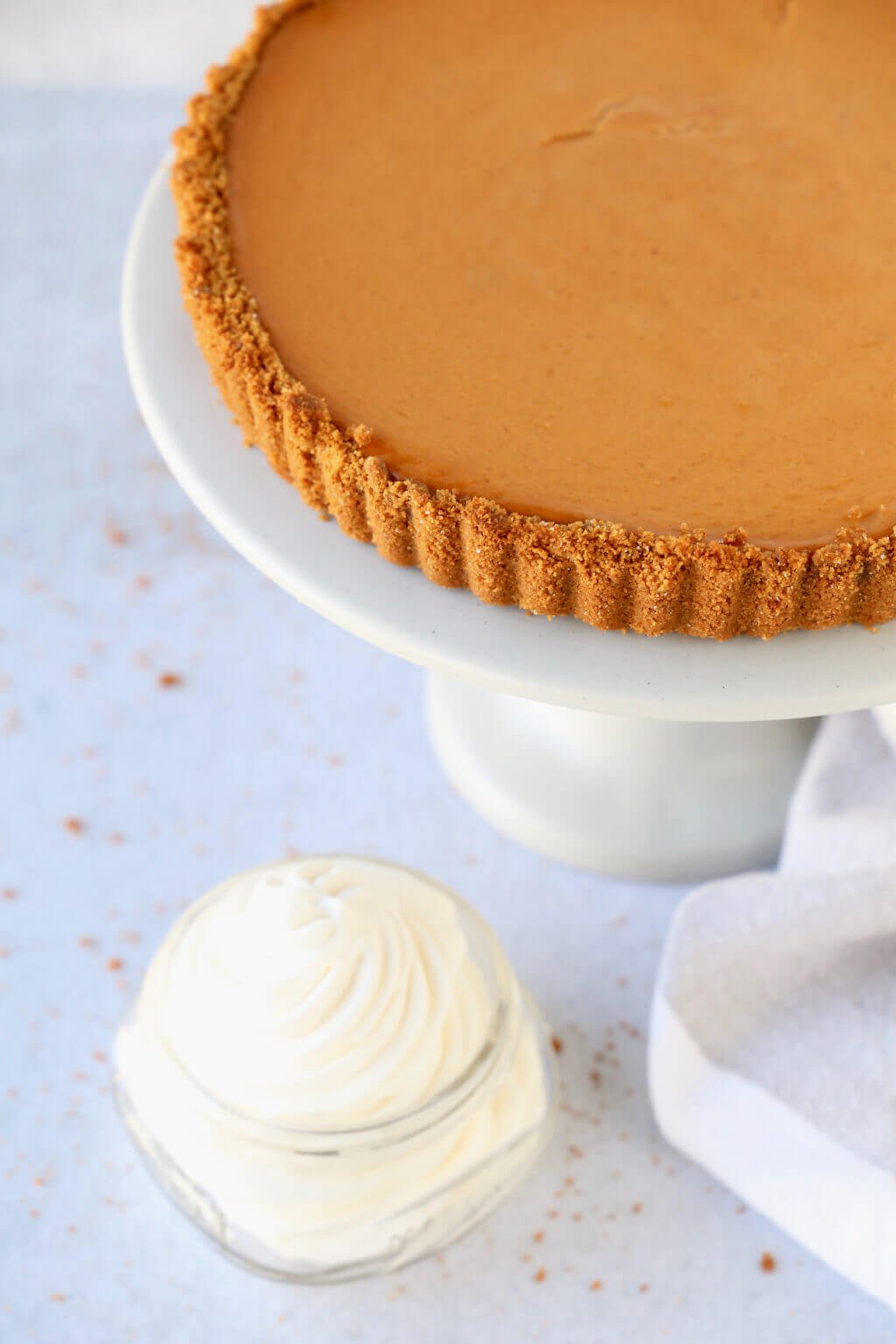 Ingredients
Gingersnap Cookies- Graham crackers can also be used, or Perfect Pie Dough Crust
Pumpkin Puree- Make sure you use 100% pure pumpkin puree, not pumpkin pie filling
Sweetened Condensed Milk- Not to be confused with evaporated milk!
Spices- Cinnamon and Ginger for the Fall flavor (and nutmeg and allspice can also be added if desired)
Whipping Cream- Heavy whipping cream is a must-have for the topping
Maple Syrup- To sweeten and flavor the whipped cream
Directions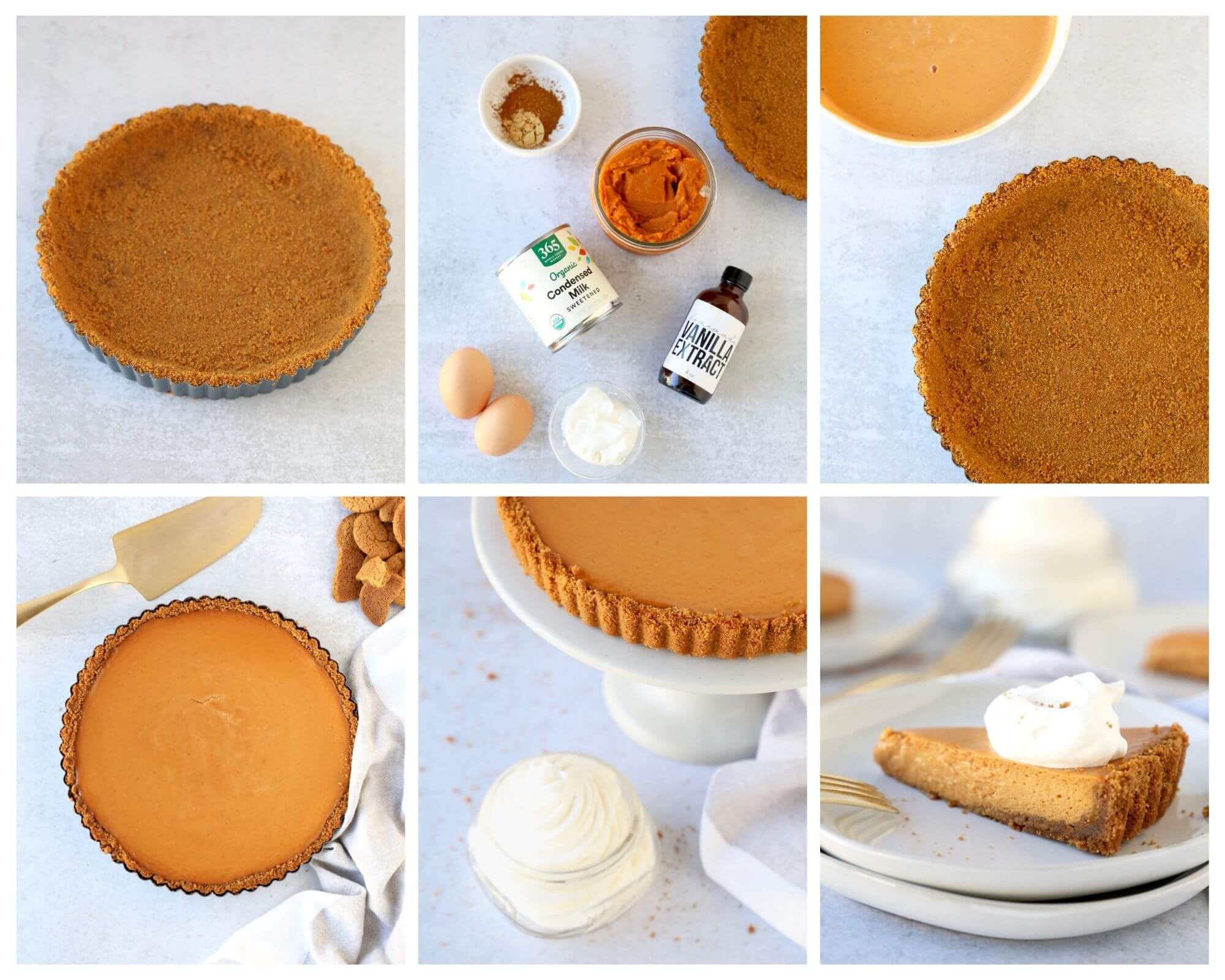 Gingersnap Cookie Crust
Combine gingersnap cookies into a food processor until they are a fine crumb
Add the sugar and melted butter into the processor with the cookie crumbs and pulse a few more times to combine the ingredients and you will see the crumb become when and slightly stick together
Using a removable bottom tart pan, press the Gingersnap Cookie crust into the tart pan and pack tightly on the bottom and around the sides
Set aside
Pumpkin Filling
In a large mixing bowl, whisk together the pumpkin puree, sweetened condensed milk, sour cream, cinnamon, ginger, vanilla extract and eggs
Pour the pumpkin filling into the prepared tart crust and bake for thirty five to forty minutes or until the top is golden and the center is firm
Maple Whipped Cream
In a mixing bowl with whisk attachment, combine all 3 ingredients and whisk until it starts to thicken
Once the pumpkin gingersnap tart is cool, slice it up and spread the whipped cream on top as desired
Serve and enjoy, or refrigerate until ready to serve!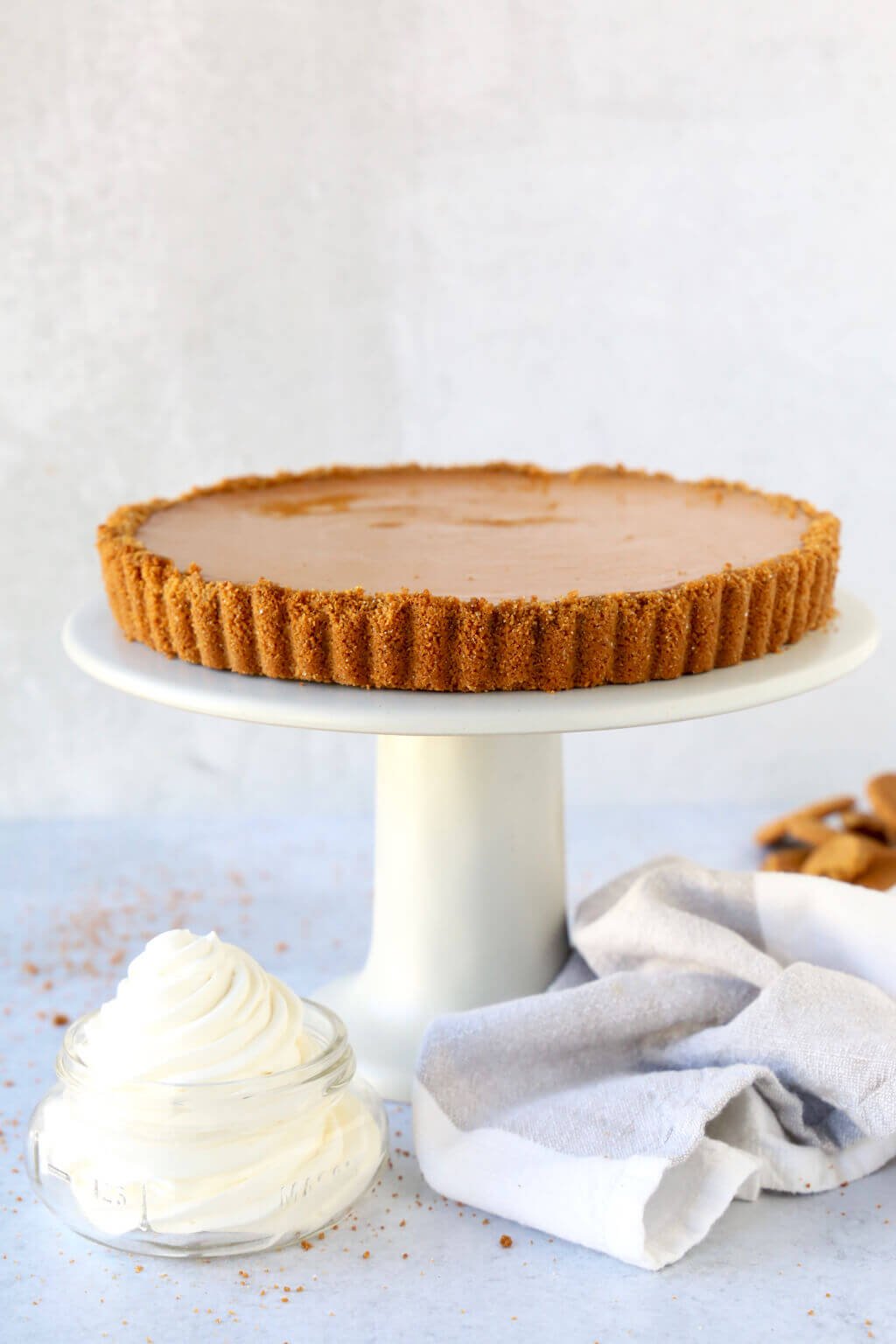 Tips and FAQs For Pumpkin Gingersnap Tart
When purchasing a tart pan, make sure the buy one that has a removable bottom.  This is make your life a lot easier when you are trying to remove the tart from the pan!  Here is a Removable Bottom Tart Pan that I love.
When working with a cookie crumb base, make sure the use your food processor to make the crumb very fine and then you can mix the remaining ingredients in the food processor
I like to refrigerate the crust while I prepare the filling so that the crust can get hard and will keep its shape when you pour the liquid into the crust before baking
How can you tell the tart is done baking?
You will know when the pumpkin tart is ready because the edges will start to puff up and will become slightly golden and the center will have a slight jiggle.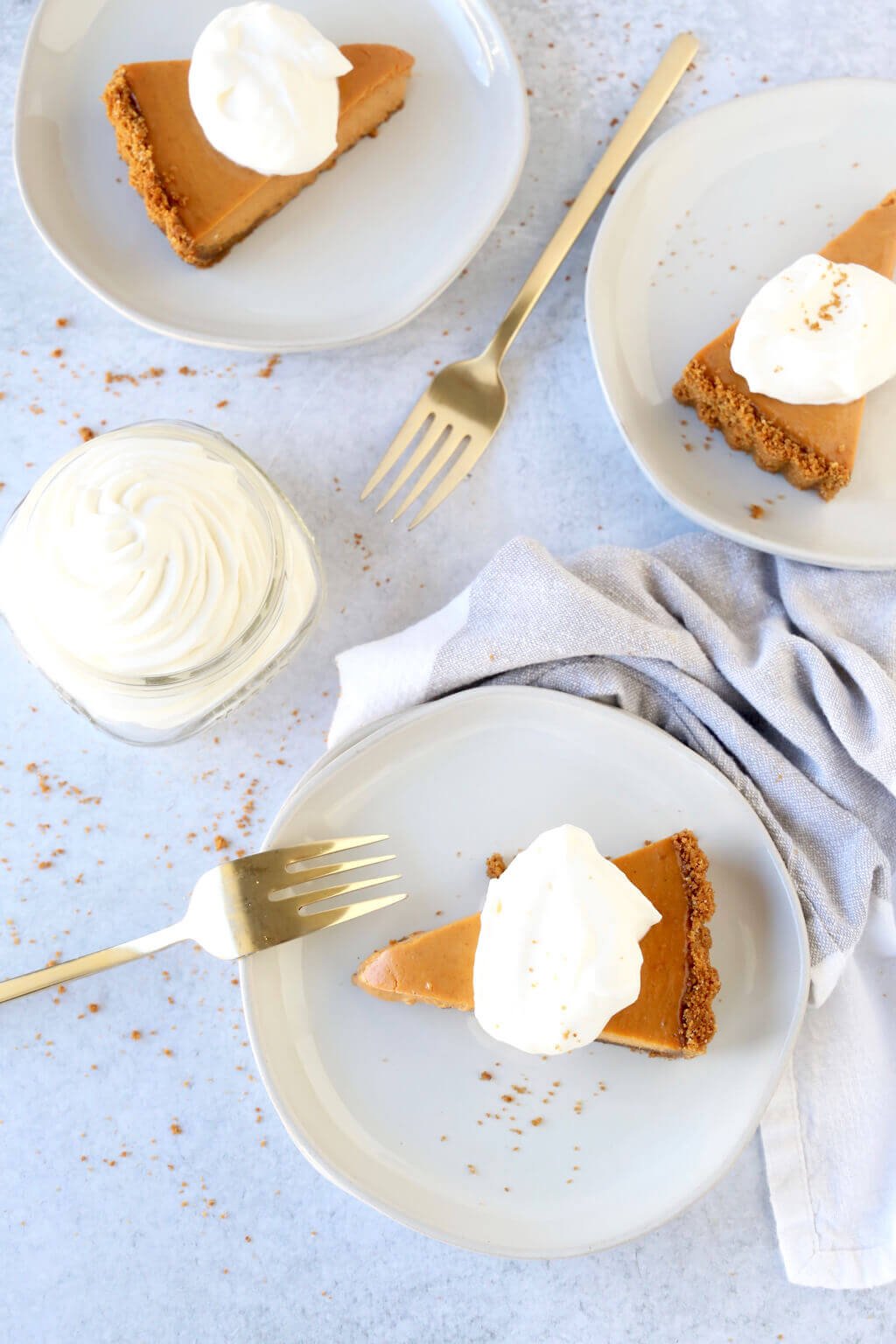 More Fall Recipes You Will Love
Thank you visiting Joy + Oliver. If you tried this recipe, please leave a 5 Star Review in the recipe card and save all your favorite recipes to Pinterest!
Follow me for fresh new recipes on Instagram, Facebook and Pinterest
Print
Pumpkin Gingersnap Tart
Author: kristen massad
Prep Time:

30

Cook Time:

35-40

Total Time:

1 hour 20 minutes

Yield:

10-12
Gingersnap Crust
2 Cups Gingersnap Cookie, Crushed
¼ Cup Unsalted Butter, Melted
1 Tbsp Granulated Sugar
Pumpkin Pie Filling
1 (15oz) Can Pumpkin Puree
1 (14oz) Can Sweetened Condensed Milk
¼ Cup Sour Cream
1 ½ tsp Ground Cinnamon
½ tsp Ground Ginger
½ tsp Vanilla Extract
2 Eggs
Maple Whipped Cream
2 Cup Heavy Whipping Cream
¼ Cup Powdered Sugar
2 Tbsp Maple Syrup
Instructions
Prepare the Gingersnap Cookie Crust 
Preheat oven to 350 degrees F

In a food processor, pulse the gingersnap cookies until made into a fine crumb

In a small bowl combine the gingersnap crumb, sugar and butter and mix until combined

Press the gingersnap mixture into a 9 inch pan and press until it cover the bottom and sides of the pie pan and packed tight

Set crust aside
Prepare the Pumpkin Filling 
In a medium bowl, combine the pumpkin puree, condensed milk, sour cream, spices, vanilla extract and eggs

Whisk until smooth and pour into gingersnap tart pan

Bake the tart for 35-40 minutes or until the filling is firm and golden
Prepare the Maple Whipped Cream 
In a mixing bowl with whisk attachment, combine the heavy cream, powdered sugar and maple syrup and whisk until it starts to thicken  (don't over mix)

Once the pumpkin gingerbread tart is cool, spread the whipped cream on top of the pumpkin tart or slice the tart and garnish each slice with whipped cream

Serve and enjoy or refrigerate until ready to serve
Keywords: Pumpkin Gingersnap Tart