Swirled, spiced, nutty and full of pumpkin, these individual Pumpkin Nutella Tarts are small but boasting with flavor!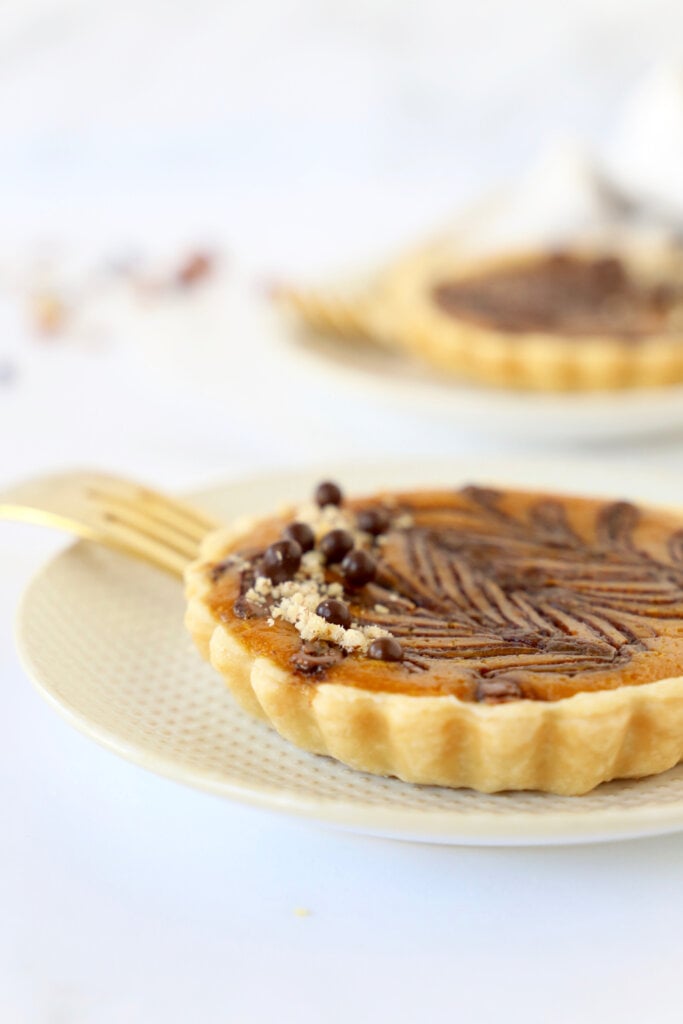 We are one day away from October and although I really want it to feel like fall, we are still surviving through the crazy Texas heat! We will get there soon enough, but the fall flavors are pouring out of my kitchen and we are enjoying every bit of it!
Pumpkin Nutella Tarts are made up of so many wonderful flavor combinations. Sweet, spiced and nutty all poured into a buttery sablée crust!
Pâte Sablée
A tender crust made up of butter, powdered sugar, eggs and flour, Pâte Sablée is a dough that is traditionally used for tart shells. It is buttery, not to crumbly and not overly sweet. Different than a pie dough, it is much less flakey and has more of a shortbread texture. Pâte Sablée is made in mixing bowl with a paddle attachment and creates a simple and easy dough that can be used in so many ways!
Pumpkin Nutella Filling
A pure pumpkin flavor shines through in this tart while combined with the nutty flavor of Nutella. This pumpkin filling is not made with evaporated milk or sweetened condensed milk, the pumpkin is whisked together with eggs, sour cream, heavy cream, light brown sugar and classic pumpkin spices. Adding the melted Nutella swirled around the pumpkin filling takes this traditional pumpkin tart to a whole new level.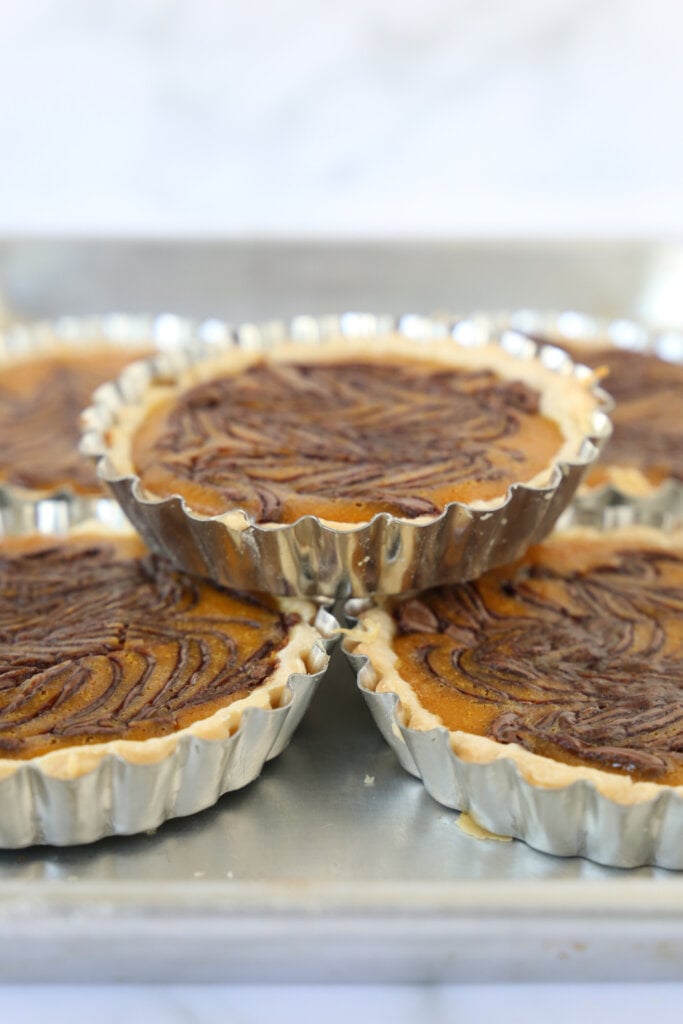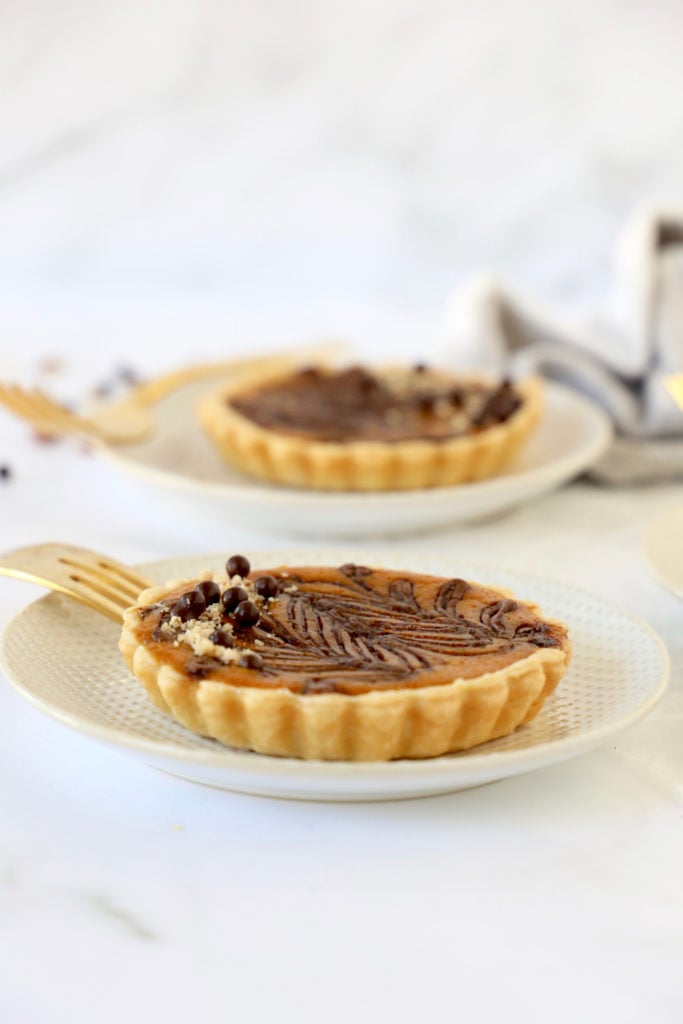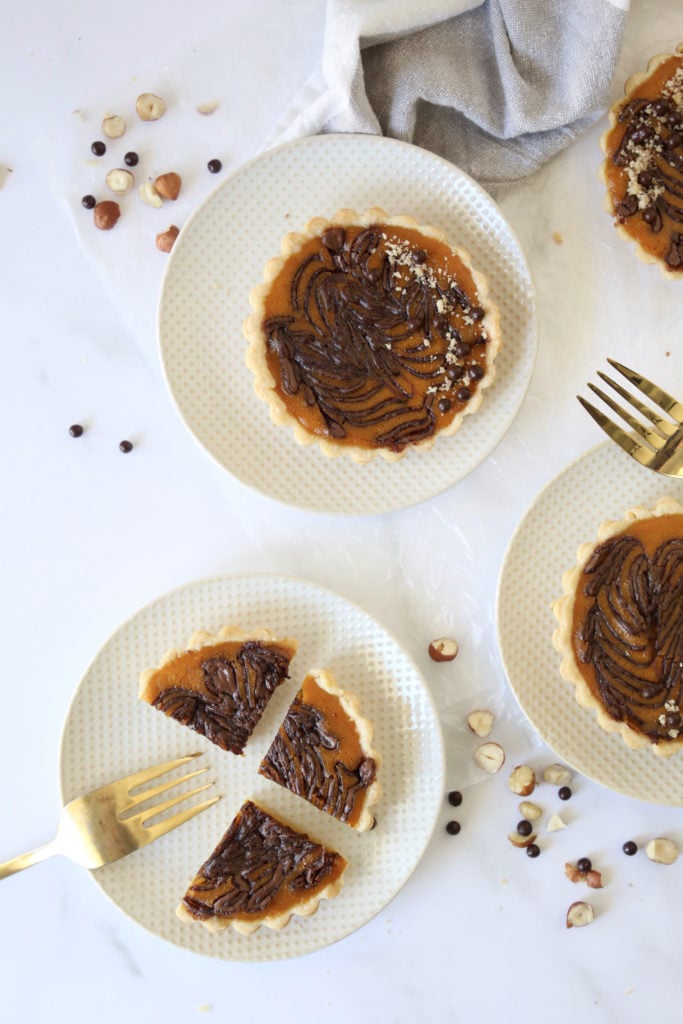 Print
Pumpkin Nutella Tart
Pâte Sablée-Tart Dough

1 Cup

Unsalted Butter

¾ Cup

Powdered Sugar

¼ tsp

Salt

½ tsp

Vanilla Extract

2

Eggs

2½ Cups

All Purpose Flour
Pumpkin Nutella Filling:

1

(15oz) Can Pumpkin

3

Eggs

½ Cup

Light Brown Sugar

½ Cup

Heavy Cream

¼ Cup

Sour Cream

1 tsp

Vanilla Extract

1 tsp

Cinnamon

½ tsp

Ginger

¼ tsp

Nutmeg

¼ tsp

Salt
Nutella Swirl

¼ Cup

Nutella, melted
Instructions
Prepare the Pâte Sablée(Tart Dough):
Preheat oven to 350 degree F and place the removable individual (3inch) tart pans on a sheet pan
In mixing bowl with paddle attachment, cream together the butter, powdered sugar, salt and vanilla extract
Scrape down sides of bowl and mix until butter is smooth
Add in eggs one at a time and mix until fully combined
Slowly add in the flour
Continue mixing on low speed until all the dry ingredients are incorporated
Remove the dough the bowl onto a lightly floured surface and form it into a ball.
Wrap the dough in plastic and chill for 30 min
Once the dough is chilled, remove the dough and let it sit on the counter for 5-10 minutes to slightly soften
roll the dough out on a lightly floured surface to approx. ⅛ inch thick and cut into 6 inch round disks
Place the dough into 8 3" tart pans or 1 9" tart pan and press to form the shape of the pan
Place the prepared tart pans in the refrigerator for 15-20 minutes to allow the dough to rest
Press a piece of parchment paper into the center of each tart shell and fill with pie weights or uncooked rice to cover the entire surface of the tart
Blind Bake (prebake) the crust for 10 minutes, remove the parchment paper filled with pie weights
Prepare the Pumpkin Filling:
In a large mixing bowl, whisk together all the ingredients (*except the Nutella) until smooth
Fill the crust ¾ full of pumpkin filling
Warm the nutella until a melted consistency, drizzle the nutella over the pumpkin filling and using a toothpick create a swirl design on top
Bake the Pumpkin Nutella Tarts for 25-30 minutes or until the pumpkin filling puffs up and the center no longer moves
Allow the Pumpkin Nutella Tarts to cool completely before removing them from the metal molds