The best Maple Bourbon Sour Cocktail that is perfect for fall gatherings!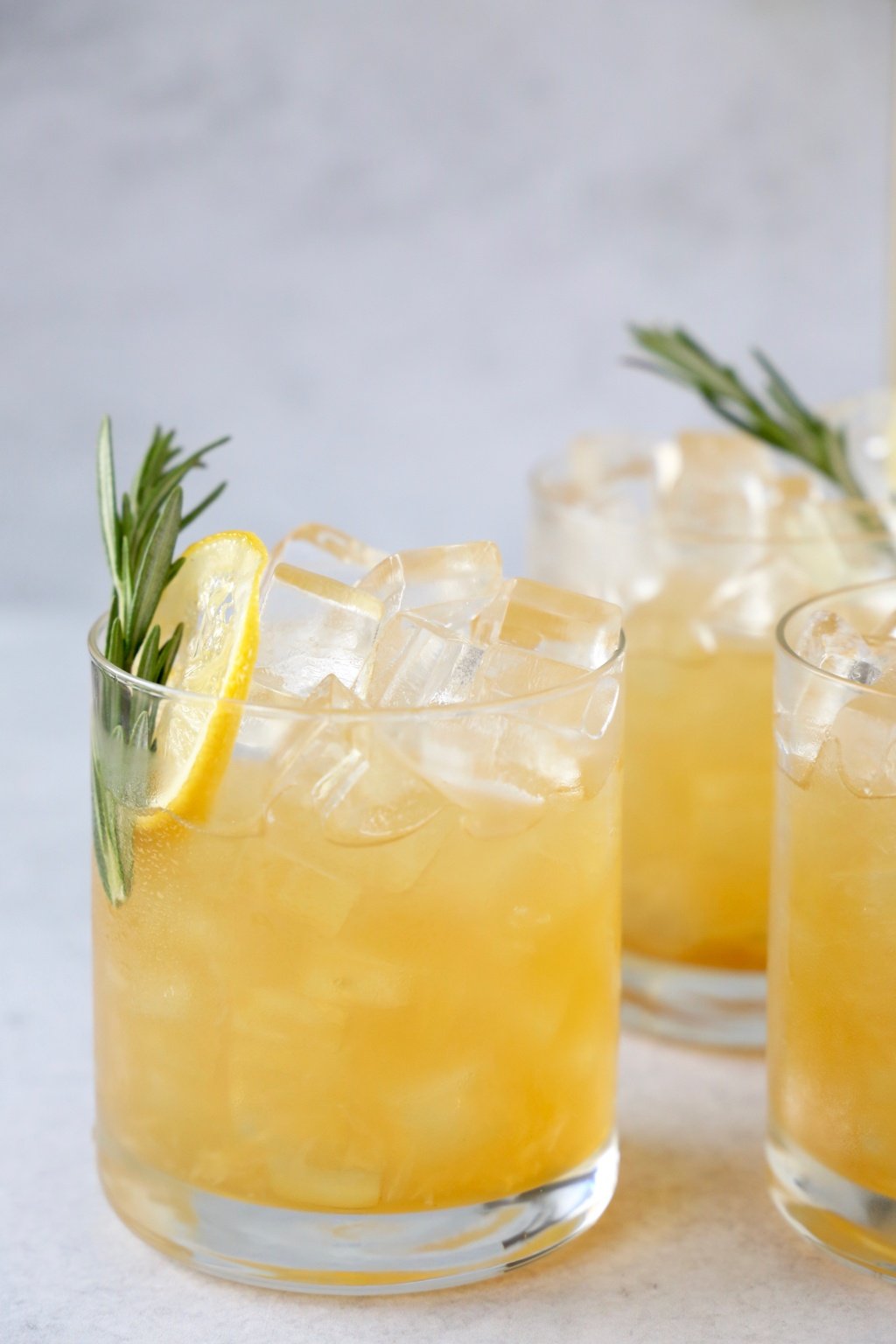 Maple Bourbon Sour Cocktail is simple yet fancy, perfect for fall and only three ingredients…you are going to love it!!  Grabbing a drink at a restaurant is always fun, but even better is when you can create one at home that tastes as good as your favorite bartender.  Maple Bourbon Sour Cocktail is a no fuss cocktail that is full of bourbon flavor, slightly sweetened with maple syrup and will make you pucker from the fresh lemon juice.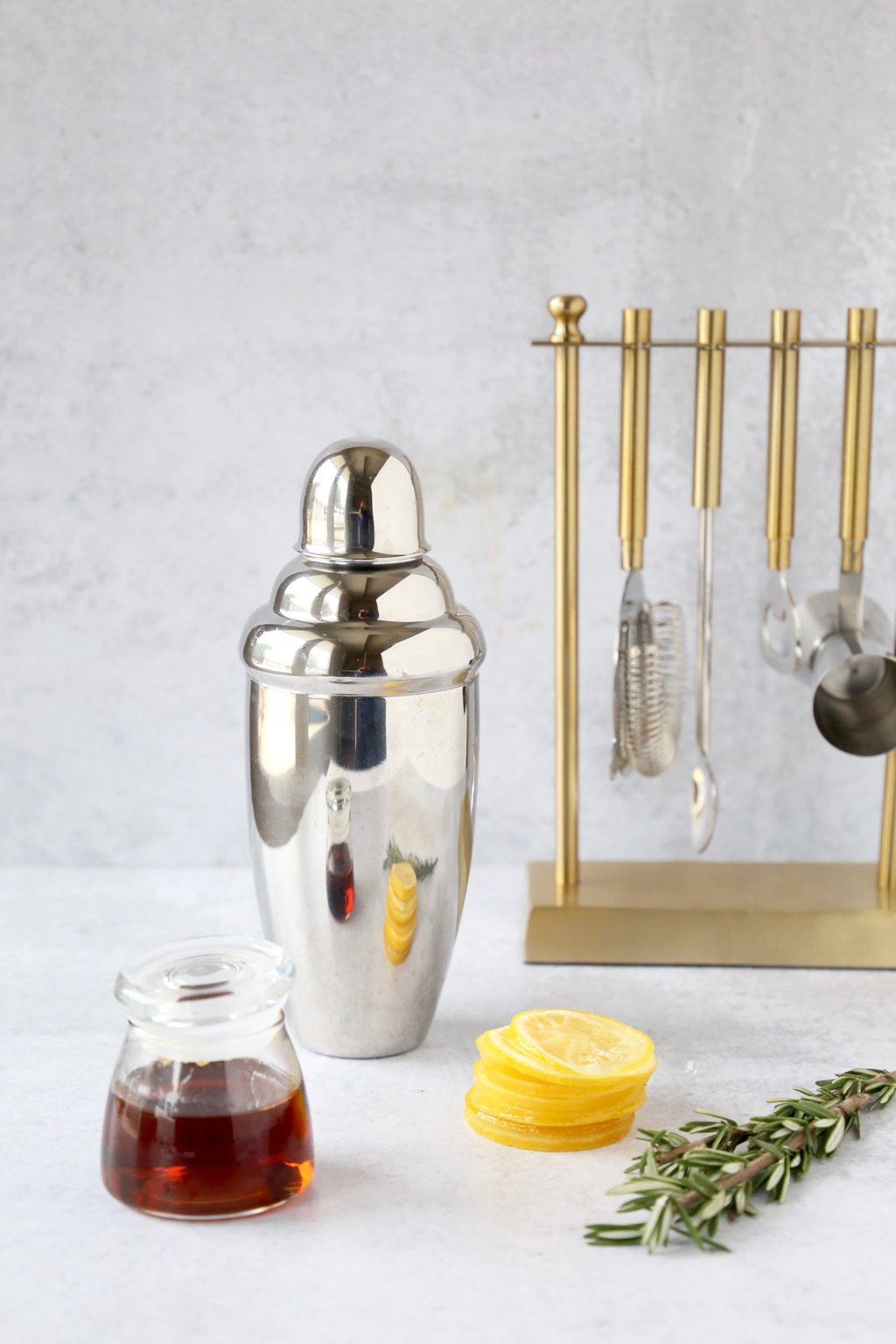 How To Make The Best Maple Bourbon Sour Cocktail
With only three ingredients this is my go to fall cocktail.  A good quality bourbon, pure maple syrup and fresh squeezed lemon are the three ingredients that make this cocktail so great.  Combine all three ingredients into a cocktail shaker, fill with ice, pour into your favorite glass, garnish with candied lemon slices and a fresh rosemary sprig.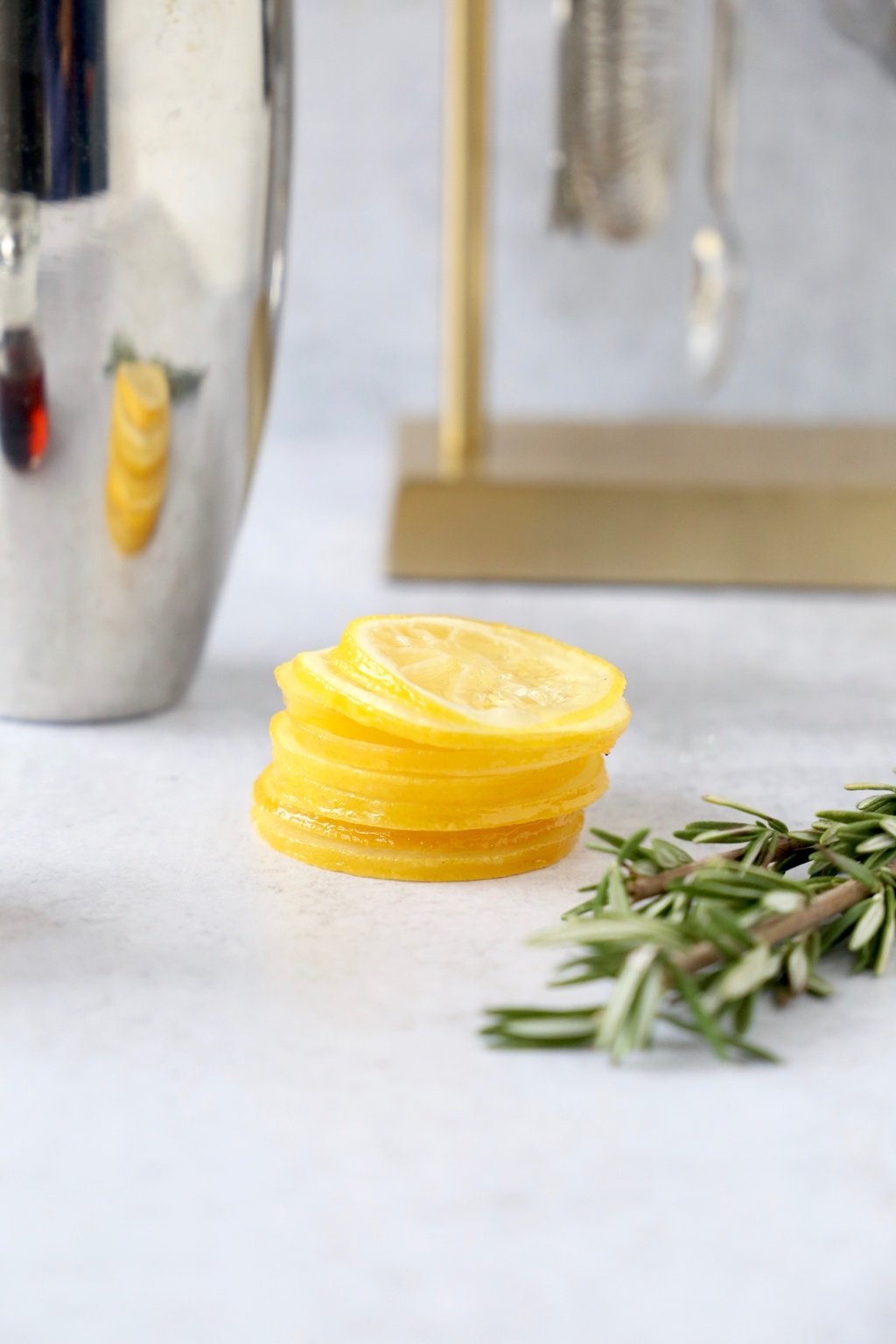 How To Make Candied Lemon Slices
A fun and easy garnish that you can make ahead and keep to be sure you are ready whenever you need a Maple Bourbon Sour Cocktail.  Candied Lemon Slices are the perfect garnish to your cocktail and pretty tasty to eat.  In a small saucepan bring to a boil ½ cup granulated sugar and ½ cup water until the sugar has dissolved.  Place your thinly sliced lemon pieces into the syrup and continue simmering for 2-3 minutes.  Turn the heat off and let the lemon slices sit in the syrup for 20 minutes.  Remove the lemon slices from the syrup and place them on a cooling rack.  Allow the Candied Lemon Slices to dry for 3-4 hours or best overnight (flipping halfway through).  Once they are dried, store in an airtight container for 1-2 weeks in the refrigerator until ready to use.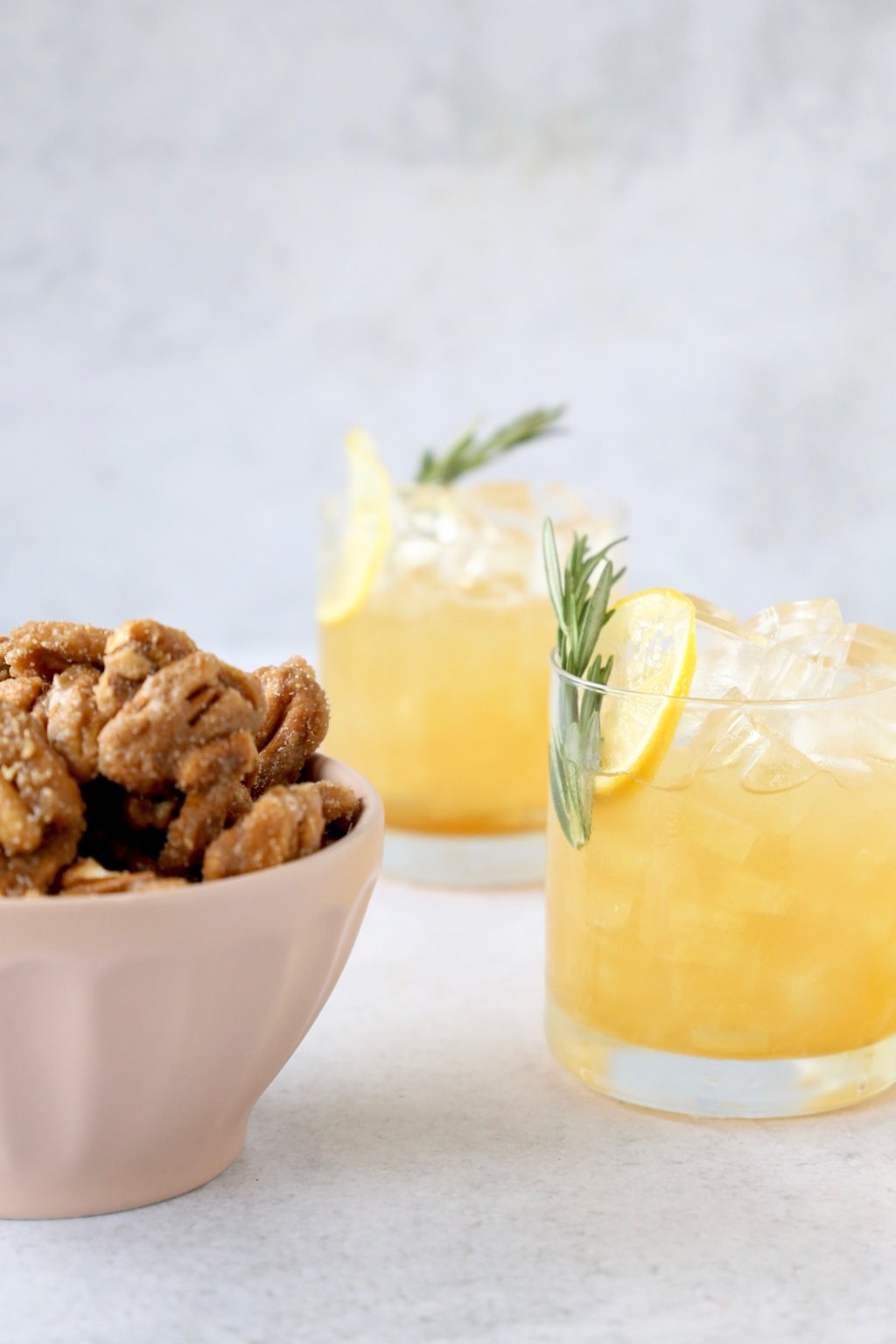 Must Have Bar Snacks-Maple Glazed Pecans
When you have your favorite cocktail, you must have your favorite bar snack and what better way to enjoy Maple Bourbon Sour then with Maple Glazed Pecans.  These are the perfect snack to share while sipping on cocktails or bag them up for a wonderful edible gift.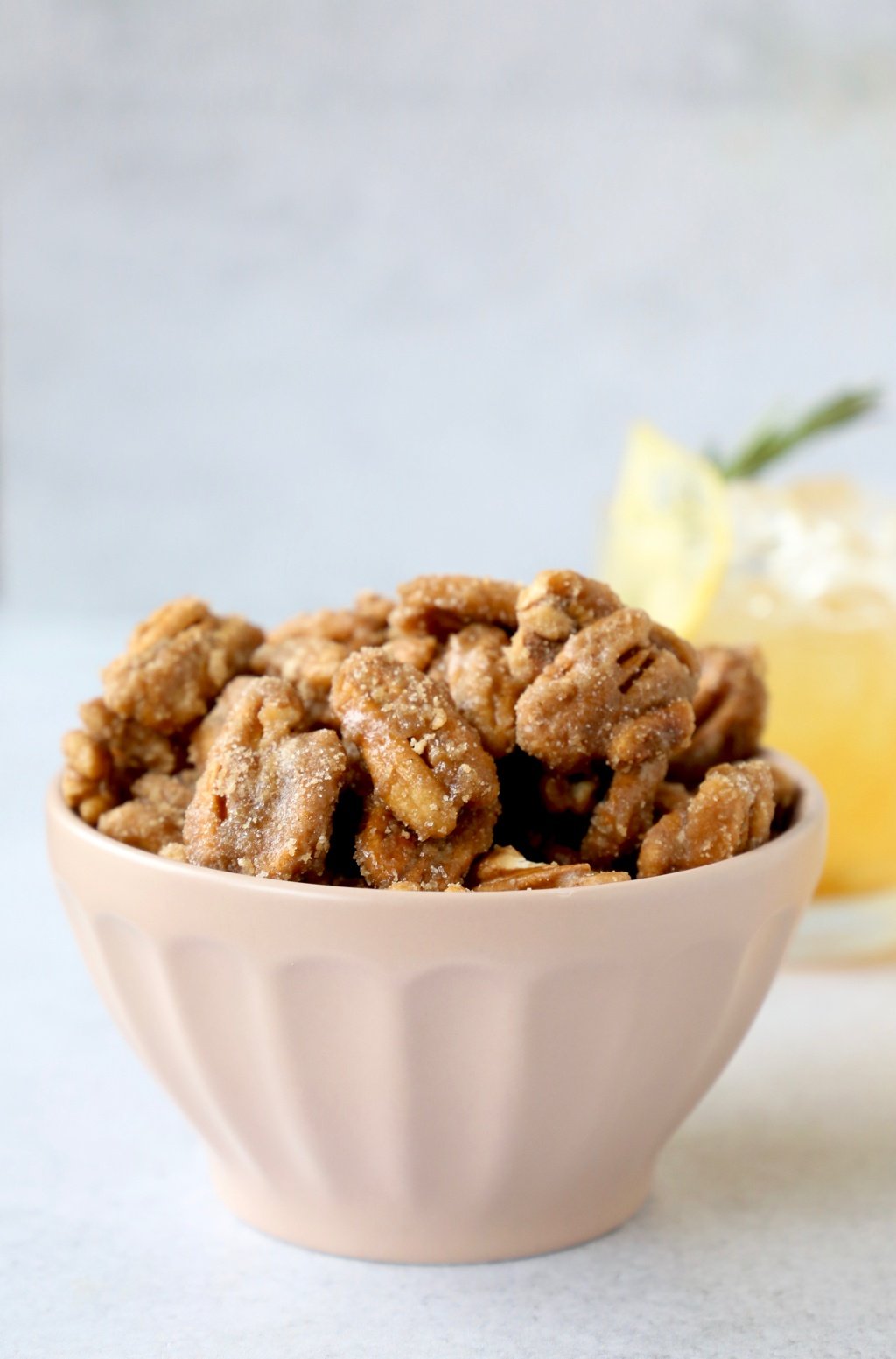 Print
Maple Bourbon Sour Cocktail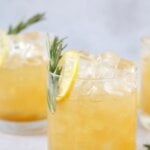 1 ½ ounces Bourbon
¾ ounce Fresh Lemon Juice
¾ ounce Maple Syrup
Ice
Garnish: Candied Lemon Slices and Fresh Rosemary
Instructions
In a cocktail shaker combine the bourbon, lemon juice, maple syrup and fill with ice
Shake until fully combined and pour into your favorite cocktail glass
Garnish with candied lemon slices and fresh rosemary
Serve immediately
Keywords: Maple Bourbon Sour Cocktail
Print
Maple Glazed Pecans
3 Cups Whole Pecans
⅔ Cup Light Brown Sugar
⅓ Cup Granulated Sugar
3 Tablespoons Maple Syrup
1 Tablespoon Water
½ Teaspoon Vanilla Extract
Cinnamon Sugar Coating
3 Tablespoons Granulated Sugar
½ Teaspoon Ground Cinnamon
Instructions
Prepare a ½ sheet pan with parchment paper; set aside
In a medium saucepan combine the light brown sugar, granulated sugar, maple syrup, water and vanilla extract
On medium heat, bring this mixture to a boil until the sugar is dissolved
Remove the saucepan from the heat and pour the pecans into the sugar mixture; stir the pecans to coat them in the sugar mixture (stir for 1-2 minutes to allow the caramel to slightly cool and fully stick to the pecans)
Pour the glazed pecans onto a prepared sheet pan and sprinkle them with cinnamon sugar
Allow the pecans to cool completely and for the glaze to dry before placing them into a serving bowl or packaging to gift