The ultimate fall cocktail and one that will fit perfect on your Thanksgiving table, Apple Cider Aperol Spritz is sweet, sparkly and has a touch of cinnamon spice!  
Setting the table this Thanksgiving is going to be special, whether you are hosting a small or medium crowd, there is always so much to be thankful for.  I know that when I prepare my menu and plan for my place setting, a fall cocktail is always the best way to add one last special touch.  Apple Cider Aperol Spritz is the ultimate fall cocktail, slightly sweet, a hint of bitter and full of bubbles.  The flavor is outstanding and the presentation is just as beautiful.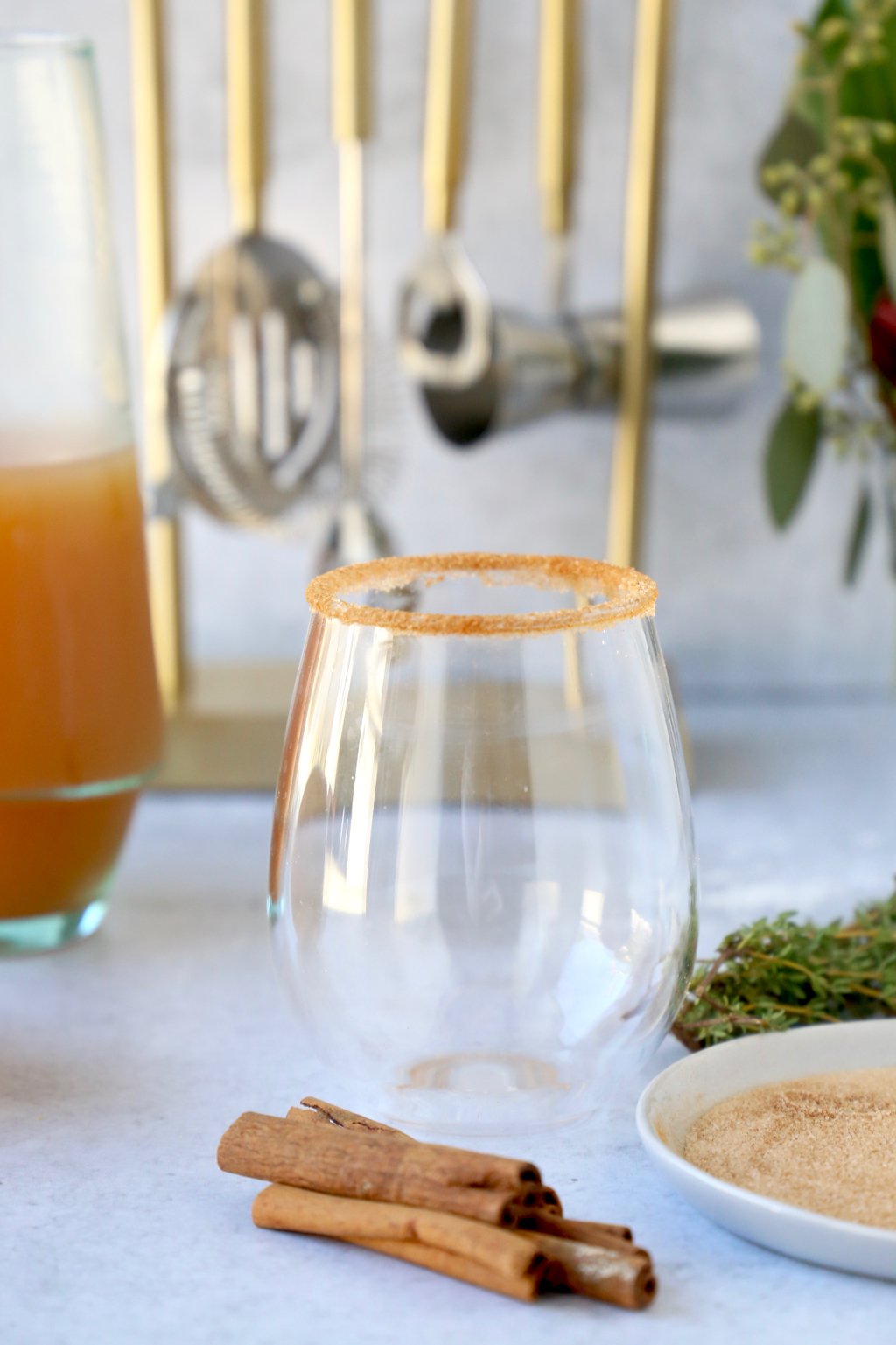 How To Make Apple Cider Aperol Spritz 
Keeping things simple is so important when you are focused on the food you are serving for thanksgiving, but the cocktail is just as important.  Apple cider aperol spritz is quick and easy but has  a wow factor that you will love for your fall celebration.  Starting with cinnamon sugar on the rim of your glass, apple cider, aperol, champagne and a splash of club soda, these four ingredients makes a gorgeous red/orange cocktail.  To take it to the next level, garnish the Apple Cider Aperol Spritz with a thinly sliced apple, a cinnamon stick to stir and a fresh sprig of thyme.  Adding a touch of cinnamon spice really makes this cocktail stand out.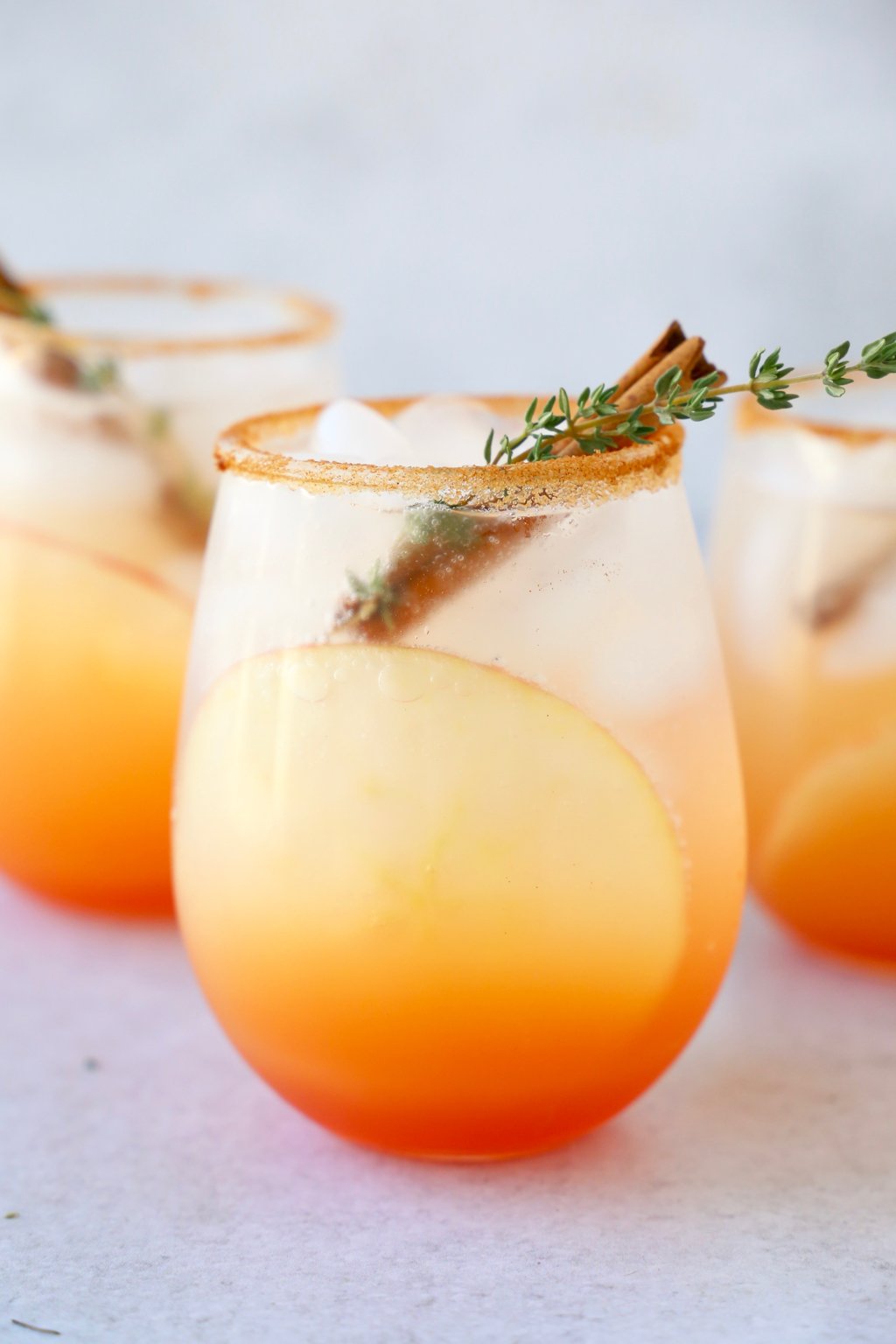 What Is Aperol 
Aperol is an Italian bitter aperitif that is a bright orange color.  An aperitif is typically dry rather than sweet and a cocktail only needs a small amount to get the flavor you are looking for.
Tips and Faqs
Aperitif and Campari are similar, but Campari is much more bitter and will change the taste of the drink
Adding the cinnamon sugar to the rim of the glass really adds a great spiced fall flavor while sipping on your cocktail
Apple cider can be classic or spiced depending on how much flavor you want to add
Champagne or Prosecco works great in this recipe
Use the cinnamon stick to stir your cocktail, it adds a great flavor
More Cocktails You Will Love 
The Perfect Paloma 
Maple Bourbon Sour
Pomegranate Champagne Spritzer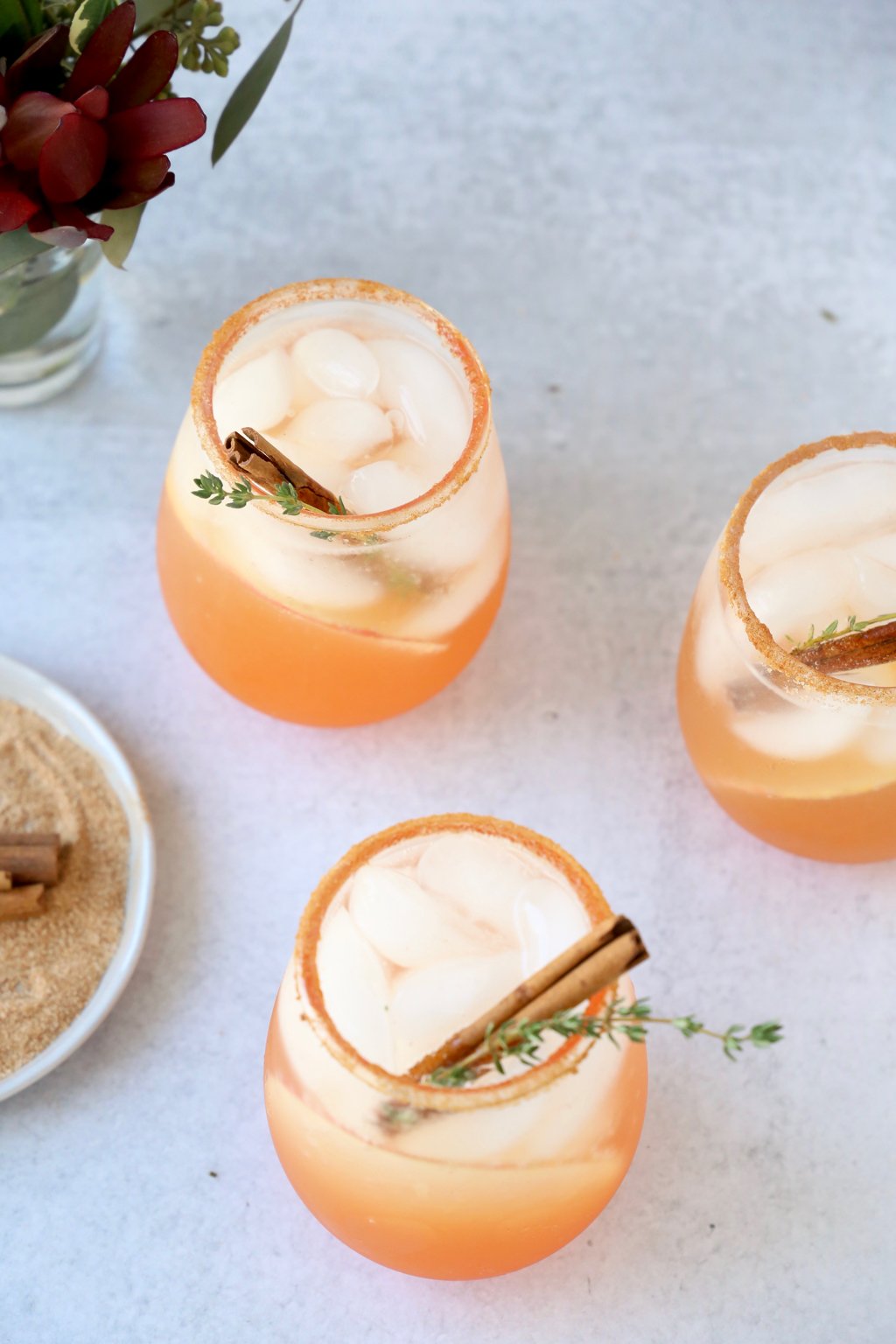 Print
Apple Cider Aperol Spritz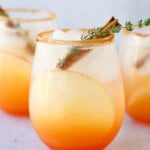 1 ounce Aperol
3 ounces Spiced Apple cider
3 ounces Champagne
Splash of club soda
Garnish: sliced apples, cinnamon sticks and thyme leaf
Cinnamon Sugar
3 Tablespoons Granulated Sugar
1 teaspoon Ground Cinnamon 
Instructions
Prepare the Glass: 
Rub the rim of the glass with a slice of lemon and dip the glass in cinnamon sugar mixture; set aside until ready to use 
Prepare the Apple Cider Aperol Spritz Cocktail: 
Add ice to a stemless wine glass until it is almost full

Pour the spiced apple cider, aperol and champagne into the glass
Top of the mixture with a slash of club soda to fill the glass to the top
Stir the Apple Cider Aperol Spritz and garnish with a slice of apple, cinnamon stick and a thyme leaf
Keywords: Apple Cider Aperol Spritz