This post has been sponsored by Brown-Forman on behalf of Korbel California Champagne. All thoughts and opinions are my own.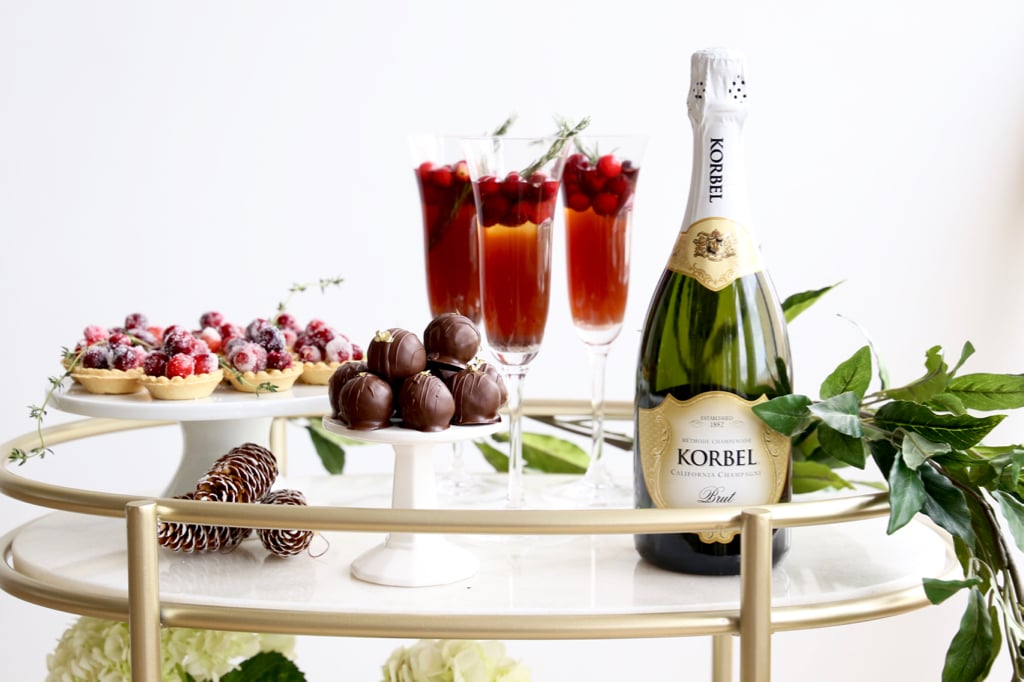 It is the most wonderful time of the year! I truly love everything about the holidays, and every year I promise myself that I am not going to overcommit and over-complicate. But, don't we all agree? That is kind of what the holidays are all about. Here is one way to have your cake and eat it, too: a simple and intimate miniature dessert and champagne party will give you all the holiday cheer with so much less stress! Korbel California Champagne is one of my favorite bottles to grab. It pairs perfectly with a variety of desserts, it is inexpensive, and you can find it almost anywhere! Another way to add a special touch to a dessert party is to create a signature cocktail that all of your guests can enjoy. This Pomegranate Champagne Spritzer is perfect for the holidays with its ruby red color, the tart flavor of pomegranate and lime juice, and Korbel California Champagne. And you can always offer soda water as an alternative to those who do not want to use champagne.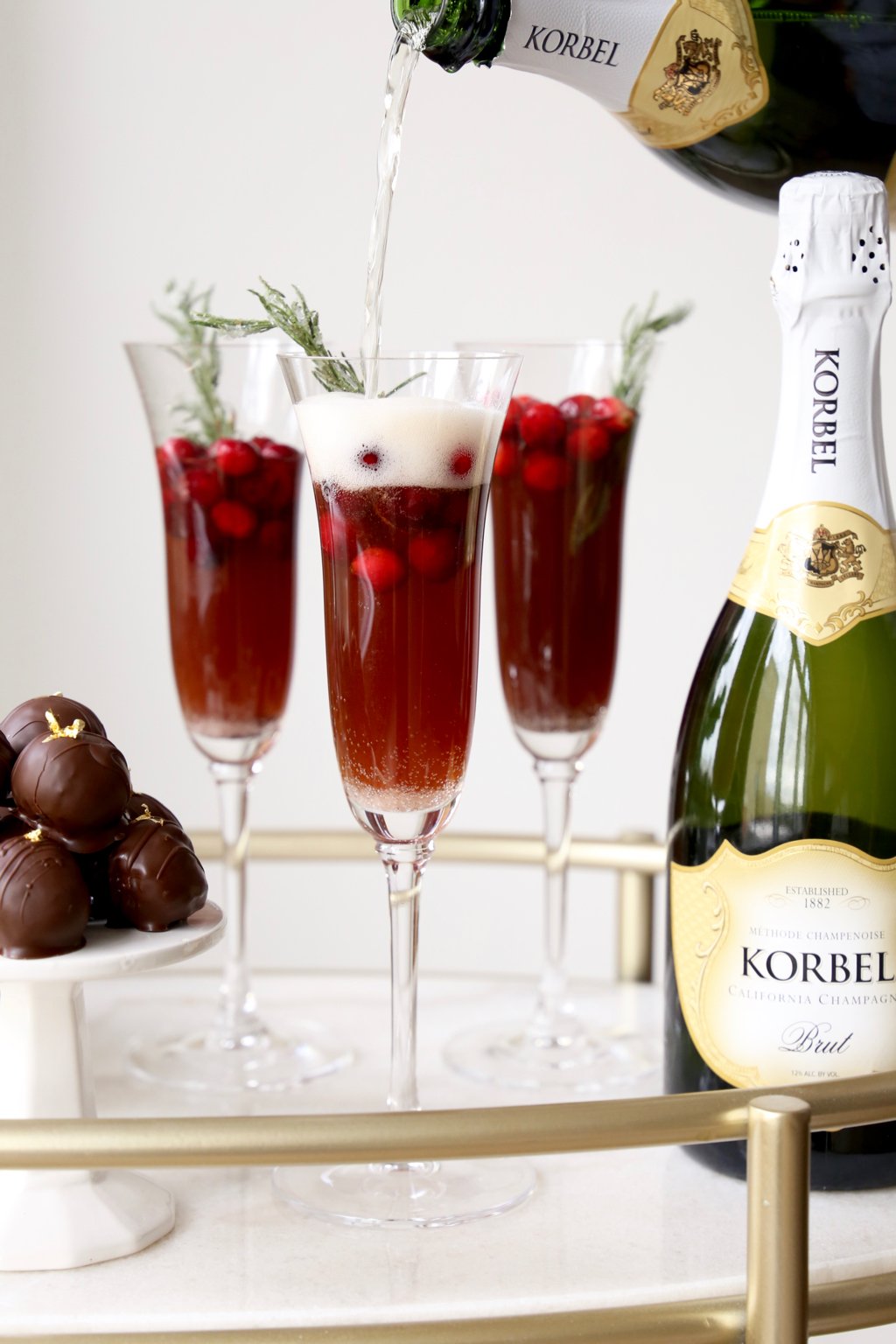 In addition to selecting your champagne or cocktail of choice, creating a dessert menu that can be handmade or store bought will make you excited to open up your home and celebrate the season. To start, make sure you have a variety of flavors and textures: chocolate, nutty, sweet and tart. For a small intimate group, I choose three to four varieties of miniature desserts. Be ready to serve three to four desserts per person. Miniature desserts make a beautiful presentation and make each guest feel extra special. Pairing miniature desserts like Cranberry Lime Tartlets, Chocolate Truffles, French Macarons, and Caramel Corn with Korbel California Champagne will make you feel like you are in a fancy restaurant but instead you are in the comfort of your own home! And to really be the hostess with the most-ess, be sure everyone has access to a safe ride home!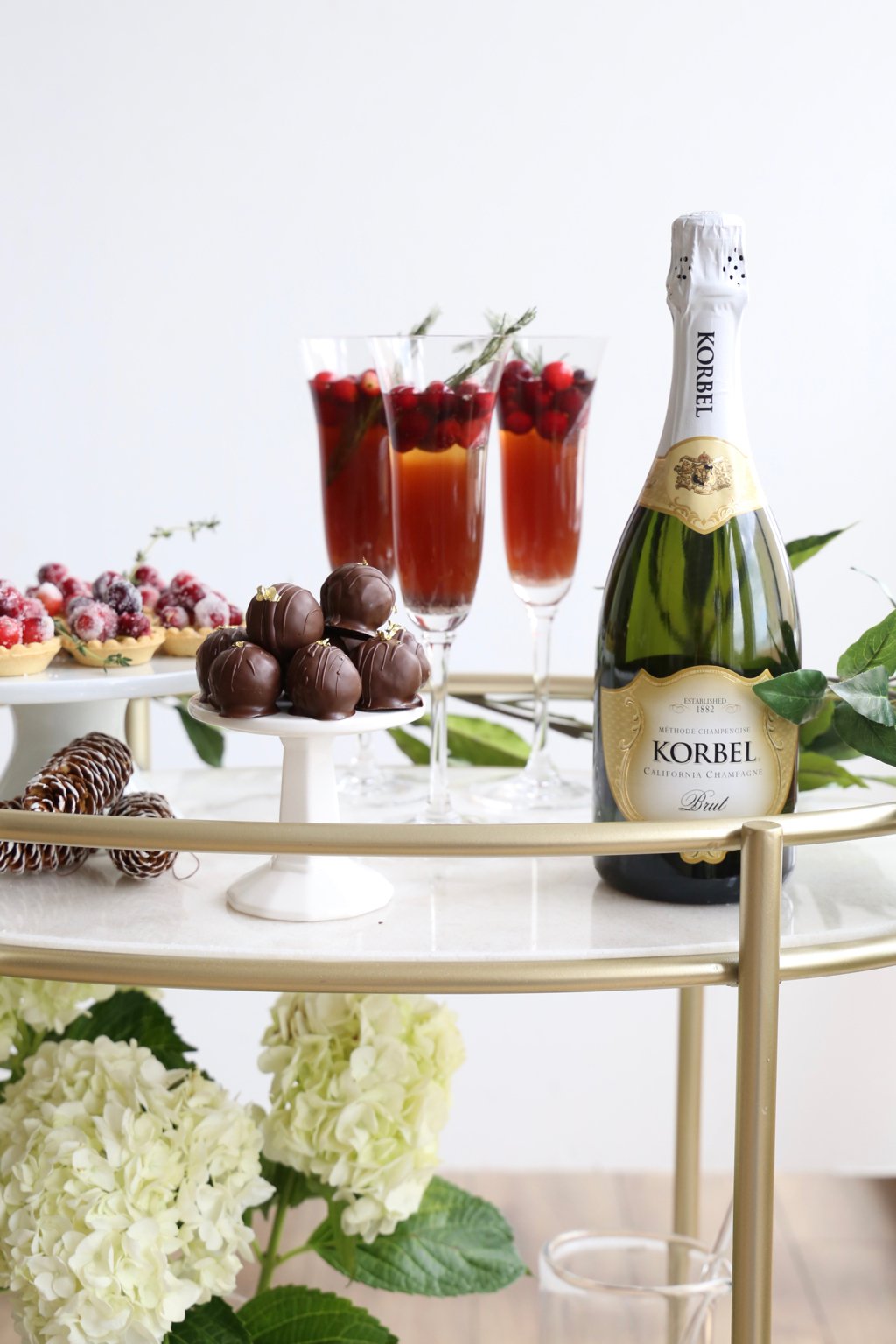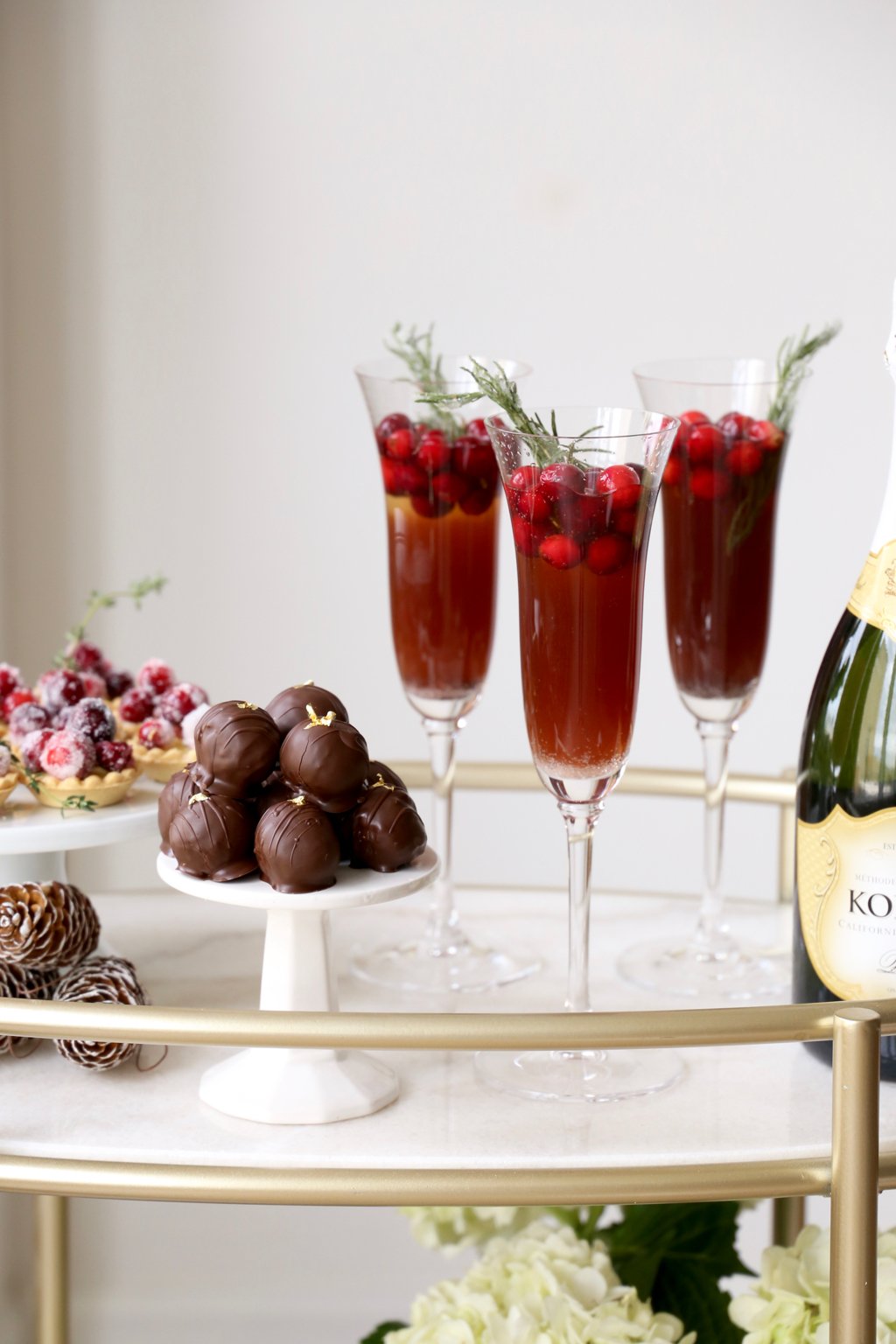 Buy the ingredients at Walmart, Albertsons, Safeway or Jewel-Osco here:
Find Korbel at Total Wine & More or Target here:
Print
Pomegranate Champagne Spritzer
2 Ounces

Pomegranate Juice

1 ounce

Fresh Squeezed Lime Juice

6 Ounces

Korbel California Champagne, chilled
Garnish with fresh rosemary sprigs and sugared cranberries*
Instructions
Pour the pomegranate juice and lime juice into a champagne flute and top it off with champagne
Garnish with fresh rosemary and sugar cranberries
Serve immediately
Notes
Sugared Cranberries
½ Cup Granulated Sugar
½ Cup water
1 Cup Cranberries
In a small saucepan, combine water and sugar and bring to a boil.
Once the sugar is dissolved shut the heat off and remove from the stove.
Pour fresh cranberries into the simple syrup and gently stir.
Allow the cranberries to sit in the simple syrup for 10 minutes.
Remove the cranberries from the simple syrup and lay them on parchment paper keeping them all separated.
Once the cranberries have cooled off, dredge them in granulated sugar.
Serve immediately and Enjoy!
For more holiday entertaining inspiration head over to https://www.pinterest.com/cheerstothehost/
Please Drink Responsibly.
California Champagne F Korbel & Bros, Guerneville CA. Korbel is a registered trademark (c) 2019 All rights reserved. Intended for readers 21+. Please do not forward or share this content to anyone under the legal drinking age.
This post has been sponsored by Brown-Forman on behalf of Korbel California Champagne. All thoughts and opinions are my own.