The perfect combination of white chocolate and peppermint sandwiched between two crispy, chewy and petit cookies.  Peppermint White Chocolate French Macarons is a classic cookie with a holiday twist that you are going to love.  
Day two of this years Christmas Cookie Week and I am so excited to share Peppermint White Chocolate French Macarons with you.  After a sweet and spicy cookie, Gingerbread Snowball Cookies, that were featured yesterday, this adds colorful and festive twist.  Peppermint and white chocolate might be the best flavor combination of the season and so beautiful on your cookie board or in your cookie box.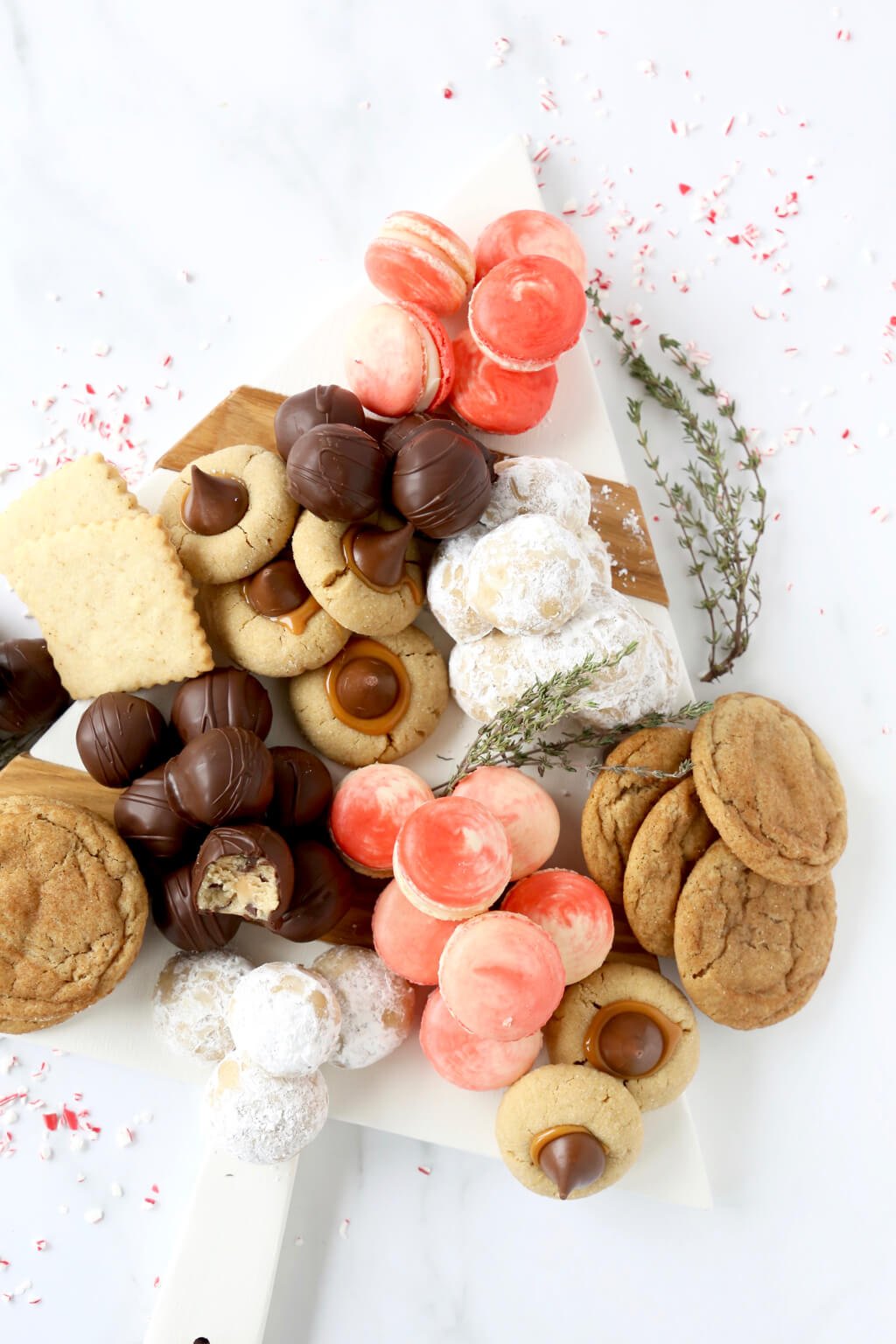 What Are French Macarons
French Macarons have become quite popular, but there is still sometimes confusion between a macaron with one "0" and a macaroon with two "o's".  Although I am a big fan of both, there is a difference and you don't want to confuse the two.
French Macarons, with one "o", are an almond based cookie that are made by combining almond flour and powdered sugar, pulsed in a food processor to create a fine texture while egg whites are whipping to stiff peaks.  This type of macaron is made using a meringue base and then folded together with the almond flour and powdered sugar mixture.  This cookie is crunchy on the outside, chewy in the middle, has beautiful feet that forms while they are baking and are sandwiched together with a creamy filling.
Macaroons with a double "o" is more traditionally made with coconut.  This macaroon was in the spotlight for many years, but the French Macaron has taken over.
I truly love both styles of cookies, but the French Macaron is super festive and a great way to add seasonal flavor for your dessert.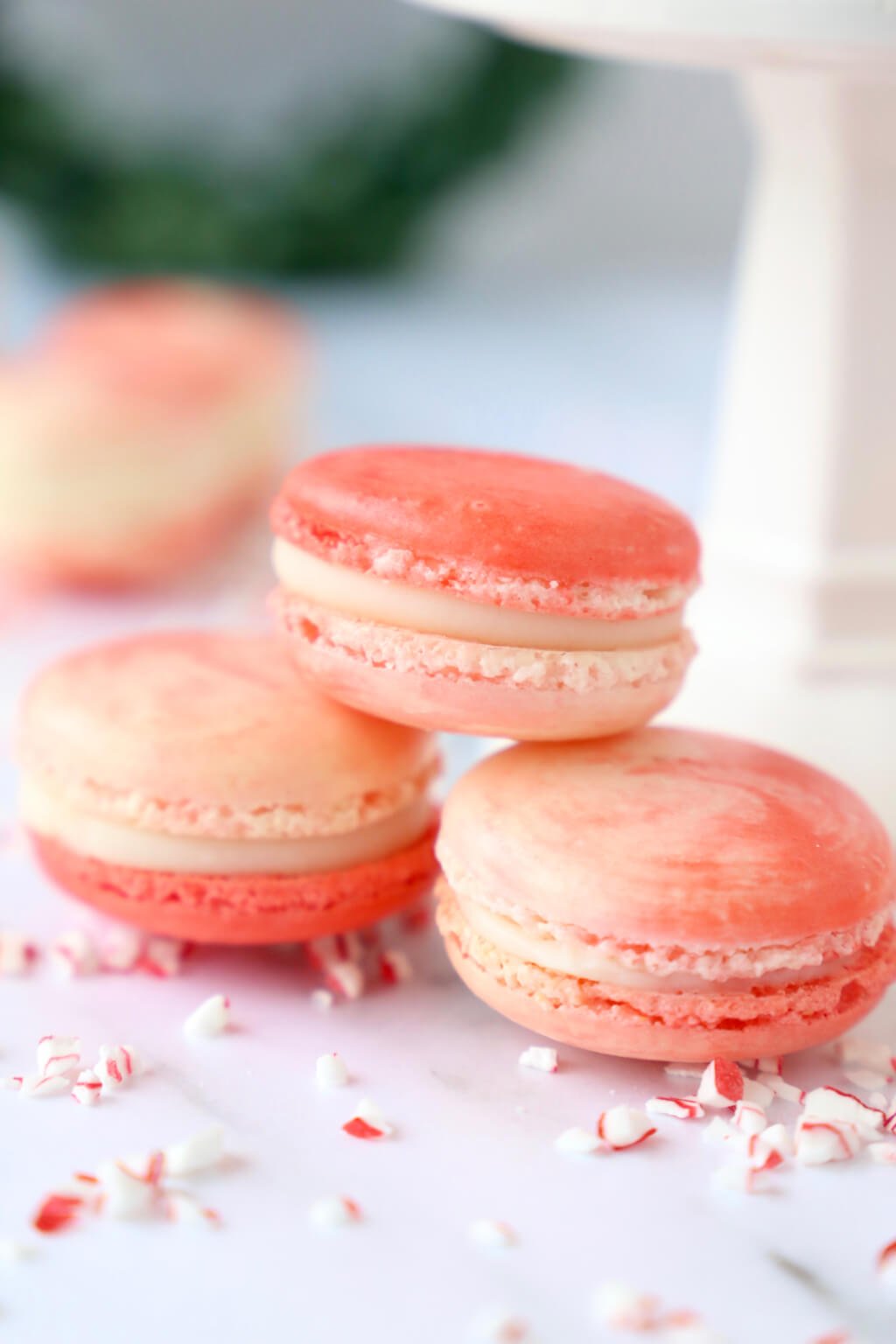 How To Make Peppermint White Chocolate French Macarons
French Macarons are made in two steps; first the filling so that it can set and then the macaron cookie.  The filling will be the flavor of your macaron and the cookie recipe stays the same but can vary in color.
Prepare the Peppermint White Chocolate Ganache
White Chocolate ganache is a creamy filling made with white chocolate chips and heavy cream.  In a small saucepan bring the heavy cream to a simmer, remove the pan from the heat, add in the peppermint extract and the white chocolate chips and whisk together until smooth.  Pour the ganache in a heat proof bowl and allow the ganache to cool and let it set for 3-4 hours or overnight before using (it will become thick and spreadable).
Prepare the Classic French Macaron Cookie
Classic French Macarons are made with almond flour, powdered sugar, egg white, egg white powder and food coloring.  The Almond flour and powdered sugar are added to the bowl of a food processor and pulsed to create a fine texture and then sifted to ensure that there are no lumps.  Whisk the egg whites and egg white powder to stiff peaks and then add a small amount of powdered sugar.  Remove the bowl from the mixer and fold in the powdered sugar and almond flour until smooth and can make ribbons with batter (do not over mix).  Separate a quarter of the batter into a small bowl and color the small amount of batter with red food coloring.  Transfer the batter into a piping bag, adding the red colored batter on one side of the bag and the white batter on the other.  Pipe 1.5" round about an inch apart onto a sheet pan lined with parchment paper or a silpat to create a red and white swirl.  Let the macarons sit on the sheet pan for 20-30 minutes before baking (they will form a crust on top of the cookie).  Bake the macarons for twelve minutes, turning the sheet pan half way through the baking time.  Remove the macarons from the oven and allow them to cool before filling the shells with the peppermint white chocolate ganache.  These can be enjoyed immediately or stored in an airtight container in the refrigerator for 24-48 hours.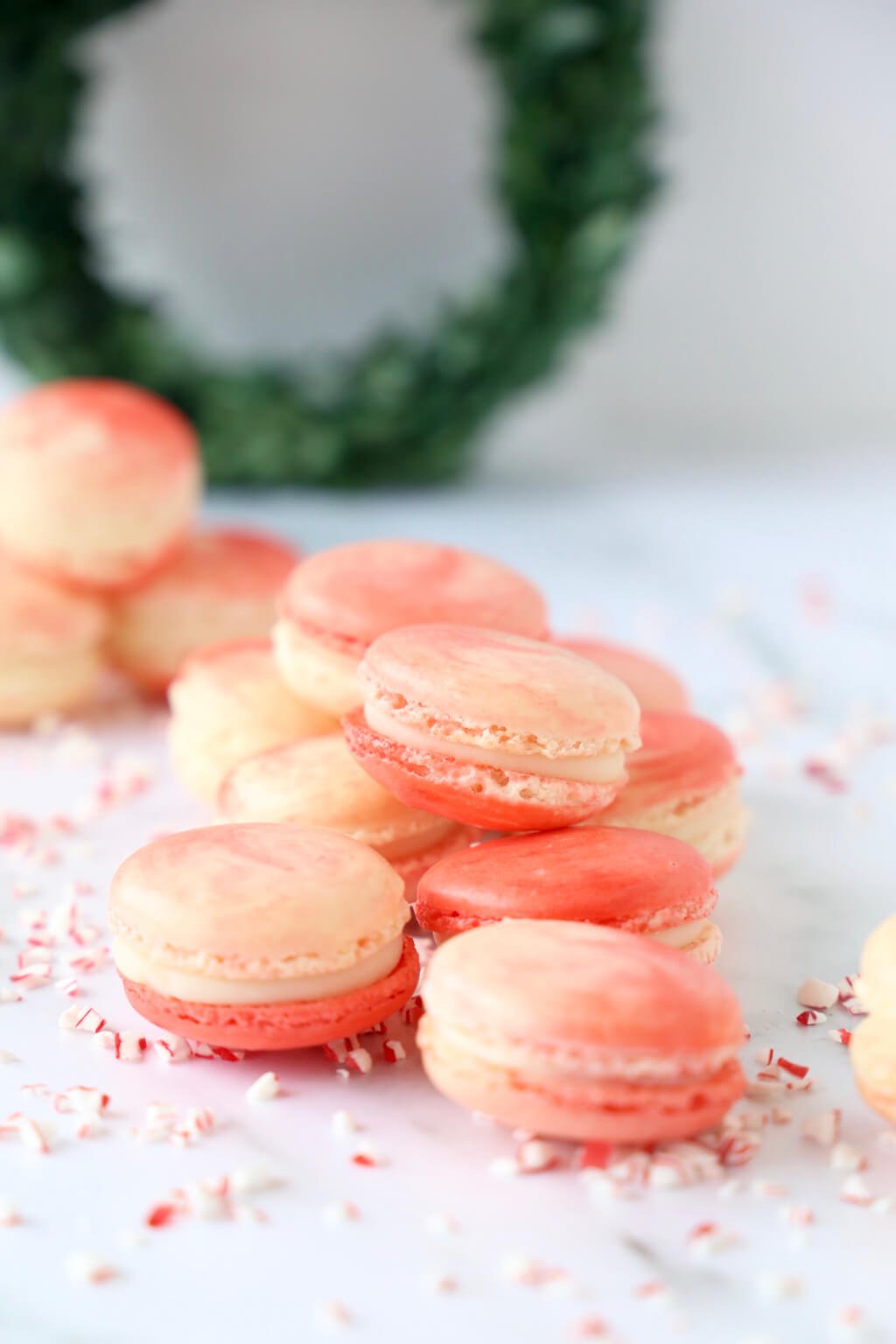 Tips To Make The Best French Macarons
Making french macarons can be intimidating, but the key is slow and steady.  When my daughter asked me to teach her how to make french macarons, that is when I realized they are simple but require patience.
 The first step to making the perfect french macaron is running the almond flour and powdered sugar through a food processor to create a fine texture
Sift the almond flour and powdered sugar
 Egg white powder is a stabilizer that is necessary when baking the perfect french macaron
Whisk the egg whites and egg white powder to stiff peak before adding the smaller amount of powdered sugar
Add the food color to the meringue while it is mixing instead of adding the color at the end of the process because you can overtax the batter which will cause the macarons to be to flat
Gently fold the almond flour and powdered sugar mixture into the meringue
Once the batter is fully incorporated add the batter to a piping bag
Pipe the batter onto a baking sheet lined with parchment paper or a silpat
Allow the macarons to sit for 20-30 minutes to create a crust on top (this allow the french macarons to have feet when they bake)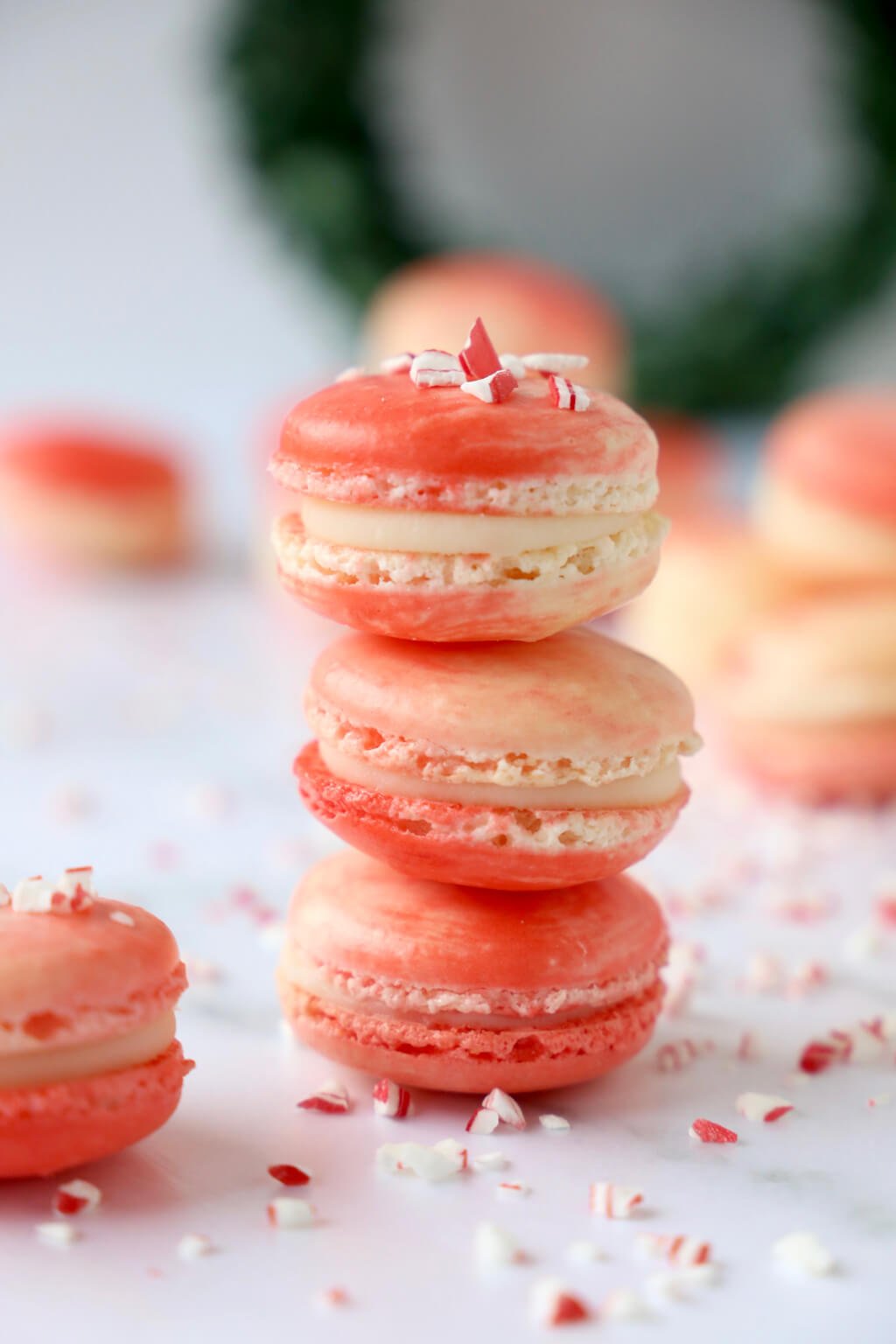 More Macarons You Will Love
Chocolate Chai French Macaron
Cookies and Cream French Macaron
Chocolate Nutella French Macaron 
Raspberry Rose French Macaron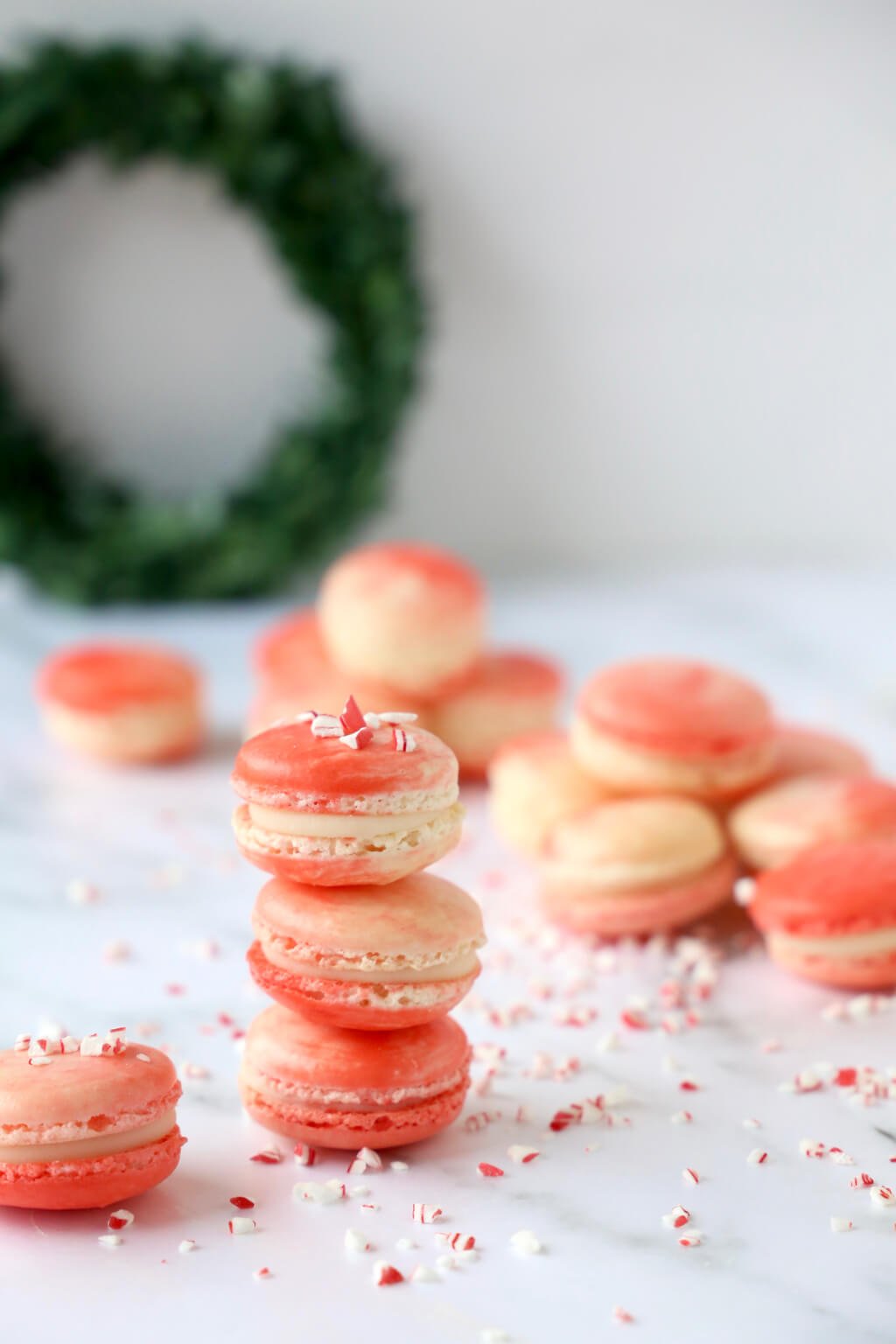 Print
Peppermint White Chocolate French Macarons
Classic French Macaron Batter
200 grams(1 ½ Cups) Powdered Sugar
115 grams(1 Cup) Almond Flour
90 grams (3) Egg Whites
8 grams(1 Tbsp) Egg White Powder
30 grams(¼ Cup) Powdered Sugar
Red Food Coloring  
Peppermint White Chocolate Ganache
1 ½ Cup White Chocolate Chips
1 Cup Heavy Whipping Cream
¼ teaspoon Peppermint Extract 
Instructions
Prepare the Peppermint White Chocolate Ganache
Place the white chocolate in a medium bowl; set aside

In a small saucepan bring the heavy cream to a simmer, remove the pan from the heat, add in the peppermint extract and the white chocolate chips and whisk together until smooth.  

Pour the ganache in a heat proof bowl and allow the ganache to cool and let it set for 3-4 hours or overnight before using (it will become thick and spreadable)
Prepare the Classic French Macaron Cookie
 

Preheat oven to 325 degrees F and line two baking sheet with parchment paper or a silpat

Add almond flour (115 grams), powdered sugar (200 grams) to the bowl of a food processor; turn the food processor on for one minute

Sift the almond flour, powdered sugar mixture into a large bowl; set aside

In a mixer with whisk attachment, whisk egg whites and egg white powder until stiff peaks

Slowly add in powdered sugar (30 grams) to egg whites

Remove the bowl from the mixer and fold in powdered sugar and almond flour 

Fold until smooth and can make ribbons with batter (do not over mix)

Separate a quarter of the batter into a small bowl and color the small amount of batter with red food coloring 

Transfer the batter into a piping bag, adding the red colored batter on one side of the bag and the white batter on the other 

Pipe 1.5" round about an inch apart onto a sheet pan lined with parchment paper or a silpat to create a red and white swirl

Let the macarons sit on the sheet pan for 20-30 minutes before baking (they will form a crust on top of the cookie)

Bake for 12 minutes, turning the sheet pan half way through the baking time 

Remove the macarons from the oven and allow them to cool before filling 

Fill half of the macaron shells with the Peppermint White Chocolate Ganache and then stack the other half of the cookies on top

Enjoy immediately or store in an airtight container in the refrigerator for 24-48 hours