Lemon with hints of lavender takes the spotlight in these classic french macaron cookies.  Lemon Lavender French Macaron is the cookie for spring and a perfect bite of sweet!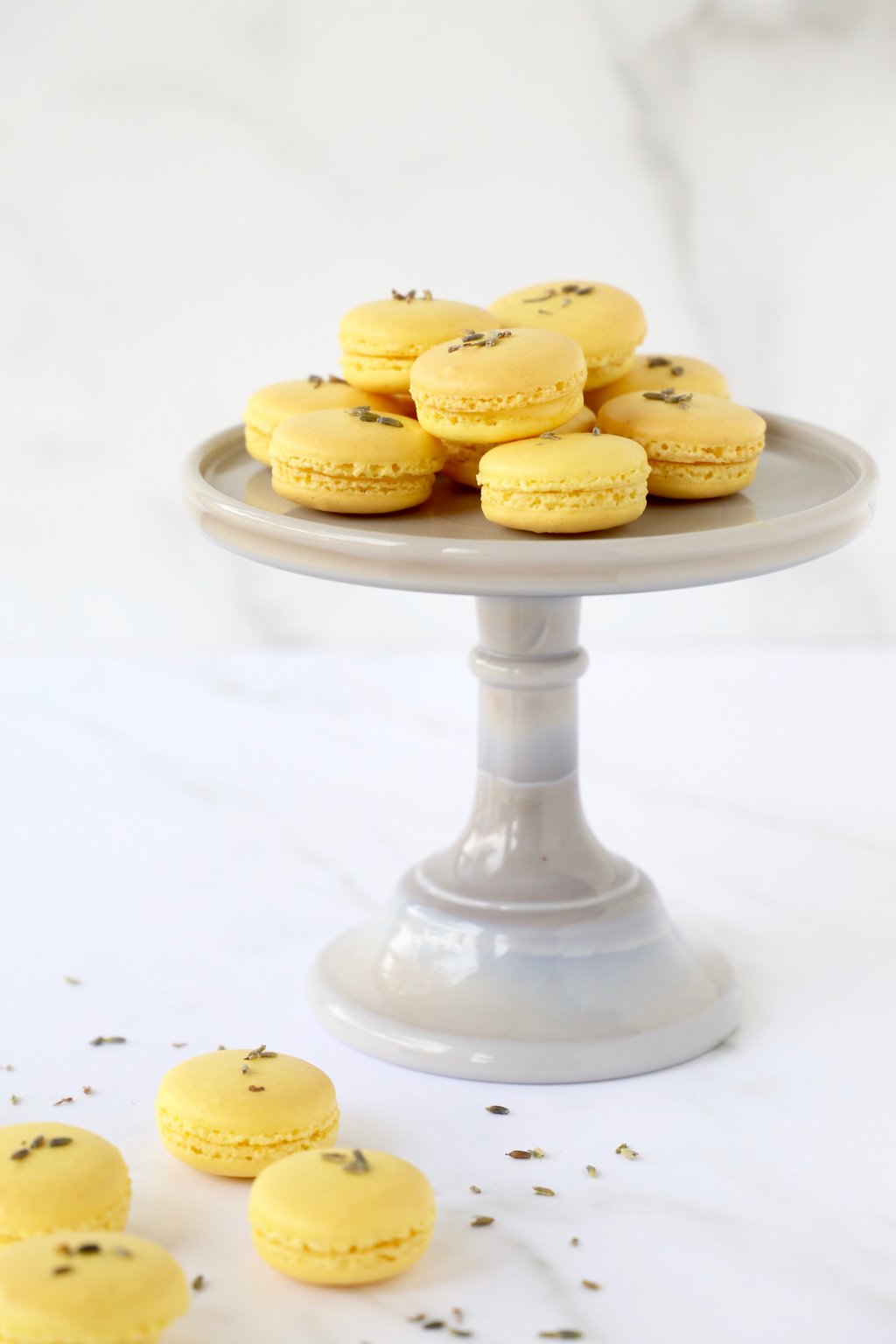 As we are heading into warmer weather and outdoor gatherings, I am excited to add a dessert that will be perfect for your spring event, garden party or just a evening dinner with friends.  I love the idea of adding herbs and flowers into desserts for a fresh and unique flavor and Lemon Lavender French Macarons is the perfect bite of sweet to be on your table.
French Macarons
French Macarons are the perfect cookie for every event.  Made with almond flour, powdered sugar, and egg whites, they are so versatile and can be made into so many wonderful flavors.  The shell of the macaron is always prepared the same way no matter what flavor you choose to make.  The color of the shell can be altered to go along with your event theme and the flavor of the filling.  These Lemon Lavender French Macarons have yellow food coloring added to the the meringue and a touch of dried lavender sprinkled on the the top of the shell before baking.  Once the shell is baked, the filling is the next step to making this cookie even more magical.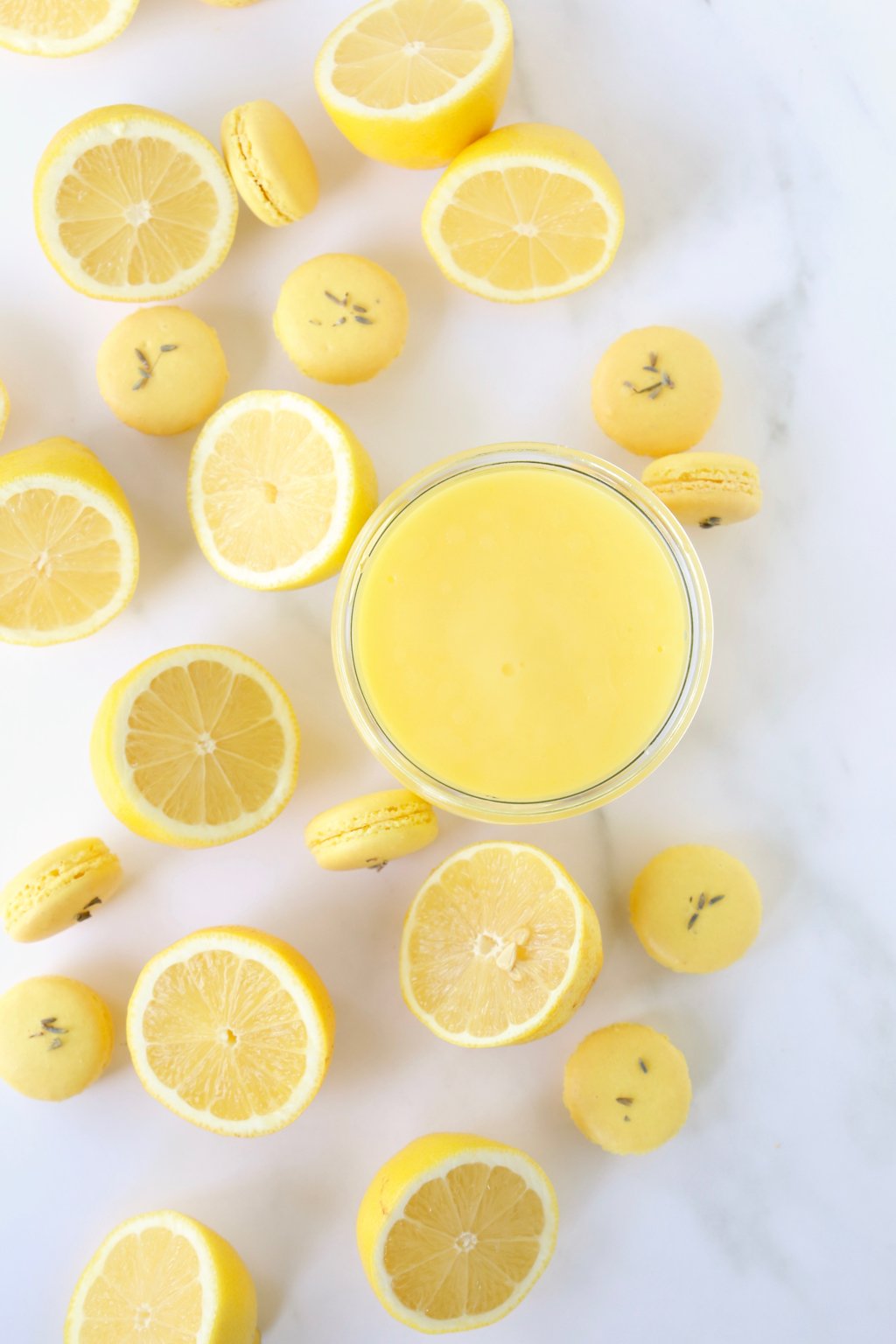 Ingredients
French Macaron:
Almond Flour
Powdered Sugar
Egg Whites
Egg White Powder
Yellow Food Coloring
Lavender Lemon Curd:
Sugar
Lemons
Eggs
Unsalted Butter
Dried Lavender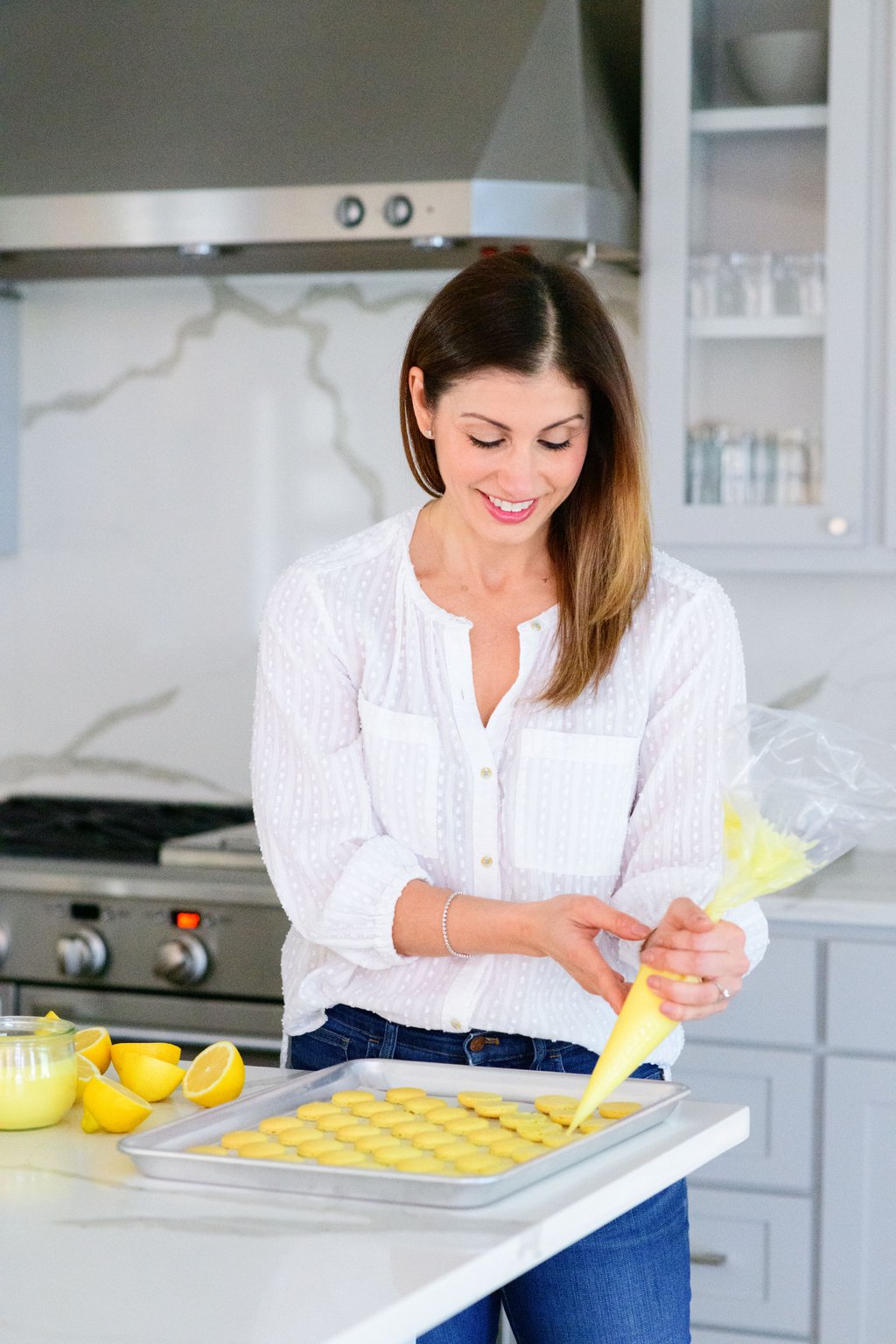 Tips to making the perfect French Macaron
Making french macarons can be intimidating, but the key is slow and steady.  When my daughter asked me to teach her how to make french macarons, that is when I realized they are simple but require patience.  

The first step to making the perfect french macaron is running the almond flour and powdered sugar through a food processor to create a fine texture
Sift the almond flour and powdered sugar
 Egg white powder is a stabilizer that is necessary when baking the perfect french macaron
Whisk the egg whites and egg white powder to stiff peak before adding the smaller amount of powdered sugar
Add the food color to the meringue while it is mixing instead of adding the color at the end of the process because you can overtax the batter which will cause the macarons to be to flat
Gently fold the almond flour and powdered sugar mixture into the meringue
Once the batter is fully incorporated add the batter to a piping bag
Pipe the batter onto a baking sheet lined with parchment paper or a silpat
Allow the macarons to sit for 20-30 minutes to create a crust on top (this allow the french macarons to have feet when they bake)
A few other favorite French Macaron Flavors 
Chocolate Nutella French Macaron
Cookies + Cream French Macaron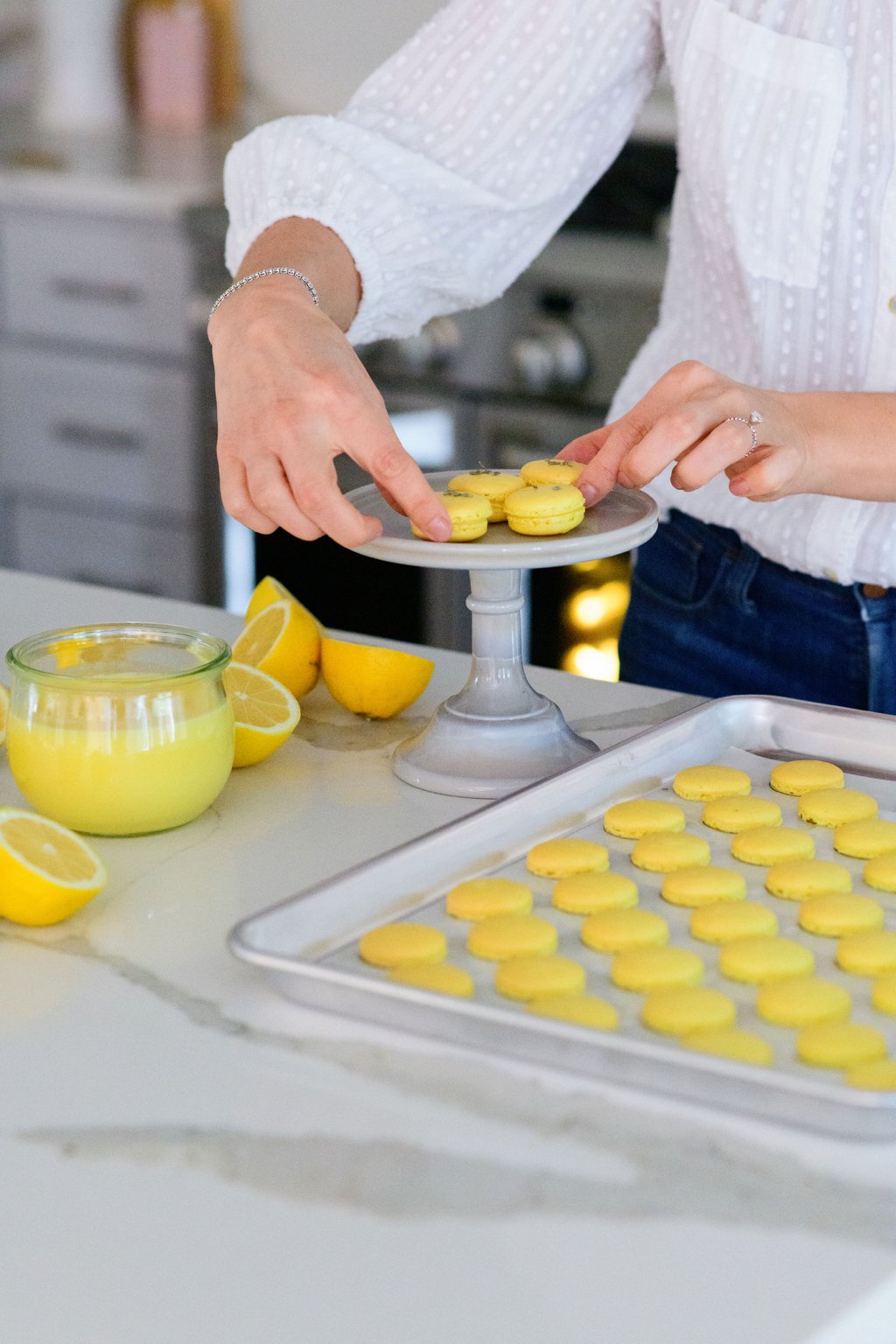 photos by Audrie Dollins
Print
Lemon Lavender French Macaron
1 ½ Cup (200 grams) Powdered Sugar
1 Cup (115 grams) Almond Flour
3 (90 grams) Egg Whites
1 Tbsp (8 grams) Egg White Powder
¼ Cup (30 grams) Powdered Sugar
Yellow Food Coloring 
Instructions
Prepare the Lemon Lavender Curd and refrigerate overnight
Preheat oven to 325 degrees F and line two baking sheet with parchment paper or a silpat
Add almond flour (115 grams), powdered sugar (200 grams) to the bowl of a food processor; turn the food processor on for one minute
Sift the almond flour, powdered sugar mixture into a large bowl; set aside
In a mixer with whisk attachment, whisk egg whites and egg white powder until stiff peaks
Slowly add in powdered sugar (30 grams) to egg whites
Turn the mixer on slow and add 2 drops of yellow food coloring to the meringue while it is mixing and continue until the meringue is yellow
Remove the bowl from the mixer and fold in powdered sugar and almond flour
Fold until smooth and can make ribbons with batter (do not over mix)
Transfer the batter into a piping bag and pipe 1.5" round about an inch apart onto a sheet pan lined with parchment paper or a silpat
Sprinkle dried lavender on top half of the unbaked macaron shells
Let the macarons sit on the sheet pan for 20-30 minutes before baking
Bake the macarons for 12 minutes
Remove the macarons from the oven and allow them to cool before filling
Fill half of the macaron shells with the Lemon Lavender Curd and then stack the other half of the cookies on top
Enjoy immediately or store in an airtight container in the refrigerator for 24-48 hours
Print
Lemon Lavender Curd
1 ¼ cup sugar
1 cup lemon juice
zest of 5 lemons
5 eggs
1 ½ cup butter, unsalted
¼ tsp dried lavender 
Instructions
Combine all ingredients in a bowl
Place bowl over a saucepan with simmering water
Stir the curd over low heat
The curd is complete when the consistency is thick and coats the back of a wood spoon
Strain the curd and cool completely before refrigerating