Putting a spin on a classic French Macaron with a childhood favorite. Cookies and Cream French Macaron are a perfect fit for your back to school lunch box.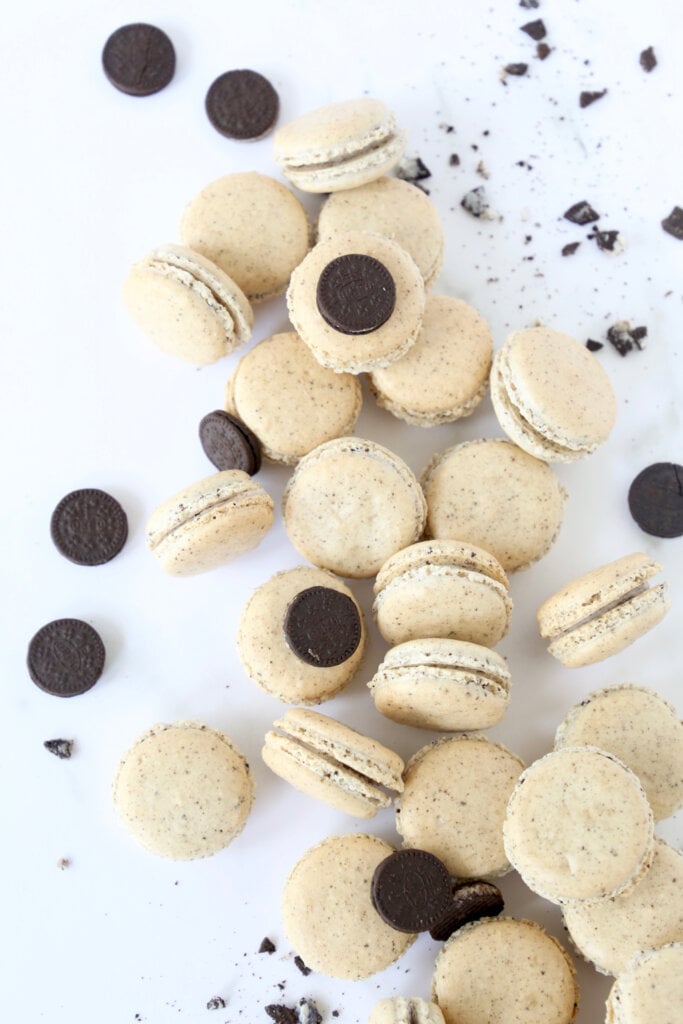 French Macarons have been a recipe I have always loved to make, but recently my girls have had an interest in them and more than just eating them 🙂 Sophie made a batch of Chocolate Nutella French Macarons a few weeks ago and they turned out amazing. Since then, she has been begging for a few new flavors. Cookies and Cream French Macarons was one of the flavors she has been excited about. Since the girls started school this week, I thought that Cookies and Cream French Macaron would be a great surprise and a perfect way to celebrate the first day.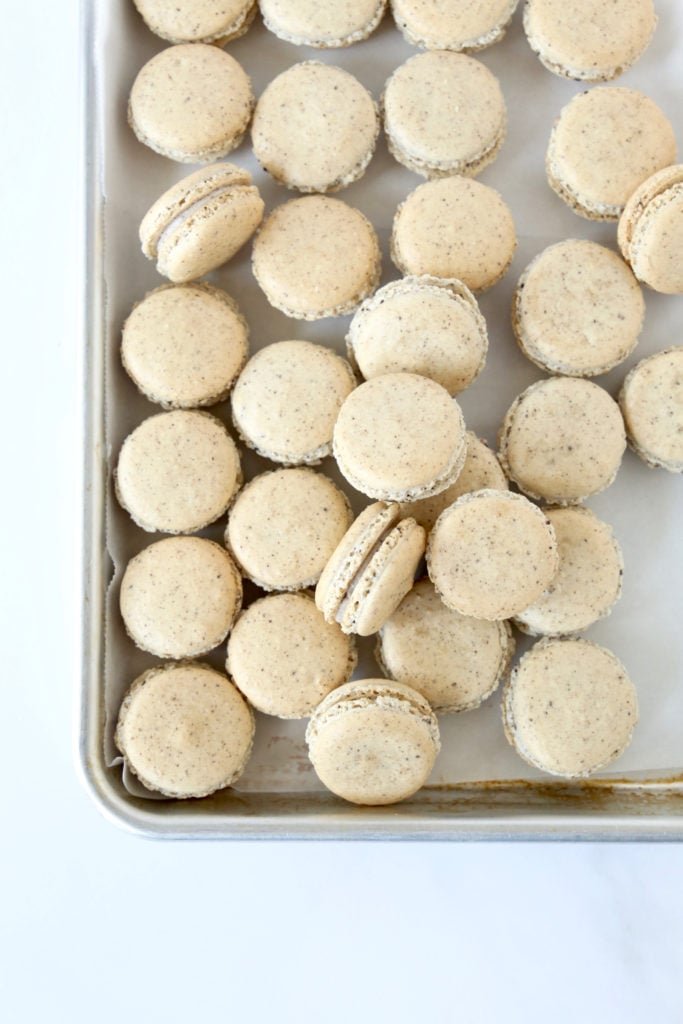 These turned out as good as I hoped. The flavors are simple but bring back all the childhood memories of our favorite lunch box treat…Oreos! The Classic French Macaron cookie shell has crushed Oreos added to make the perfect amount of flavor. The filling in my French Macarons is really where the flavor lives. This cookies and cream macaron is filled with a butter cream icing that is loaded with crushed Oreos.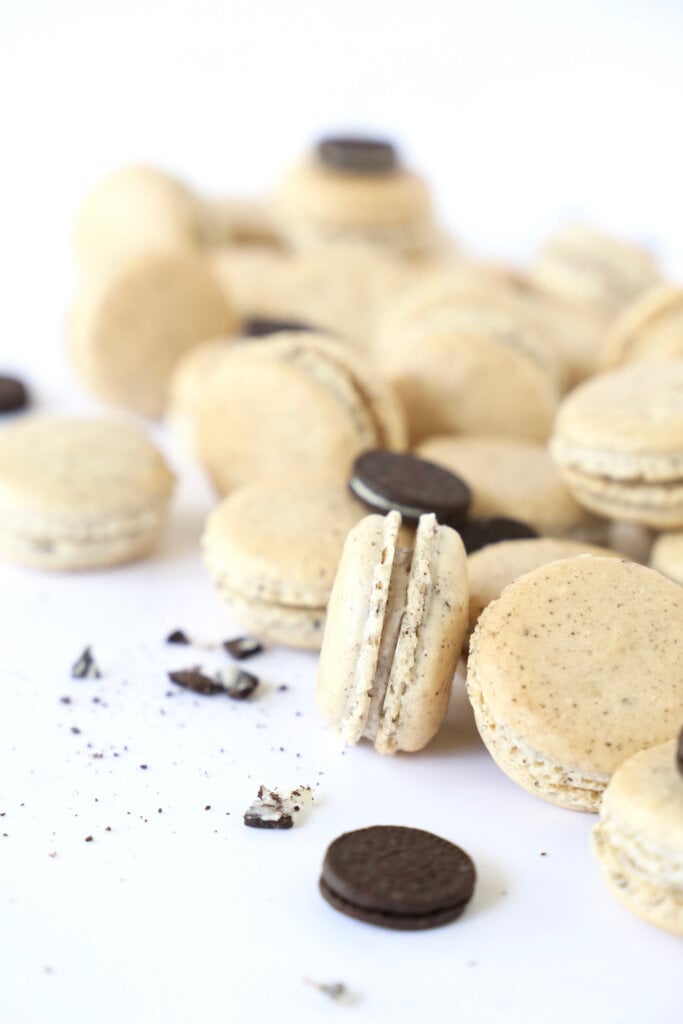 Print
Cookies + Cream French Macaron
1 ½ Cup

(

200 grams

) Powdered Sugar

1 Cup

(

115 grams

) Almond Flour

2 Tbsp

Oreo Cookie Crumbs

3

(90 grams) Egg Whites

1 Tbsp

(

8 grams

) Egg White Powder

¼ Cup

(

30 grams

) Powdered Sugar
Instructions
Preheat oven to 325 degrees F and line two baking sheet with parchment paper or a silpat
Add almond flour (115 grams), powdered sugar (200 grams) and ground oreo cookies to the bowl of a food processor; turn the food processor on for one minute
Sift the almond flour, powdered sugar mixture into a large bowl; set aside
In a mixer with whisk attachment, whisk egg whites and egg white powder until stiff peaks
Slowly add in powdered sugar (30 grams) to egg whites
Remove the bowl from the mixer and fold in powdered sugar, almond flour and oreo mixture
Fold until smooth and can make ribbons with batter (do not over mix)
Transfer the batter into a piping bag and pipe 1.5" round about an inch apart onto a sheet pan lined with parchment paper or a silpat
Let the macarons sit on the sheet pan for 20 minutes before baking
Bake for 12 minutes
Remove the macarons from the oven and allow to cool before filling
Make the filling of your choice while the macarons are cooling (the filling can also be made in advance)
Fill half of the macaron shells with filling of choice and then stack the other half of the cookies on top
Enjoy immediately or store in an airtight container in the refrigerator for 24-48 hours
Print
Cookies + Cream Butter Cream
1 Cup

Unsalted Butter, Softened

½ Cup

Vegetable Shortening

3 ½ Cups

Powdered Sugar

1 tsp

Vanilla Extract

½ Cup

Oreo Cookie Crumbs
Instructions
In a mixing bowl with paddle attachment, combine the butter and shortening and beat on medium speed untl combined and creamy
Add the powdered sugar and vanilla extract into the butter mixture and beat on high until butter cream is light and fluffy
Fold the Oreo cookie crumbs into the butter cream