Ponche de Navidad is a Guatemalan Christmas Fruit Punch filled with pineapples, apples, prunes cinnamon sticks, lime juice, water and granulated sugar.  This festive punch is served warm and enjoyed all season long.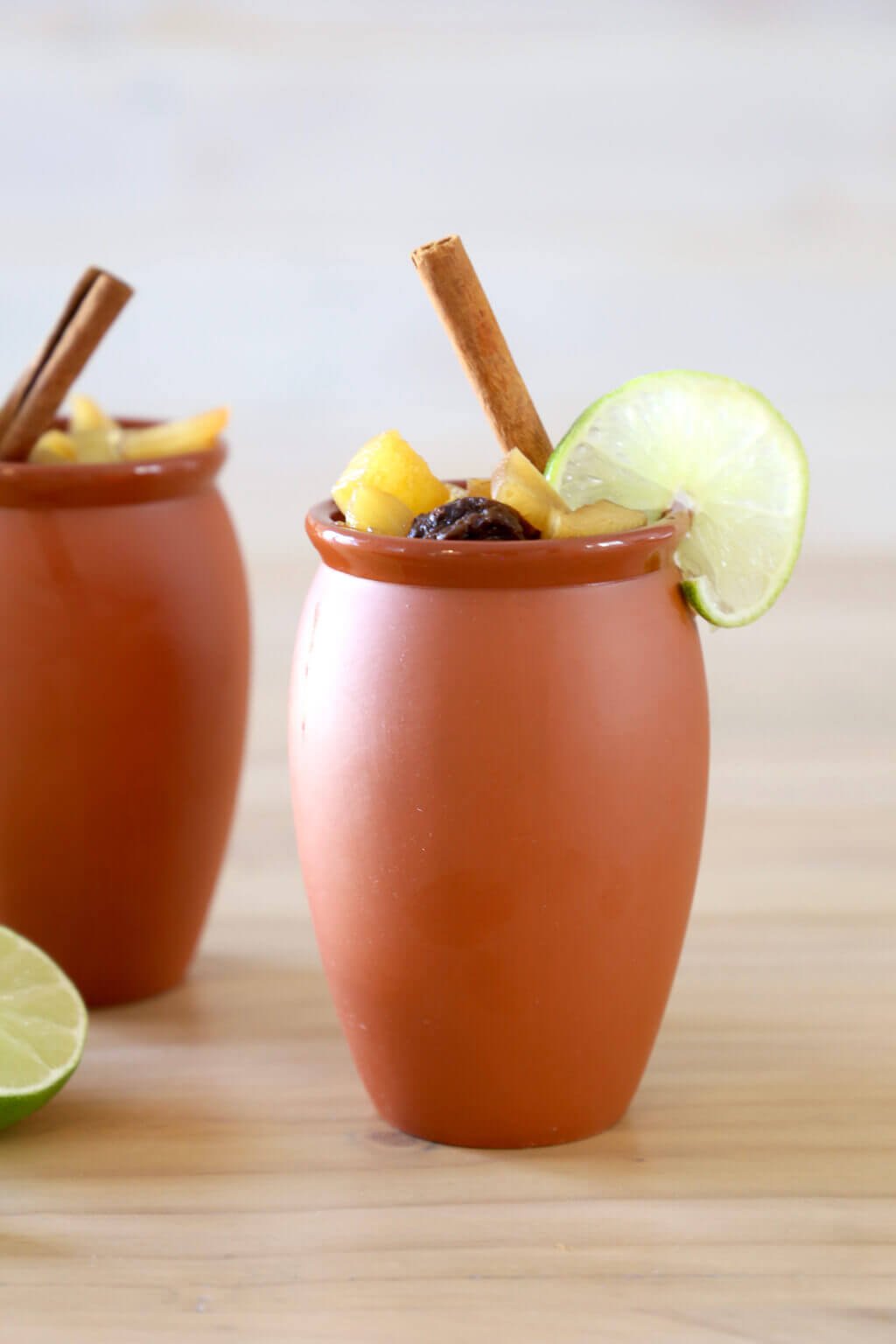 So many special memories are started around the table and continue on for generations.  Food and drink are one of the best ways to welcome people into your home and share your culture.  Today I am sharing a recipe, Ponche de Navidad,  that brings back a Christmas traditions for my friend and I am honored that I got to make it alongside her.
I have had the honor of getting to know Gisa and her Guatemalan heritage through her beautiful clothing line, Folkore Las Niñas.  Gisa shares her love for her culture through the fabrics and one of a kind products that she designs while giving back to the children of Guatemala with every purchase.  I am so excited to Introduce you to Gisa and her memory of Ponche.
Gisa's Memory of Ponche de Navidad
Growing up during the holidays in Guatemala we would gather in our neighborhood to celebrate Posadas. The Posadas are small processions that symbolize the journey of Mary and Joseph and their search for a place to spend the night. Children and adults will sing Christmas carols, eat traditional holiday foods and drink Ponche, the perfect warm drink for the chilly Guatemalan December nights. I am so excited to share with you this special drink that brings so many great holiday memories of my childhood.
What is Ponche De Navidad
Although Guatemala is known for its warm weather, the holiday season brings cooler temperatures which calls for warm drinks.  Ponche de Navidad, also known as Christmas Hot Punch, is loaded with chopped pineapple, diced apples, dried prunes or fresh plums, granulated sugar, water, cinnamon sticks and rum.  While rum is an important ingredient for the flavor, it can be removed from the recipe if this is being served to children .  The combination of all ingredients are brought to a boil and then lowered to a simmer for thirty minutes to allow the sugar to dissolve and the juices from the fruit to release.  Similar to a cider, the longer the ponche simmers the better it will taste.  Ponche is a classic recipe in Guatemala but each family customizes the recipe to their liking and might have a variety of different fruit options.
Ingredients You Need 
Pineapple Chunks
Fresh and cubed pineapple will add a perfect flavor and texture that you will love while sipping on this punch. 
Apples, cored and diced
A variety of apples can be used in Ponche, but I love a crisp sweet and a little tart flavor similar to a honey crisp apple.     
Dried Prunes
Dried prunes add a rich and deep flavor but can also be substituted for fresh plums if they are found in your local market.  
Cinnamon Sticks
Adding whole cinnamon sticks will add so much flavor and festive feel when sipping on it.  
Granulated Sugar
The granulated sugar and water create a simple syrup that will sweeten the punch.  
Water
Water and sugar combined will create a simple syrup. 
Lime Juice
Lime juice adds a tart flavor that balances the sweet and spiced flavor. 
Rum (Ron Zacapa)
Taking Ponche to the next level with the addition of rum.  This specific rum is from Guatemala and adds a delicious flavor and warms the soul.  Rum can be eliminated from the recipe if this is being served to children.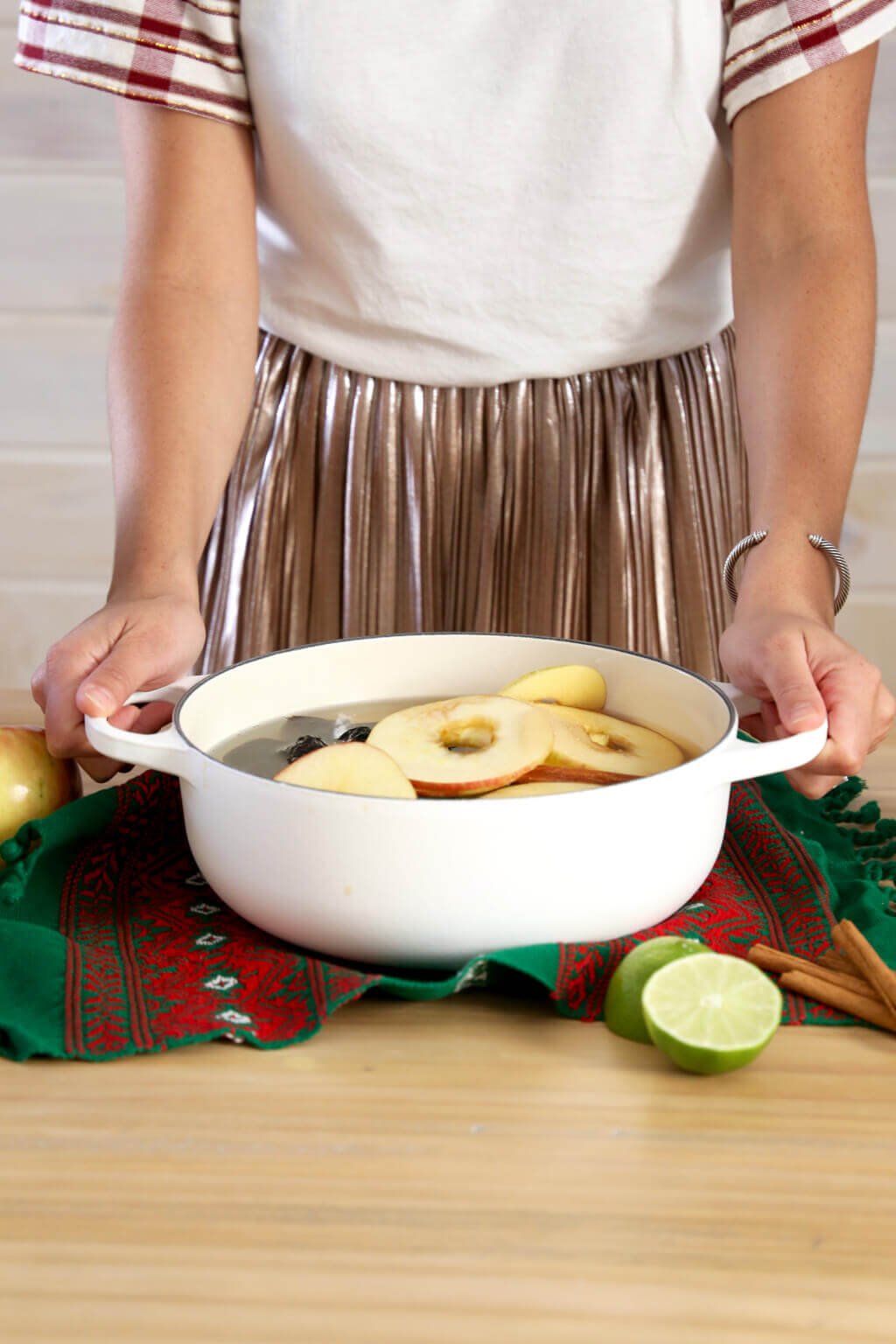 How To Serve Ponche De Navidad
The cooking process of Ponche is what brings out the beautiful flavors, but serving this drink in classic clay mugs will make you feel like you are walking the streets of Guatemala.  Using a large ladle, scoop the juice and all the fruit into each glass until it is filled to the top and garnish each cup with a cinnamon stick and a lime slice.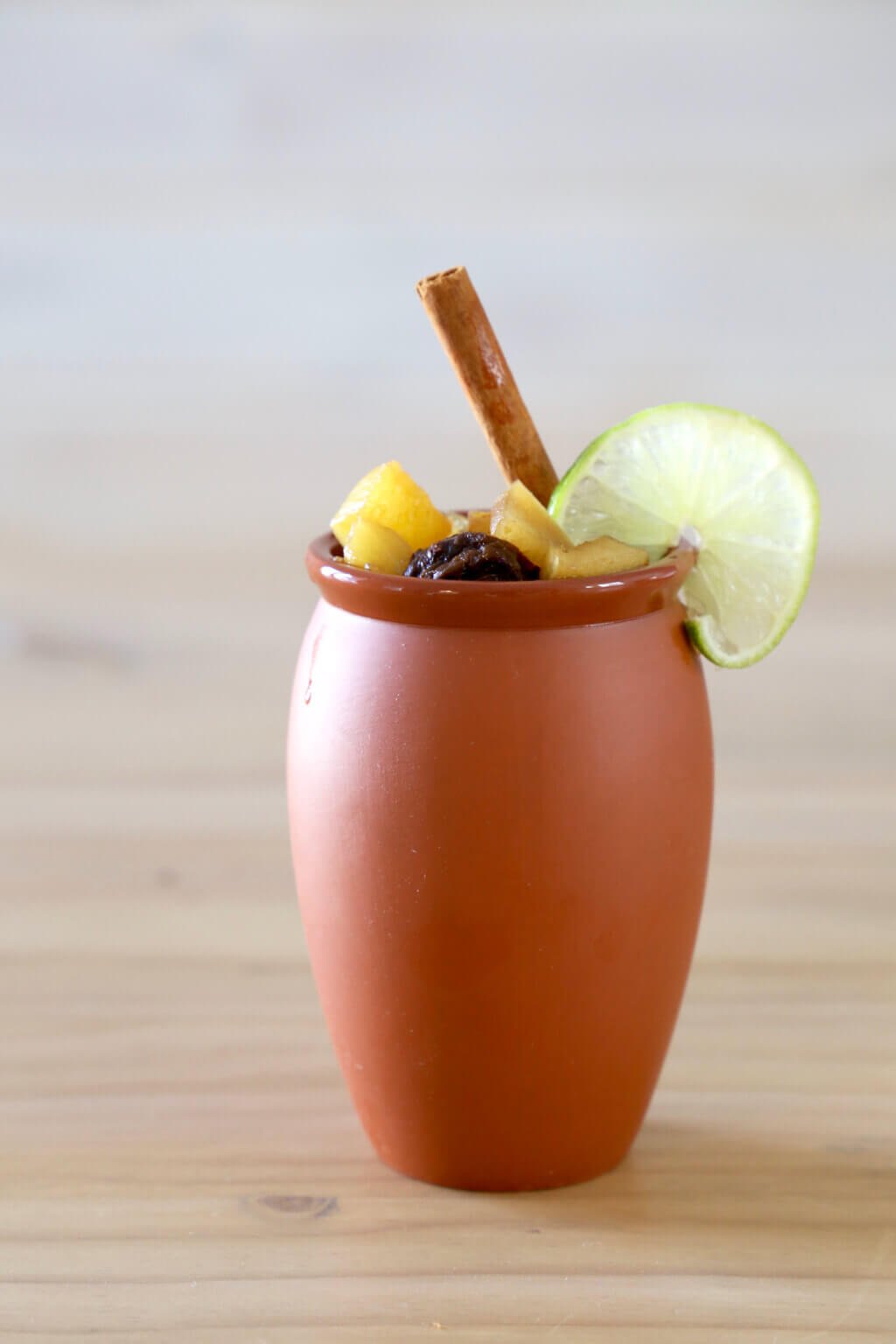 Print
Ponche De Navidad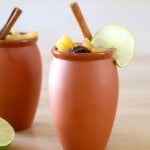 Author: kristen massad
Prep Time:

20 minutes

Cook Time:

30 minutes

Total Time:

50 minutes

Yield:

6

-

8

1

x
3 Cups Pineapple Chunks
2 Apples, cored and diced 
1 Cup Dried Prunes 
2 Cinnamon Sticks
½ Cup Granulated Sugar
4 Cups Water
¼ Cup Lime Juice
¼-½ Cup Rum (Ron Zacapa)
Instructions
In a large pot combine the pineapple chunks, diced apples, dried prunes, cinnamon stick, granulated sugar, water, lime juice and rum
Bring the mixture to a boil and then lower it to simmer for 30 minutes 
Serve the Ponche warm with a cinnamon stick and a slice of lime
Enjoy!  
Keywords: Ponche De Navidad