Homemade Chocolate Orange Truffles are a simple and decadent dessert that is made with only four ingredients and is the perfect bite of chocolate!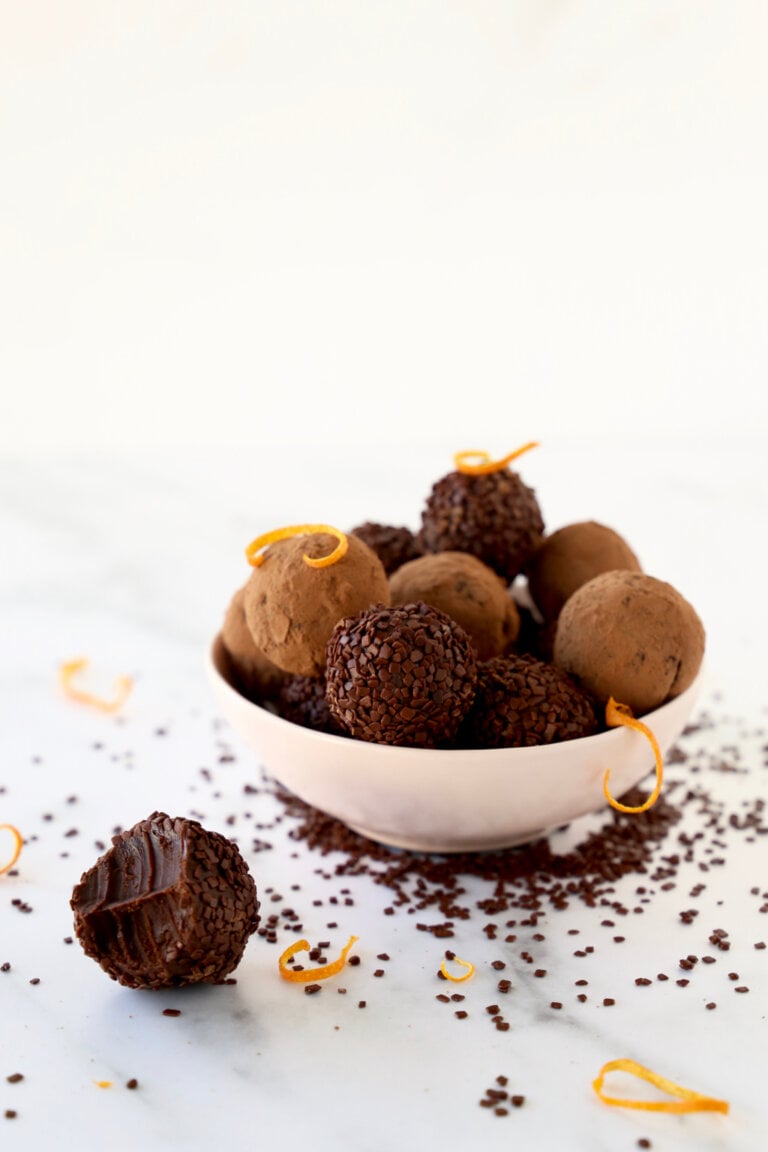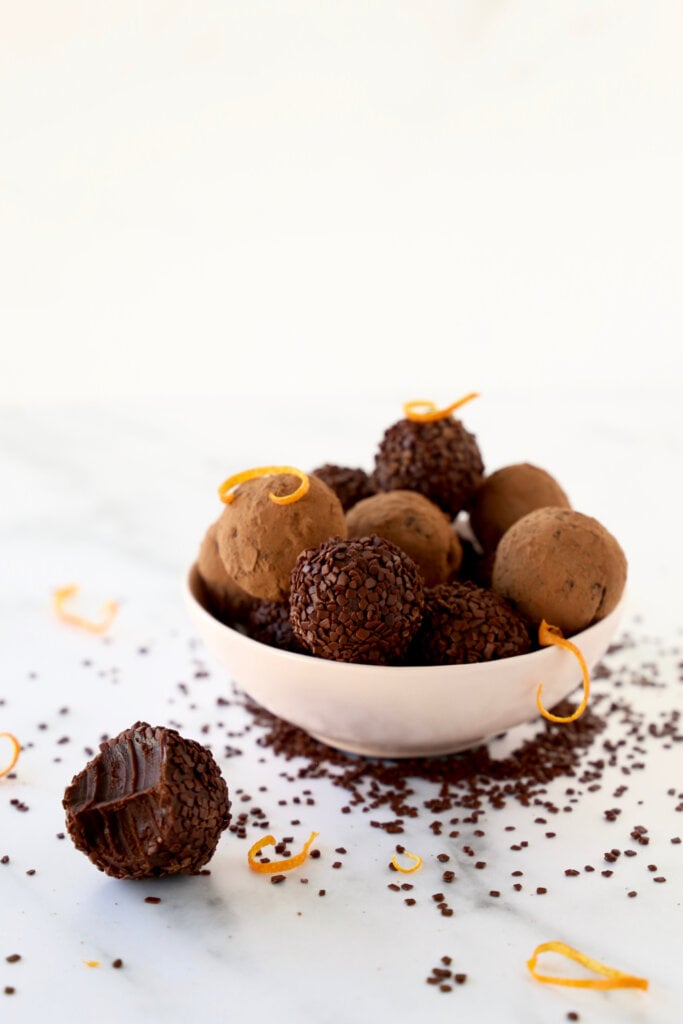 Happy New Year friends! I am so excited for the start of the year, but I have to say…I am taking it slow! January always seems to have a lot of pressure and I tend to get overwhelmed before it even starts. I enjoyed the last few days of my kids home from school, getting in bed early and not logging on to my computer for the 2 week break. I am so thankful for the year I had and I am so looking forward to an awesome year ahead!
Homemade Chocolate Orange Truffles is the first recipe I wanted to share for 2020! It goes along with my theme for the new year…Simplify! Truffles are rich, decadent and so simple to make. I love the pureness of chocolate truffles and adding the orange zest is the perfect addition for a fresh flavor!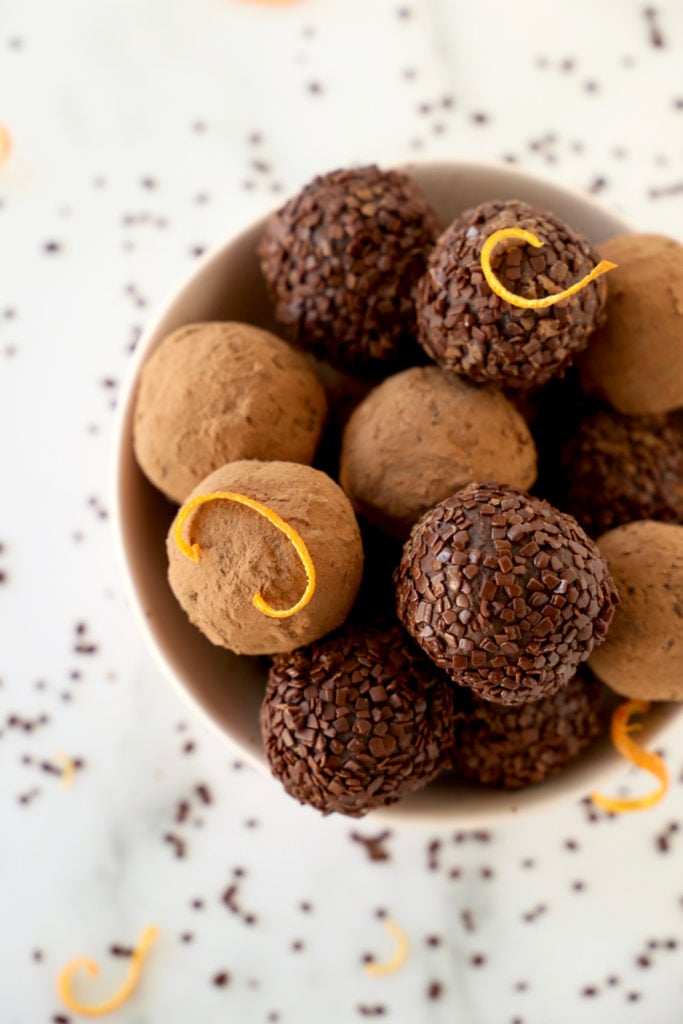 How to make Homemade Chocolate Orange Truffles
Chocolate & Cream
Starting with a good quality of chocolate, I like to use a semi sweet or dark chocolate bar and chop it into fine pieces. Place the chocolate into a heat proof bowl while you bring the heavy cream and orange zest to a simmer. At this point, the orange flavor is being infused into the heavy cream and will become a wonderful fresh flavor paired with the chocolate. Once the cream has come to a simmer, pour the heavy cream over the chocolate. Allow warmed cream and chocolate to sit for 2-3 minutes before whisking.
Whisk
Slowly whisk the chocolate ganache until smooth and silky without putting to much air into the ganache. Here is where you need patients…allow the chocolate to set in the fridge for approximately two hours or until the ganache is thick enough to scoop and hold its shape! The combination of chocolate and heavy cream is called ganache.
Scoop
Scoop the chocolate ganache into balls, roll and dip! Keeping these Chocolate Orange Truffles simple, I am coating them in chocolate sprinkles and cocoa powder instead of glazing them in chocolate. This method tastes and looks just as amazing and it takes the stress out of making the perfect dip.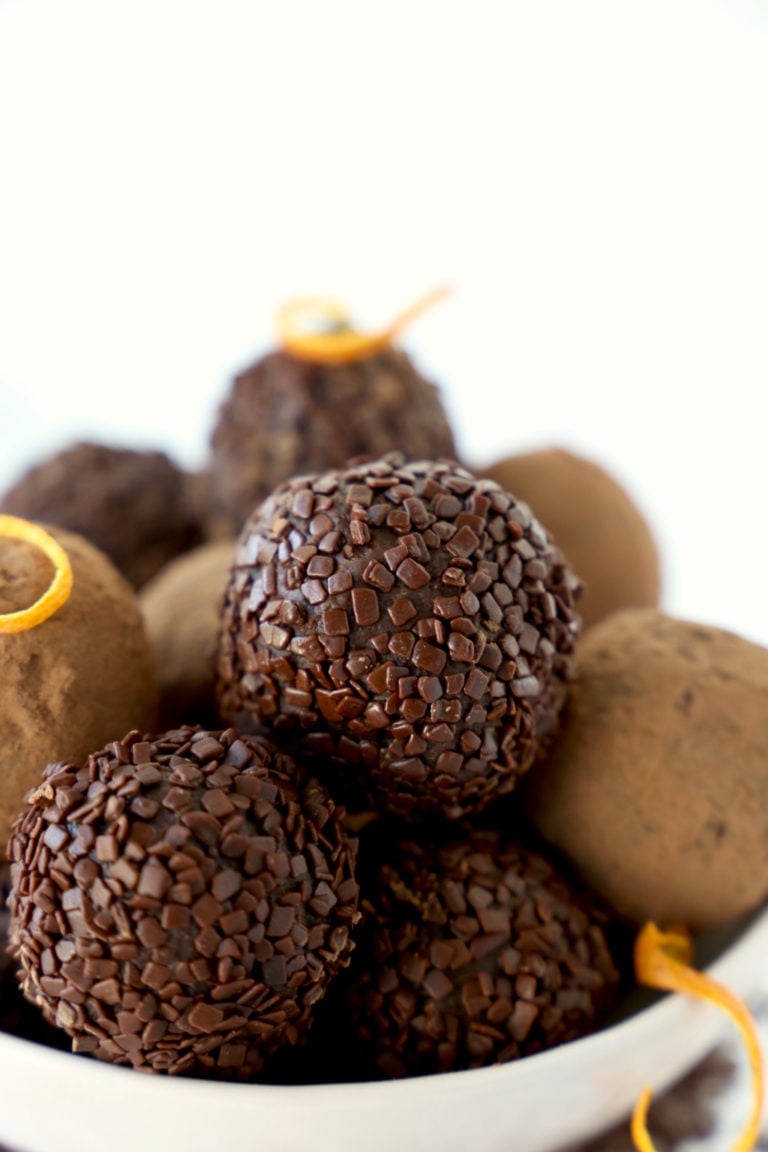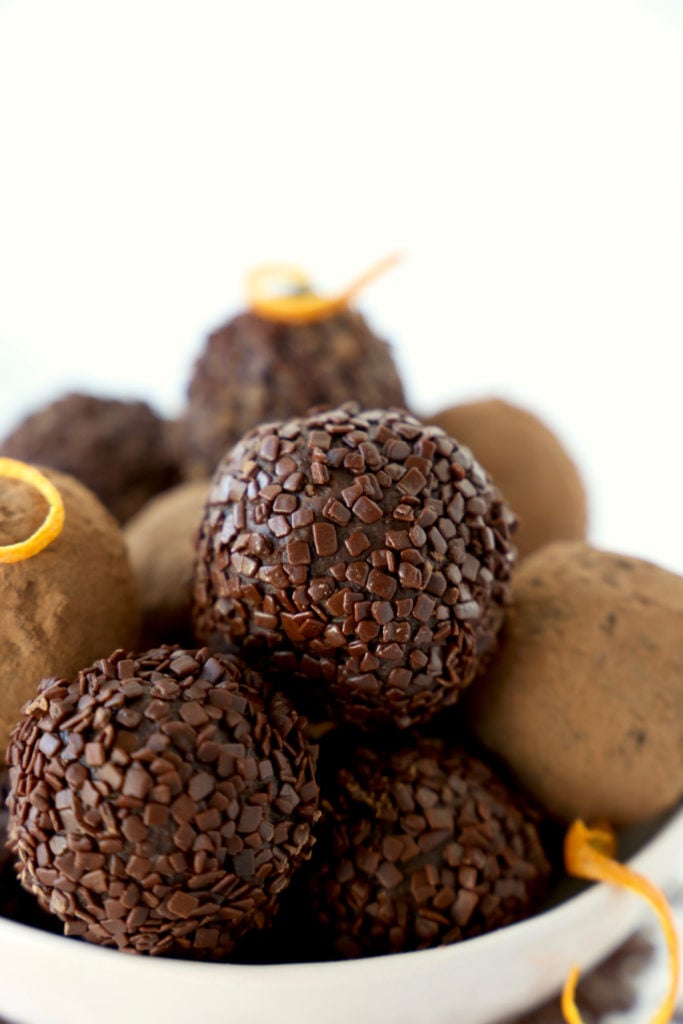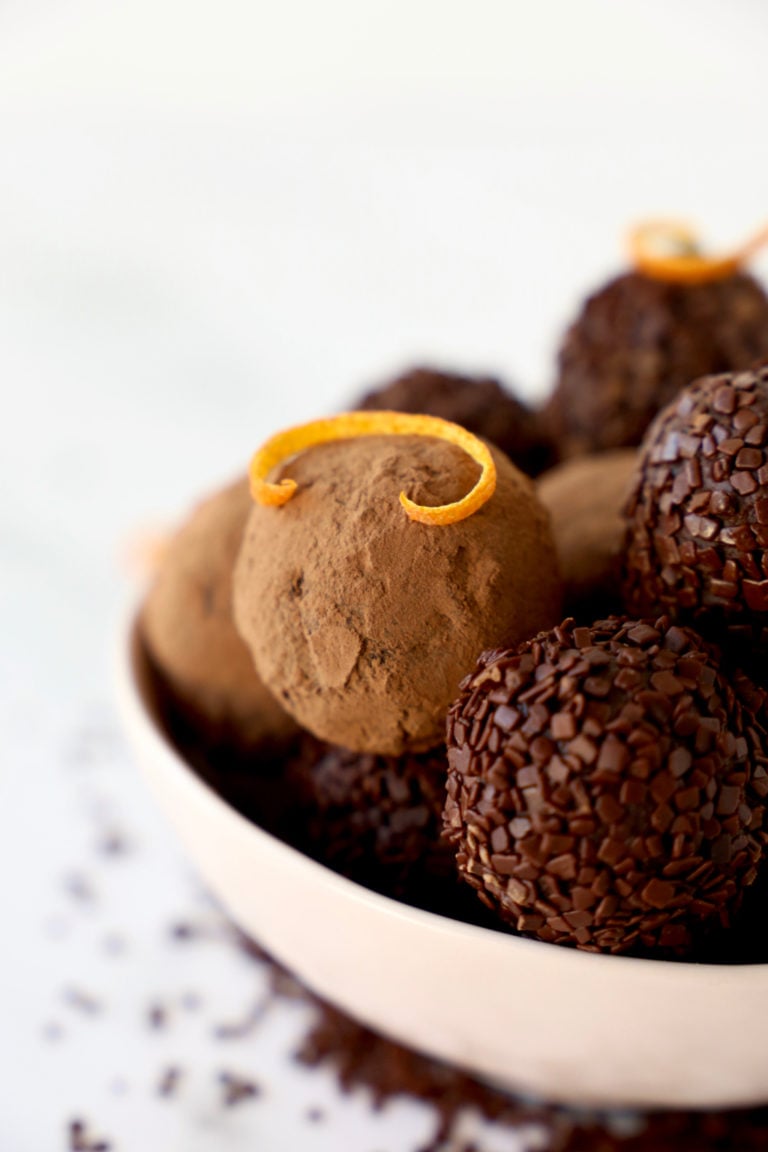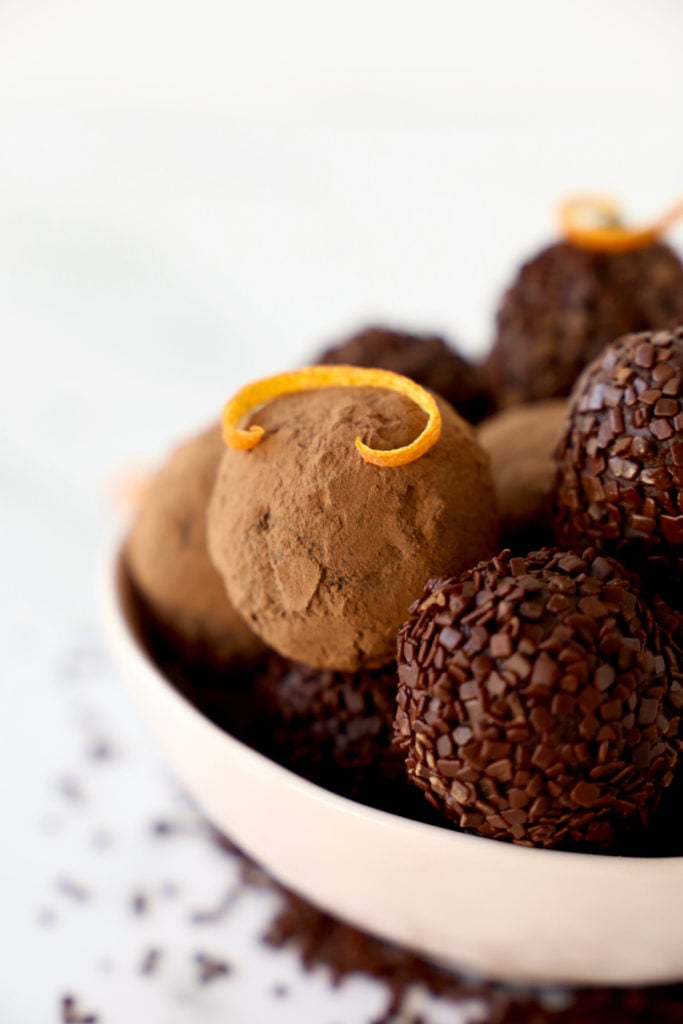 Print
Homemade Chocolate Orange Truffles
2 Cups

Semi Sweet or Dark Chocolate, chopped

¾ Cup

Heavy Whipping Cream
zest of

1

Orange
Chocolate Sprinkles, for coating
Cocoa Powder, for coating
Instructions
Place the chopped chocolate in a heat proof bowl; set aside
In a small saucepan, heat the heavy cream and orange zest until it is simmering
Pour the orange infused heavy cream over the chocolate and allow it to sit for 2-3 minutes without stirring
Whisk the chocolate and heavy cream together until is it smooth
Place a piece of plastic wrap directly on the chocolate ganache to avoid a crust from forming
Refrigerate the chocolate ganache for 2 hours or until it is thick enough to scoop
Scoop the chocolate ganache into 2 tsp balls and roll; place on a parchment lined baking sheet
Coat the chocolate orange truffles with chocolate sprinkles or cocoa powder
Refrigerate the Chocolate Orange Truffles for 10-15 minutes or until ready to serve!