Layer upon layer of sweet, creamy, salty and fluffy, Summer Trifles are perfect for entertaining. With the Texas heat reaching over 100 degrees F, it is hard to turn on the oven and get motivated to bake, but a fruity and flavorful trifle is the way to go.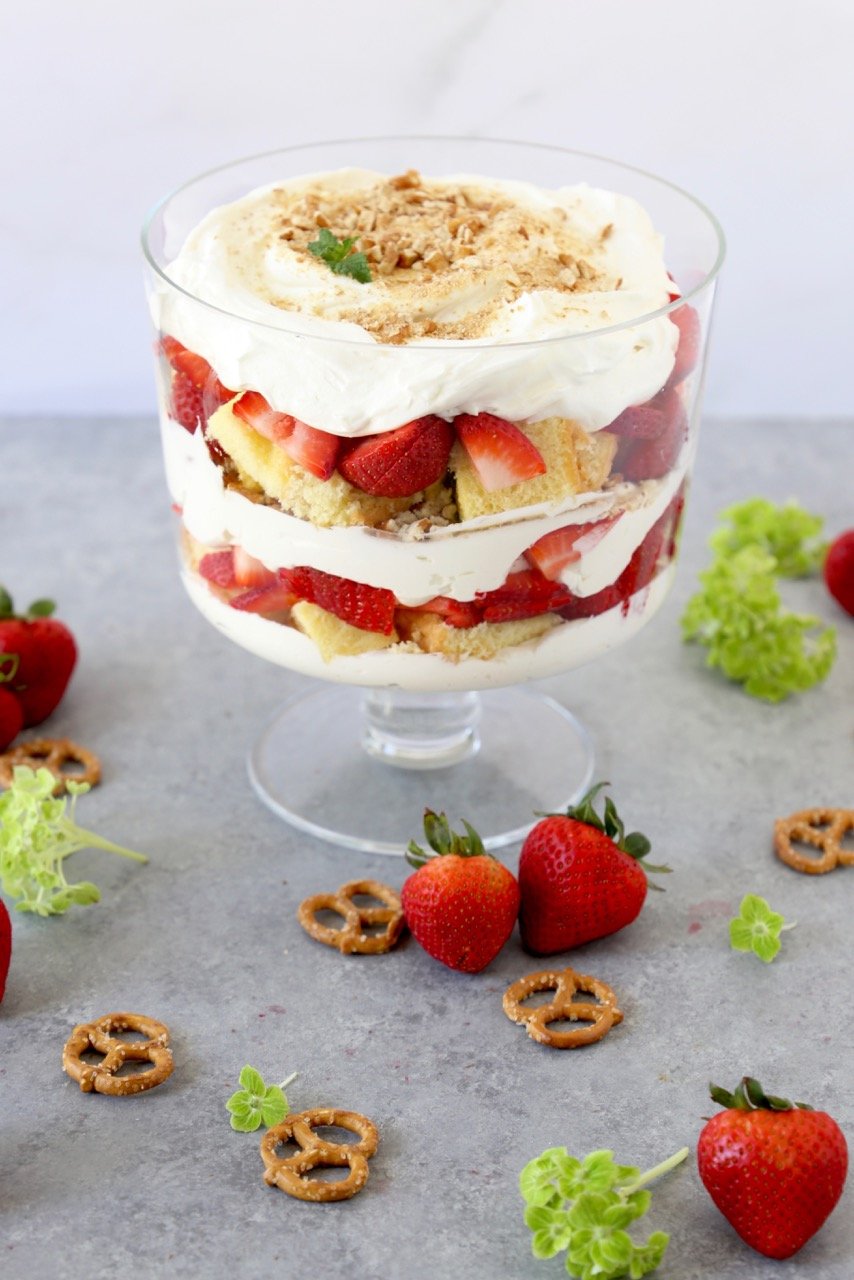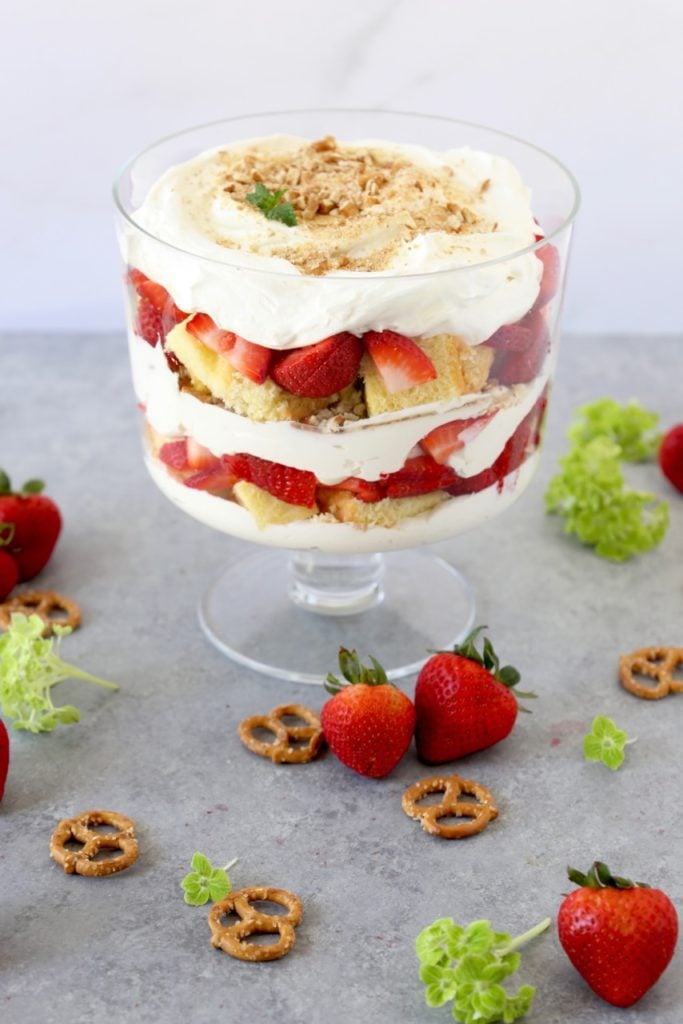 Summer Trifles will look like you put a lot of effort into them, but I promise, they will not stress you out. The key to the perfect trifle is the art of layering. You don't have to worry about how smooth you ice your cake or how perfect your decoration is, the layered look of the trifle is the show stopper. There are several elements to make a good trifle, I always love adding a sponge cake that will absorb the flavors added, a really good creamy filling like a mousse, pastry cream, whipped cream or a fruity curd, something with a little crunch for texture and the addition of fresh fruit is always a winner.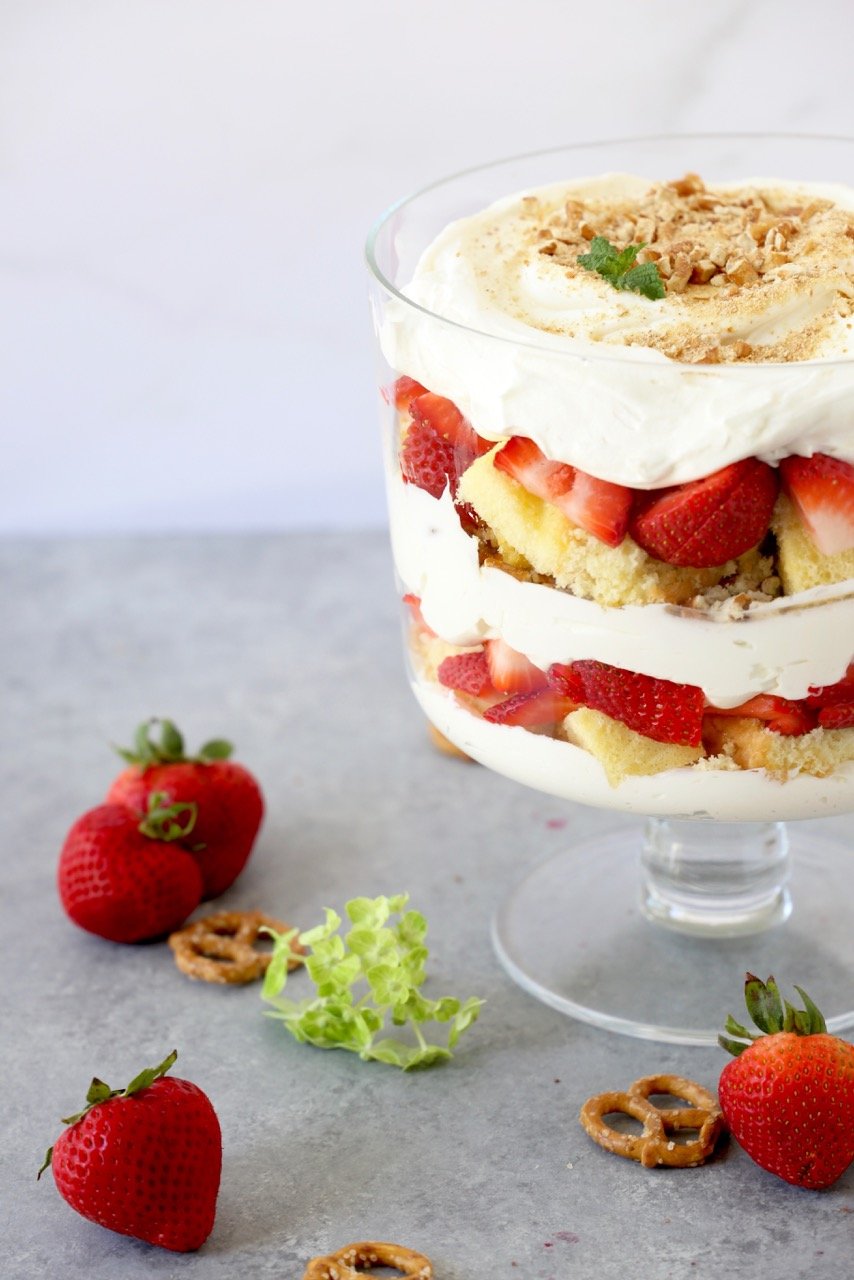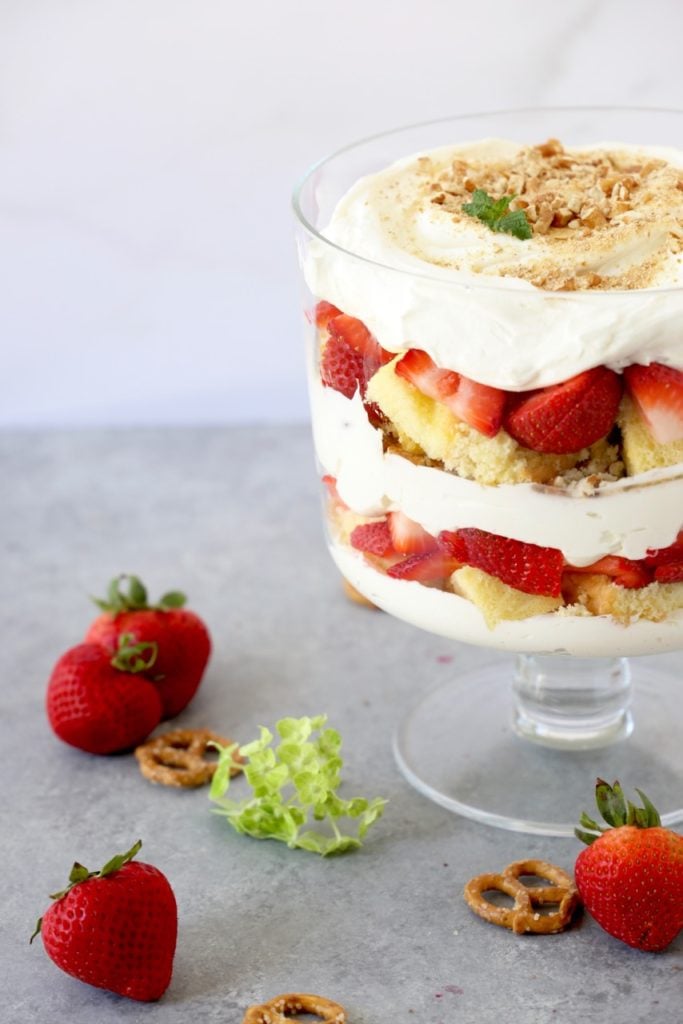 Sweet and Salty Strawberry Cream Trifle is one of my absolute favorites because who doesn't love sweet and salty. Layers of sponge cake cut into cubes for the perfect bite, light and airy cream cheese whipped cream, crushed salted pretzels and sliced strawberries. This is a must for hot summer days.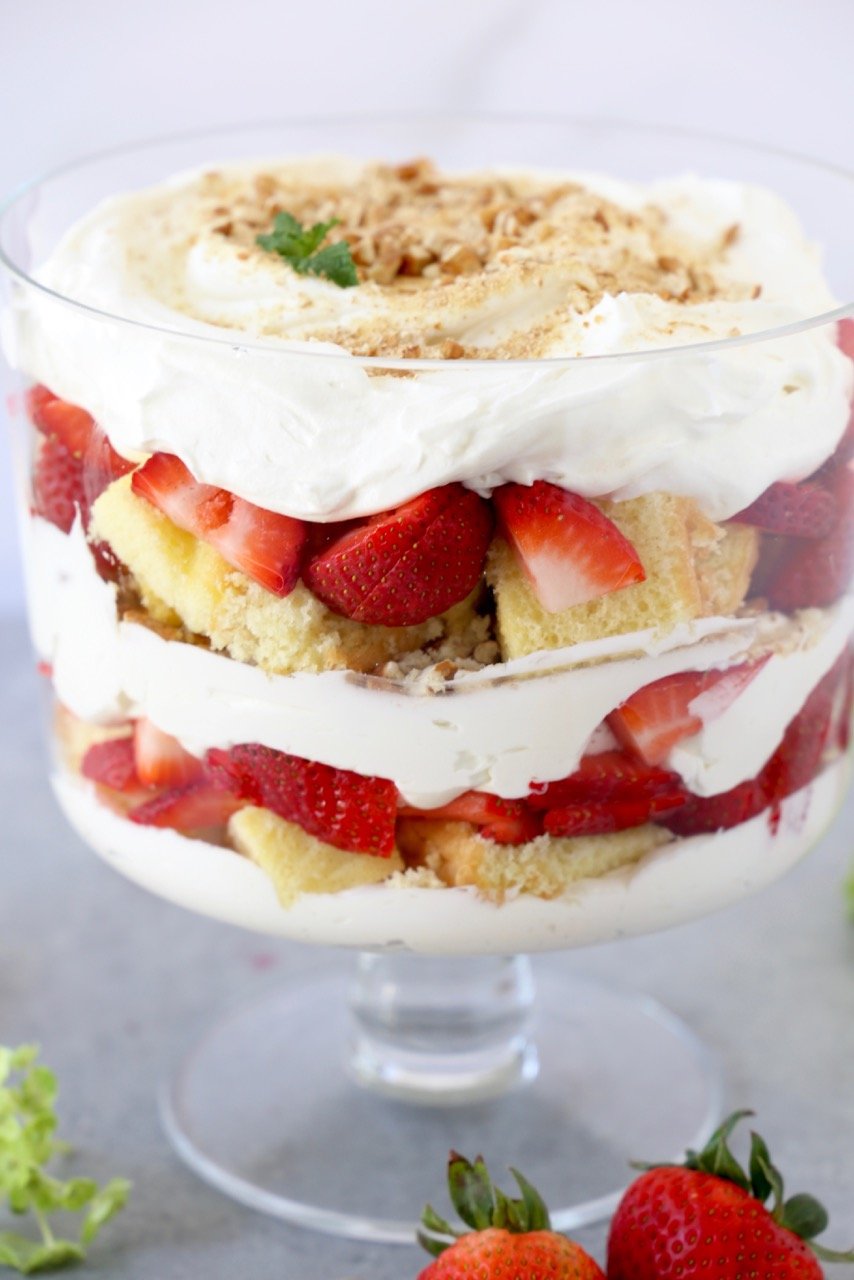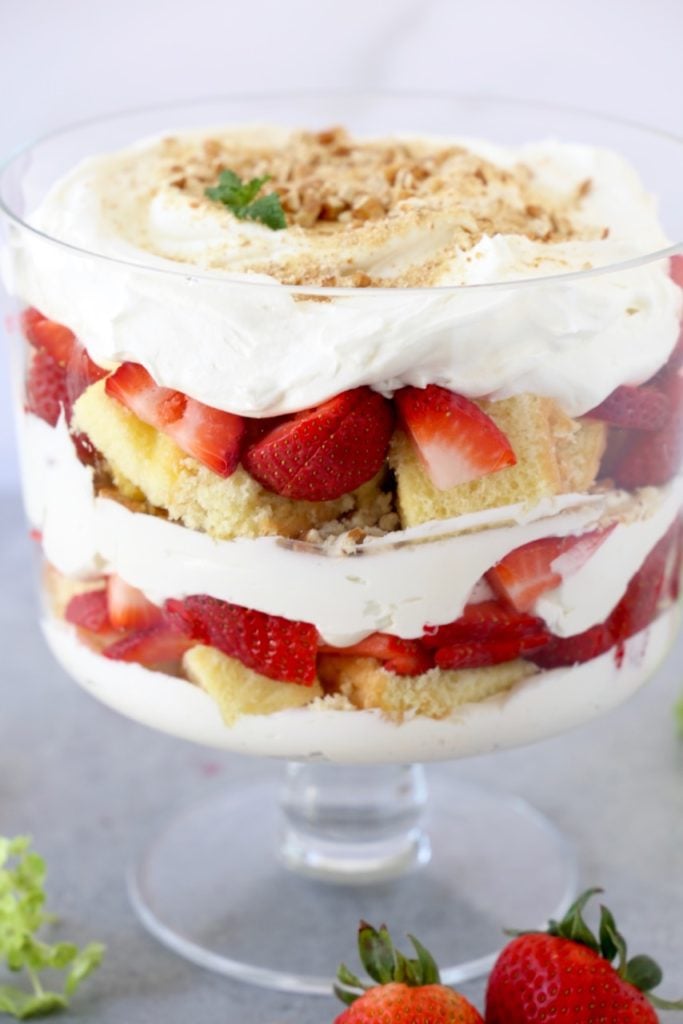 Sweet and Salty Strawberry Cream Trifle
Sponge Cake
⅓ Cup

Vegetable Oil

4

Eggs, Divided

½ Cup

Water

1 Tbsp

Vanilla Extract

1 ½ Cups

All Purpose Flour

1 Cup

Granulated Sugar

2 tsp

Baking Powder

1 tsp

Salt
Cream Cheese Whipped Cream
8 oz

Cream Cheese, Softened

1 Cup

Granulated Sugar

2 tsp

Vanilla Extract

⅛ tsp

Salt

1 ½ Cup

Heavy Whipping Cream
Pretzels
Strawberries
3 Cups

Strawberries, Sliced
Instructions
Sponge Cake Directions
Preheat oven to 350 degrees F and line a 9x13 cake pan with parchment paper
In a mixing bowl with whisk attachment, combine oil and egg yolks and whisk until combined
Slowly add water and vanilla extract until foamy
On low speed, add in flour, ⅓ of the sugar, baking powder and salt
Pour the mixture into another bowl and set aside
Whisk egg whites until stiff peak
Slowly add in the remaining sugar to the egg whites
Fold the egg whites into the egg yolk mixture until fully combined
Pour batter into a 9x13 cake pan
Bake for 15-20 minutes or until cake springs back at the touch
Allow the cake to cool completely before cutting and layering
Cream Cheese Whipped Cream Directions
In a mixing bowl with paddle attachment, beat cream cheese, sugar, vanilla extract and
salt
In another bowl, whisk heavy whipping cream to soft peaks
Fold the whipped cream into the cream cheese mixture until it is combined and fluffy
Assembly
In a large trifle bowl or 4 stemless wine glasses spoon cream cheese whipped cream into the bowl or glasses
Cut the sponge cake into cubes and add a layer of cake on top of the cream cheese whipped cream
Add sliced strawberries to cover the cake layer
Repeat each layer with cream cheese whipped cream, cubed sponge cake and sliced strawberries
Add cream cheese whipped cream as the final layer and garnish with pretzel crumbs and fresh mint