Blood Orange Yogurt Cake are what winter dreams are made of!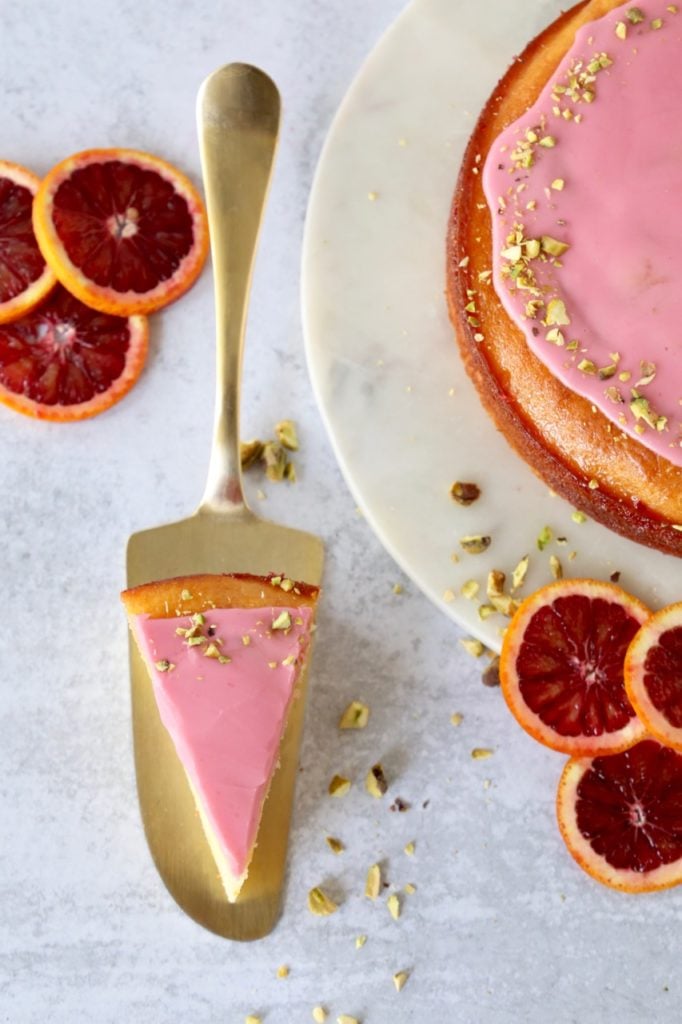 I am kind of into citrus fruit right now and just when I thought…its time to move on, Bam…the citrus fruit is more beautiful then ever and I have to have it all. Blood orange yogurt cake is full of flavor, the best texture and the most beautiful color and I can't wait for you to try it.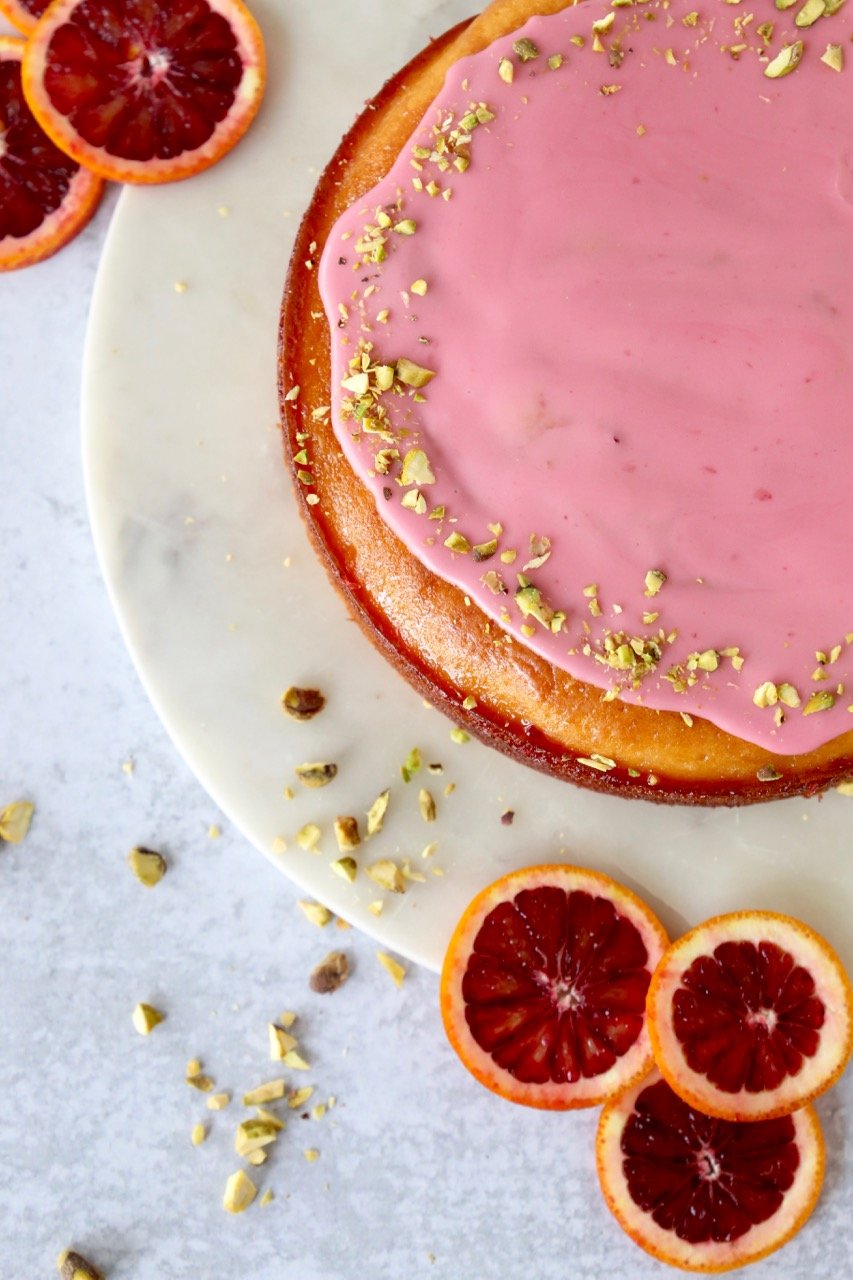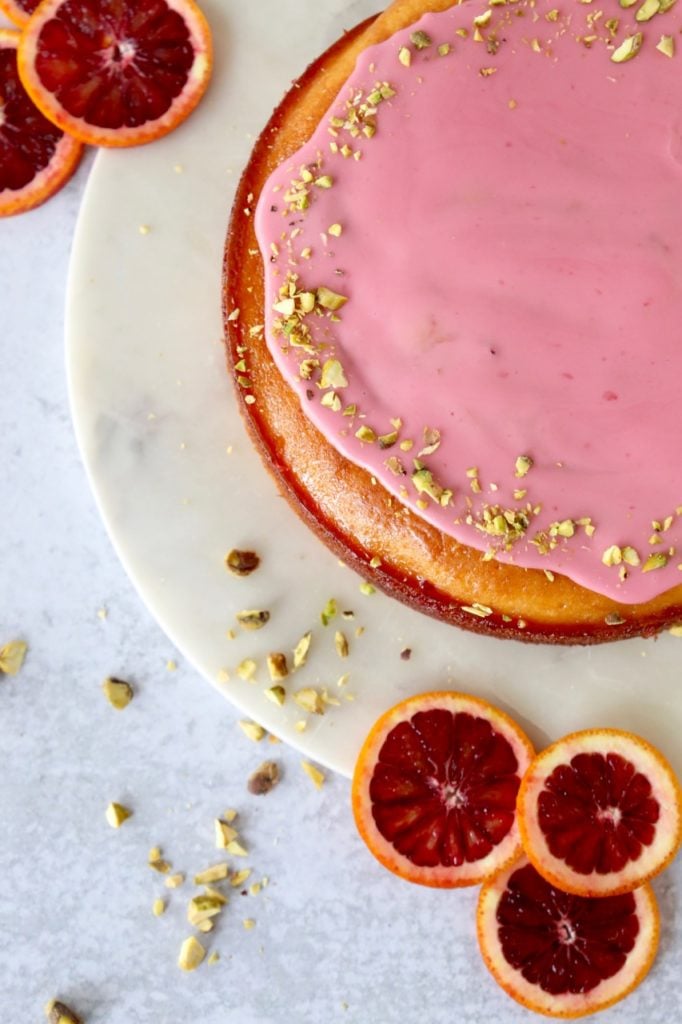 There is something special about a blood orange. They are juicy, sweet and everyone looks a little different. This bunch of blood oranges, from Trader Joes, are much more red then others, so the blood orange glaze turned out bright and more on the pinkish side. The lighter shades of blood orange might change the color of your glaze. Plain full fat yogurt or greek yogurt is your choice, but I loved the not to tart addition of plain yogurt and the crunch of pistachios (almonds are also a favorite) finish the Blood Orange Yogurt Cake perfectly!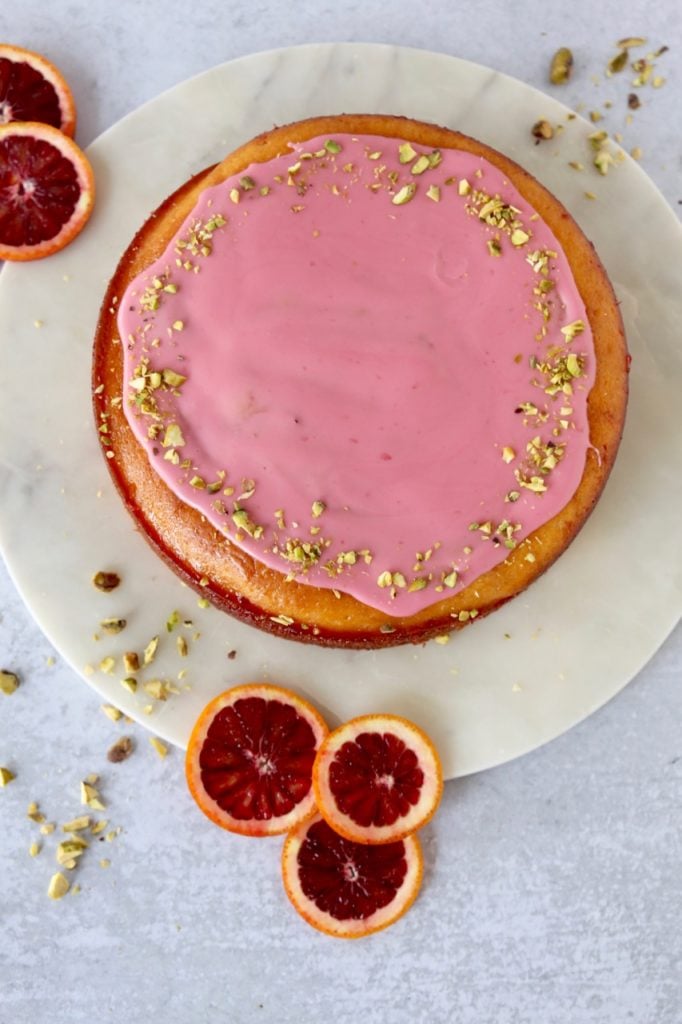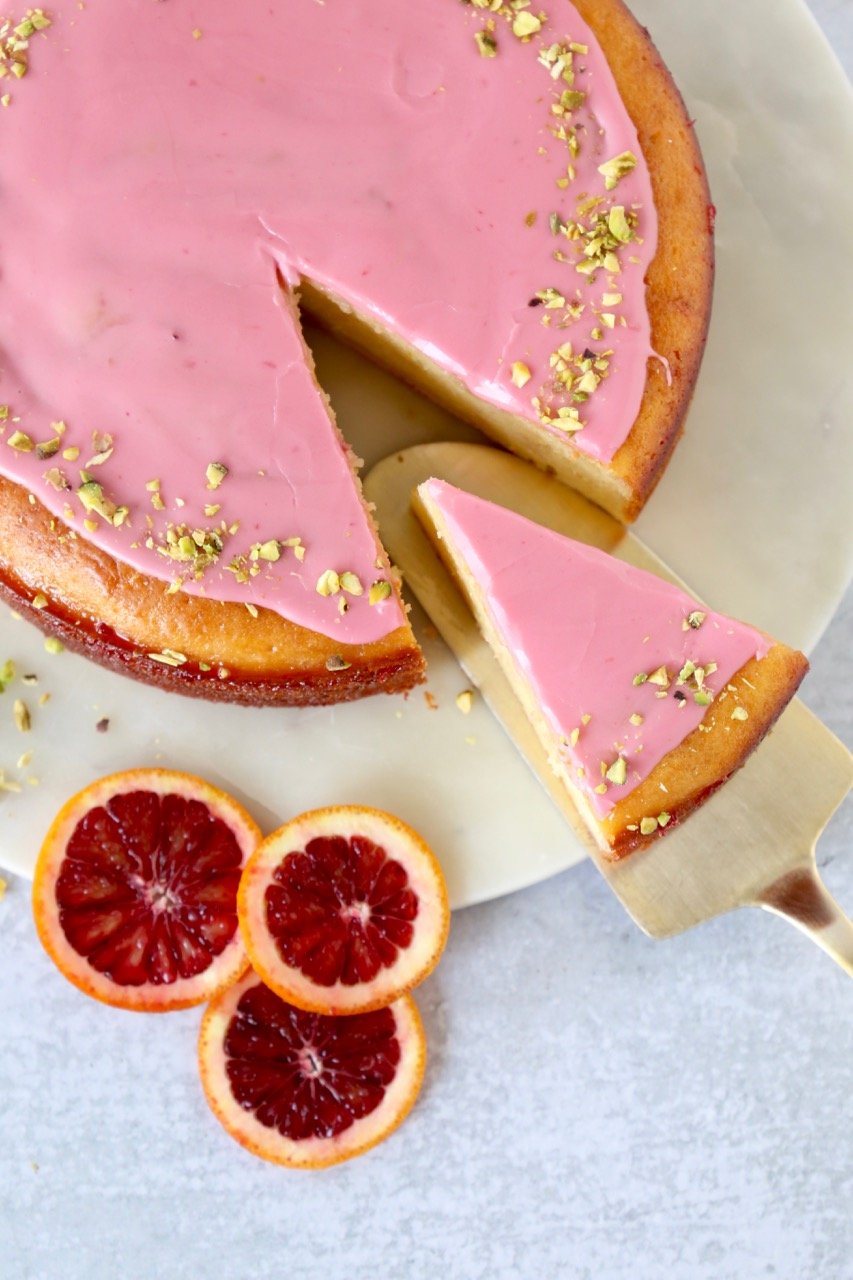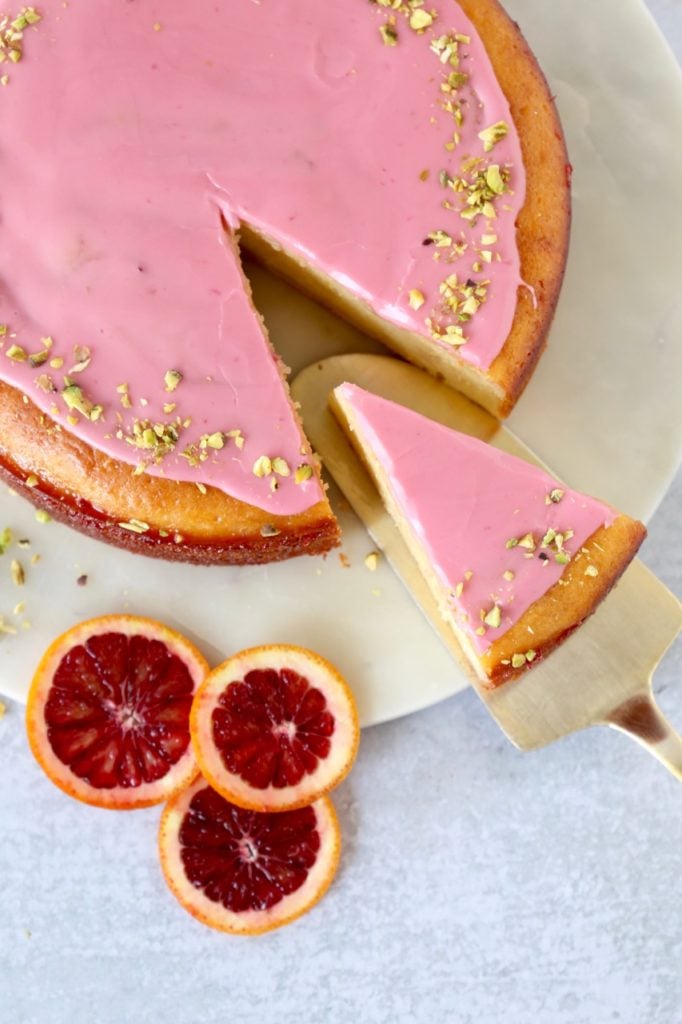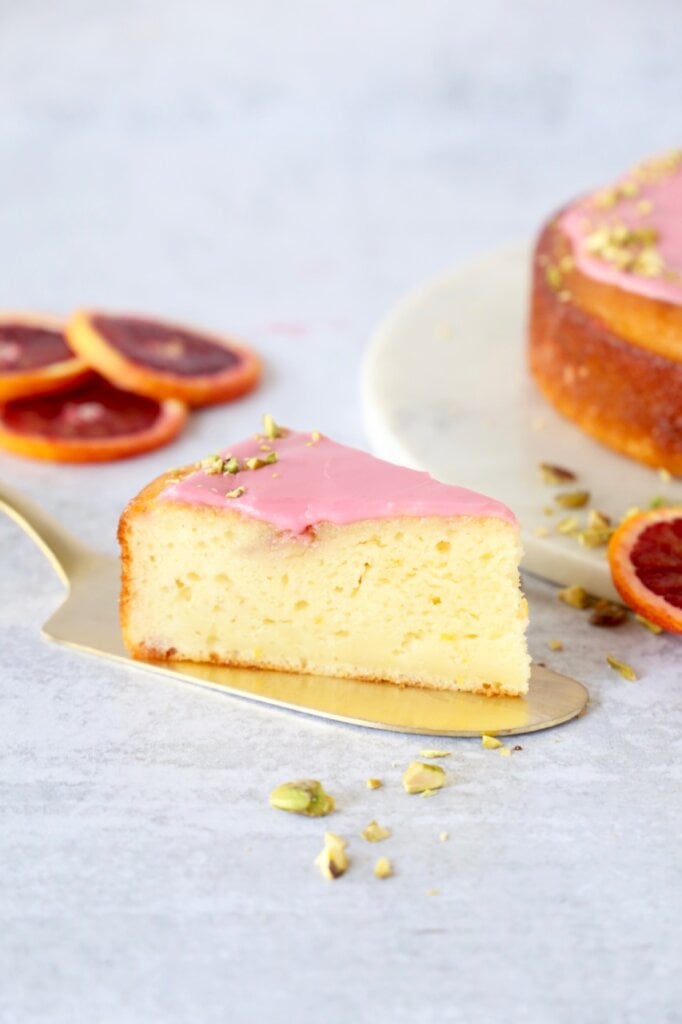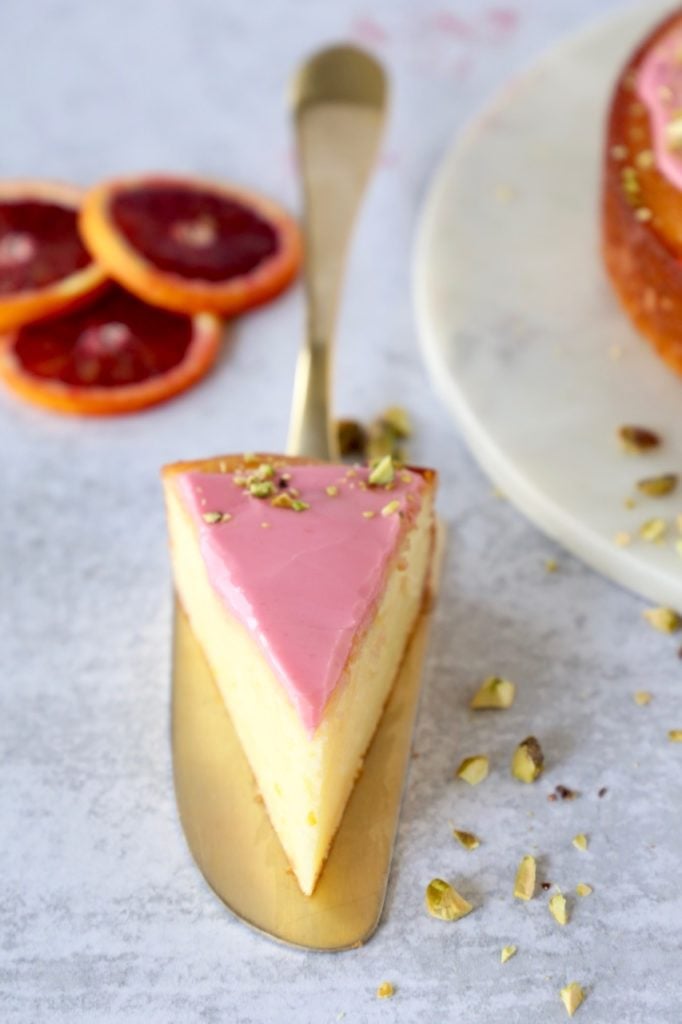 Print
Blood Orange Yogurt Cake
Blood Orange Yogurt Cake:

1 ½ Cups

All Purpose Flour

2 tsp

Baking Powder

¼ tsp

Salt

3

Large Eggs

1 Cup

Granulated Sugar

1 Cup

Plain Yogurt, Whole Milk

1

Blood Orange Zest
Juice from

1

Blood Orange

½ Cup

Vegetable Oil
Blood Orange Simple Syrup:

¼ Cup

Granulated Sugar

¼ Cup

Blood Orange Juice
Blood Orange Glaze:

1 Cup

Powdered Sugar

3

-

4

Tbsp Blood Orange Juice
Instructions
Blood Orange Yogurt Cake
Preheat oven to 350 degrees F and prepare an 8" round cake pan (or 1 loaf pan) with non stick spray
In a medium bowl, combine the flour, baking powder and salt
In separate bowl, whisk together the eggs, granulated sugar, yogurt, zest, juice and oil until smooth
Add the dry ingredients into the egg mixture and whisk until all ingredients are combined and there are no lumps
Pour batter into prepared pan and bake at 350 degrees F for 35-40 minutes or until a cake tester comes out clean
Pour the blood orange simple syrup over the warm cake and allow the cake to sit in the pan for 20-30 minutes or until syrup is dry
Remove the are from the pan, place on a serving dish and spread a thin layer of blood orange glaze on the top of the cake
Allow the glaze to dry completely before cutting and serving
Blood Orange Simple Syrup
In a small sauce pan combine the sugar and blood orange juice
Bring the syrup to a boil and allow the sugar to completely dissolve
Remove the syrup from the heat and set aside until ready to use
Blood Orange Glaze
In a small bowl, whisk together the powdered sugar and blood orange juice
Whisk until glaze is smooth and thin enough to spread but not to thin that it will drip all over the cake Add juice or powdered sugar to make it the correct consistency