Bursting with blueberries and a subtle flavor of cinnamon, Blueberry Cinnamon Bread is a great way to kick off the day.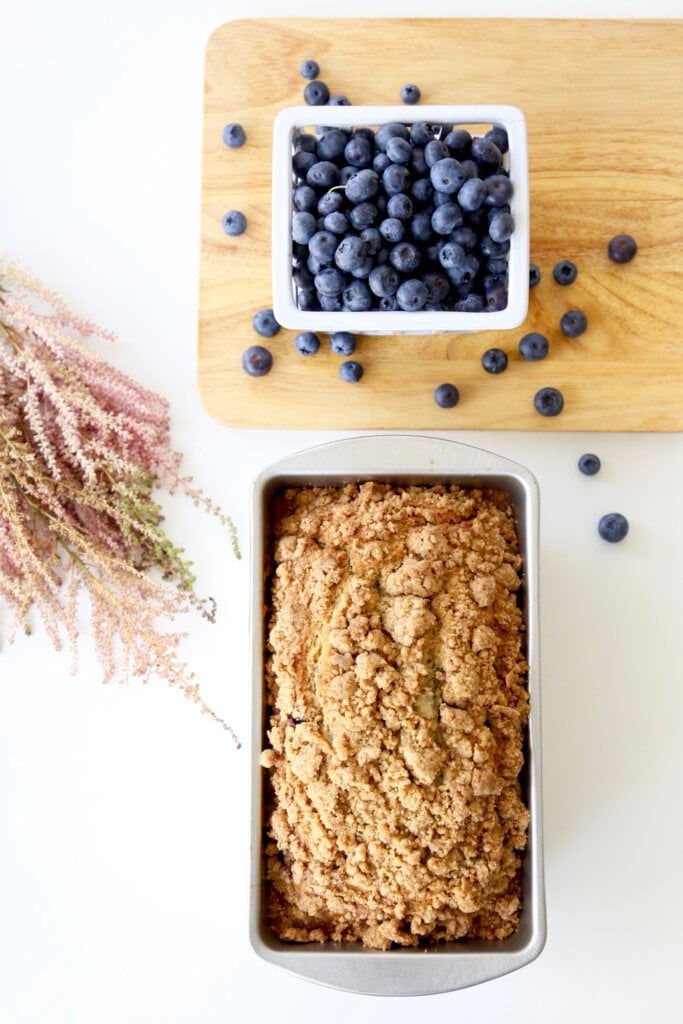 As we kick off the new school year, I have quickly realized how important a quick, easy and tasty breakfast is.  Most mornings we are running out the door barely getting our shoes on and breakfast is one meal I won't let my kid go with out.  It is so important for them to start the day feeling energized and a quick and easy breakfast is necessary.  I love this Blueberry Cinnamon Bread because it is not to sweet and has the perfect amount of fruit and flavor.  I added the simple cinnamon crumb topping for the texture and crunch it brings to the bread.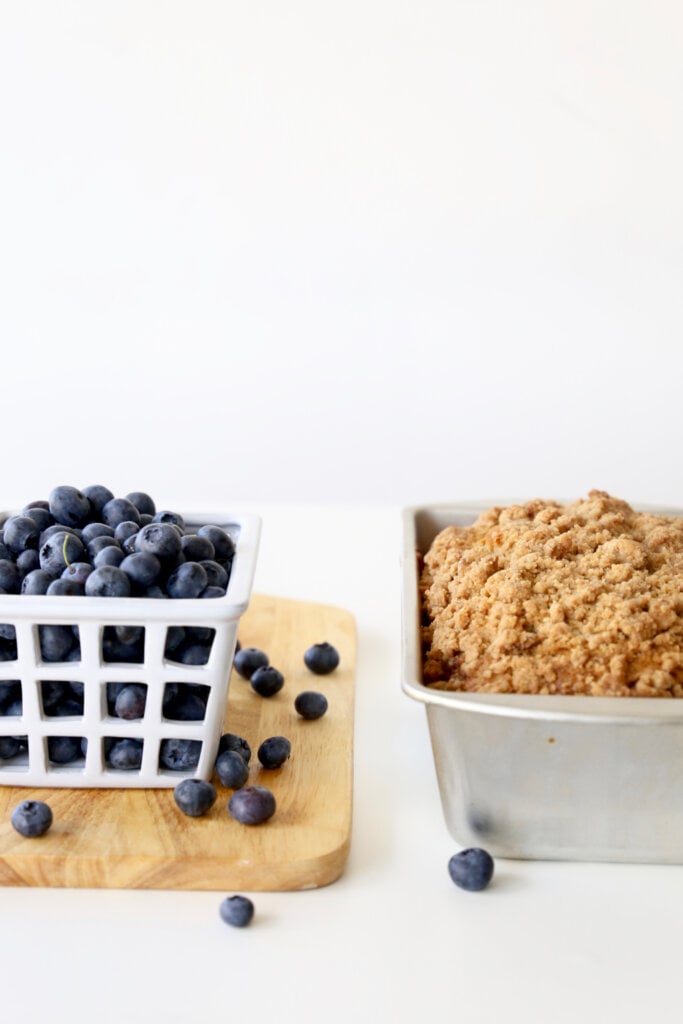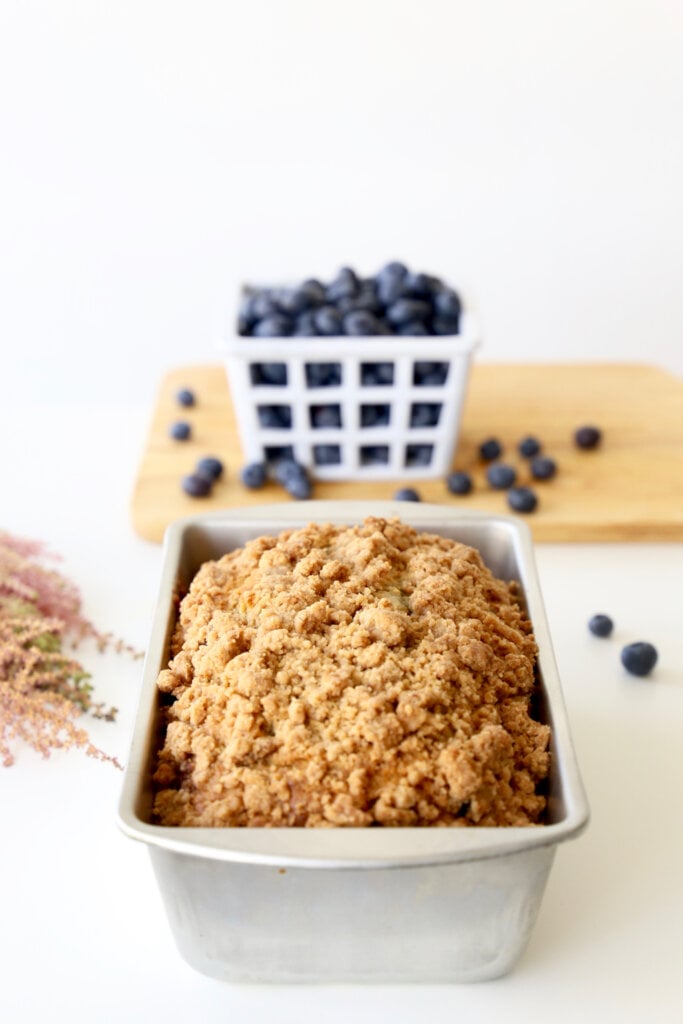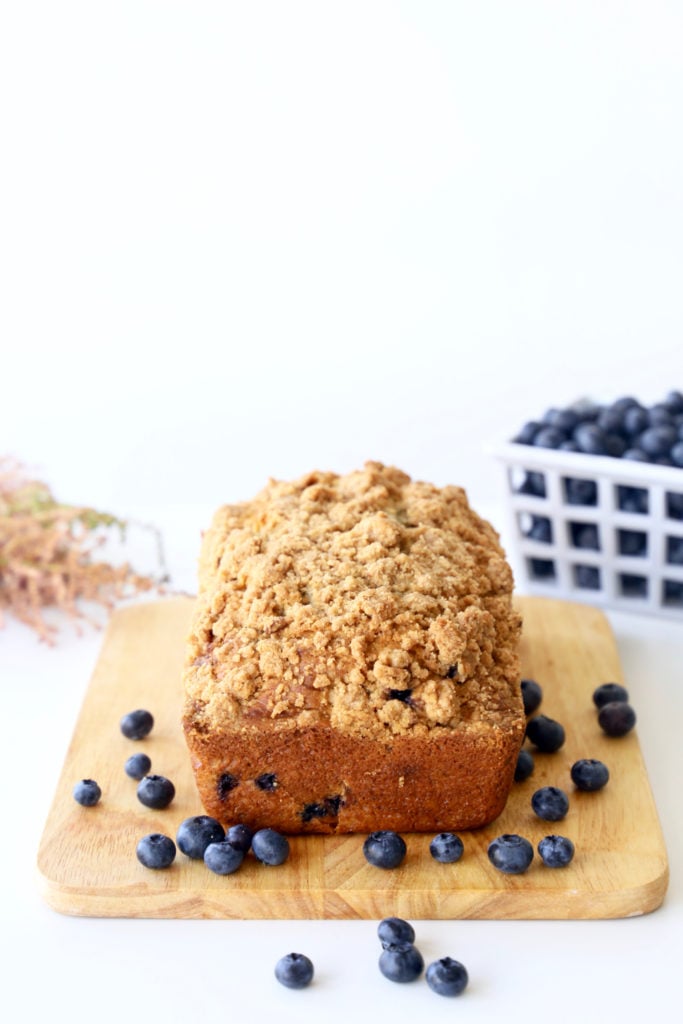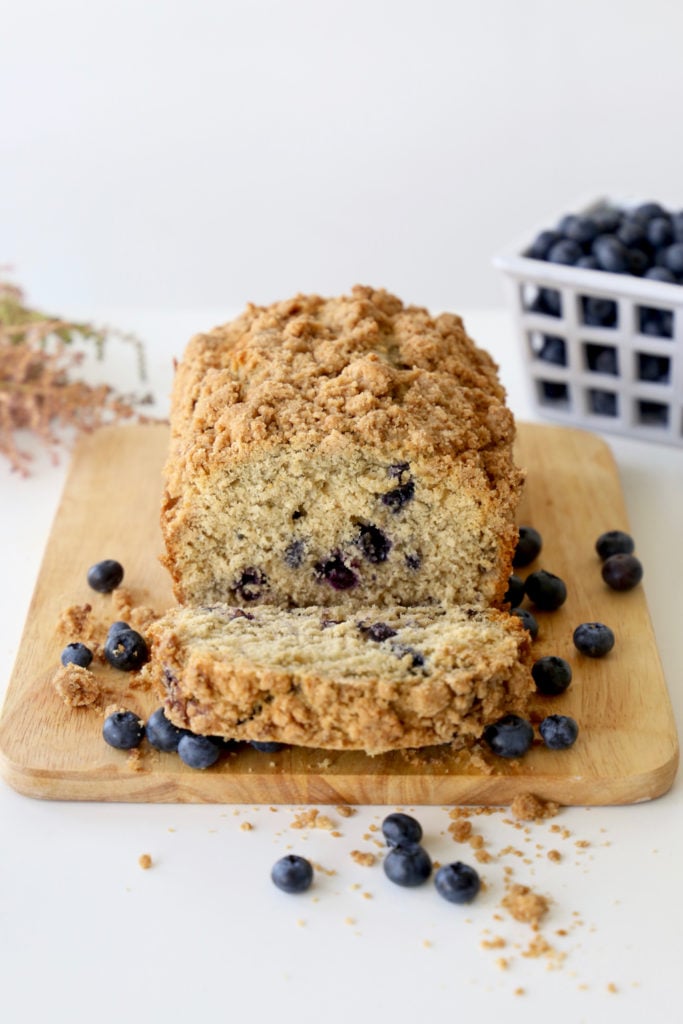 Print
Blueberry Cinnamon Bread
2 Cups

All Purpose Flour

1 tsp

Baking Powder

1 tsp

Baking Soda

½ tsp

Cinnamon

½ tsp

Salt

½ Cup

Unsalted Butter, softened

½ Cup

Light Brown Sugar

¼ Cup

Granulated Sugar

2

eggs

1 tsp

Vanilla extract

½ Cup

Sour Cream

½ Cup

Milk

1 Cup

Blueberries, fresh or frozen
Instructions
Preheat oven to 350 degrees F and prepare a loaf pan brushed with melted butter or nonstick spray
In a large mixing bowl, combine the flour, baking powder, baking soda, salt and cinnamon; set aside
In a mixing bowl with paddle attachment, combine the butter, brown sugar and granulated sugar; mix until butter and sugar are combined
Whisk together the eggs, sour cream, milk and vanilla extract and add to butter mixture
Slowly add the dry ingredients to the wet ingredients and mix until combined; scrape down the sides of the bowl in between
Remove the bowl from the stand mixer and fold in the frozen or fresh blueberries
Pour the batter into the prepared loaf pan
Add the crumb topping to the Blueberry Cinnamon batter
Bake at 350 degrees F for 55-60 minutes or until cake tester comes out clean
Allow the bread to cool before removing it from the loaf pan
Store in an airtight container until ready to serve.
Print
Crumb Topping-Blueberry Cinnamon Bread
4 Tbsp

All Purpose Flour

1 Tbsp

Light Brown Sugar

2 Tbsp

Unsalted Butter, Melted
Instructions
In a small bowl, combine the flour and brown sugar
Add the melted butter and stir until crumb like texture forms
Add the crumb topping to the bread
Bake