Waking up to a beautiful yogurt parfait is sure to start your day off right.  Adding Chocolate Almond Granola, made with gluten free oats, almonds, cocoa powder, almond butter, coconut oil, maple syrup and ending with dark chocolate chunks will make it the BEST day!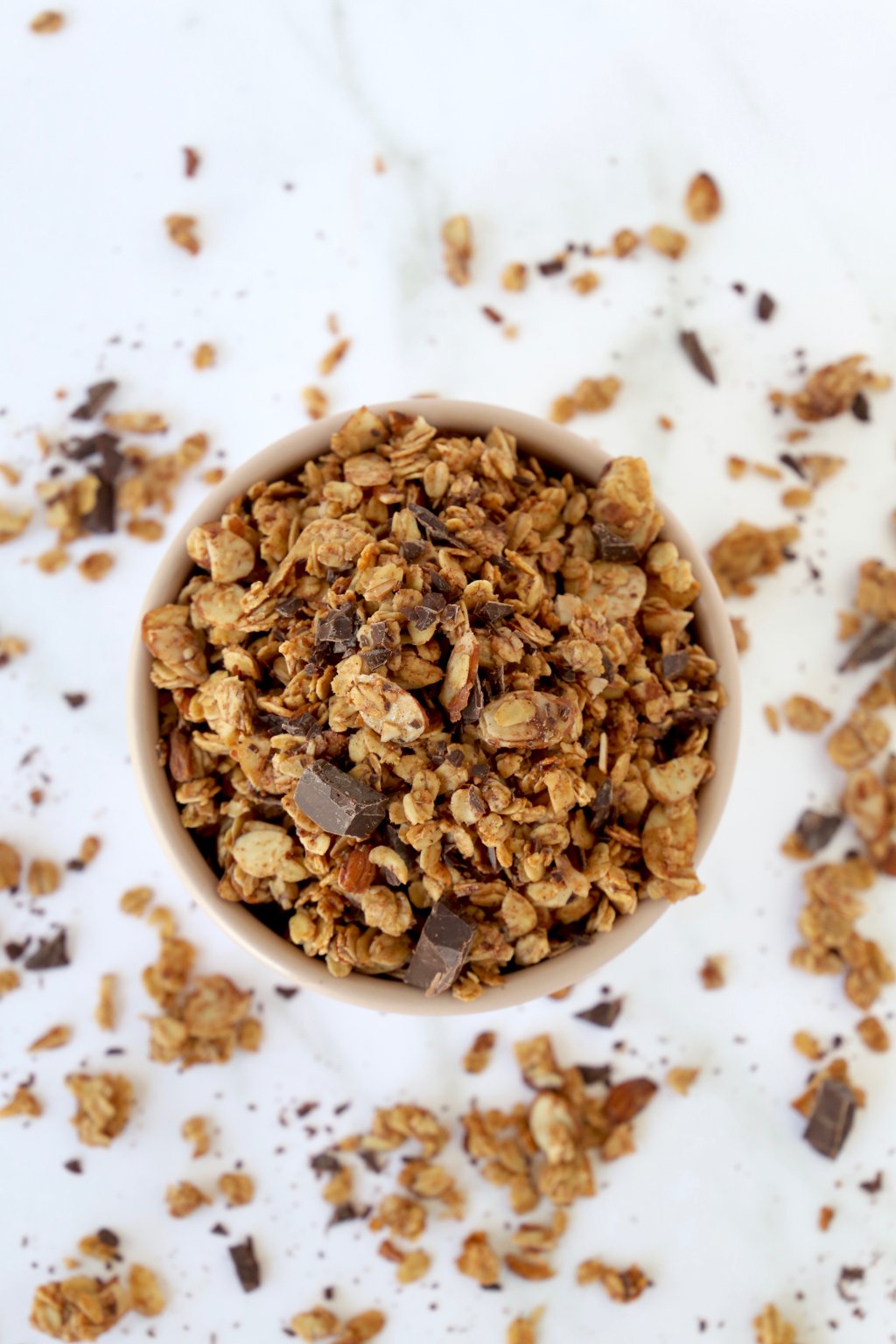 I know we are all in the same boat when I say, life is definitely not normal.  These last few weeks have been something I never imagined experiencing, but here we are.  How are you feeling?  I have mixed thoughts throughout the day, but I do actually love the slow pace life we are living right now.  I am finding appreciation in less is more and there is a peacefulness in our home.  On the other end of the spectrum there are moments of anxiousness from the unknown, cooking three meals a day gets tiring and happy hour is my saving grace 🙂
As we are finding a routine in our day, there are several things that I find myself doing everyday to keep my sanity.  Waking up to exercise before the kids wake up is a must, enjoying lemon honey water to start my day and wake up my body and baking are my three must haves for the day.  I am so thankful my kids love to bake as much as I do, because they choose to bake during their creative time.  After their morning school work is completed, the first thing they ask to do is BAKE!  I love it and since we have so much time in the day we can get creative.
Chocolate Almond Granola came from more of a need!  I was in the mood for a yogurt parfait and went to grab granola out of my pantry and we were out. Immediately I decided to see what I had to make our own.  Granola is a recipe that can be altered to what you like and what you have.  I had gluten free oats and almonds on hand and this was the perfect combination for a simple granola.  Adding cocoa powder and chocolate chunks was more of a feel good thing because we all love chocolate and why not!  
Ingredients you need for Chocolate Almond Granola
Gluten Free Oats-I chose to used Bob's Red Mill Gluten Free Oats for this recipe so that I could enjoy it, but you can definitely substitute it for regular oats
Almonds-Sliced almonds give a really great texture and flavor to this granola.  If you don't have sliced almonds or almonds at all, you can use another nut that you prefer or have in your pantry!
Light Brown Sugar-Originally I made this recipe with granulated sugar, but the second time around I tried it will light brown sugar and I enjoyed the flavor that the brown sugar gave to the granola
Salt- Although this granola is more on the sweet side, a pinch of salt enhances the cocoa flavor
Cocoa Powder- Dutch processed cocoa powder is always preferred for the purest flavor, but there is a very small amount of cocoa powder in this recipes, so you can use any cocoa powder your have available.
Cinnamon- A dash of cinnamon is a perfect addition to this recipe, but if you choose an almond butter that has cinnamon in it, you can eliminate it from the recipe
Coconut Oil- Coconut oil is a very important in this recipe.  Once the oats and almonds are coated and baked, the coconut oil is what will give this granola a crunch.  The coconut oil will not add a coconut flavor to this granola.
Almond Butter- I love the nutty flavor that almond butter gives to this granola.  I found a new almond butter that I can't live without and and paired perfectly with this granola recipe.  Julie's Cinnamon Vanilla Almond Butter was such a great addition and gave it such a wonderful flavor.  If you choose to use this almond butter, you can eliminate the cinnamon from the recipe.
Maple Syrup- The maple syrup really gives this granola the perfect amount of sweet.  Honey can be substituted, but it will change the flavor slightly
Dark Chocolate- Once the granola is baked and cooled, adding a dark chocolate chunks is a great surprise in this granola recipe.  The dark chocolate does not make the granola sweet, it just adds a rich flavor that can still be enjoyed at breakfast!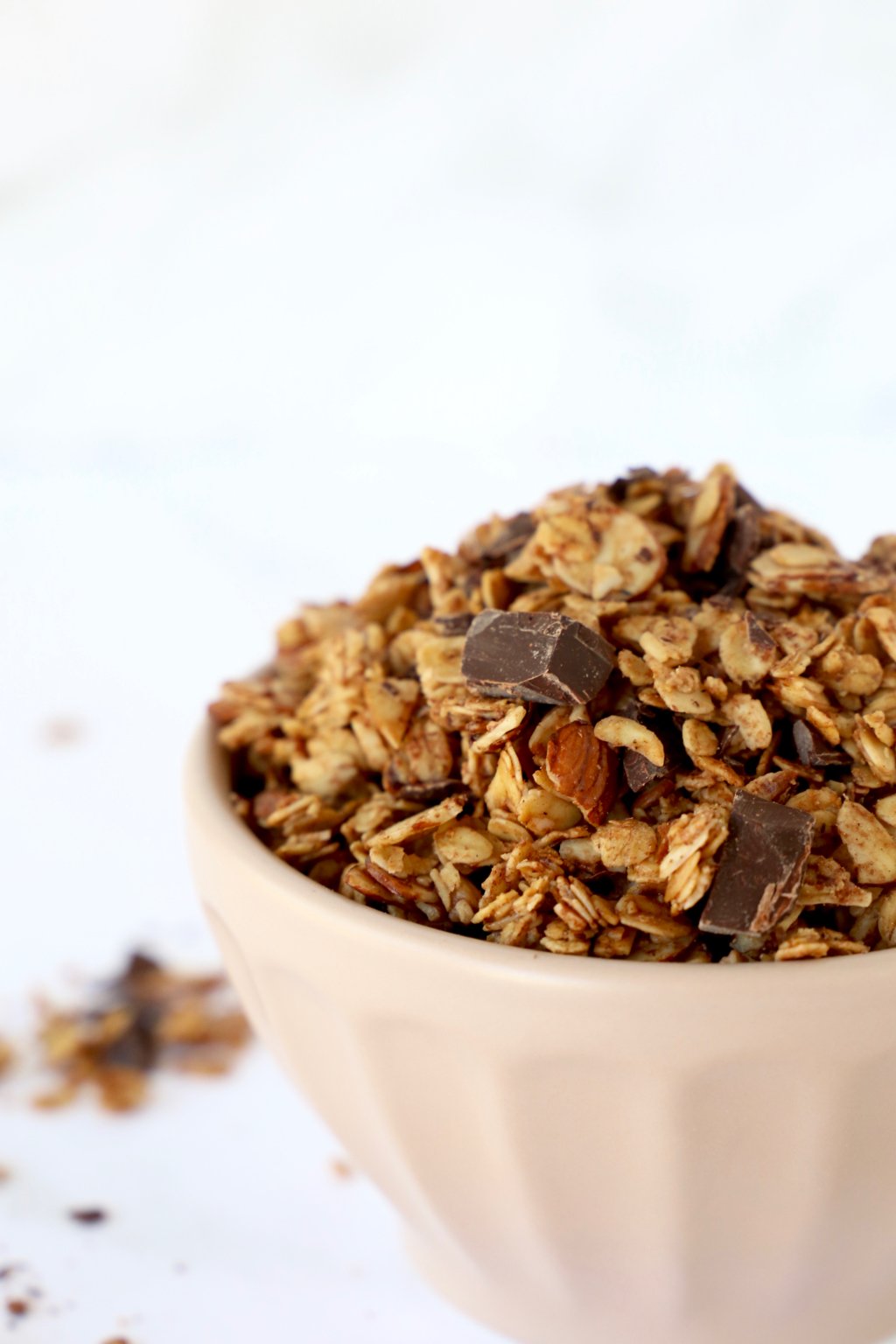 How to Make Chocolate Almond Granola
Dry Ingredients- In a large bowl, mix together the gf oats, sliced almonds, light brown sugar, salt, cocoa powder and cinnamon; set aside
Wet Ingredients- In a small sauce pan combine the coconut oil, almond butter and maple syrup; bring to a simmer
Mix- Once the almond butter mixture is simmering, pour it over the oats mixture and mix until the oats and almonds are completely coated
Bake- Spread the granola mixture onto a parchment lined baking sheet and bake at 350 degrees F for 12 -15 minutes
Cool- allow the granola to cool completely
Dark Chocolate- Once the granola is cooled and a crunchy texture, add in the dark chocolate chunks
Store- Store the Chocolate Almond Granola in an airtight container until ready to enjoy
Serve- Chocolate Almond Granola is delicious in a yogurt parfait, topped over ice cream or enjoyed as a simple snack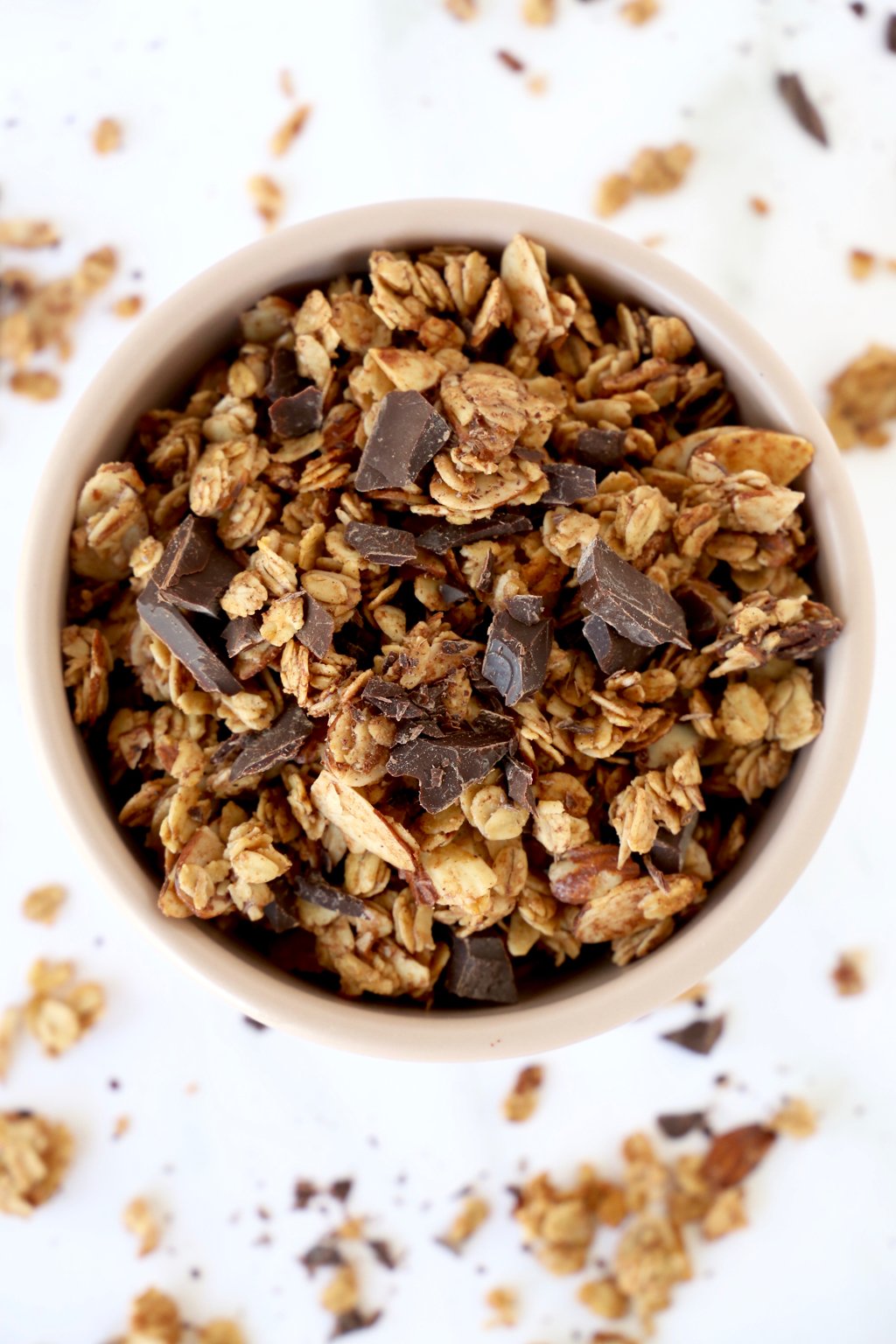 Print
Chocolate Almond Granola
2 ½ Cups Gluten Free Oats
1 ½ Cups Sliced Almonds
3 Tbsp Light Brown Sugar
¼ tsp Salt
¼ tsp Cinnamon
1 tsp Cocoa Powder
¼ Cup Coconut Oil
¼ Cup Almond Butter
⅓ Cup Maple Syrup
1 tsp Vanilla Bean
⅓ Cup Dark Chocolate, Chopped
Instructions
Preheat oven to 35o degrees F and prepare a sheet pan lined with parchment paper
In a large bowl combine the oats, sliced almonds, light brown sugar, salt, cinnamon and cocoa powder
In a small saucepan combine the coconut oil, almond butter, maple syrup and vanilla bean; Bring to a simmer
Once the almond butter mixture comes to a simmer, pour it into the oats mixture
Stir until the oats are fully coated
Spread the granola onto the prepared baking sheet
Bake for 12-15 minutes
Remove the granola from the oven and allow it to cool completely
Once the granola is cooled, mix in the chopped chocolate
Store the granola in an air tight container and use over yogurt, ice cream or enjoy as a snack!