This made from scratch Classic Lemon Curd is tangy, sweet, smooth and the most amazing filling for a variety of desserts!  Made with only five ingredients, you will never buy store bought Lemon Curd again!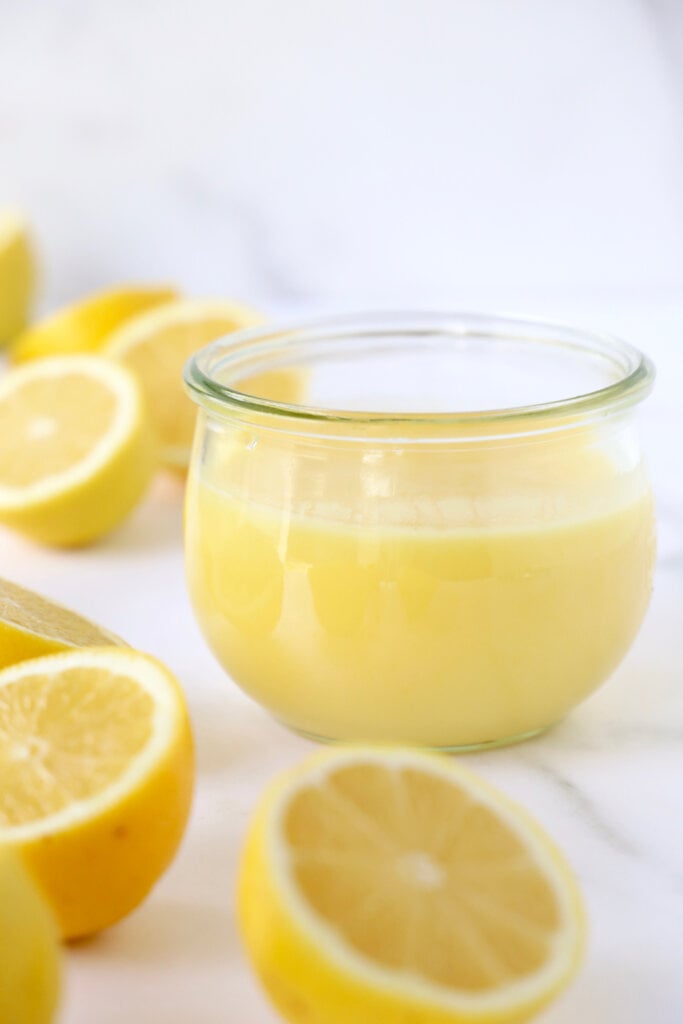 Classic Lemon curd is one of those items that need to be in everyones refrigerator. It is the perfect topping on toast, filling in cakes, tarts or cookies and even better just enjoyed by the spoonful.  Homemade Lemon Curd only requires five ingredients and will be ready to use in no time at all.
What is a Fruit Curd
You might have heard the word curd used in the form of a cheese curd, but don't run away it is way better than it sounds.  Smooth, velvety and full of fresh fruit flavor a fruit curd is a refrigerator staple you don't want to miss out on.  A fruit curd is a dessert spread  that is commonly made with a citrus fruit but can be made with a large variety of fruit flavors as well.
How to Make Classic Lemon Curd
 Egg yolks, sugar, butter, citrus zest and the juice of your choice fruit are the ingredients that make up this spread.  These ingredients are whisked together over a double boiler until it thickens.  Once the curd is thick and creamy you will strain the curd to remove the zest and to bring it to the smoothest consistency.  Fruit curds can be used as a spread over toast or scones, a filling for tarts, cakes or cookies or can be placed on a platter as a simple dip for a sweet dessert board.   

Ways to Use Lemon Curd
I tend to you use lemon curd in recipes as often as I can:

Filled in my Perfect Pie Dough
Layered between this Lemon Coconut Cake or  Classic Vanilla Cake
Sandwiched between Vanilla Bean Shortbread Cookies
In between Lavender French Macarons (recipe coming soon)
Enjoyed for breakfast spread over this decadent Dutch Baby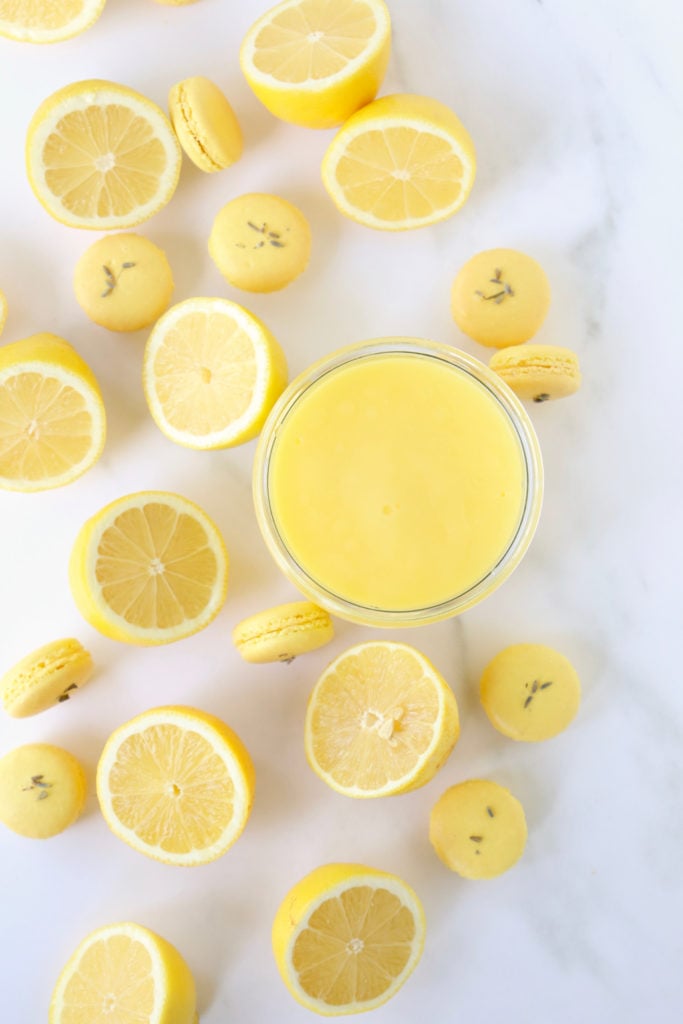 Print
Lemon Curd
Ingredients
1 1/4 cup

sugar

1 cup

lemon juice
zest of

5

lemons

5

eggs

1 1/2 cup

butter, unsalted
Instructions
combine all ingredients in a bowl
place bowl over a saucepan with simmering water
stir over low heat
curd is complete when the consistency is thick and coats the back of a wood spood
strain the curd and cool completely before refrigerating