Italian Easter Bread is an old family recipe that brings back so many wonderful memories.  It is a festive bread made of yeast dough, colored eggs, glaze and sprinkles.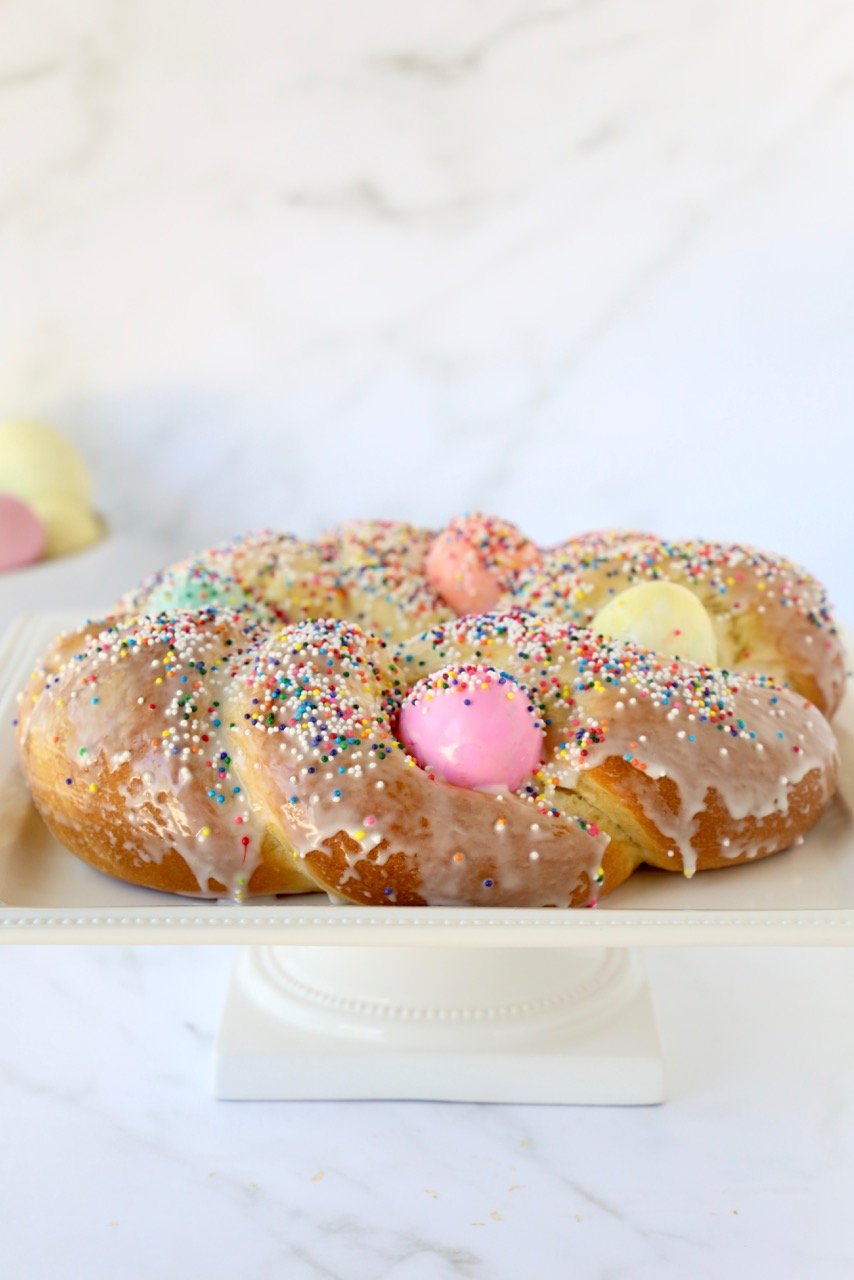 A sweet bread full of tradition and lives through many cultures is one that has been passed down from generation to generation in my family. Italian Easter bread is a rich, eggy bread with a pop of citrus flavor, eggs (dyed or whited) braided into the dough, a sweet sugar glaze, and the best part…covered in rainbow sprinkles.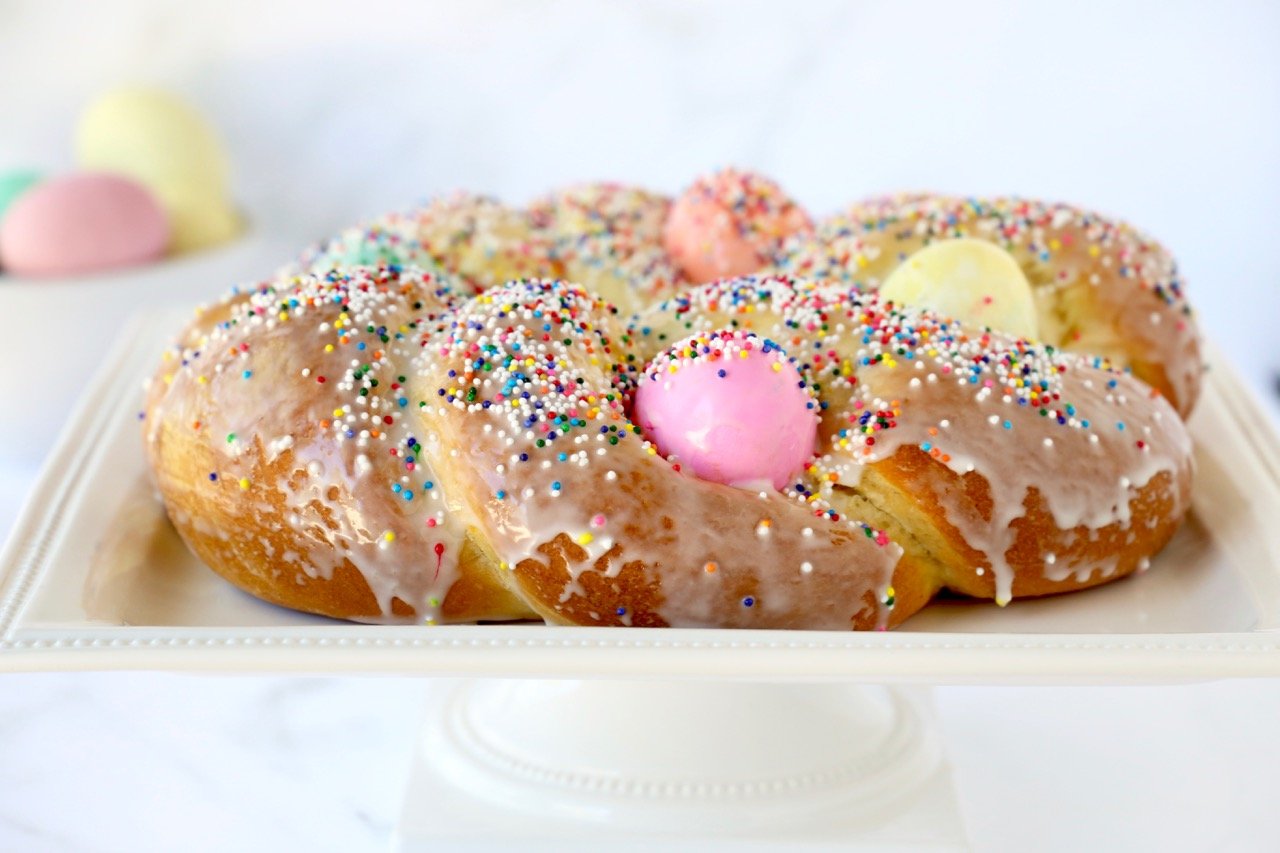 A tradition that my great grandmother started and has been shared and enjoyed by many is one of my favorite Easter morning memories. Every year this sweet brioche like bread would stay on our counter and throughout the weekend would be sliced and buttered until the whole thing was gone. Although is it typically made for the Easter holiday, I tend to crave it all year long.
Throughout many years of sharing our family's Easter Bread, I quickly learned that it is not only an Italian tradition, but one spans many other cultures.
Italian Easter bread (Pane di Pasqua)
The wreath symbolizes the crown of thorns, and the eggs represents birth and life.
Greek Easter Bread (Tsoureki)
This is very similar to the Italian tradition.  Three strands of bread symbolize the holy trinity, and red dyed eggs represent the blood of Christ.
British Easter Bread (Hot Cross Buns)
These are spiced sweet buns made with currents or raisins and enjoyed on Good Friday.
The cross represents the Crucifixion of Christ.
Croatian Easter Bread, Pinca
Round loaf with a cross cut into the surface of the bread symbolizing the Crucifixion.  It is flavored with raisins, rum and citrus zest.
Spanish Easter Bread, Mona de Pascua
-Mona de Pascua means "gift of Easter"and is very similar to the Italian tradition as well, but is typically made with quail eggs, olive oil instead of butter and accented with flavors of orange zest and rosewater.
I hope you enjoy this special recipe from my Nanny's kitchen to yours!
Print
Nanny's Easter Bread
Ingredients
Dough
4 cups

all purpose flour

¼ cup

granulated sugar

½ cup

vegetable shortening

½ cup

whole milk

1

envelope active dry yeast (

2 ¼ tsp

)

4

eggs

1

orange, zest and juice

½ tsp

salt

¼ tsp

vanilla extract

4

eggs (for decoration)
Glaze
2 cups

powdered sugar

¼ cup

whole milk
Sprinkles for garnish
Instructions
Dough
Place flour and sugar in a large mixing bowl with dough hook attachment and add shortening until a course crumb forms. Heat milk in a saucepan until warm to the touch (110 degrees F) and add yeast.
Combine eggs, orange zest and juice, vanilla extract and salt in a mixing bowl and whisk until combined. Slowly add yeast mixture to the flour mixture and knead until it comes together (it will be dry at this point). Add egg mixture a little at a time until fully combined.
Knead the dough in the mixer or by hand until dough is soft and elastic. Place the dough in an oiled bowl and cover loosely with plastic wrap. Allow the dough to rise until doubled in size (approximately 1 hour).
Divide dough into two pieces and roll each piece into 24-inch-long pieces. Twist the two pieces together. Form the rope into a 12" round circle, pinching the ends together to seal, and nestle 4 eggs into the dough. Cover the dough with plastic wrap and let rise until doubled in size (approx 45 minutes).
Preheat the oven to 350 degrees F; once the bread is ready, bake for 30-40 minutes or until golden brown on top. Allow the bread to cool completely before glazing and adding sprinkles.
Glaze
Whisk together powdered sugar and milk, adding more of either ingredient to achieve the desired consistency. Use a pastry brush to glaze the top of the Easter Bread.
Before the glaze dries, garnish the bread with rainbow sprinkles