Nutella and almond swirled in a fluffy pillow of goodness making Nutella Almond Meringue Cookies pure perfection!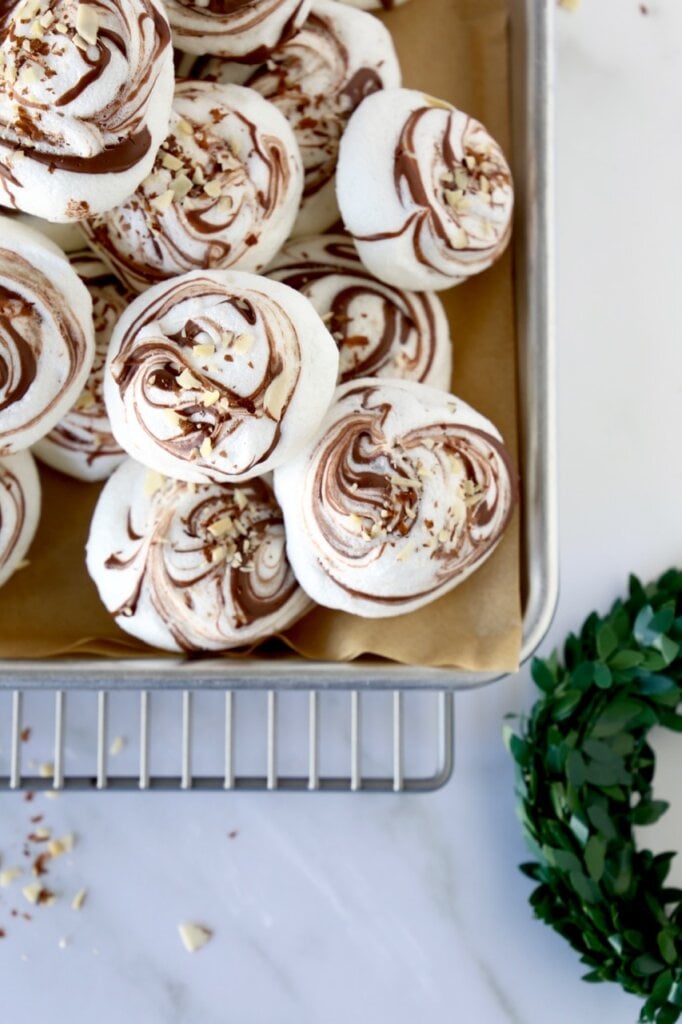 Nutella Almond Meringue cookies…Ahhhhhh! That is kind of how I feel when making them and when taking my first bite out of them. They are light, crispy, chewy, airy, sweet and really all the textures that you could dream of all wrapped up in one cookie.
There is a technique that needs to be followed that make a meringue cookie great! There are only a few ingredients that make these sweet treats, but they sure can be finicky to make (practice makes perfect)!
Egg Whites
Egg whites is the main ingredient that needs to be whipped to stiff peak for the first step. Allow the egg whites to get full volume will make give these cookies the crunchy outside, chewy center and will keep whatever shape you choose to make your cookies into. Adding the sugar in parts in the next most important part to guarantee that you don't deflate the egg whites that you just worked so hard to get perfect! Add one cup of sugar in the mixer and then fold the remaining half cup with a spatula…don't cheat this step.
Flavor
Heres the great part, Meringue Cookies are like marshmallows, you can basically add in any flavor that you love. In order to keep the meringue fluffy, choose a lighter ingredient such as an extract, chopped nuts, melted chocolate and you don't need a lot to make the flavor come through. We love Nutella in my family so naturally Nutella Almond Meringue Cookies are a huge hit. I added a hint of almond extract, swirled Nutella and crushed almonds for texture.
Baking
Preheat your oven to 200 degrees F. Baking meringue cookies on a low temperature will give the crunch, chewy center and keep the cookies white and beautiful. Here;s the thing, if it is humid outside, they will get sticky and you might need to keep them in a closed oven overnight. This is where they are finicky, and bake time could change.
Enjoy
Now its time to enjoy these pillowy meringue cookies. Once they are baked and cooled, you can eat them immediately or store them in an air tight container or zip lock bag to stay fresh.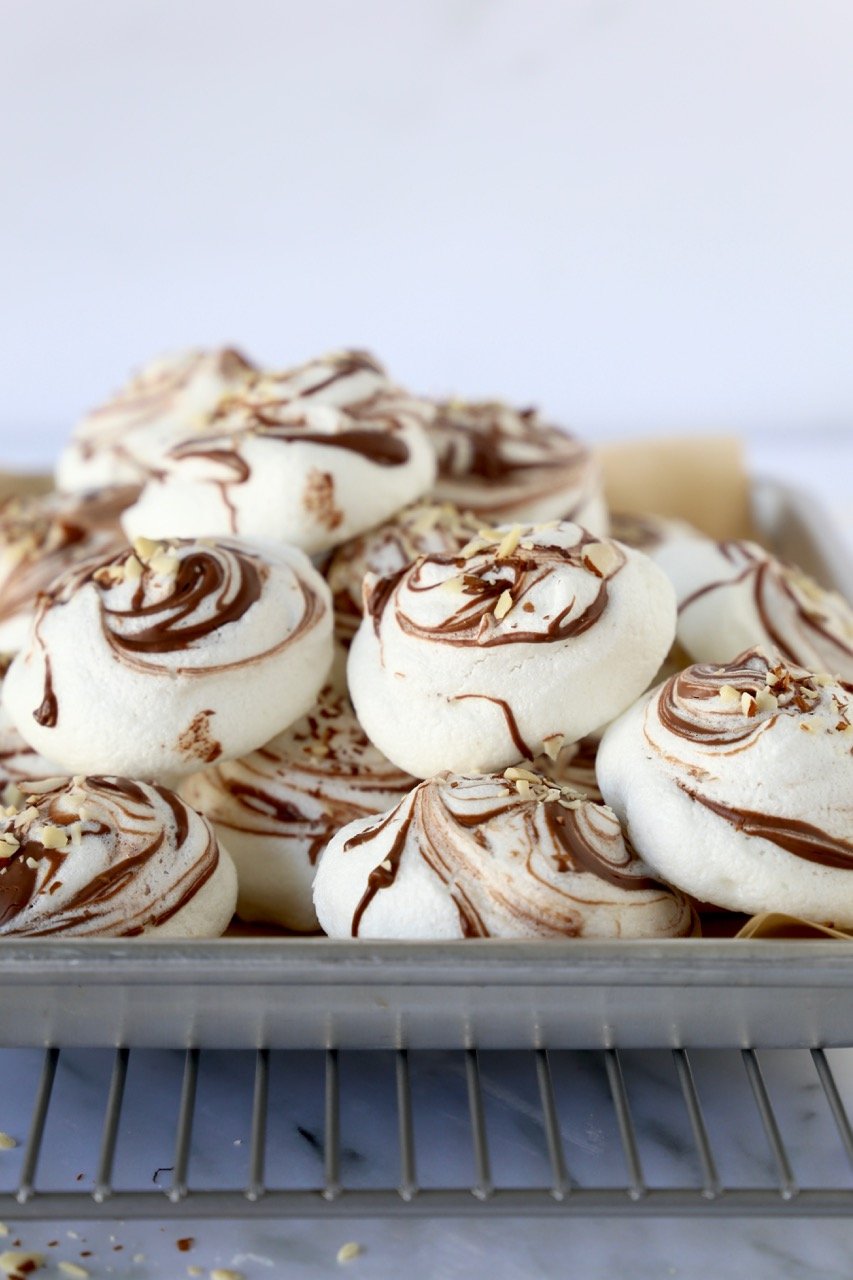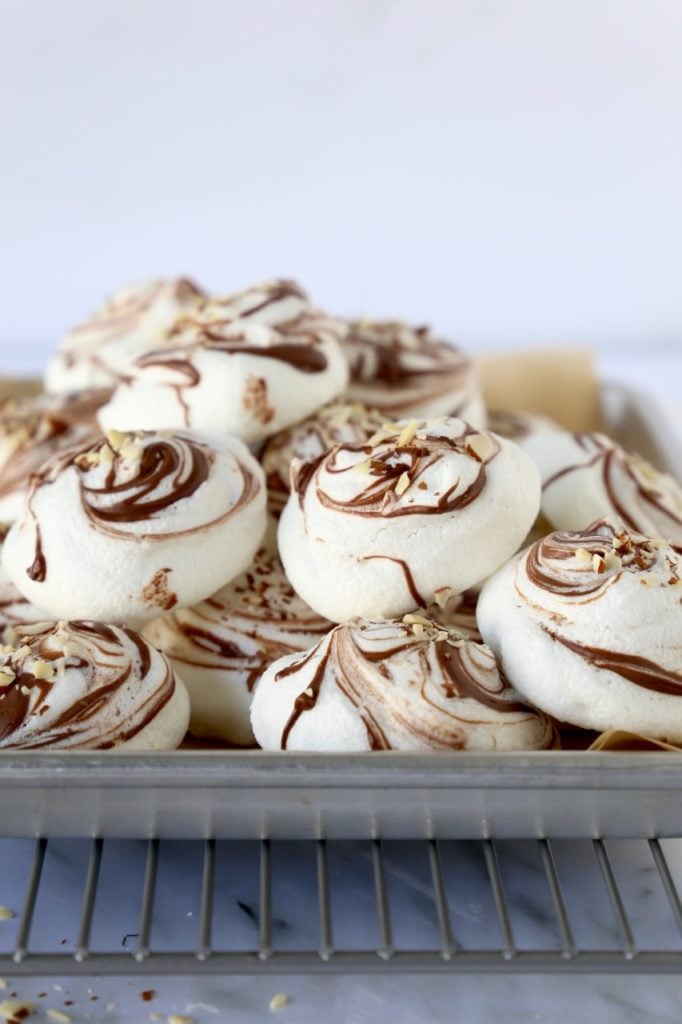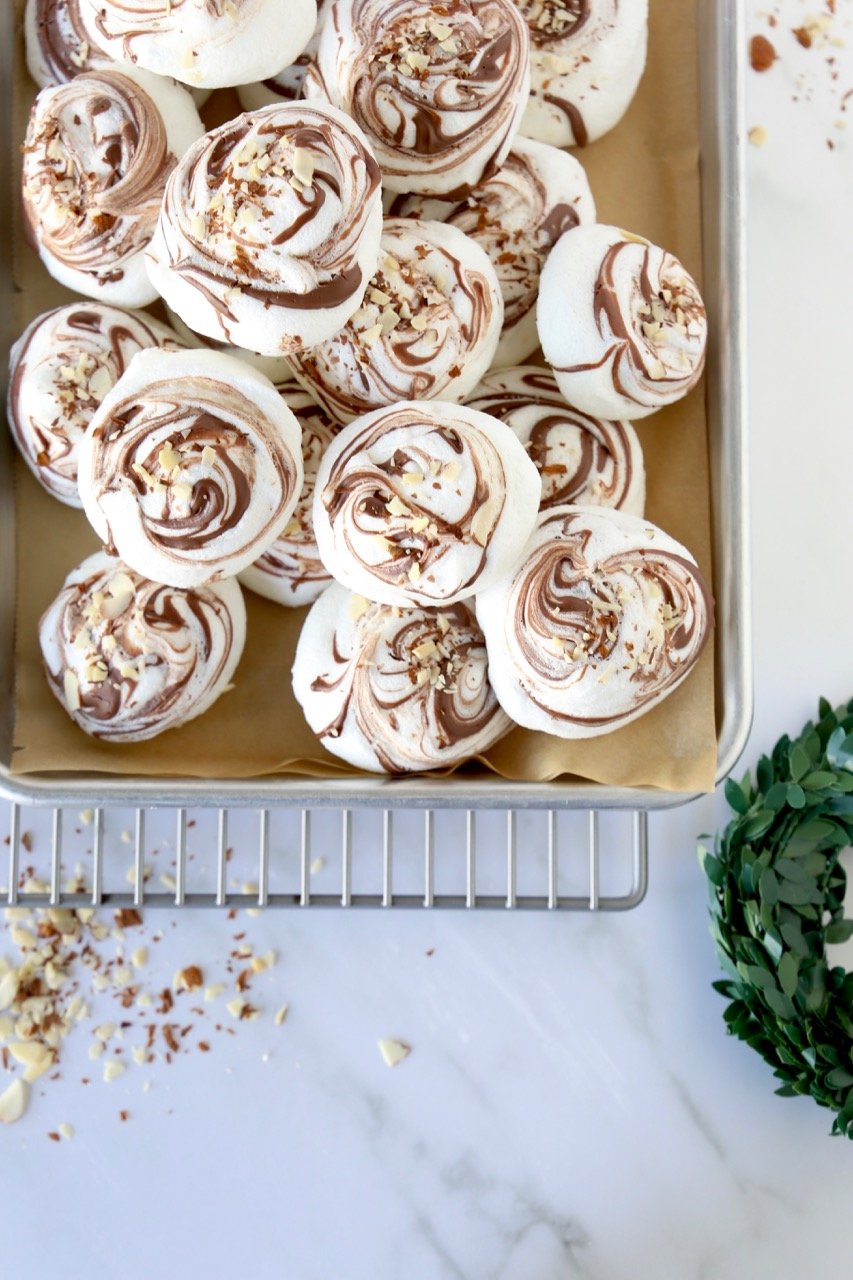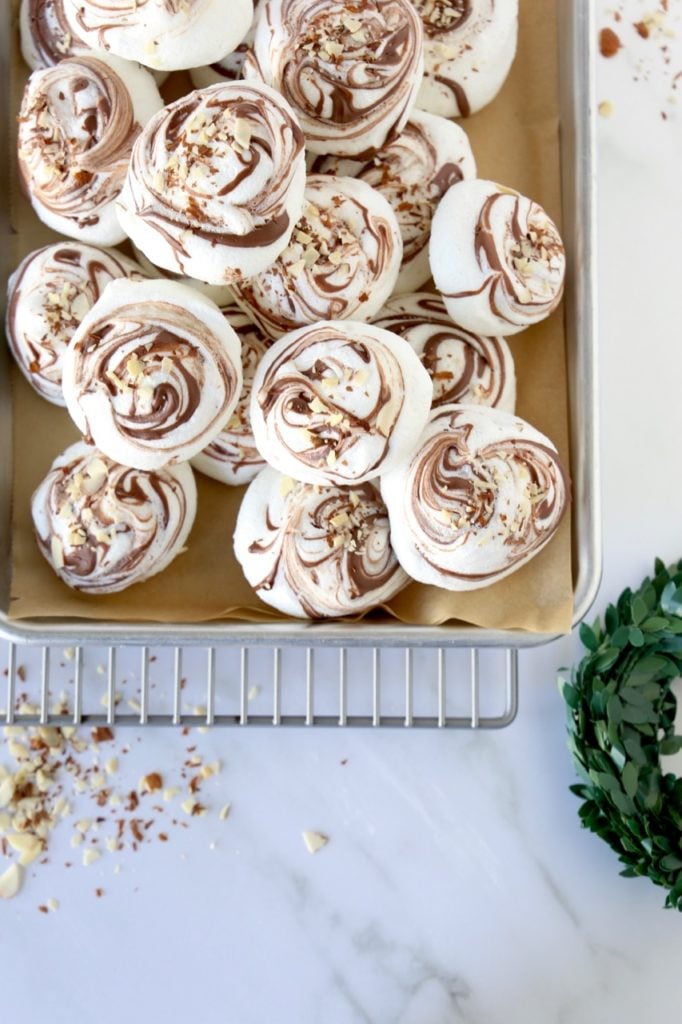 Print
Nutella Almond Meringue Cookies
6

egg whites

½ tsp

cream of tartar

1 ½ cups

granulated sugar

½ tsp

almond extract

1 cup

nutella spread

½ cup

sliced almonds, crushed
Instructions
Preheat oven to 200 F and line a baking sheet with parchment paper.
In a mixer with whisk attachment, whisk egg whites and cream of tartar on medium speed until foamy and stiff peaks form.
Reduce the speed on the mixer and slowly add in 1 cup of granulated sugar.
Once the sugar is fully combined and the eggs become a little glossy, add in the almond extract.
When you have stiff peaks, stop the mixer and gently fold in the remaining ½ cup of sugar.
Scoop the meringue into 3" rounds onto a lined baking sheet
Swirl nutella spread into each meringue, be gentle while swirling so the meringue does not deflate
Sprinkle the top of each meringue with chopped almonds
Bake for approximately 1 hour or until the cookies have dried out.
Remove from the oven, allow the cookies to cool
store in an airtight container until ready to serve.