Strawberry Rhubarb Galette + Crisp, because two ways is better than one!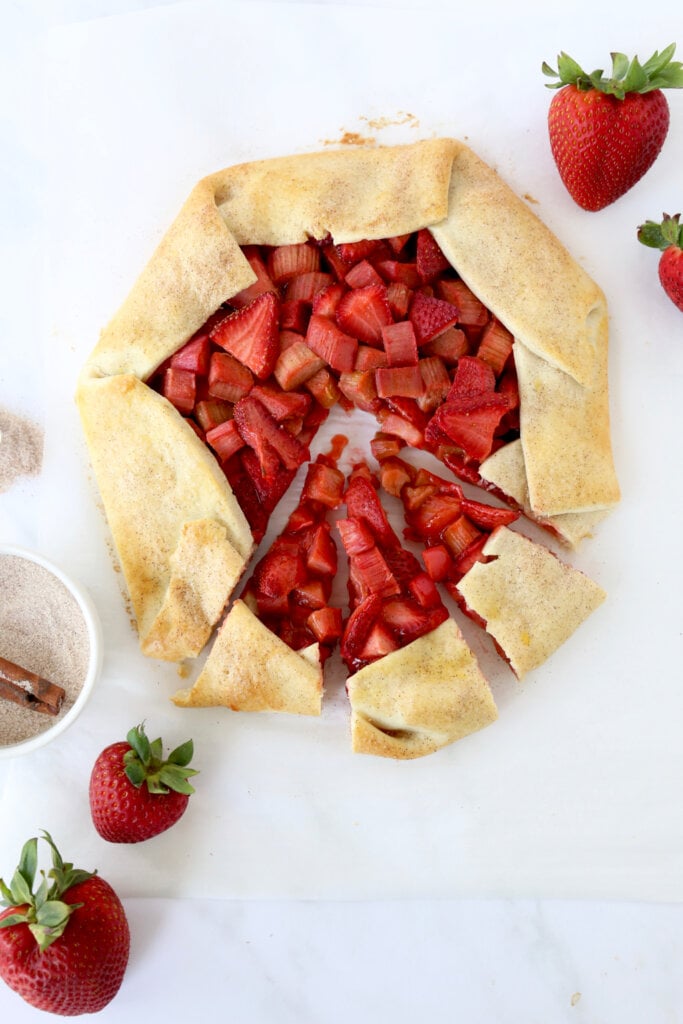 After testing this recipe several times and trying out two techniques, I finally decided to share both and you get to choose! Strawberry Rhubarb Galette or Strawberry Rhubarb Crisp is the question and I promise, they are both too good to pick one!
Strawberries are in peak season, they are sweet and juicy and we cannot keep them in our home. Once we have brought them home from the market, they only last for a day or two before we eat them up. The sweetness of strawberries and the tart flavor of rhubarb is what makes this flavor combination magical. Keeping these flavors super simple is key, but adding a touch of cinnamon, orange zest and a splash of orange juice will enhance the flavors. Rhubarb is only in season for a short time and the moment it is, this recipe is a must!
A Galette is a rustic style, using a flaky pie crust created in a free form. I love the style and flavor of a galette because it allows you to focus on the filling and takes the stress and perfection out of baking. Strawberry Rhubarb Galette is the perfect summer dessert with chunks of fresh fruit baked into a buttery crust.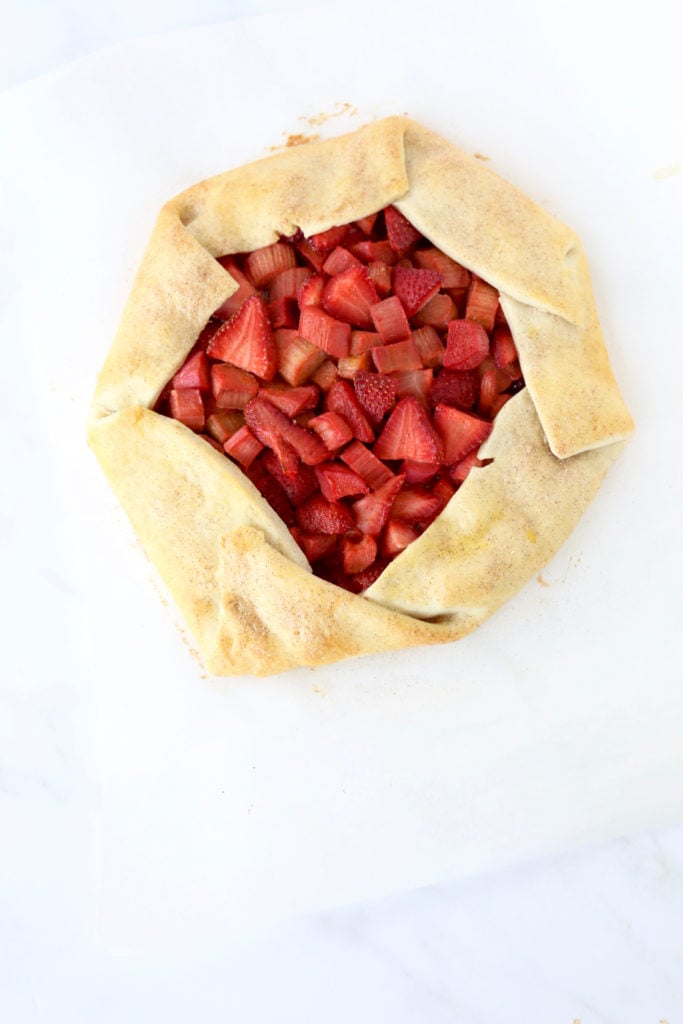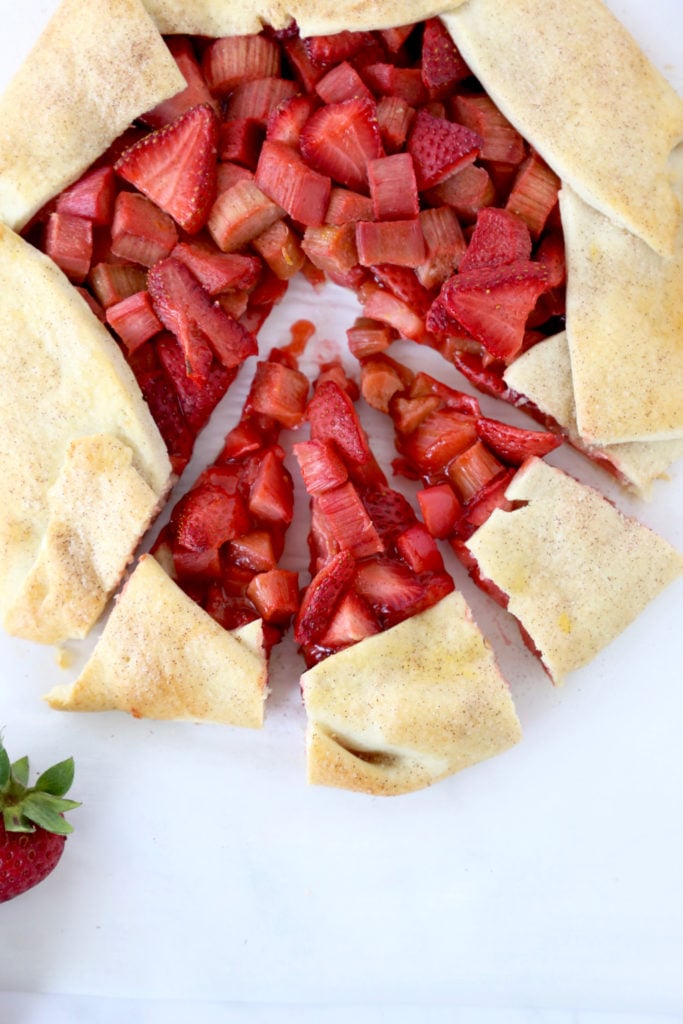 Strawberry Rhubarb Crisp is another awesome way to show off the flavors of these two fruits. The crisp is going to allow you to have a juicy filling with only a topping combined of flour, brown sugar, and butter. There is no shell for this crisp and is best baked in an ovenproof dish to hold the filling.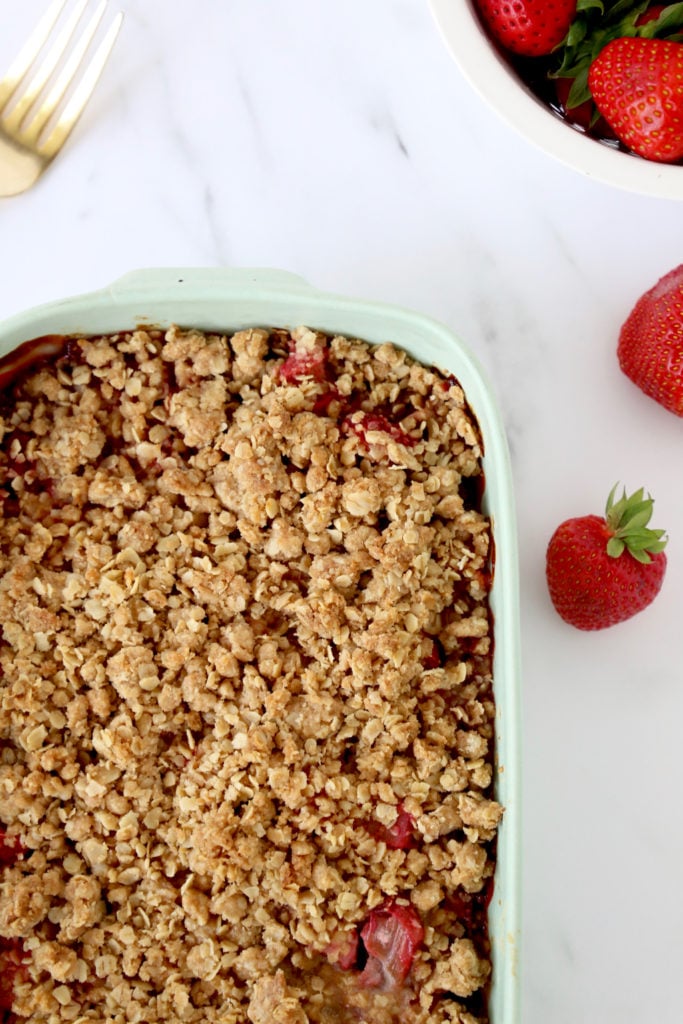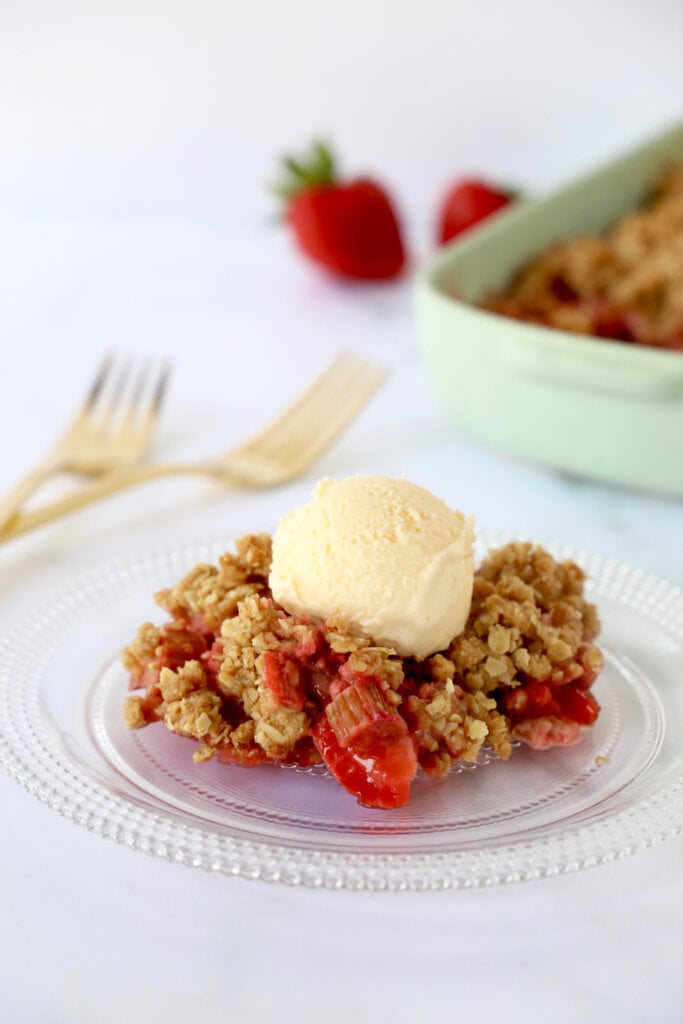 Strawberry Rhubarb Galette or Strawberry Rhubarb Crisp is the question and one that I don't want to make! So make them both!
Print
Strawberry Rhubarb Galette
Strawberry Rhubarb Filling:

2 Cups

Fresh Strawberries, sliced

2 Cups

Rhubarb, fresh or frozen cut into

one

inch chunks

½ Cup

Granulated Sugar

2 Tbsp

Corn Starch

¼ tsp

Cinnamon
Zest of

1

orange

1 Tbsp

Orange Juice

Strawberry Rhubarb Galette:

1 ½ Cup

All Purpose Flour

1 Tbsp

Granulated Sugar

½ tsp

Salt

8 Tbsp

Unsalted Butter, Chilled + Cubed

5 Tbsp

Water, Ice Cold
Instructions
Place the flour, sugar and salt into the bowl of a food processor and pulse to combine
Slowly add in the chilled and cubed butter to the flour mixture and pulse until it looks like course meal
Continue pulsing and add the ice cold water, one tablespoon at a time until the dough comes together into a ball
Remove the dough from the food processor and press together but do not over knead
Wrap the dough in plastic wrap and refrigerate for 1-2 hours or overnight
Once you are ready to bake, preheat the oven to 350 degrees F
Roll out the dough on a lightly floured surface into a 12 inch circle
Place the dough on a parchment lined sheet pan
Fill the center of the dough with the Strawberry Rhubarb filling leaving about a 2 inch perimeter (make sure to remove most of the additional liquid, it will become juicy when it bakes)
Fold the edges of the dough in to overlap the blueberries
Egg wash the edge of the dough and sprinkle with sugar crystals or sugar in the raw
Bake at 350 degrees F for 35-40 minutes or until the dough is a light golden color
Remove from the oven and allow the Galette to cool for 5-10 minutes
Print
Strawberry Rhubarb Crisp
Strawberry Rhubarb Filling:

4 Cups

Fresh Strawberries, sliced

4 Cups

Rhubarb, fresh or frozen cut into

one

inch chunks

1 Cup

Granulated Sugar

3 Tbsp

Corn Starch

½ tsp

Cinnamon
Zest of

1

orange

2 Tbsp

Orange Juice
Strawberry Rhubarb Crisp:

1 Cup

All Purpose Flour

½ Cup

Light Brown Sugar

1 tsp

Baking Powder

½ tsp

Cinnamon

¼ tsp

Salt

8 Tbsp

Unsalted Butter, softened
Instructions
Preheat oven to 350 degrees F and butter ramekins or pie dish
In a medium bowl, combine flour, brown sugar, baking powder, cinnamon and salt
Slowly add in melted butter and crumble together until small pea size dough is created
Top the fruit filling with the crisp topping and bake for 30-35 minutes or until lightly golden