Keeping summer simple with a backyard picnic for you and the kids!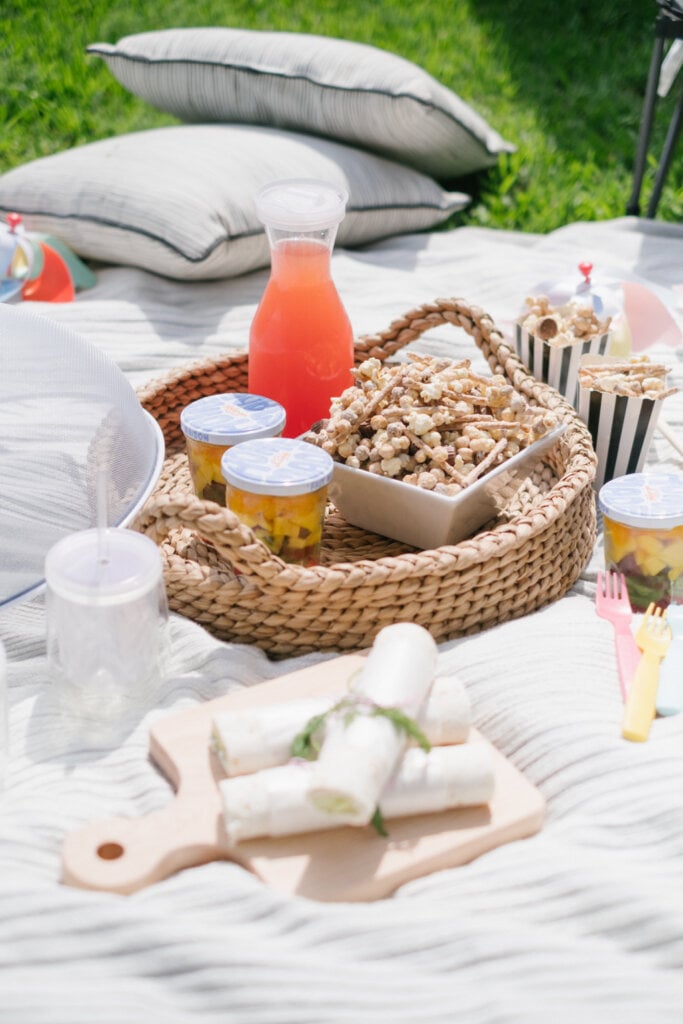 The busy summer days and Texas heat make it hard to enjoy the outdoors, but one of our favorite days so far was an easy Backyard Picnic that the girls and I set up. We have planned so many times to have a picnic at a park, but the packing up with three kids, prepping all the food, loading the car and then finally getting there (maybe needing to use the restroom and having to go back home) seems a little daunting at this stage of life. So for me, a Backyard Picnic is just the perfect amount of fun!
Walking out our back door and setting up with your favorite picnic blanket or any blanket you might have in the house, throwing some pillows around for comfort and setting the food out is so simple, totally doable and my kind of picnic!
For the food, I kept it simple but fun! We made some delicious Cucumber Dill Roll Ups, Mason Jar Fruit Salad, Peanut Butter Popcorn Snack Mix and the most refreshing Watermelon Lemonade!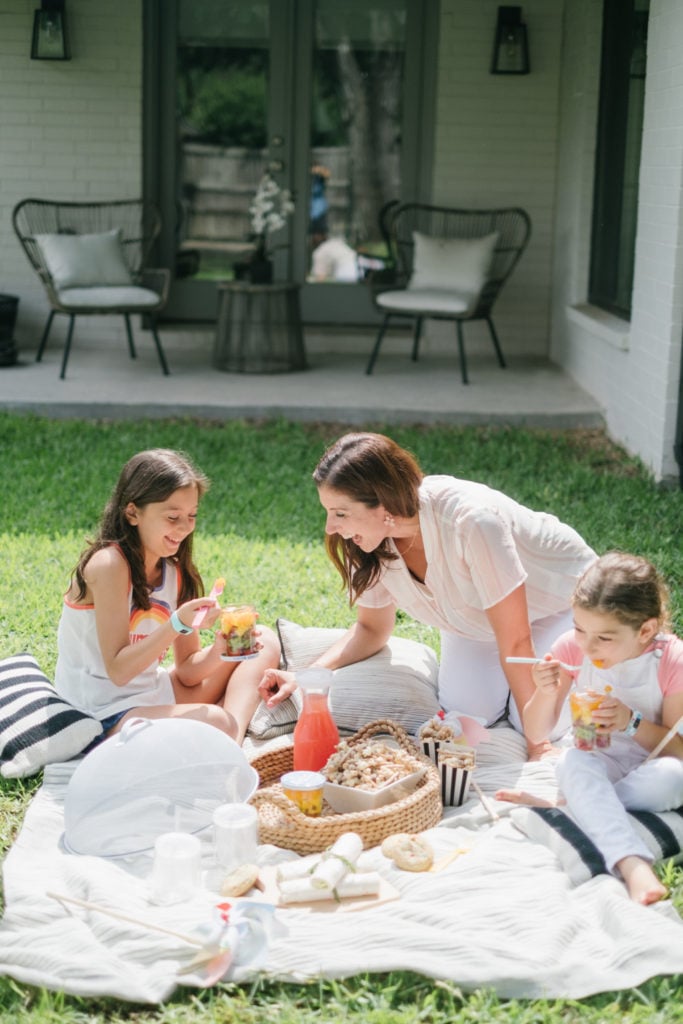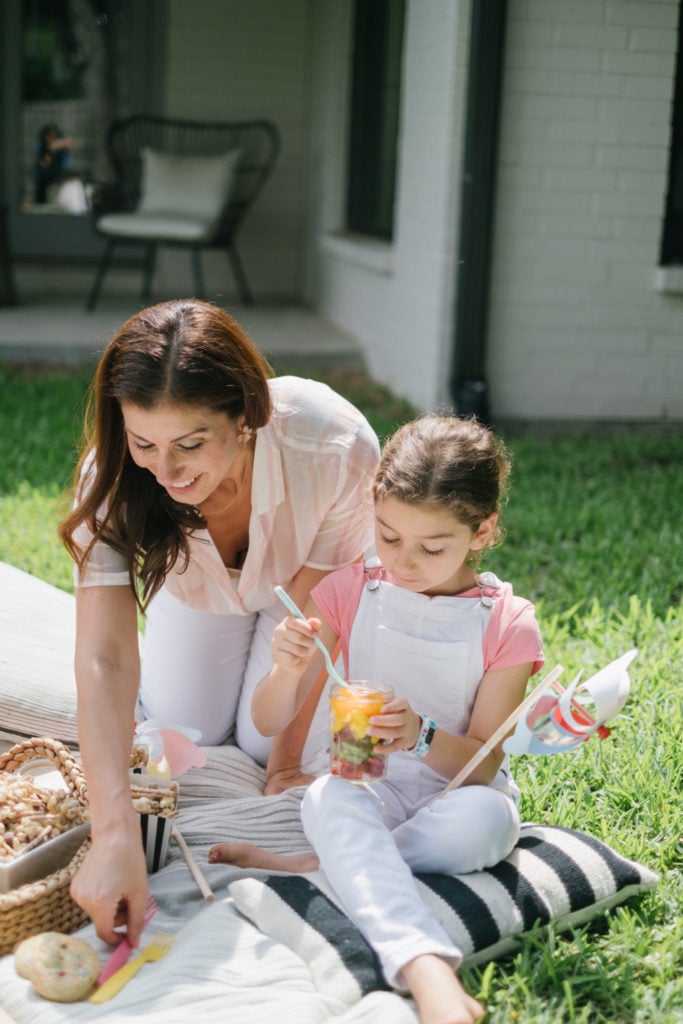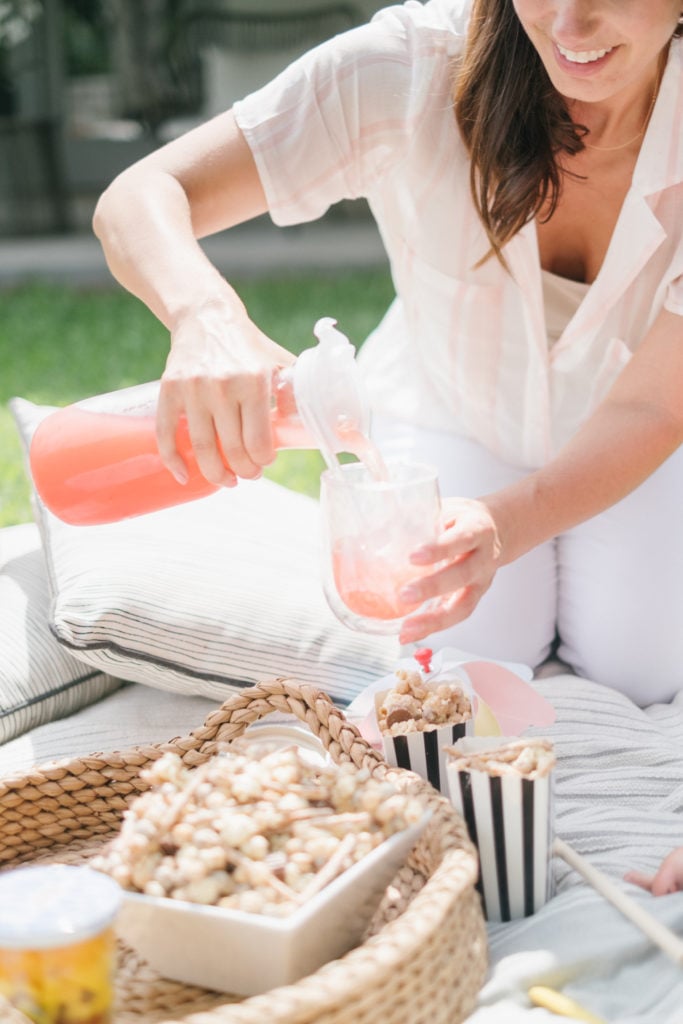 Shop My Picnic Finds:

Backyard Picnic Menu
Print
Cucumber Dill Roll Ups
1

Tortilla Wrap

1

Large Cucumber, Sliced Thin

3 Tbsp

Cream Cheese, softened

1 tsp

Dill
Instructions
In a small bowl, mix together the cream cheese and dill until smooth
Lay out tortilla wrap and gently spread a thin layer of cream cheese mixture to cover the tortilla
Evenly lay out the thinly sliced cucumbers to cover the layer of cream cheese
Tightly roll the tortilla wrap up
Slice the Cucumber Dill Roll Up in half
Wrap the roll ups in wax paper to keep them fresh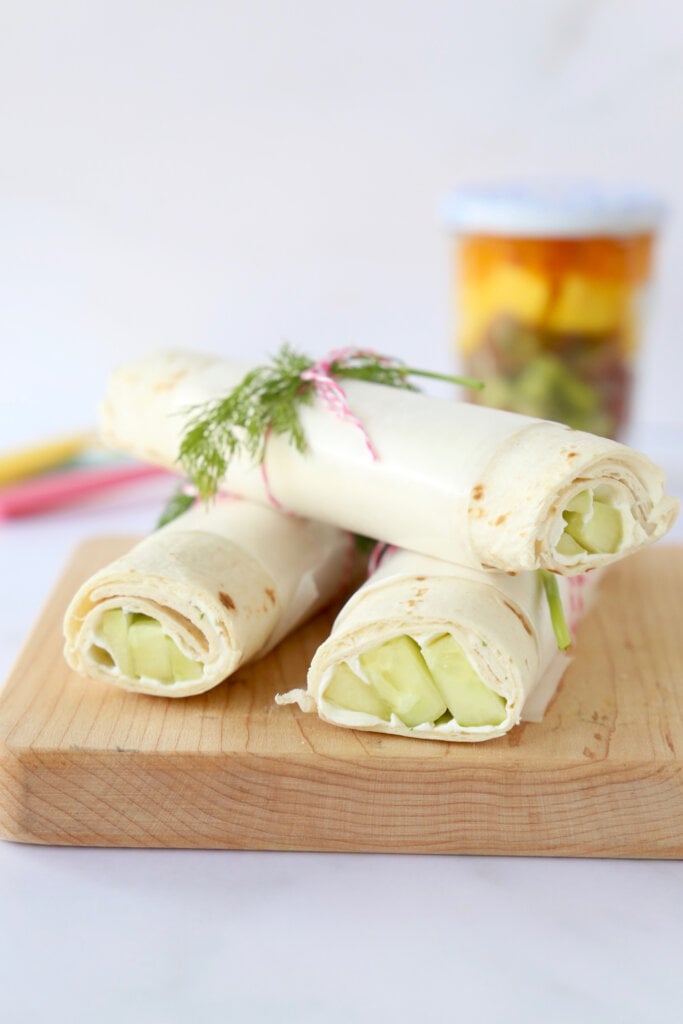 Print
Mason Jar Fruit Salad
Strawberries
Kiwi
Grapes
Mango
Manderain Oranges
Instructions
Slice fruit and layer into a mason jar
Close the lid and refrigerate until ready to serve!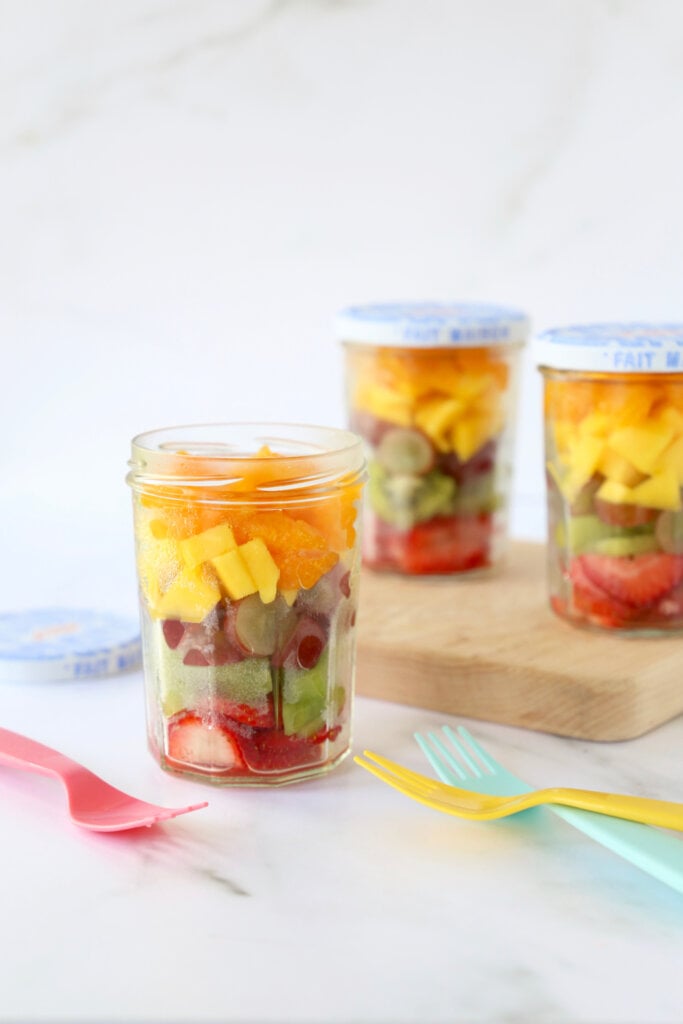 Print
Peanut Butter Popcorn Snack Mix
4 Cups

Popcorn, popped

3 Cups

Pretzel Sticks

3 Cups

Peanut Butter Cereal Balls

2 Cups

White Chocolate, melted

1

-

2

Tbsp Coconut Oil, add more if chocolate is thick)

3 Tbsp

Peanut Butter

2 Cups

Mini Peanut Butter Cups
Instructions
Prepare a half sheet pan with parchment paper; set aside
In a large bowl, mix together the popcorn, pretzel sticks and peanut butter cereal balls
In a small bowl placed over a saucepan with simmering water, melt the white chocolate, coconut oil and peanut butter; stir until white chocolate is melted and has a thin consistency
Pour the white chocolate over the popcorn mixture and gently stir until all the pieces are coated in white chocolate
Pour the mixture onto the prepared sheet pan and spread out to cool
Sprinkle the mini peanut butter cups all over the popcorn mixture so it will stick to the mixture but do not stir or the chocolate will melt
Once the mixture is cool, transfer to a serving bowl
Enjoy!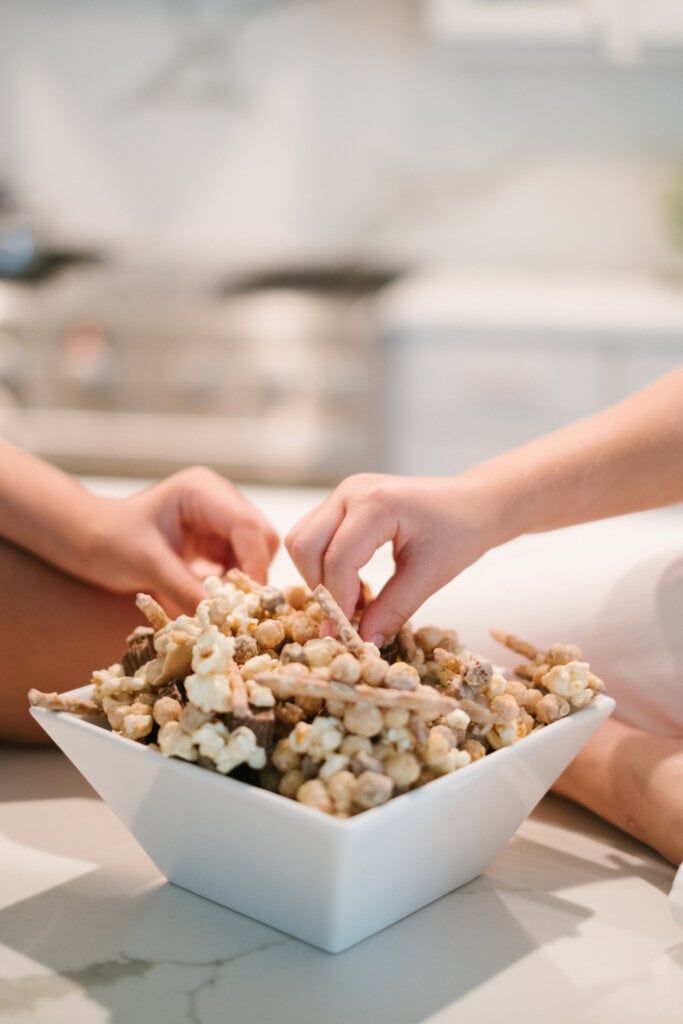 Print
Watermelon Lemonade
4 Cups

Watermelon Juice

1 Cup

Fresh Squeezed Lemon Juice
Simple Syrup:

½ Cup

Sugar

3 Cups

Water
Instructions
Cut watermelon into small chunks and run through a juicer or blender
Combine watermelon juice and lemon juice in a pitcher and set aside
In a small sauce pan, combine the granulated sugar and water and bring to a boil and sugar is dissolved
Remove from the heat and allow the simple syrup to cool in the refrigerator
Once the simple syrup is cool, pour it into the pitcher with the watermelon and lemon juice
Stir until combined
Pour over ice and enjoy!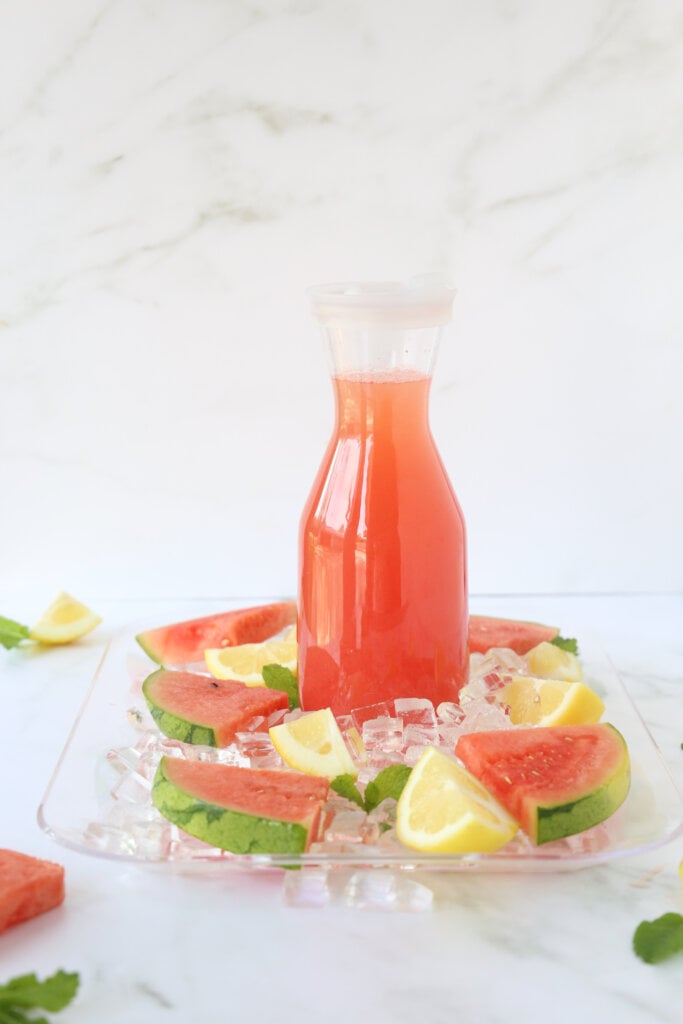 Photography by Stephanie Drenka
Thanks for stopping by!