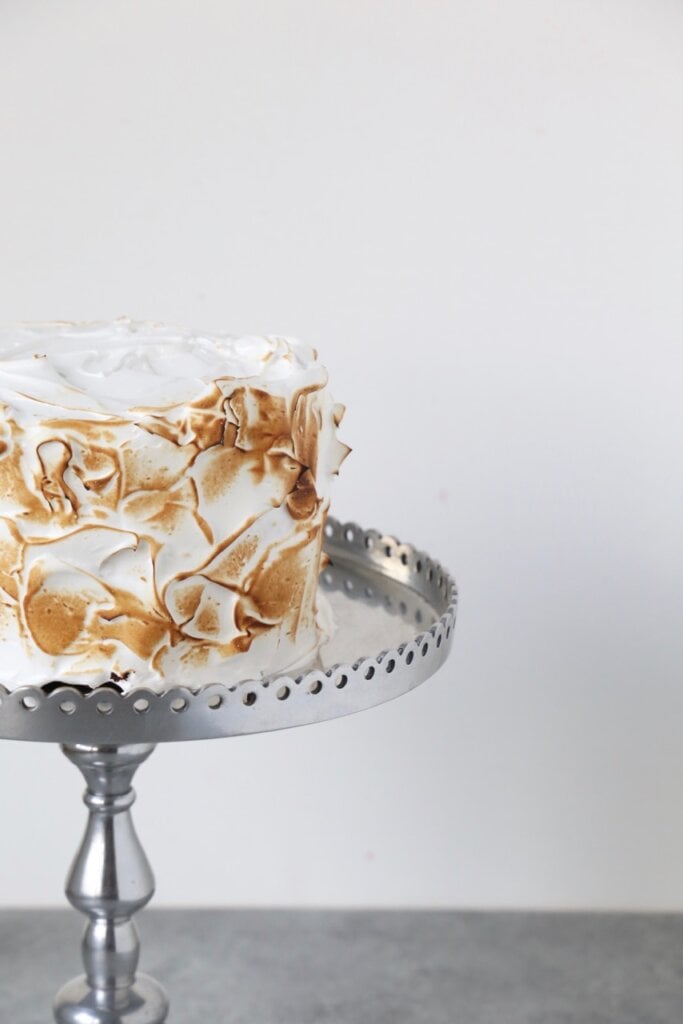 Everyone has their favorite…The best chocolate cake EVER!!! Well here is mine! I have been baking professionally for 14 years and I have gone through thousand of recipes, eaten at tons of restaurants and I am always curious why some chocolate cake is better than others. There are several techniques that can make a chocolate cake better than another. There are dense, moist, fluffy, and even flourless chocolate cakes that are all really good, but this is my favorite that I use almost every time we have a birthday because it is a super rich, moist and it won't fail you. There is nothing fancy to this recipe…just so good and filled with ganache and topped with a fluffy meringue icing for an elegant, not to sweet flavor is the only way to go!
Chocolate Cake
Ingredients
Chocolate Cake
2 Cup

s All Purpose Flour

2 Cup

s Granulated Sugar

3/4 Cup

Cocoa Powder

2 tsp

Baking Powder

1 1/2 tsp

Baking Soda

1 Cup

Buttermilk

1/2 Cup

Vegetable Oil

2

Eggs

1 tsp

Vanilla Extract

1 Cup

Boiling Water
Ganache Filling
1 Cup

Heavy Cream

1 Cup

Semi Sweet Chocolate
Meringue Icing
3

Egg Whites

1/2 Cup

Granulated Sugar
Instructions
Chocolate Cake
Preheat oven to 350 degrees F
Prepare (3) 8″ Cake Pans with spray and the bottom lined with parchment paper
In a medium bowl, combine the flour, sugar, cocoa powder, salt, baking soda and baking powder; whisk until combined, set aside
With a paddle attachment, mix together buttermilk, oil, eggs, and vanilla extract
Add the dry ingredient and mix on medium speed until the batter is smooth and all ingredients are fully incorporated
On low speed, slowly add the boiling water to the batter and mix until fully combined
Divide batter into 3-8 inch cake pans
Bake at 350 degrees for 25-30 minutes or until cake springs back at the touch
Allow the cakes to cool for 10-20 minutes before removing from the pan
Once cakes have cooled completely you can start layering and icing
Place cake on a cake stand or plate and layer with chocolate ganache
Once the cake is layered with ganache filling, ice the cake with meringue icing and torch the meringue to golden brown.
Refrigerate the cake, but once you are ready to serve let the cake sit out for 20-30 minutes to get to room temperature.
Chocolate Ganache Filling
Simmer the heavy cream in a small saucepan
Once the cream comes to a simmer, add the semisweet chocolate to the cream and slowly whisk until fully combined and smooth
Allow the ganache to cool and thicken before using
(leave at room temperature)
Meringue Icing
Add egg whites and granulated sugar to a mixing bowl
Place the mixing bowl over a saucepan with boiling water
Once the egg white and sugar mixture gets warm to the touch, place it on the mixer with a whisk attachment and whisk until it become stiff peaks
Immediately ice the cake with meringue icing
Torch the meringue until it is a golden color