Edible egg-free Chocolate Chip Cookie Dough Balls are bite size, glazed in chocolate and are sure to be the perfect addition to your holiday table.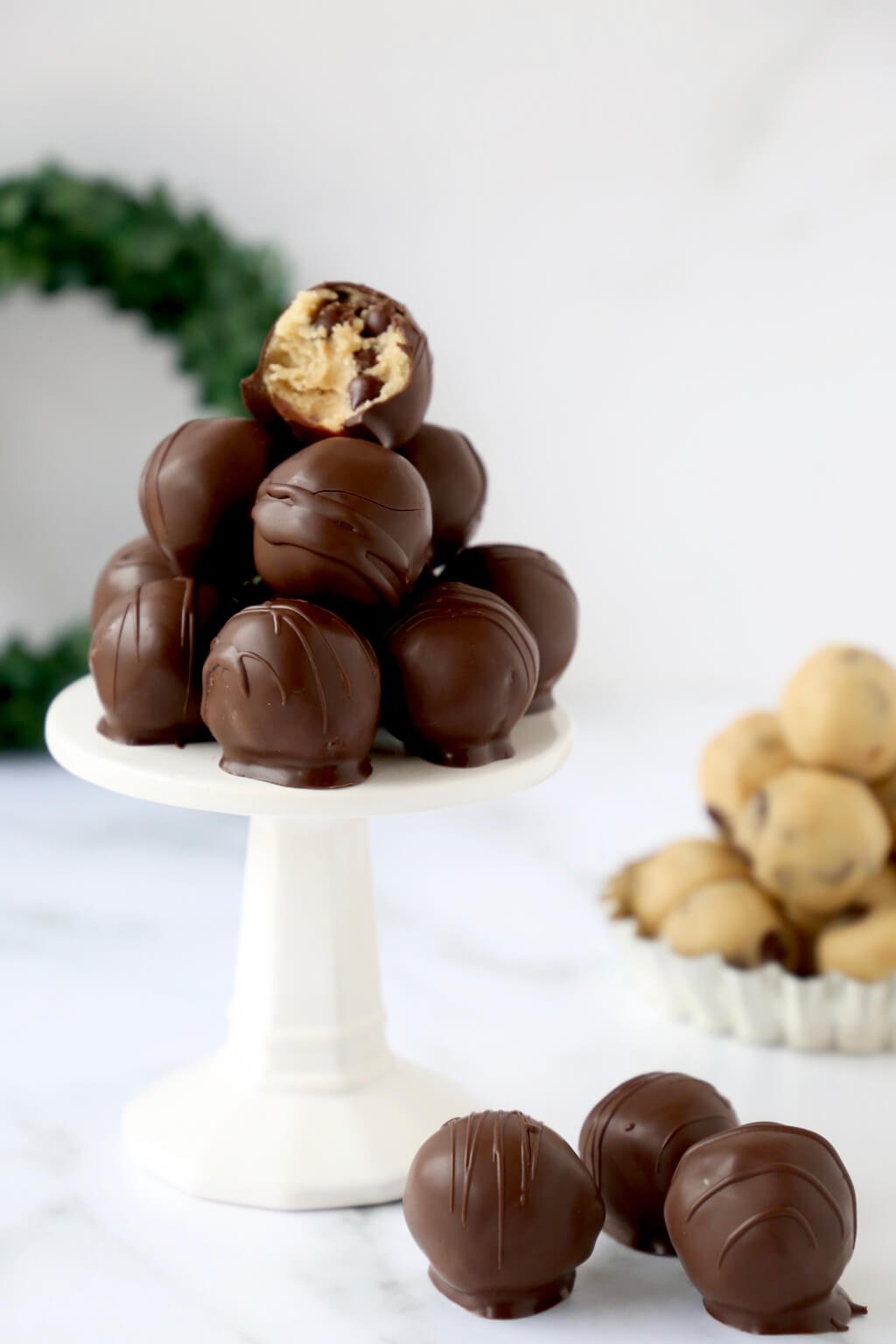 Day three of cookie week 2020 and I am trying not to choose favorites, but if I did, this one wins big time.  So we have all tested these out over and over again and now that they are out of my house I am still craving them.  These are the best of the best and now there is no more sneaking cookie dough bites while you are baking your favorite cookies, just make a batch of Chocolate Chip Cookie Dough Balls and you are all set!    
What Is A Chocolate Chip Cookie Dough Ball
Looks like a fancy truffle, but the cookie dough surprise might just be the best thing you eat all season long.  We all love cookie dough, but making it safe to eat, in bite size balls, dipped in chocolate; there is nothing better than that!  Cookie dough has become popular to eat, just like a scoop of ice cream, but there is only so much cookie dough you can eat in one serving.  I love the bite size balls of   Chocolate Chip Cookie dough; they are not overly sweet, made with simple ingredients and will be a beautiful addition to your holiday cookie board.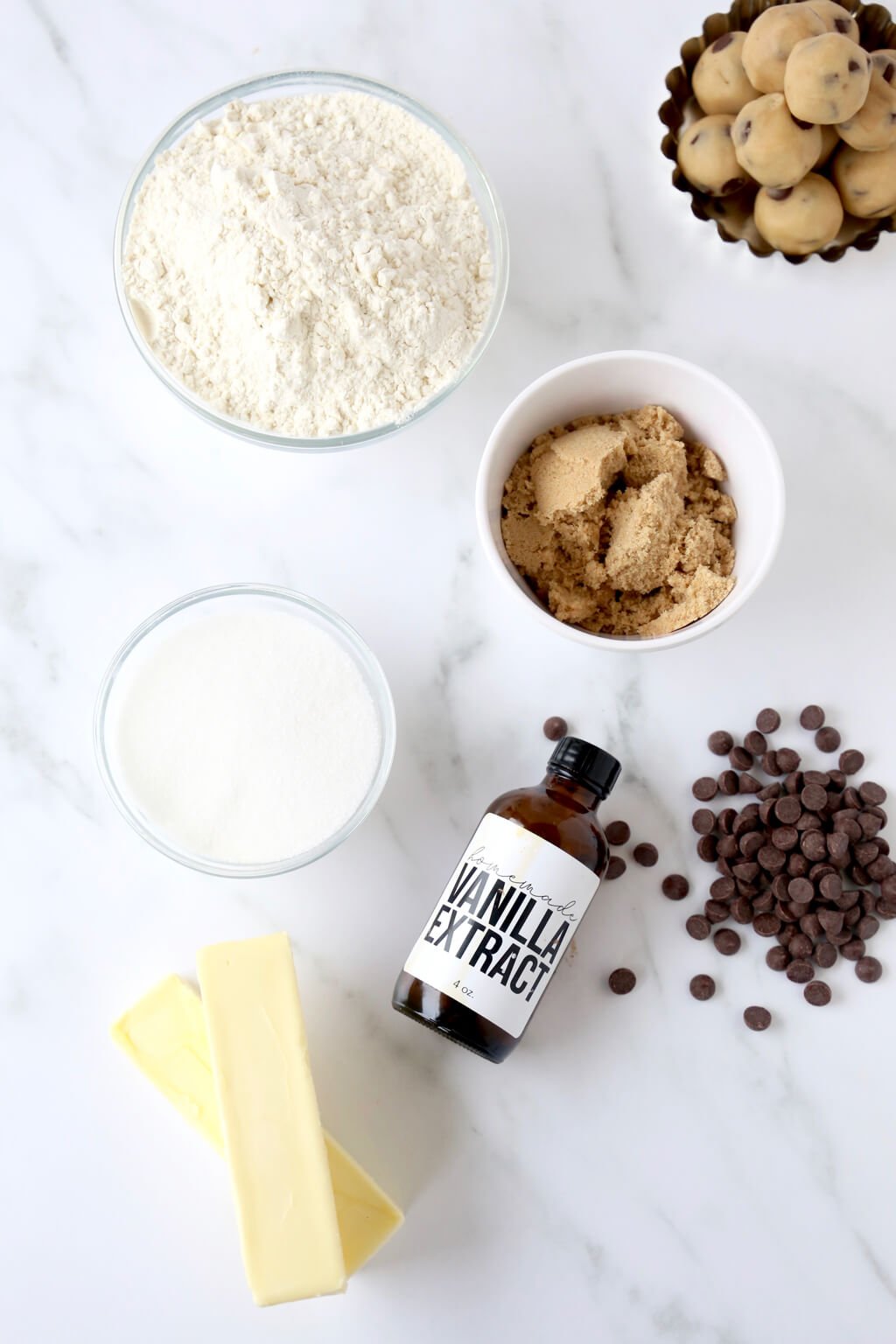 Ingredients To Make Chocolate Chip Cookie Dough Balls
All Purpose Flour

Salt

Unsalted Butter, Room Temperature

Light Brown Sugar

Granulated Sugar

Vanilla Extract


Heavy Whipping Cream

Semisweet Chocolate Chips 
Chocolate Glaze
Semisweet Chocolate Chips

Coconut Oil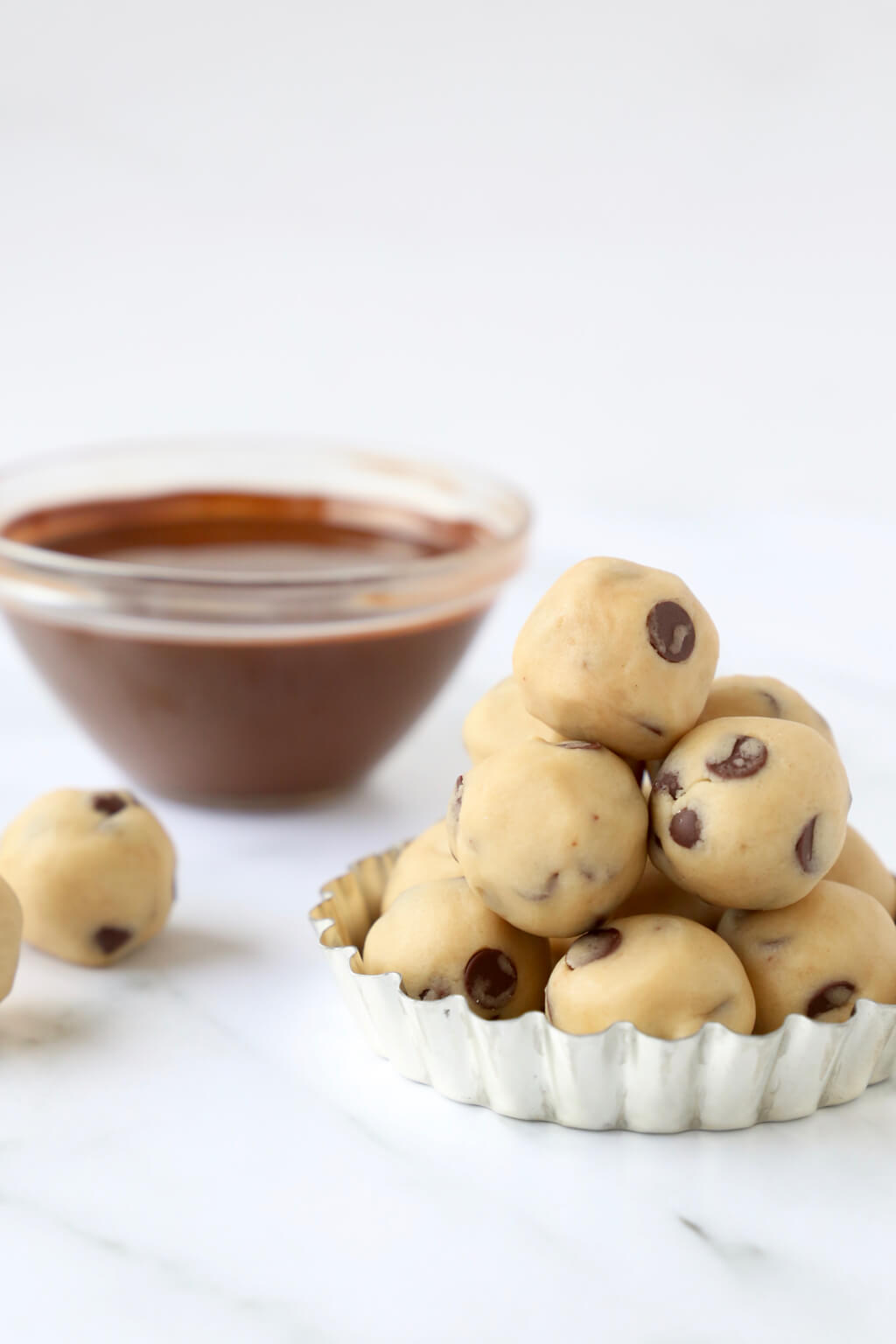 How To Make Chocolate Chip Cookie Dough Balls
Make The Cookie Dough
In a small bowl combine the flour and salt; set aside

In a mixing bowl with paddle attachment, cream together the butter, light brown sugar, granulated sugar and vanilla extract 

Slowly add the flour to the butter mixture until it is fully incorporated and then add the tablespoon of heavy cream

Add the chocolate chips into the cookie dough and mix on low speed just until fully combined 

Scoop the cookie dough using a tablespoon or mini ice cream scoop and roll into 1 inch balls and place on a parchment lined baking sheet
Melt The Chocolate and Dip
In a small microwave safe bowl melt the chocolate and coconut oil for 30 second increments until the chocolate is melted and smooth

Using a small fork, dip the cookie dough balls into the melted chocolate shaking off any excess chocolate that drips off

Place the dipped cookie dough balls on a parchment lined baking sheet and allow them to cool and harden completely or place in the refrigerator to allow the chocolate to set quickly

Serve the Chocolate Chip Cookie Dough Balls or place in an airtight container to enjoy at a later time 
Can You Eat Raw Cookie Dough
Growing up and even as adults we have all enjoyed our fair share of raw cookie dough, but it is not safe knowing that there are raw eggs in the batter.  Raw flour can also be a concern for some, you can purchase pasteurized flour or sprinkle the raw flour onto a baking sheet and bake at 350 degrees for 5 minutes to be on the safe side.  Making edible egg-free cookie dough ensures that your are enjoying each bite with safety while keeping the same delicious flavor!
More Recipes You Will Love
Chocolate Peanut Butter Pretzel Balls 
Rum Balls
The Best Chocolate Chip Pecan Cookies
Oatmeal Chocolate Chip Cookies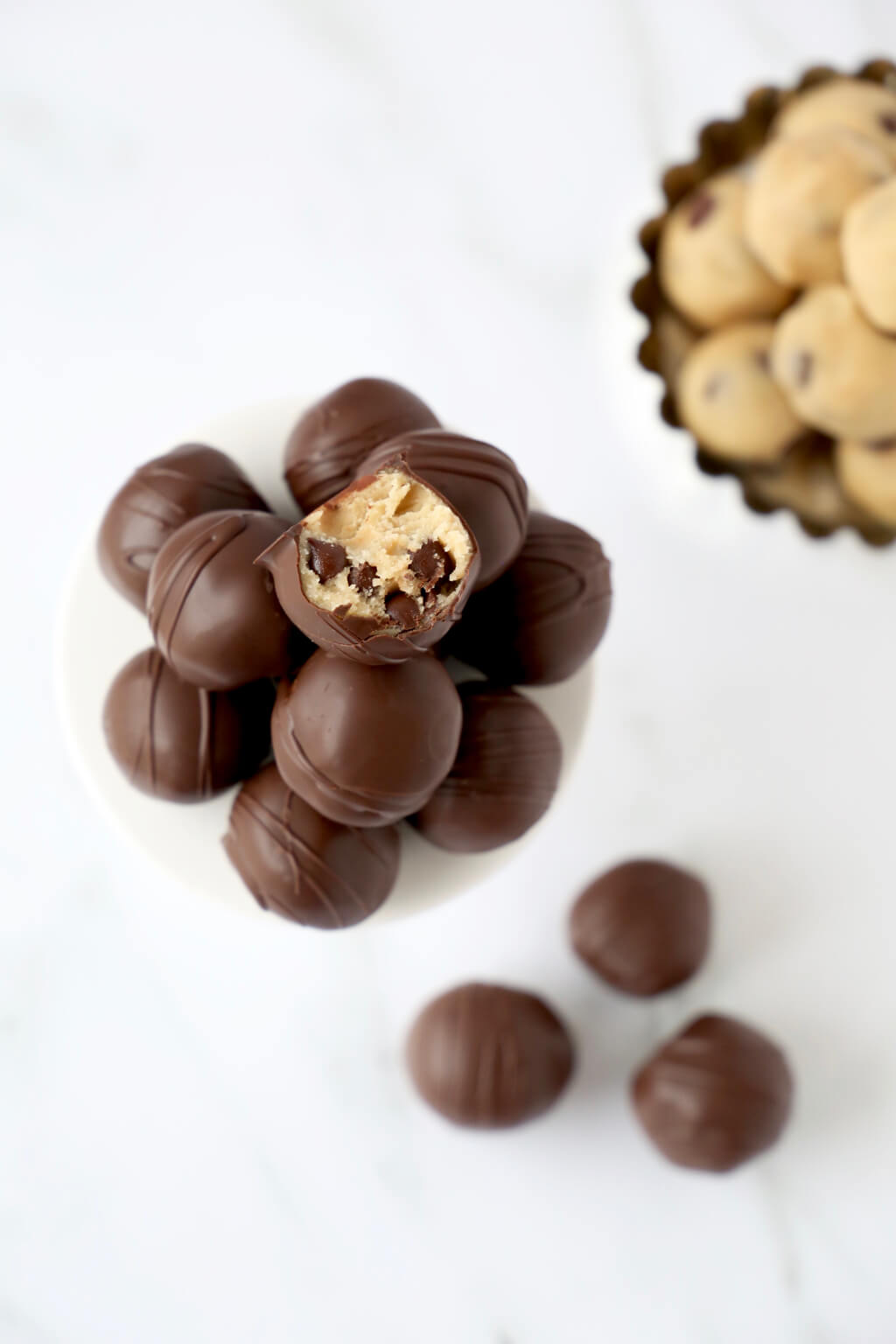 Print
Chocolate Chip Cookie Dough Balls
Author: kristen massad
Prep Time:

20 minutes

Total Time:

20 minutes

Yield:

28-30

Category:

Cookies
Chocolate Chip Cookie Dough Balls
1 ¼ Cup All Purpose Flour (Pasteurized Optional)
¼ teaspoon Salt
½ Cup Unsalted Butter, Room Temperature
½ Cup Light Brown Sugar
¼ Cup Granulated Sugar
1 teaspoon Vanilla Extract
1 Tablespoon Heavy Whipping Cream
1 Cup Semisweet Chocolate Chips 
Chocolate Glaze
2 Cups Semisweet Chocolate Chips
2 teaspoon Coconut Oil 
Instructions
Make The Cookie Dough
In a small bowl combine the flour and salt; set aside

In a mixing bowl with paddle attachment, cream together the butter, light brown sugar, granulated sugar and vanilla extract 

Slowly add the flour to the butter mixture until it is fully incorporated and then add the tablespoon of heavy cream

Add the chocolate chips into the cookie dough and mix on low speed just until fully combined 

Scoop the cookie dough using a tablespoon or mini ice cream scoop and roll into 1 inch balls and place on a parchment lined baking sheet
Melt The Chocolate and Dip
In a small microwave safe bowl melt the chocolate and coconut oil for 30 second increments until the chocolate is melted and smooth

Using a small fork, dip the cookie dough balls into the melted chocolate shaking off any excess chocolate that drips off

Place the dipped cookie dough balls on a parchment lined baking sheet and allow them to cool and harden completely or place in the refrigerator to allow the chocolate to set quickly

Serve the Chocolate Chip Cookie Dough Balls or place in an airtight container to enjoy at a later time 
Keywords: Chocolate Chip Cookie Dough Balls