Chocolate Dipped Coconut Macaroons are made with simple ingredients and are the perfect bite for your spring gathering! Made with coconut, egg whites, honey, sugar and flour makes these bites size crispy on the outside and chewy in the middle.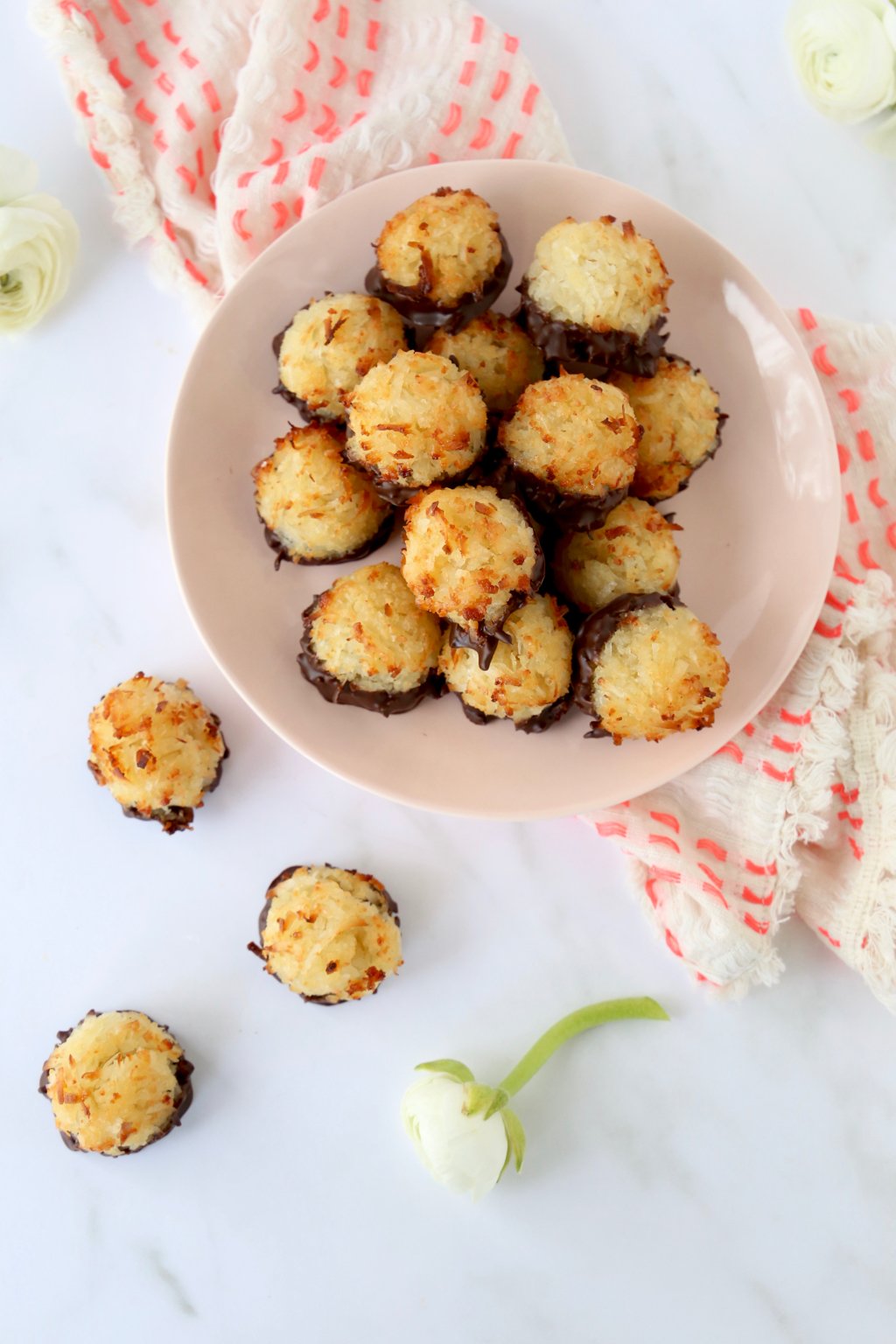 Toasted coconut on the outside and chewy on the inside, a traditional coconut macaroon is a cookie that should not be missed. When you think of a macaroon there are two very popular types that come to mind. Although they come from very similar backgrounds, they look and taste different. Created in Italy, the macaroon was first made with almond paste, also known as amaretti cookies. After years of making this cookie two bakers changed things up and created their version of the macaroon. The coconut macaroon became very popular in the jewish community and is a special treat during passover, while the Macaron with one O using french grammar is made with almond flour, egg whites and are two cookies sandwiched together.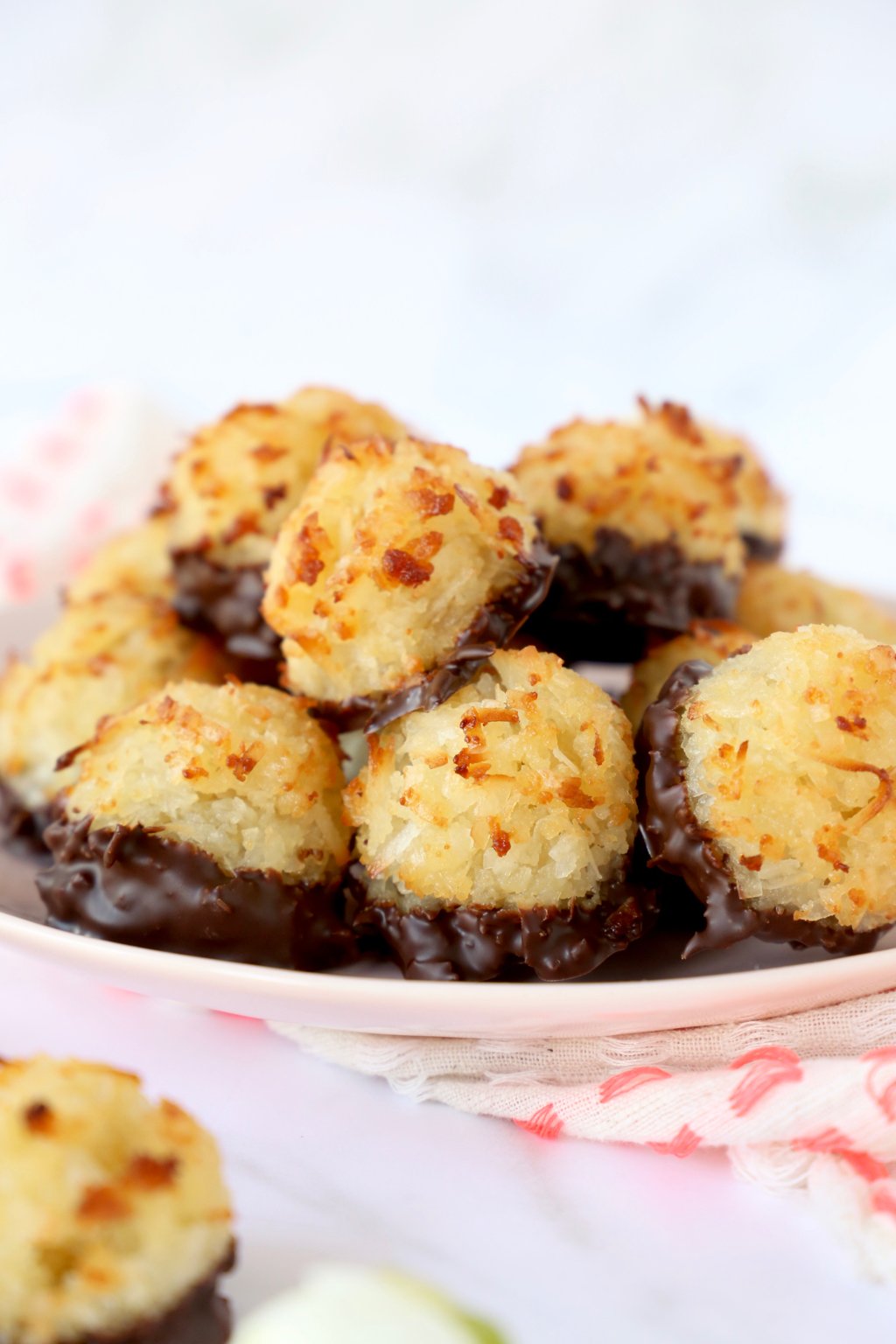 Ingredients
Egg Whites
Granulated Sugar
Salt
Honey
Shredded Unsweetened Coconut
All Purpose Flour
Vanilla Extract
Dipping Chocolate:
Dark Chocolate
Coconut Oil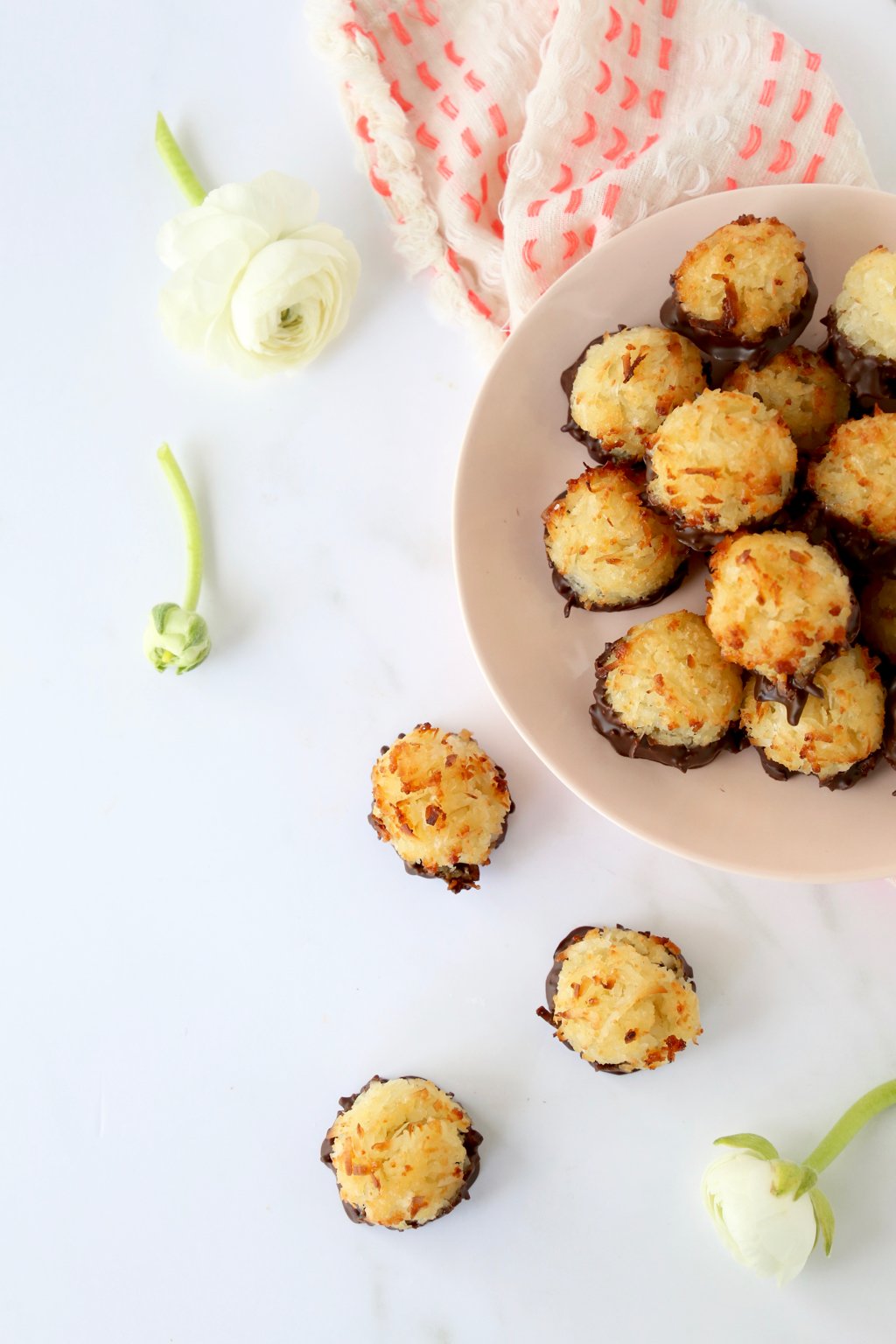 Step-By-Step Instructions
In a medium bowl, combine the coconut, all purpose flour and vanilla extract; set aside
In large saucepan warm egg whites, sugar, salt and honey and stir until warm to the touch
Stir in the coconut mixture and continue cooking over medium heat until slightly dry and bottom of pan begins to sizzle
Pour the coconut macaroon batter into bowl and allow the batter to cool completely before refrigerating; refrigerate for 1-2 hour or overnight
While the batter is cooling or before you are ready to bake the macaroons, preheat the oven to 350 degrees F and prepare a baking sheet with parchment paper
Scoop into 1 ½″ balls and place on the prepared baking sheet
Bake the coconut macaroons for 18-20 minutes or until the top of the cookies start to get a a few flecks of a golden color
Allow the cookies to cool completely before dipping them in chocolate
In a small microwave safe bowl, combine the chocolate and coconut oil
Microwave on high for 30 second increments, stirring in between until fully melted and smooth
Remove the bowl from the microwave and dip the bottom of each coconut macaroon in the chocolate
Place the macaroons on the parchment lined baking sheet and allow them to cool completely or refrigerate to allow the chocolate to harden
Serve or store in an airtight container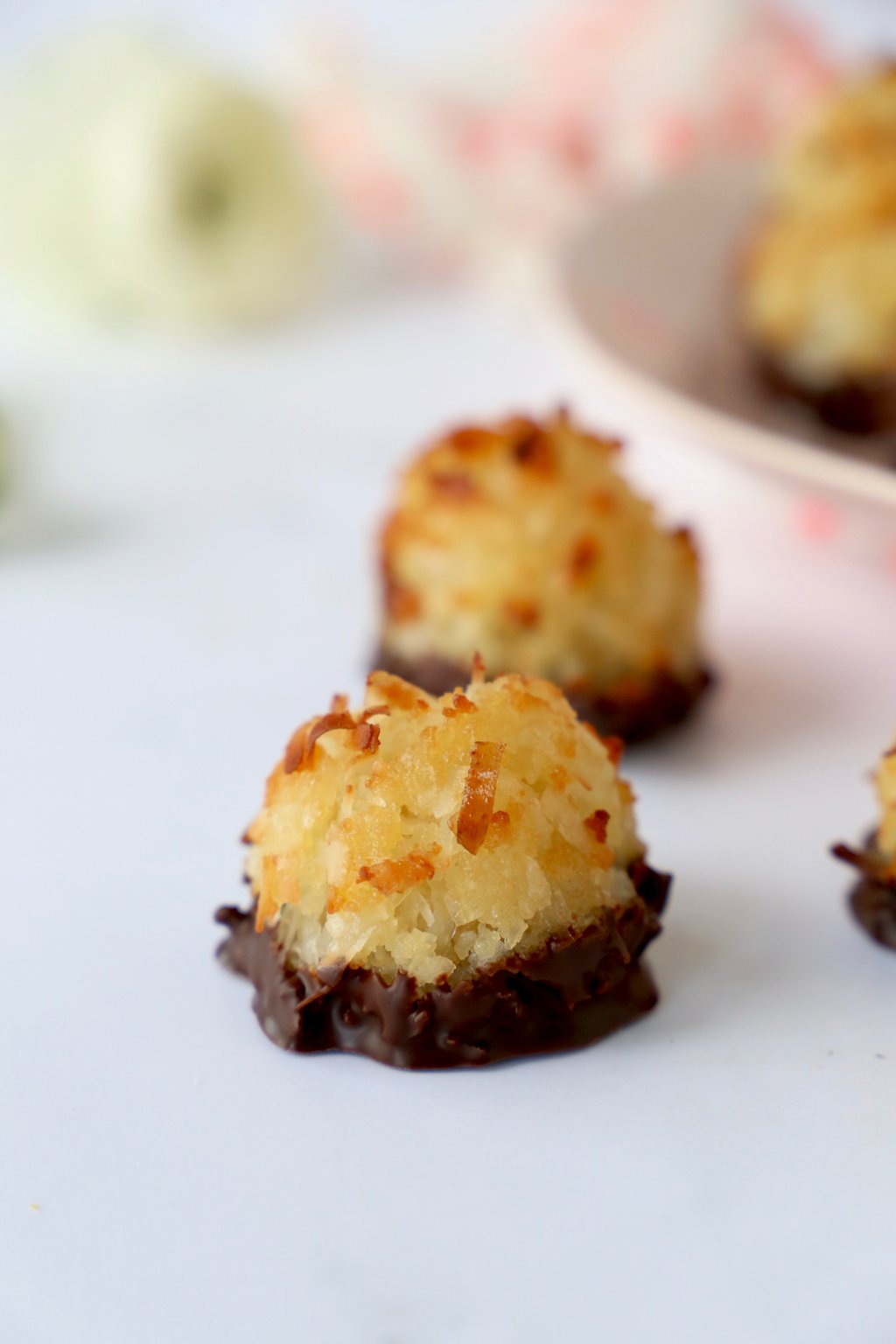 Recipe Variations
Make Them Gluten Free-Switch out the all purpose flour for gluten free flour or almond flour to make these officially gluten free.
More Spring Recipes You Will Love
Coconut Lemon Cake
Spring Charcuterie Board
Classic Carrot Cake
Elderflower Old Fashioned
Print
Chocolate Dipped Coconut Macaroons
Author: Kristen Massad
Cook Time:

20 minutes

Total Time:

20 minutes

Yield:

2

4

1

x
Passover Coconut Macaroons
2 ½ Cups Shredded Coconut
¼ Cup All Purpose Flour
½ tsp Vanilla Extract
8 Egg Whites
1 ¼ Cups Sugar
¼ tsp Salt
1 Tbsp Honey
Chocolate for Dipping
1 cup Dark Chocolate Chips
1 tsp Coconut Oil
Instructions
In a medium bowl, combine the coconut, all purpose flour and vanilla extract; set aside 
In large saucepan warm egg whites, sugar, salt and honey and stir until warm to the touch
Stir in the coconut mixture and continue cooking over medium heat until slightly dry and bottom of pan begins to sizzle
Pour the coconut macaroon batter into bowl and allow the batter to cool completely before refrigerating; refrigerate for 1-2 hour or overnight
While the batter is cooling or before you are ready to bake the macaroons, preheat the oven to 350 degrees F and prepare a baking sheet with parchment paper 
Scoop into 1 ½″ balls and place on the prepared baking sheet
Bake the coconut macaroons for 18-20 minutes or until the top of the cookies start to get a a few flecks of a golden color 
Allow the cookies to cool completely before dipping them in chocolate
In a small microwave safe bowl, combine the chocolate and coconut oil
Microwave on high for 30 second increments, stirring in between until fully melted and smooth
Remove the bowl from the microwave and dip the bottom of each coconut macaroon in the chocolate 
Place the macaroons on the parchment lined baking sheet and allow them to cool completely or refrigerate to allow the chocolate to harden
Serve or store in an airtight container 
Keywords: Chocolate Dipped Coconut Macaroons, Coconut Macaroons, Gluten Free Coconut Macarons