Three layers of moist carrot cake and the fluffiest cream cheese frosting makes up the most delicious Classic Carrot Layer Cake. This is the perfect spring cake, loaded with shredded carrots, chopped pecans and shredded coconut.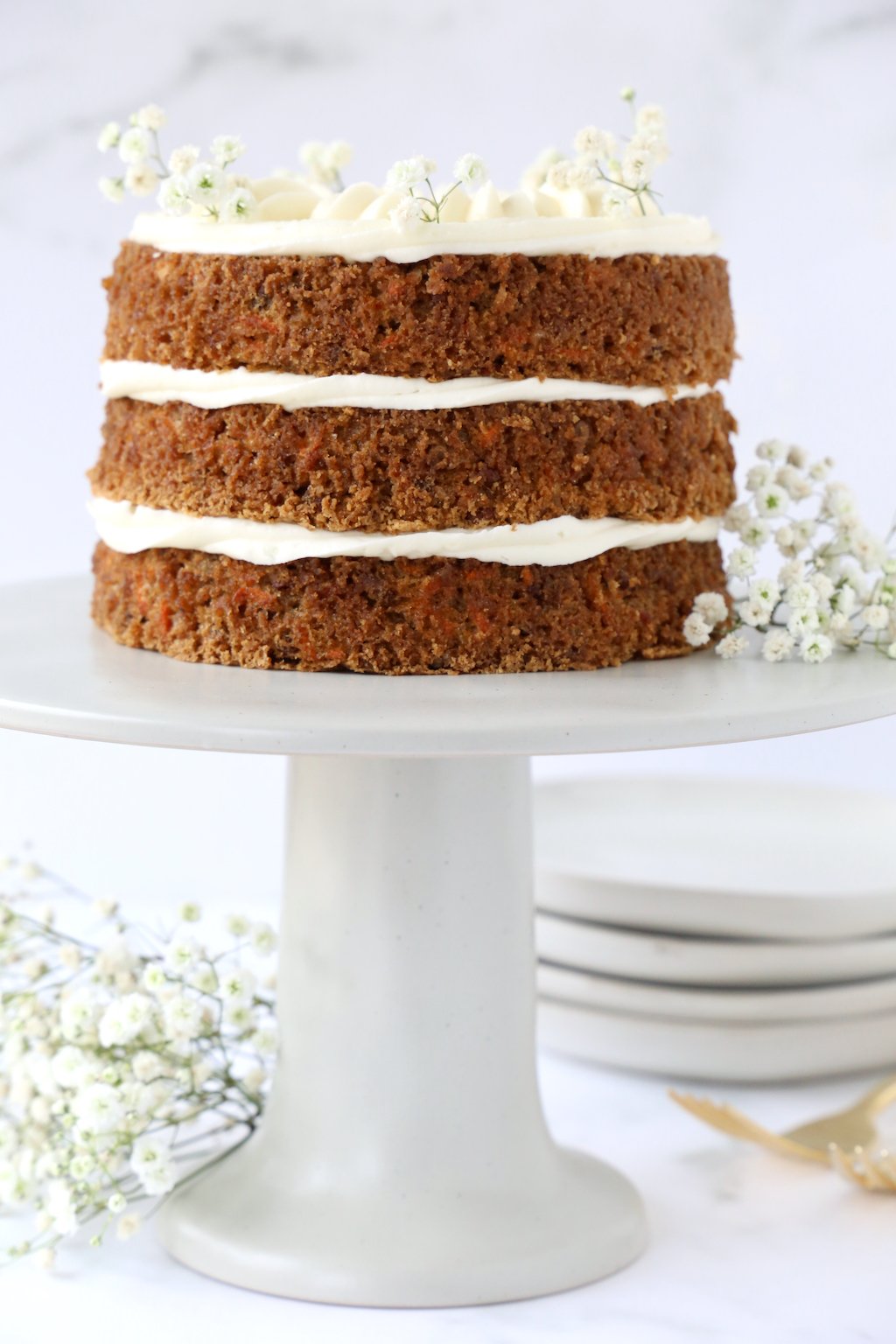 One of my all time favorite and oldest recipes to bake, this Classic Carrot Cake is a recipe from my grandmother that has been passed down from generation to generation and is loved by all. Loaded with shredded carrots, shredded coconut and chopped pecans, this cake is dense, super moist and pairs perfectly with the creamiest cream cheese frosting. Three layers of cake and cream cheese frosting can be left naked or can be fully frosted. To make this cake a little extra moist, add simple syrup to each layer of cake.
Ingredients
Carrot Cake Batter
Granulated Sugar-The sweetening agent in this cake is granulated sugar
Eggs-Use large eggs that are at room temperature
Vegetable Oil- Liquid fat such as vegetable oil creates a super moist texture
Buttermilk- Similar to yogurt or sour cream, buttermilk brings an acidic ingredient to the cake to create a tender texture and is the reacting agent to baking soda
Vanilla Extract-Every recipe needs a dash of Vanilla Extract, store bought or homemade
All Purpose Flour- All purpose flour is the flour of choice for this recipe, but you can also make this gluten free by substituting the flour for a gluten free flour blend
Baking Soda-The leavening agent in the cake that is activated when combined with an acidic ingredient
Salt- A dash of salt enhances the flavor of the other ingredients in a recipe
Ground Cinnamon-Carrot Cake is known for its spiced flavor and cinnamon adds the perfect amount
Shredded Carrots-The spotlight ingredient in this recipe needs to be peeled and then shredded by hand or in a food processor
Chopped Pecans-Adding a great texture and a nutty flavor to the cake, pecans are the most popular nut added to carrot cake but can be substituted for walnuts or removed completely if there is an allergy
Shredded Coconut-Adding flavor and texture to the cake, coconut is a great addition but can also be removed if it is not a fan favorite

Cream Cheese Frosting
Unsalted Butter-Make sure to purchase unsalted butter because you don't want added salt add into your frosting and only use at room temperature
Cream Cheese-Full fat cream cheese will make for a very creamy frosting. If you use low fat it will be more watery and will not create a thick and stable texture
Vanilla Extract- A dash of vanilla extract add so much flavor to this simple recipe
Powdered Sugar- Also known as confectioners' sugar or icing sugar, powdered sugar is produced by processing granulated sugar into a powdered state and makes frosting every fluffy and smooth without the granules of sugar.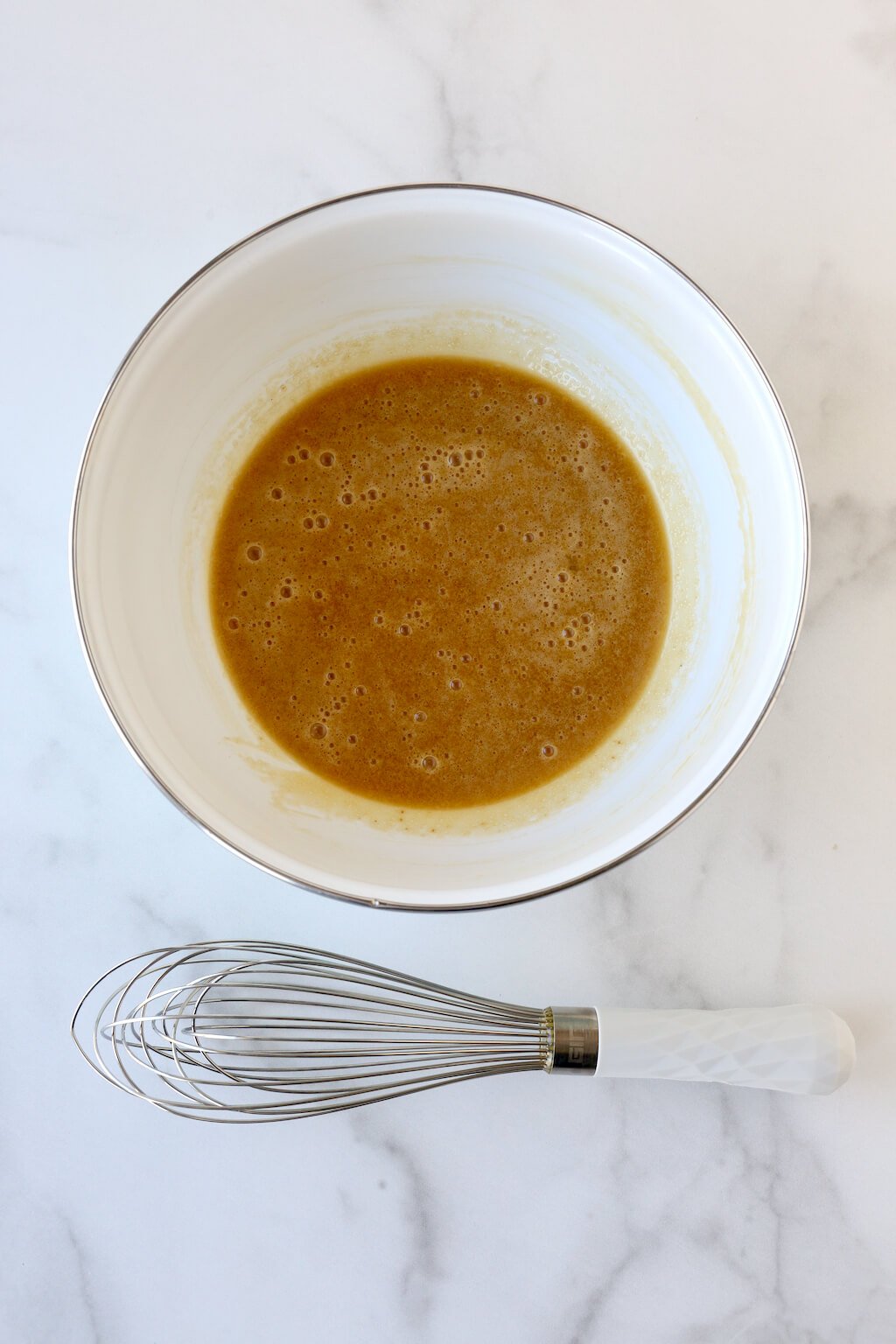 Recipe Variations
Remove Coconut: I love the addition of coconut but if you are not a fan it can easily be removed!
Add Raisins: Add ¼ Cup of raisins to the cake batter
Add Pineapple: Make carrot cake a little more tropical by adding ½ cup of crushed pineapple (make sure to drain the additional juice)
Make it Gluten Free: replace the all purpose flour with a gluten free flour blend
Make Spiced Cream Cheese Frosting: add ½ teaspoon of ground cinnamon to the cream cheese frosting for an extra touch of spice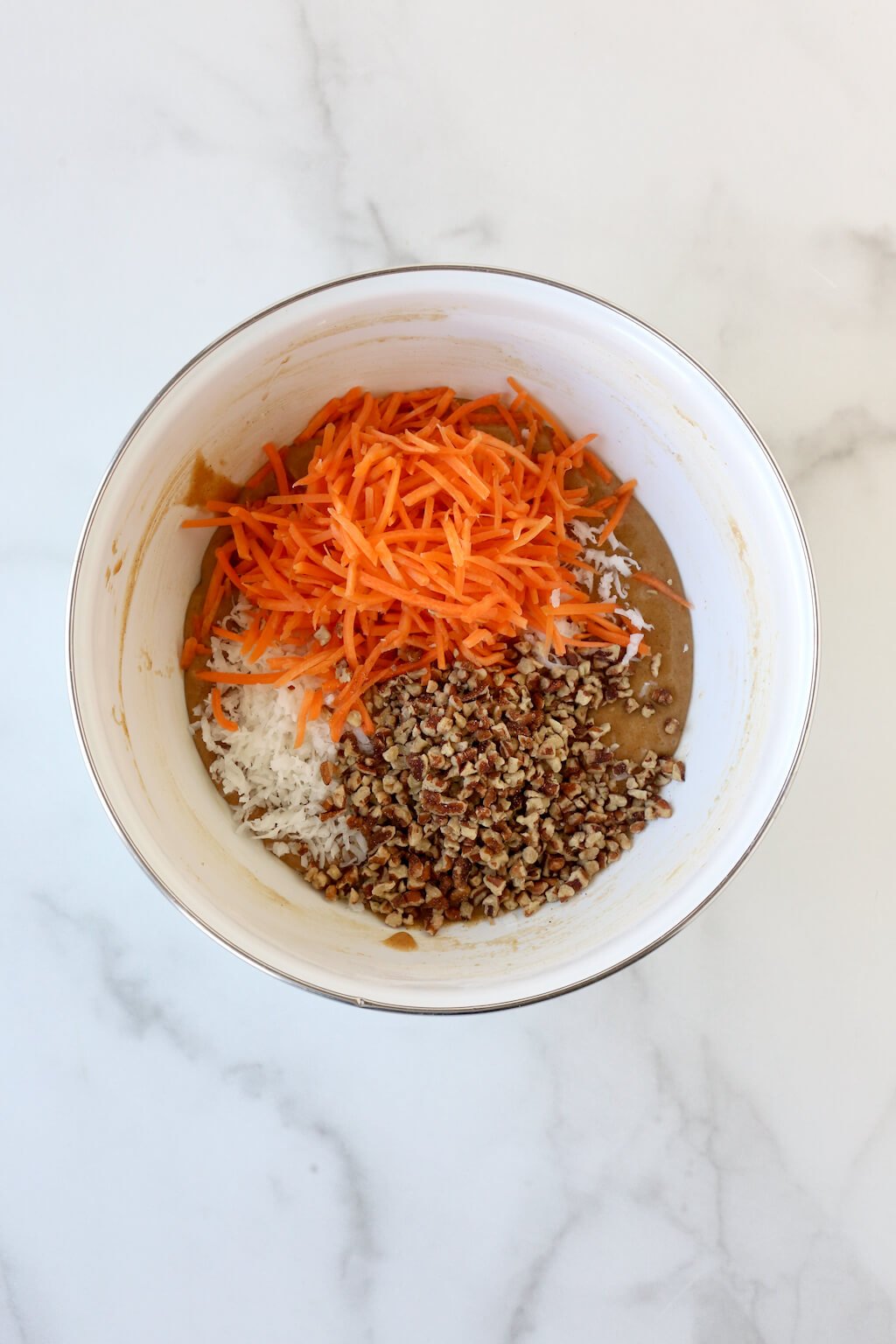 Step-By-Step Instructions
Prep and Preheat Preheat the oven to 350 degrees F and prepare 3-8 inch round cake pans with pan spray and place a 8 inch round piece of parchment at the bottom of each pan
Mix Together Dry Ingredients In a large mixing bowl combine the flour, baking soda, salt, ground cinnamon; set aside
Mix Together Wet Ingredients In another large mixing bowl or bowl of electric mixer combine the granulated sugar, eggs, vegetable oil, buttermilk and vanilla extract; whisk until smooth
Combine The Wet and Dry Ingredients Add the dry ingredients into the wet ingredients and whisk until all ingredients are fully combined and smooth
Fold Using a spatula, fold the shredded carrot, chopped pecans and shredded coconut into the carrot cake batter
Divide The Batter and Bake Divide the cake batter into the three 8 inch cake pans and bake at 350 degrees F for 16-17 minutes or until the cakes spring back at the touch
Cool and Prep Frosting Remove the cakes from the oven and allow them to cool completely before removing them from the pans. While the cakes are cooling, prepare the Cream Cheese Frosting
Layer Once the cakes are cooled, place the first layer of cake on a cake board or cake stand, and add a layer of cream cheese to the top of the cake layer. Repeat layering the cake and cream cheese frosting until all cakes are layered, finish with cream cheese frosting. Leave the layers naked or ice the exterior of the cake with cream cheese frosting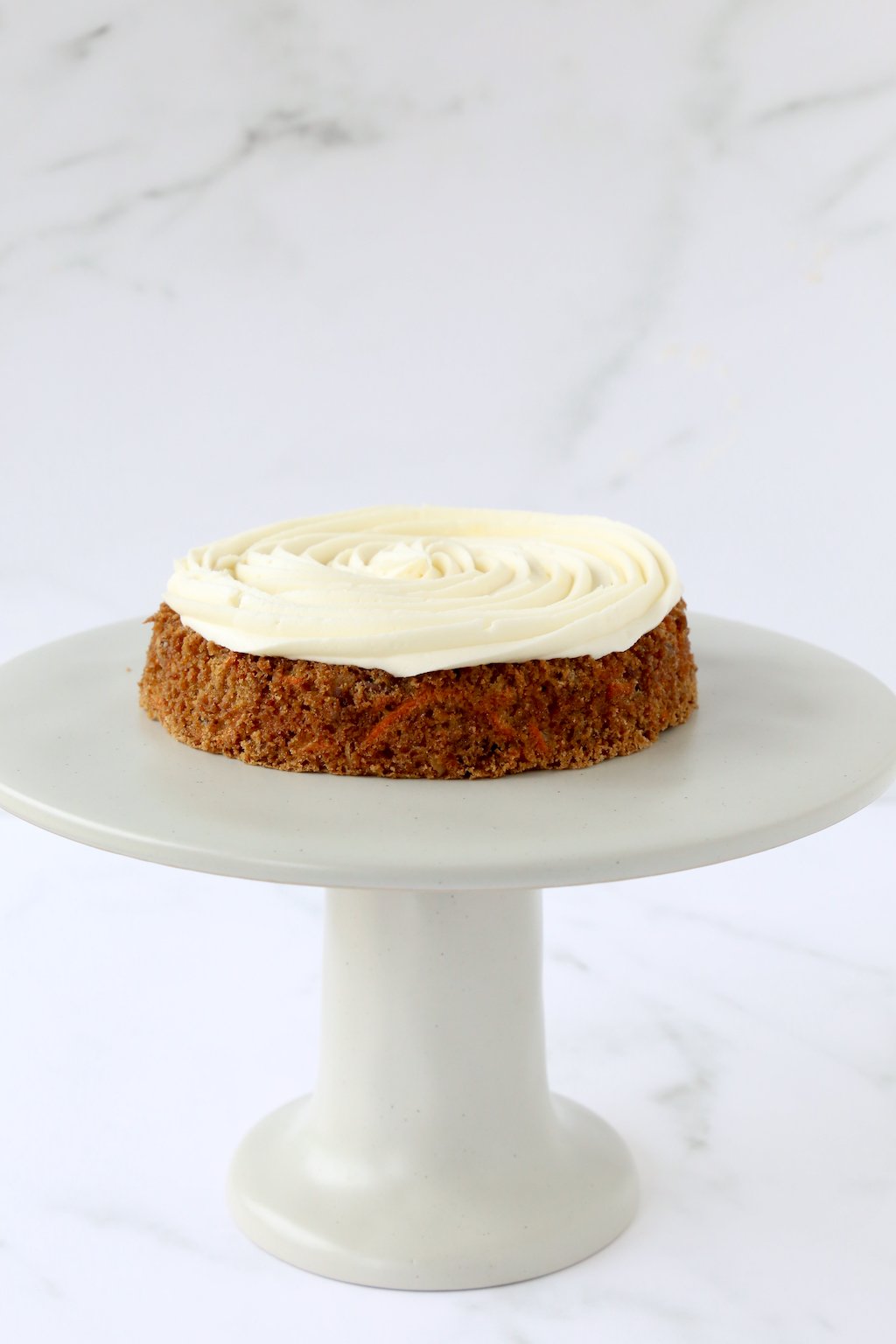 Prepare The Frosting In a mixing bowl with paddle attachment, cream together the unsalted butter, cream cheese and vanilla extract until smooth and creamy. Slowly add the powdered sugar into the cream cheese mixture
Beat Once all the powdered sugar is incorporated, turn the mixer on medium to high speed and mix until light, fluffy and creamy
Frost Ice the carrot cake layers and the exterior of the cake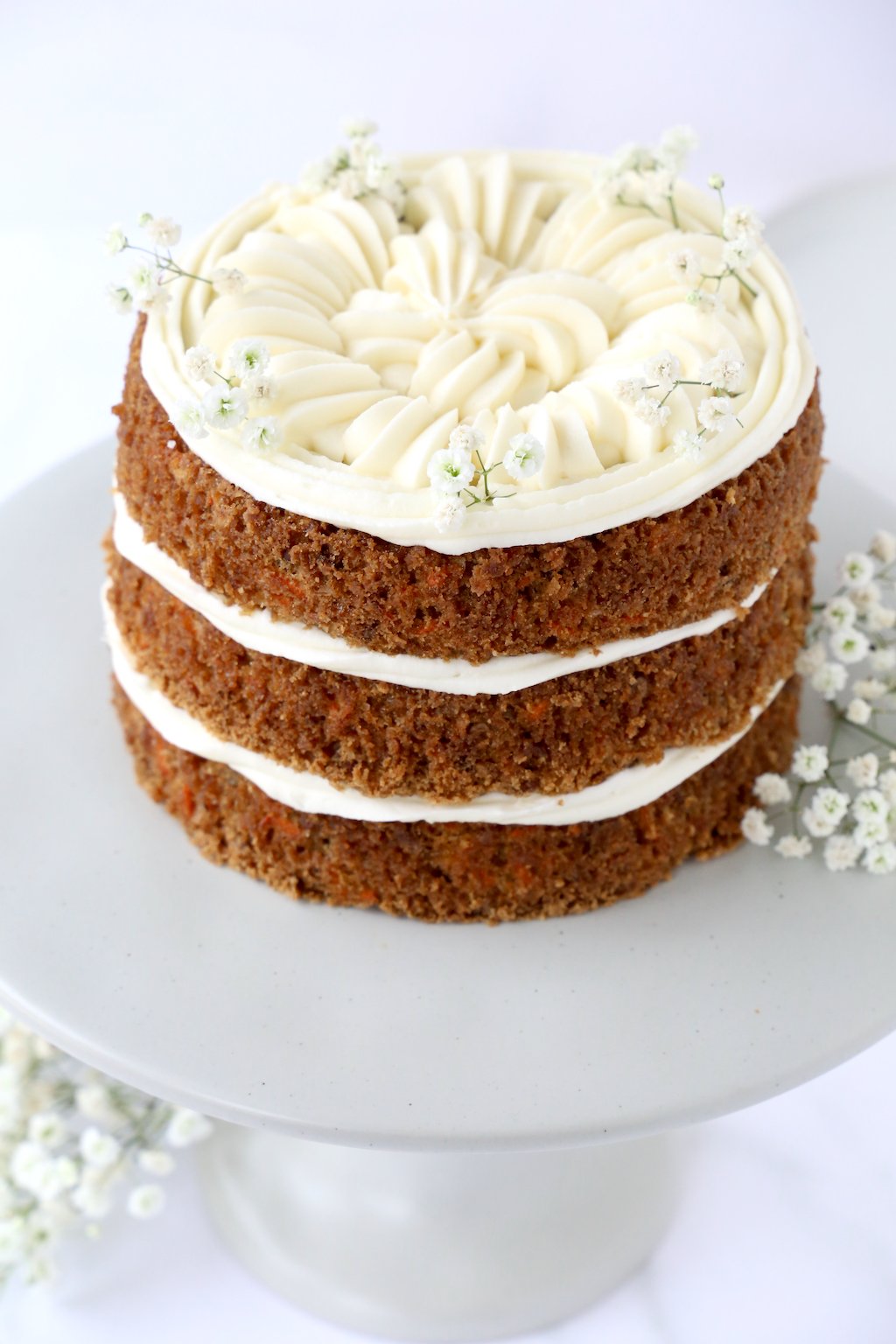 Steps To Layering A Cake
Layering cakes can be intimidating, but there are a few simple steps that can make it so much easier. First, make sure that your cake layers are completely cooled. If you prefer to chill them, that might make the frosting set even faster and will leave less room for the cake to slide. Alternate the cake layers with frosting layers until all cake layers are used. If you want to keep the cake a naked cake (no frosting on the outside), the final step is to ice the top layer and then garnish with a decoration of your choice. If you plan to frost the outside of the cake, it is best to refrigerate the cake to allow the frosting layers to harden if you and the cake will not slide when you frost the outside of the cake. Create a crumb coat, this layer of frosting will seal all the crumbs in so that the final coat of frosting will be smooth. Once the crumb coat is applied, refrigerate the cake again for thirty minutes or until the first layer of frosting is set. Using an offset spatula, ice the final layer of the cake to be smooth or create a rustic texture.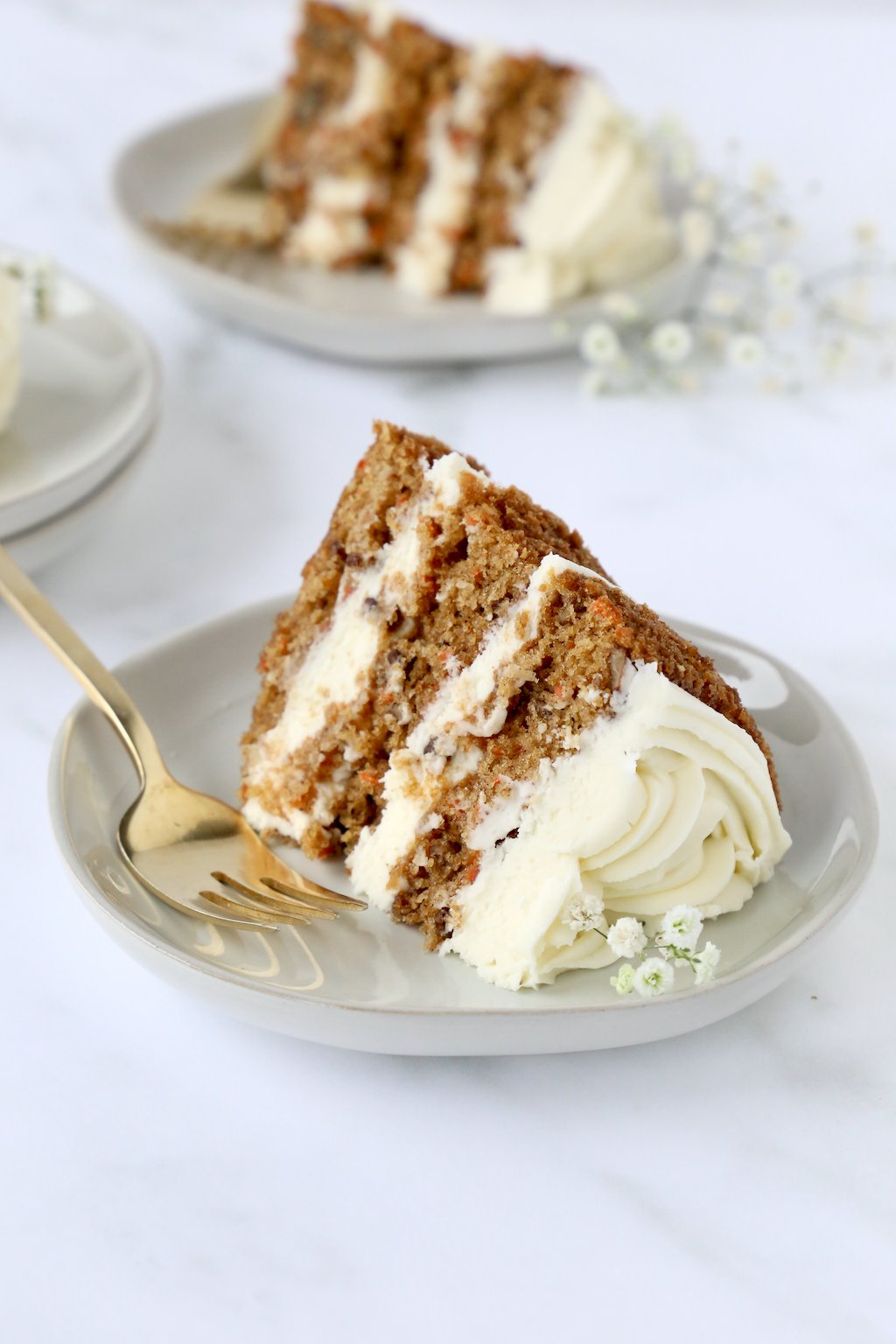 Expert Tips and FAQS
Make Carrot Cupcakes: This recipe can be made into cupcake but will need to be baked for 14-16 minutes or until they spring back at the touch
Make A Bundt Cake: I love the simplicity of a bundt cake and this recipe works great. Double the recipe and bake time will be a bit longer. Frost the top of the bundt with cream cheese frosting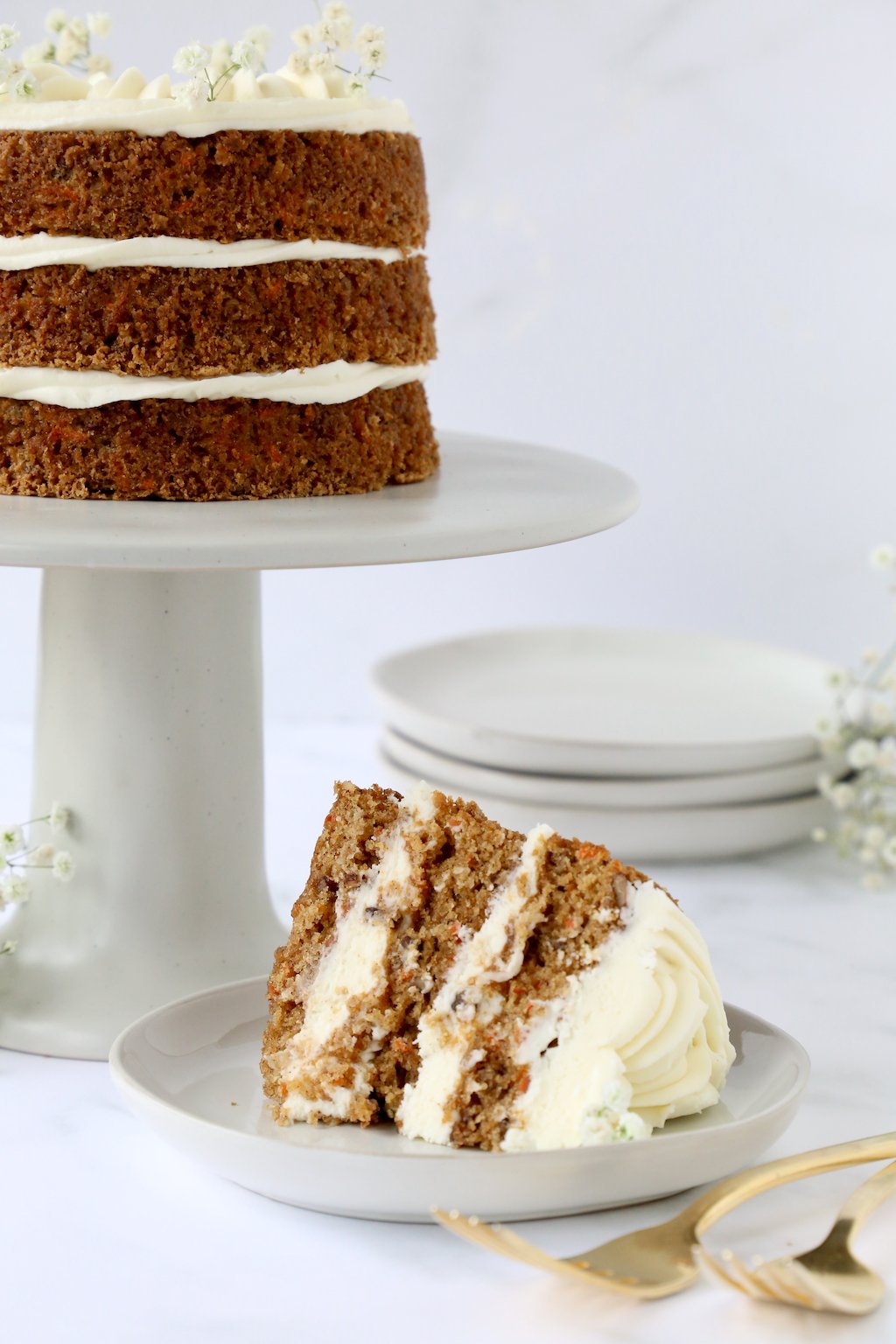 More Cake Recipes You Will Love
Thank you visiting Joy + Oliver. If you tried this recipe, please leave a 5 Star Review in the recipe card and save all your favorite recipes to Pinterest!
Follow me for fresh new recipes on Instagram, Facebook and Pinterest
Classic Carrot Layer Cake
Three layers of moist carrot cake and the fluffiest cream cheese frosting makes up the most delicious
Classic Carrot Layer Cake
.  This is the perfect spring cake, loaded with shredded carrots, chopped pecans and shredded coconut.
Print
Pin
Rate
Ingredients
Carrot Cake Batter
2

Cups

All Purpose Flour

2

Teaspoon

Baking Soda

½

Teaspoon

Salt

2

Teaspoons

Ground Cinnamon

3

Eggs

2

Cups

Granulated Sugar

¾

Cup

Vegetable Oil

¾

Cup

Buttermilk

2

Teaspoons

Vanilla Extract

2

Cups

Carrots

Shredded

½

Cup

Pecans

Chopped

½

Cup

Coconut

Shredded
Cream Cheese Frosting
1

Cup

Unsalted Butter

Room Temperature

16

Ounces

Cream Cheese

Room Temperature

1

Tablespoon

Vanilla Extract

8

Cups

Powdered Sugar
Instructions
Carrot Cake 
Preheat the oven to 350 degrees F and prepare 3-8 inch round cake pans with pan spray and place a 8 inch round piece of parchment at the bottom of each pan

In a large mixing bowl combine the flour, baking soda, salt, ground cinnamon; set aside 

In another large mixing bowl or bowl of electric mixer combine the granulated sugar, eggs, vegetable oil, buttermilk and vanilla extract; whisk until smooth

Add the dry ingredients into the wet ingredients and whisk until all ingredients are fully combined and smooth 

Using a spatula, fold the shredded carrot, chopped pecans and shredded coconut into the carrot cake batter 

Divide the cake batter into the three 8 inch cake pans 

Bake at 350 degrees F for 16-17 minutes or until the cakes spring back at the touch 

Remove the cakes from the oven and allow them to cool completely before removing them from the pans 

While the cakes are cooling, prepare the Cream Cheese Frosting 

Once the cakes are cooled, place the first layer of cake on a cake board or cake stand, and add a layer of cream cheese to the top of the cake layer

Repeat layering the cake and cream cheese frosting until all cakes are layered, finish with cream cheese frosting.  Leave the layers naked or ice the exterior of the cake with cream cheese frosting 
Cream Cheese Frosting
In a mixing bowl with paddle attachment, cream together the unsalted butter, cream cheese and vanilla extract  until smooth and creamy

Slowly add the powdered sugar into the cream cheese mixture 

Once all the powdered sugar is incorporated, turn the mixer on medium to high speed and mix until light, fluffy and creamy

Ice the carrot cake layers and the exterior of the cake

 
Notes
Recipe Variations 
Remove Coconut:

I love the addition of coconut but if you are not a fan it can easily be removed! 

 

Add Raisins:

Add ¼ Cup of raisins to the cake batter 

Add Pineapple:

Make carrot cake a little more tropical by adding ½ cup of crushed pineapple (make sure to drain the additional juice) 

Make it Gluten Free:

replace the all purpose flour with a gluten free flour blend 

Make Spiced Cream Cheese Frosting:

add ½ teaspoon of ground cinnamon to the cream cheese frosting for an extra touch of spice

 
Recipe FAQS and Expert Tips 
Make Carrot Cupcakes:

This recipe can be made into cupcake but will need to be baked for 14-16 minutes or until they spring back at the touch 

Make A Bundt Cake:

I love the simplicity of a bundt cake and this recipe works great.  Double the recipe and bake time will be a bit longer.  Frost the top of the bundt with cream cheese frosting 
Nutrition
Serving:
12
g
|
Calories:
538
kcal
|
Carbohydrates:
54
g
|
Protein:
5
g
|
Fat:
35
g
|
Saturated Fat:
23
g
|
Polyunsaturated Fat:
2
g
|
Monounsaturated Fat:
8
g
|
Trans Fat:
1
g
|
Cholesterol:
83
mg
|
Sodium:
329
mg
|
Potassium:
164
mg
|
Fiber:
2
g
|
Sugar:
36
g
|
Vitamin A:
4124
IU
|
Vitamin C:
1
mg
|
Calcium:
45
mg
|
Iron:
1
mg