Classic Chocolate Layer Cake is exactly what we all need for every celebration. Three layers of classic chocolate cake paired with the most decadent Chocolate Buttercream Frosting.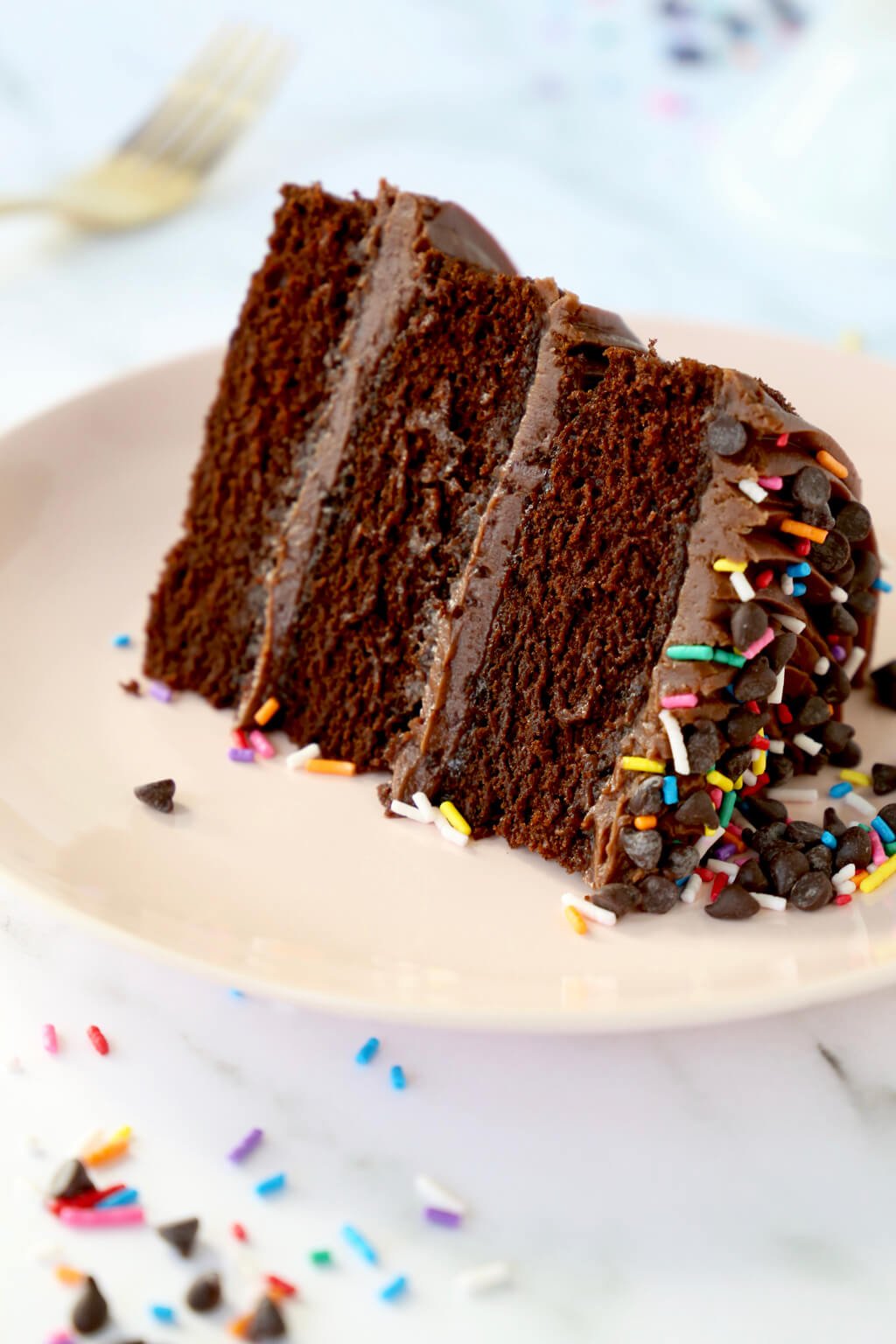 Every birthday celebration is so special and so different. I love to made each individual feel extra special and let them choose how they want to celebrate their special day. Choosing the menu for the day is the first thing we choose. Most mornings start with donut cakes, singing and a kitchen island full of gifts and balloons. I love starting the day with a mini celebration for our family. Each person gets to choose their favorite meal and the best part is deciding on the cake flavor they love the most. This is where everyone gets creative and I love getting to bake exactly what they want. This year my ten year old chose her cake flavor and she wanted to stick with a classic. Classic Chocolate Layer Cake is made with the most moist chocolate cake layers, a rich and creamy chocolate buttercream frosting and she requested extra chocolate chips adding into the layers of the cake and on top!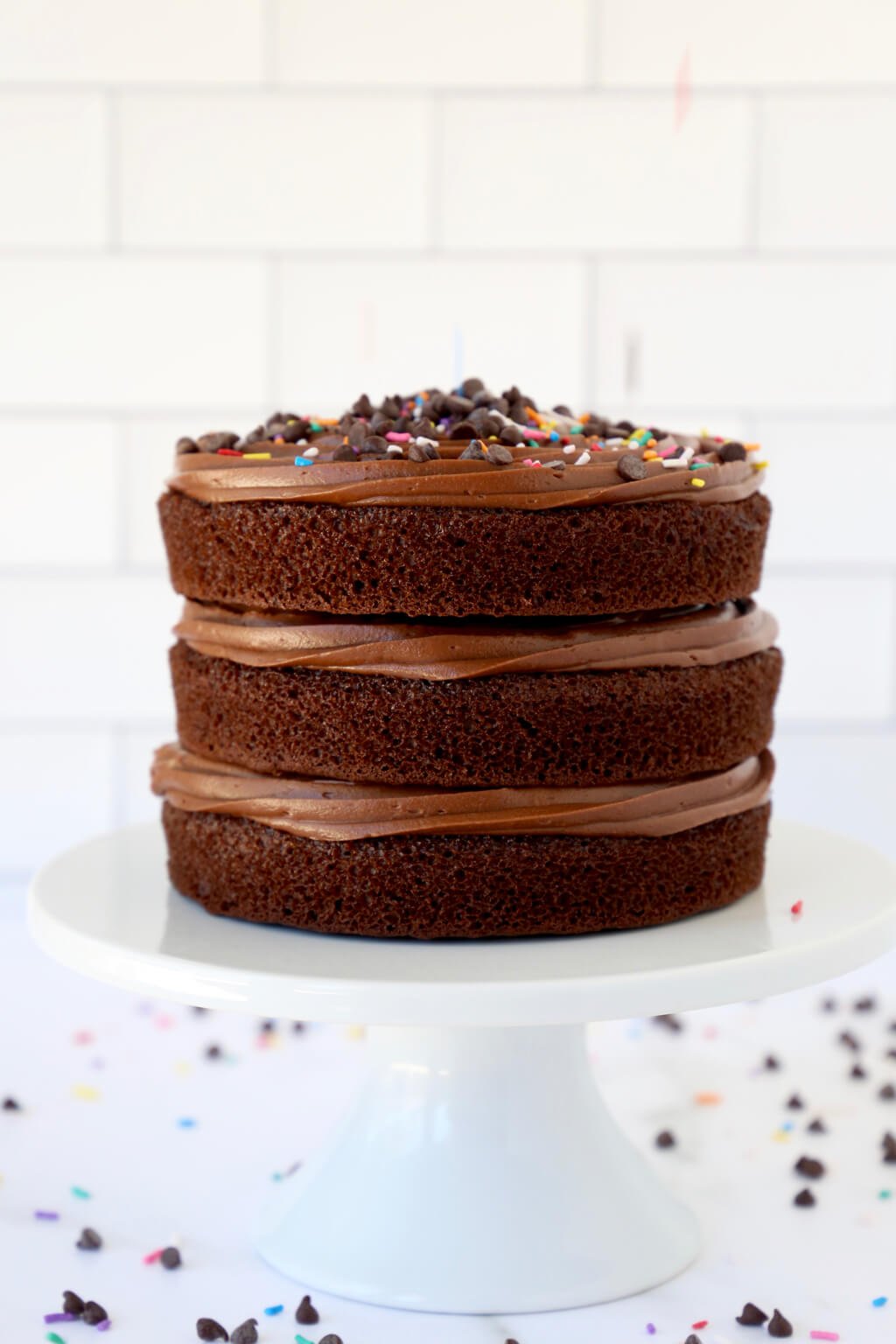 Classic Chocolate Cake Layers
This chocolate cake is my go to recipe for all celebration cakes. It is really easy to make, no complicated ingredients and it always turns out so perfect. Made with all purpose flour, cocoa powder, granulated sugar, baking powder and baking soda to start. Once all the dry ingredients are combined you can start mixing together your wet ingredients. This cake is made with buttermilk that gives a really moist texture and a great flavor. Vegetable oil, eggs, vanilla extract and boiling water are added to complete this decadent chocolate cake.
Can You Make This Classic Chocolate Cake Gluten Free?
Yes!!!! I have made this recipe so many times to accommodate for a Gluten Free Diet and it works perfectly!! I simply replace the all purpose flour for Gluten Free 1 to 1 Flour and it creates the same moist, decadent chocolate cake!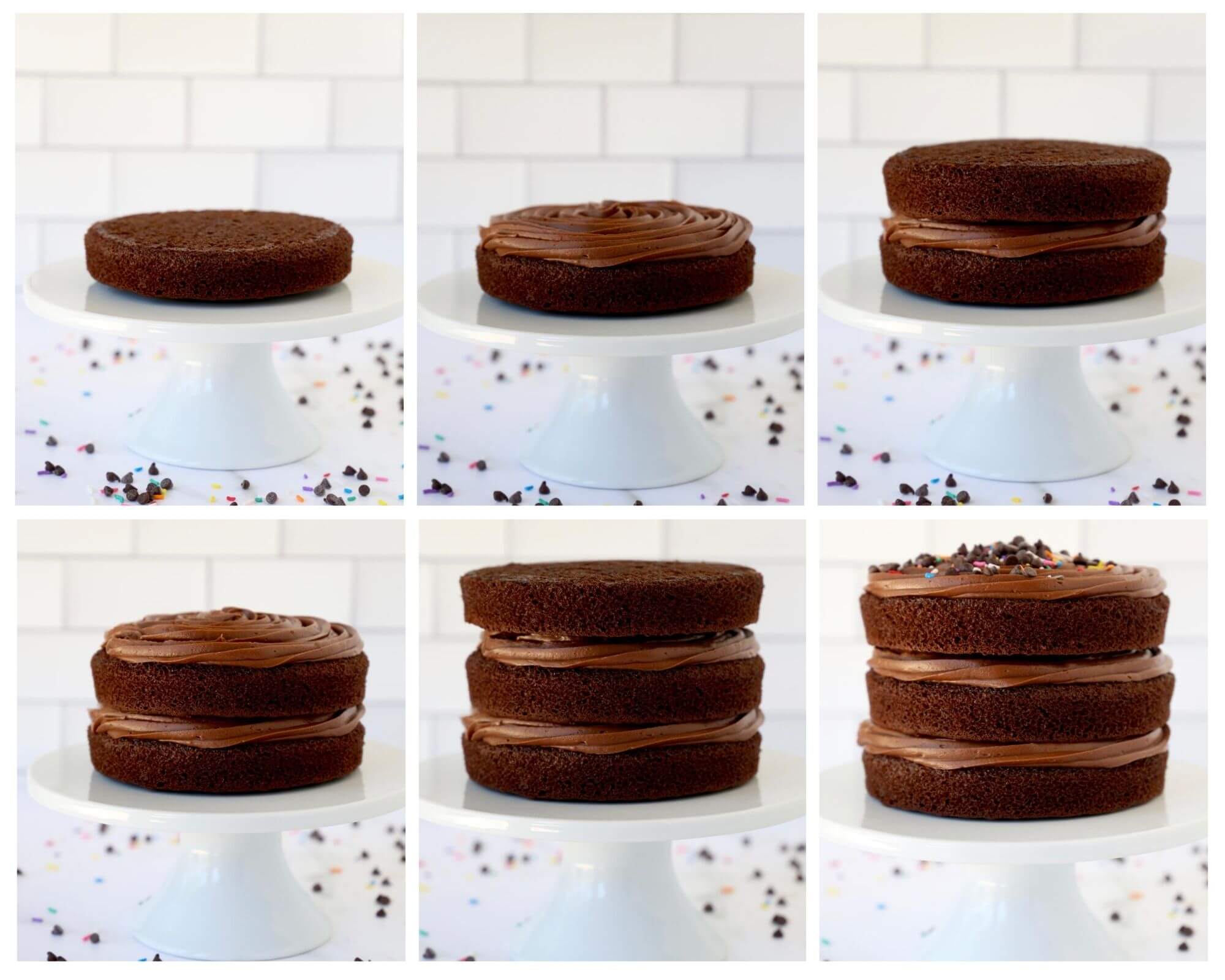 Layering A Cake
The task of layer a cake might seem daunting, but I promise if you have a good foundation with the cake layers and a smooth and creamy Chocolate Butter Cream Frosting, you are going to have success! Once the cake is baked, make sure that you cool it completely so that it does not melt the frosting. When the cake layers are cooled, start by placing the first layer on a cake plate or a cake board and add the frosting on top of each layer. Repeat until all three layers are stacked and finish with the a layers of frosting on the top. If you like the look of piping the frosting, you can grab some disposable piping bags and a star tip to make a clean and creative look. For a simple and fun decoration, mix together mini chocolate chip and rainbow sprinkles and you are ready to party!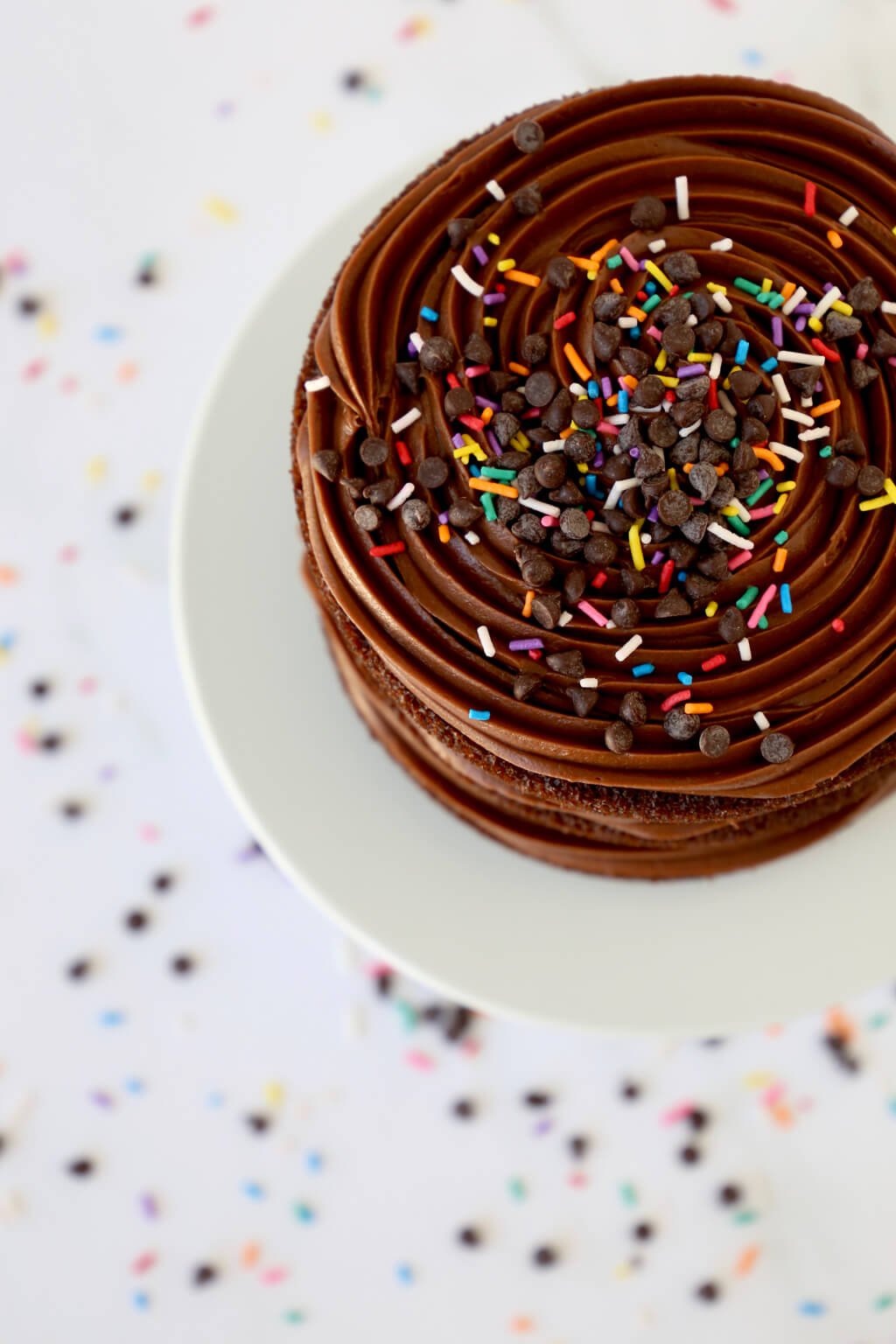 Servings
A 6 inch round cake serves 6-8 people depending on how you slice it. It is really a great size cake for a small celebration but I also love to bake more than one 6 inch cake instead of a large cake if I have a larger gathering. If you want to make an 8 inch three layer cake, you can double this recipe and you will be set to serve 10-12 people!
Storing A Cake
Baking the cake fresh is always going to give you the best flavor, but sometimes time doesn't allow for you to bake, ice and decorate the cake the same day as your event. If you choose to bake your cake the day before your event you can allow each layer to cool completely and then wrap each layer in plastic wrap and leave at room temperature until you are ready to ice and decorate. Once you decide to ice and decorate your cake, you can store the cake in the refrigerator until you are ready to serve but I like to serve cake at room temperature so make sure to pull the cake out of the fridge about 30 minute before you are ready to serve. If you are in an environment that is hot and humid, like I am (living in Texas) I always refrigerate my cake to set the icing because the temperature outside will make the frosting very soft and will be more difficult to serve. If you are transporting the cake to another location, make sure to transport while your cake is cold so that the frosting and cake layers don't slide and separate. Once you have enjoyed the cake with your family and friends you can store the extra slices in an air tight container at room temperature for one day or in the refrigerator for 2-3 days. Always remember…keeping a cake in the refrigerator for to long will end up drying the cake layers out.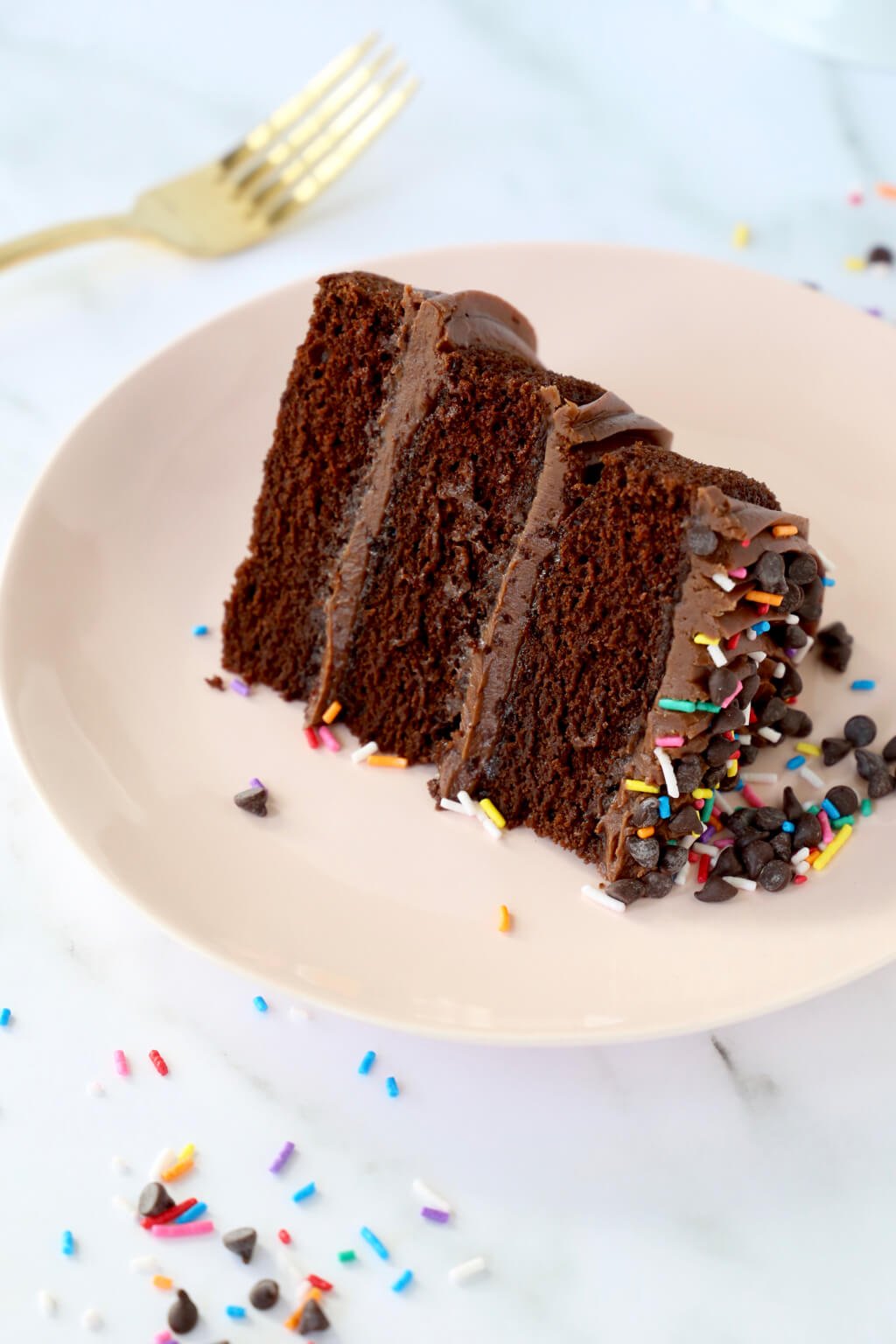 Print
Classic Chocolate Layer Cake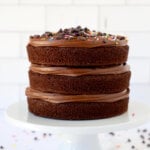 1 Cup All Purpose Flour
1 Cup Granulated Sugar
½ Cup Cocoa Powder
1 tsp Baking Powder
¾  tsp Baking Soda
½  Cup Buttermilk
¼  Cup Vegetable Oil
1 Eggs
½  tsp Vanilla Extract
½  Cup Boiling Water
Instructions
Preheat oven to 350 degrees F and prepare 3-6 inch cake pans with non stick spray and line the bottom of each pan with a 6 inch round piece of parchment paper 

In a medium bowl, combine the flour, sugar, cocoa powder, salt, baking soda and baking powder; whisk until combined, set aside

In a small bowl, whisk together buttermilk, oil, eggs, and vanilla extract

Add the dry ingredients into the wet ingredients and whisk until the batter is smooth and all ingredients are fully incorporated

Scrape the sides of the bowl to make sure that all of the cake batter is fully incorporated 

Add the boiling water to the batter and slowly whisk until fully combined, scraping the sides down in between each addition

Divide the batter into three 6 inch cake pans 

Bake at 350 degrees for 12-14 minutes or until the cake springs back at the touch or a cake tester comes out clean

Allow the cake to cool for 30-40 minutes before removing from the pan

Once the cake layers are cooled you can start layering the cake with Chocolate Buttercream Frosting or Chocolate Fudge Frosting 

Place one cake layer on a serving dish or a cardboard cake round, spread one layer of frosting on top of the cake layer and repeat until all three cake layers are used

Frost the top of the cake with frosting and garnish with sprinkles or a decoration of your choice 

 Refrigerate the cake for 10-20  minutes to allow the frosting to set so that it is not too soft to transport 

Once you are ready to serve the cake, remove the cake from the refrigerator and allow it to sit at room temperature for 30 minutes before enjoying!