Christmas is wrapped up into one bite with these Gingerbread Snowball Cookies. Sweet, spicy, and coated in powdered sugar, this cookie will be well-loved at your holiday gatherings.
One of my favorite cookies of the season is a classic snowball cookie, but what could be better than adding spices and molasses to create the perfect Gingerbread Snowball Cookie? Not much, I'll tell you that! Sweet and spicy, these little cookies are packed with flavor. Gingerbread Snowball Cookies are a fun take on a classic snowball cookie and a gingerbread cookie mixed together, creating a super tender and soft cookie.
They are buttery, tender and the perfect bite-size cookies for a platter or a box of cookies to be delivered to friends and family. If you are participating in a big Christmas cookie exchange, these are a great option! Whatever way you choose to share, these Gingerbread Snowball Cookies will be a perfect addition to your holiday treat lineup. And if you need more amazing cookie recipes, check out this Christmas Cookie Round Up.
Ingredients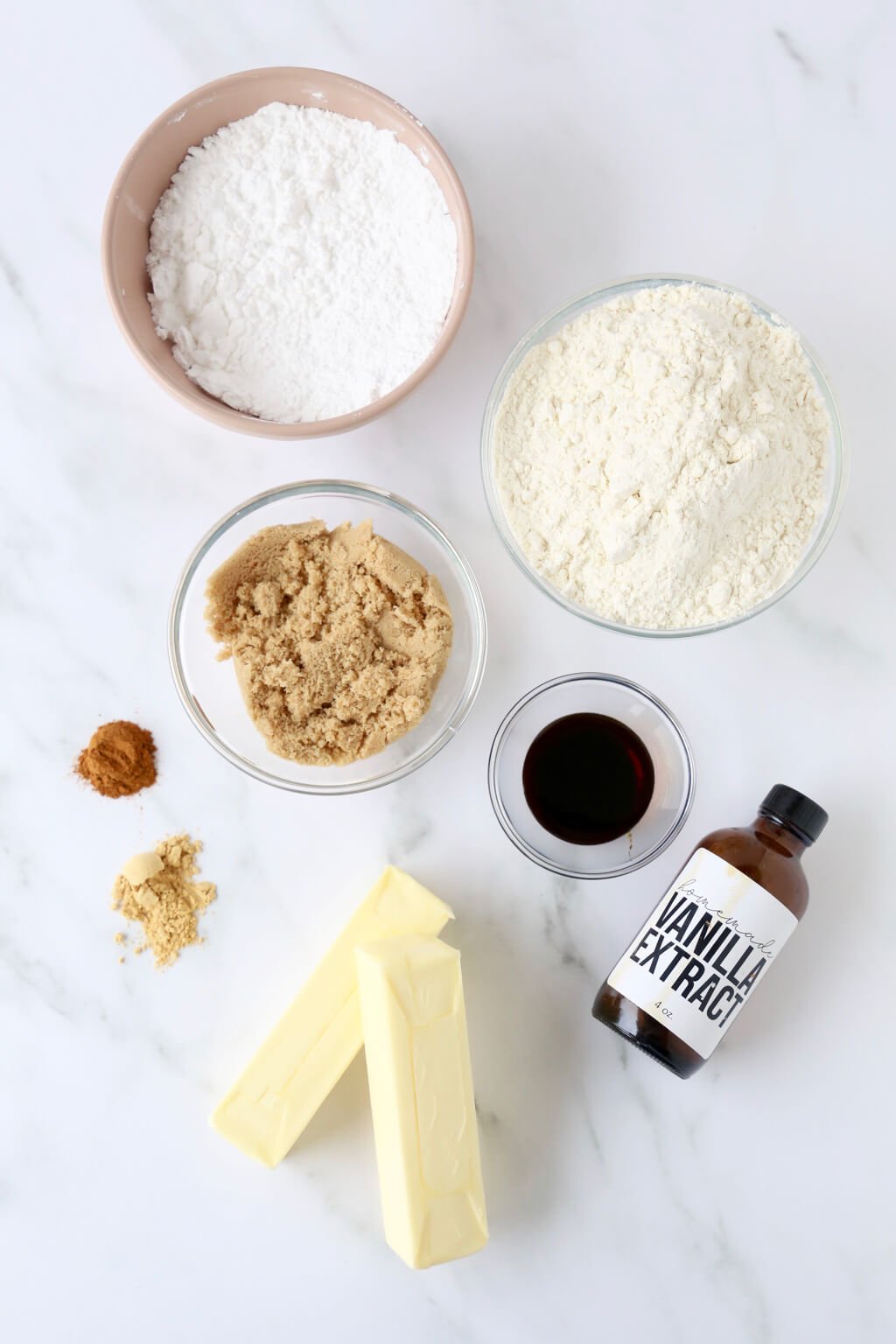 Flour- All-purpose will do the trick
Ground Cinnamon & Ginger- For the festive spiced flavors
Molasses- For the classic gingerbread flavor
Vanilla Extract- To add another layer of flavor
Butter- Unsalted and room temperature
Light brown sugar- For the perfect rich sweetness
Directions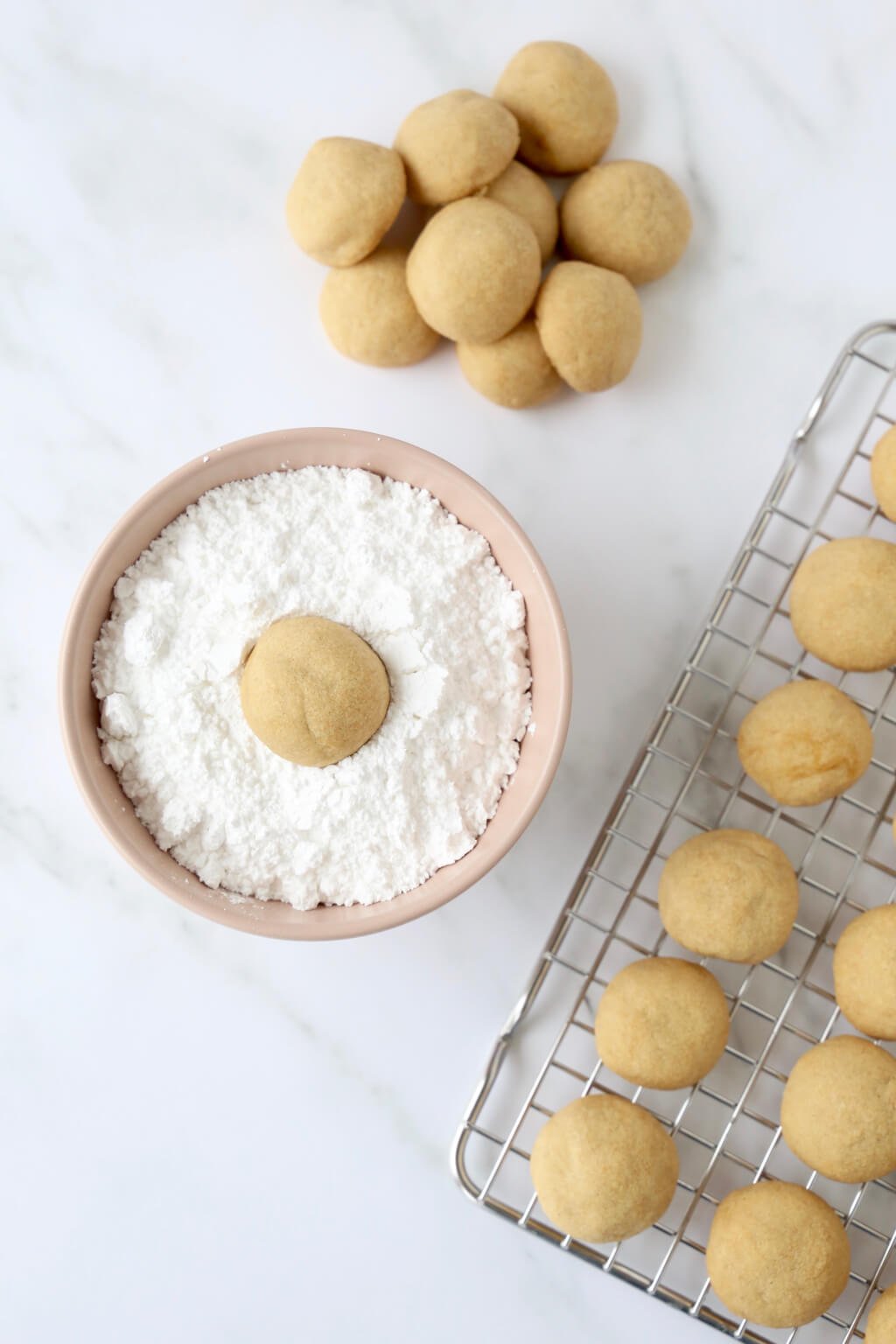 Preheat the oven to 350 degrees F and prepare two baking sheets with parchment paper
In a medium bowl combine the flour, cinnamon, and ginger; set aside
In a mixing bowl with the paddle attachment, combine the unsalted butter and light brown sugar; cream together until smooth
Add the molasses and the vanilla extract to the butter mixture and mix until fully combined, scraping down the sides of the bowl in between
Slowly add the dry ingredients to the butter mixture and mix to combine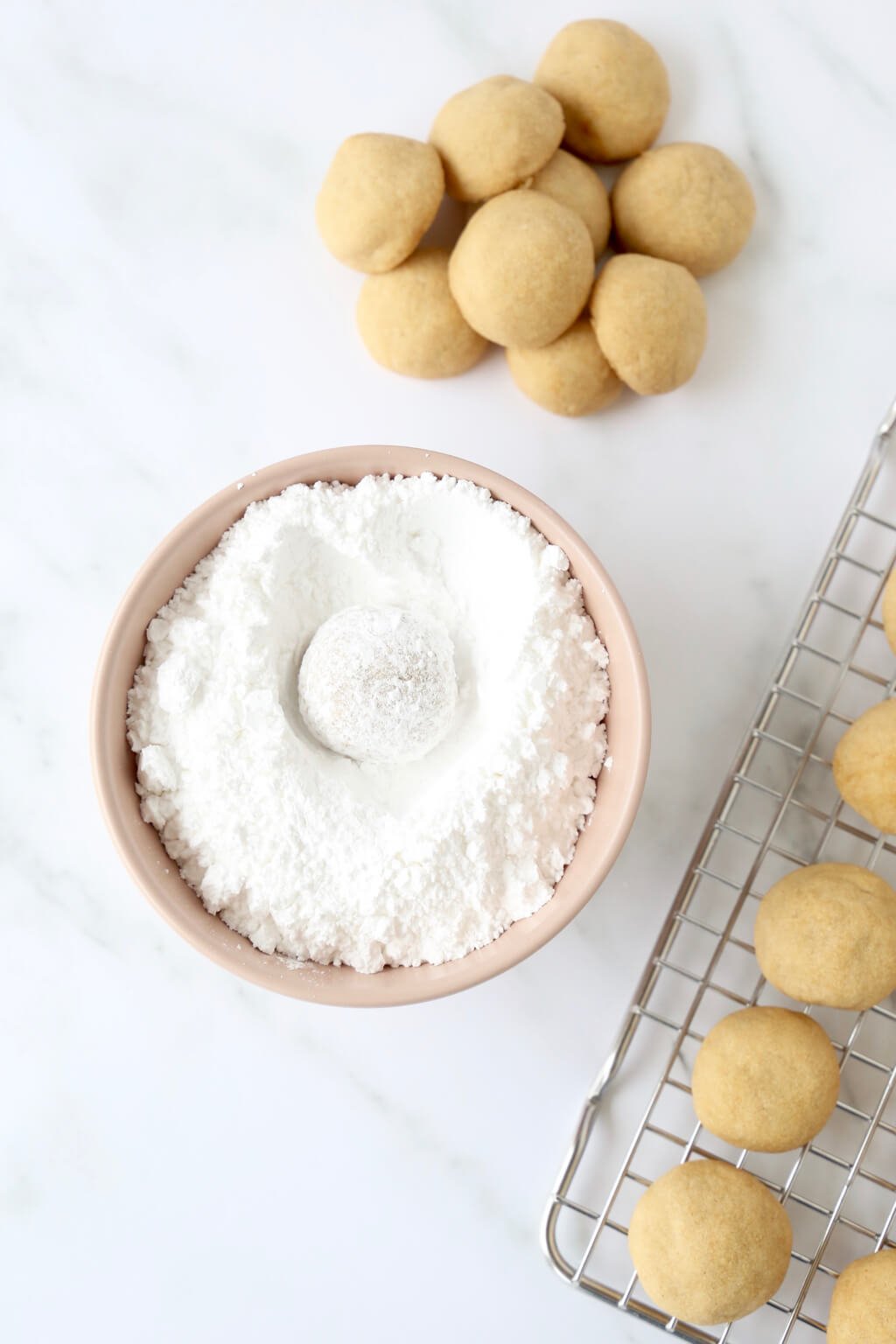 Using a 1 tablespoon scoop, scoop the cookie dough into balls and place them on the prepared baking sheet
Bake the cookies for 10-12 minutes or until the bottom of the cookies starts to turn a light golden color
Remove the cookies from the oven and allow them to cool completely before dredging them in powdered sugar
Once the cookies are cooled, toss each cookie in powdered sugar and place on a serving platter or in a container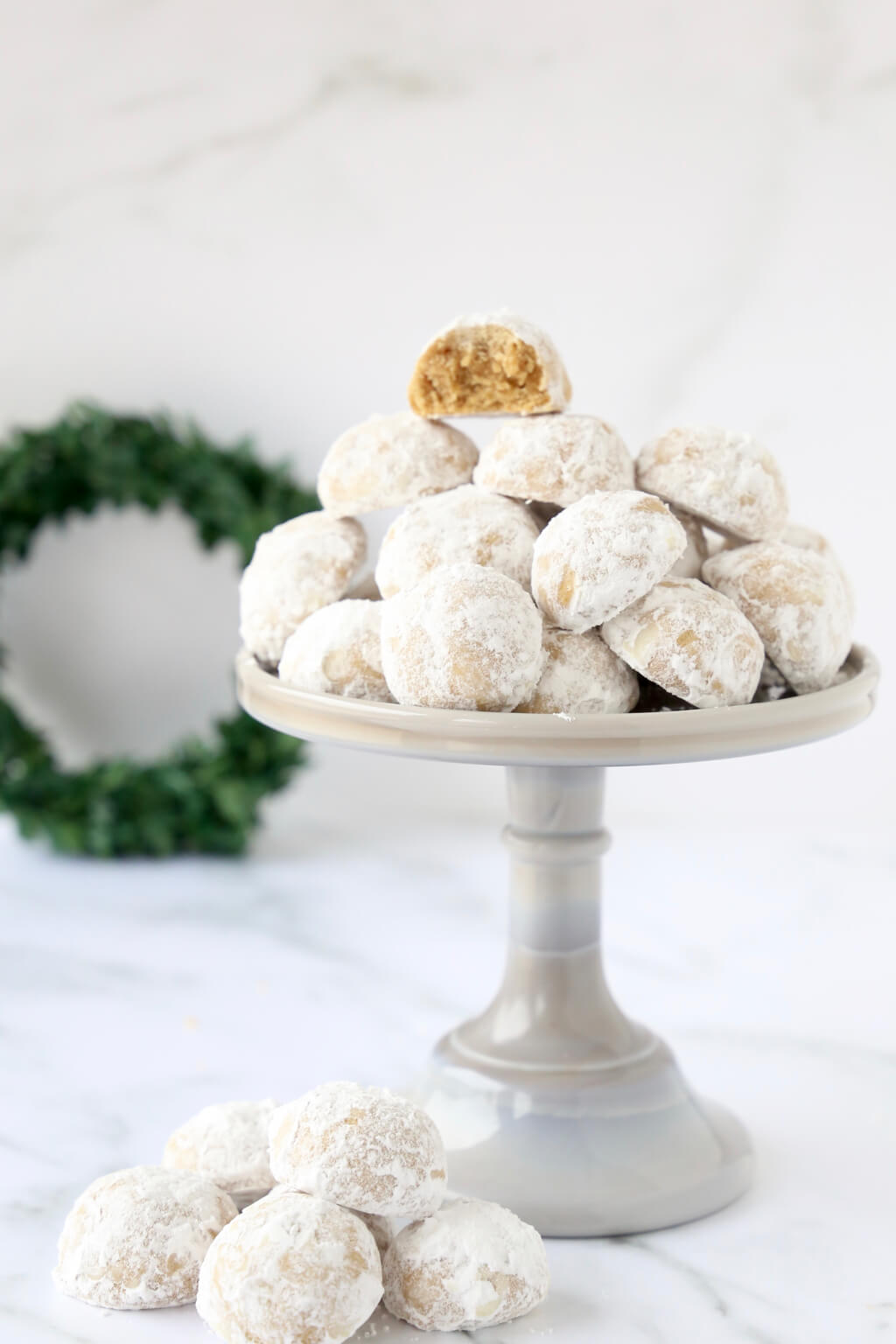 Tips and FAQs for Gingerbread Snowball Cookies
Start with room temperature butter to make sure that the batter comes together
Traditional snowball cookies use powdered sugar, but light brown sugar will add great flavor and texture to these cookies
This cookie dough does not need to be refrigerated before baking
Scoop the dough using an ice cream scoop for the perfect ball
Allow the cookies to cool completely before tossing in powdered sugar
Store the cookies in an airtight container for up to one week for the freshest flavor
How many Gingerbread Snowball Cookies does this recipe make?
One batch of these should make about 28-30 cookies.
More Holiday Cookie Recipes You Will Love
Thank you for visiting Joy + Oliver. If you tried this recipe, please leave a 5 Star Review in the recipe card and save all your favorite recipes to Pinterest!
Please visit us on Instagram, Facebook and Pinterest for more of our favorite recipes that you will love!
Print
Gingerbread Snowball Cookies
Christmas is wrapped up into one bite with this Gingerbread Snowball Cookie.  Sweet, spicy and coated in powdered sugar, you are going to love this cookie for your holiday gatherings.  
Author: kristen massad
Prep Time:

10 minutes

Cook Time:

10-12 minutes

Total Time:

18 minute

Yield:

30 cookies

Category:

Cookies
GIngerbread Snowball Cookie Dough
2 ¼ Cup All Purpose Flour
1 teaspoon Ground Cinnamon
1 teaspoon Ground Ginger
1 Cup Unsalted Butter, Room Temperature
½ Cup Light Brown Sugar
1 Tablespoon Molasses
1 teaspoon Vanilla Extract 
Powdered Sugar Coating
1 Cup Powdered Sugar
Instructions
Preheat the oven to 350 degrees F and prepare two baking sheets with parchment paper

In a medium bowl combine the flour, cinnamon and ginger; set aside 

In a mixing bowl with paddle attachment, combine the unsalted butter and light brown sugar; cream together until smooth 

Add the molasses and the vanilla extract to the butter mixture and mix until fully combined, scraping down the sides of the bowl in between 

Slowly add the dry ingredients to the butter mixture and mix to combine

Using a 1 tablespoon scoop, scoop the cookie dough into balls and place on the prepared baking sheet

Bake the cookies for 10-12 minutes or until the bottom of the cookies starts to turn a light golden color 

Remove the cookies from the oven and allow them to cool completely before dredging them in powdered sugar

Once the cookies are cooled, toss each cookie in powdered sugar and place on a serving platter or in a container

Cookies will last for one week in an airtight container
Makes 28-30 Cookies 
Keywords: Gingerbread Snowball Cookies