A melt in your mouth tart that is nutty, sweet and fruit filled. Pear Almond Tart has all the fall flavors packed into one dessert!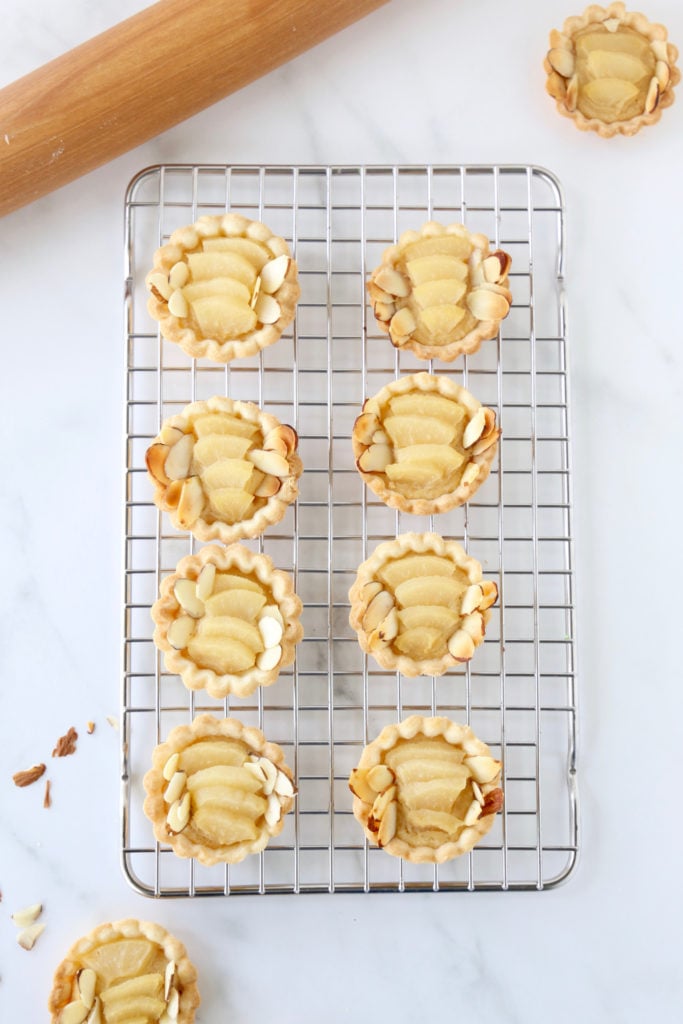 With only a few weeks away from your Thanksgiving feast, I am sharing an all time favorite tart or tartlet recipes that will be the perfect ending to your holiday. Pears and almond are two flavors that I long for all year. The key ingredient to this tart is Frangipane; almond cream, sugar, butter and eggs...you will want to use it in every dessert that you make, it's that good!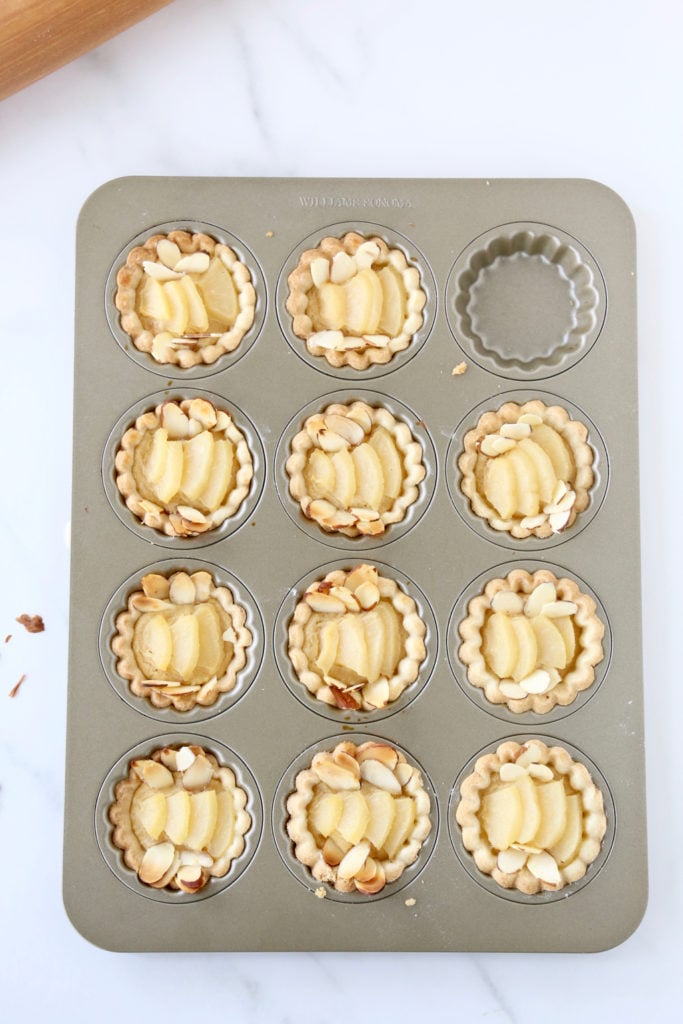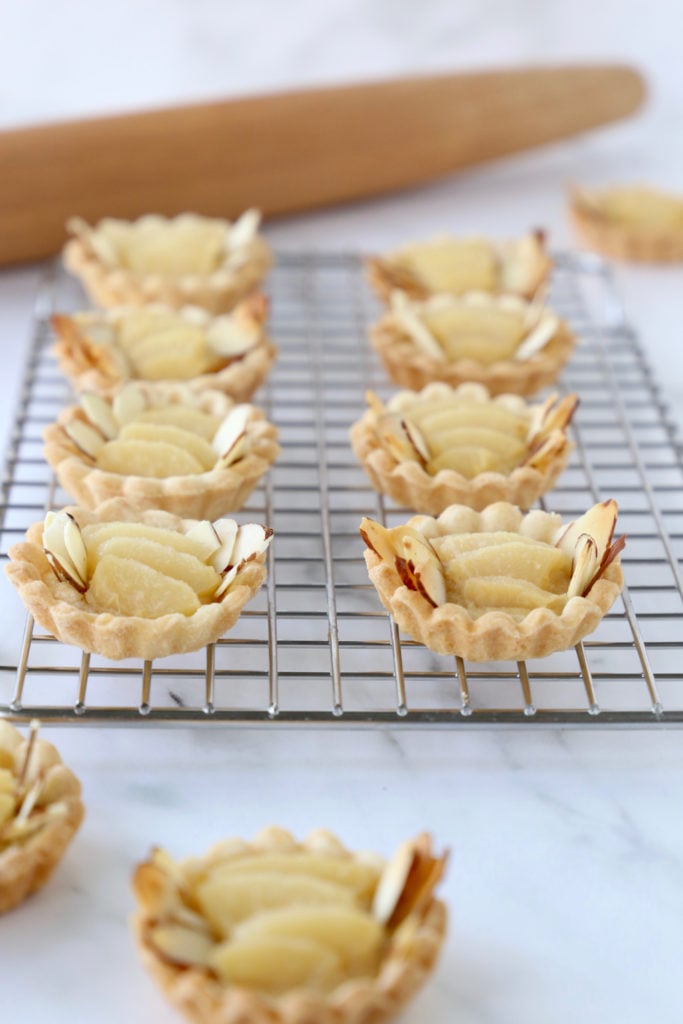 The Perfect Pie Dough
Making pie dough may sound daunting, but it is totally worth the effort. My favorite pie dough is simple, buttery and can be made in advance and chilled until ready to use. With only a few ingredients and made in a food processor, you will be proud that you made your own this year!
Frangipane
Frangipane, also known as Almond Cream, is one of my absolute flavors. It is nutty, creamy, sweet and makes the most amazing filling for tarts and pies. Frangipane is very versatile and can be combined with so many different flavors, but sliced pear is the ultimate flavor for your fall feast!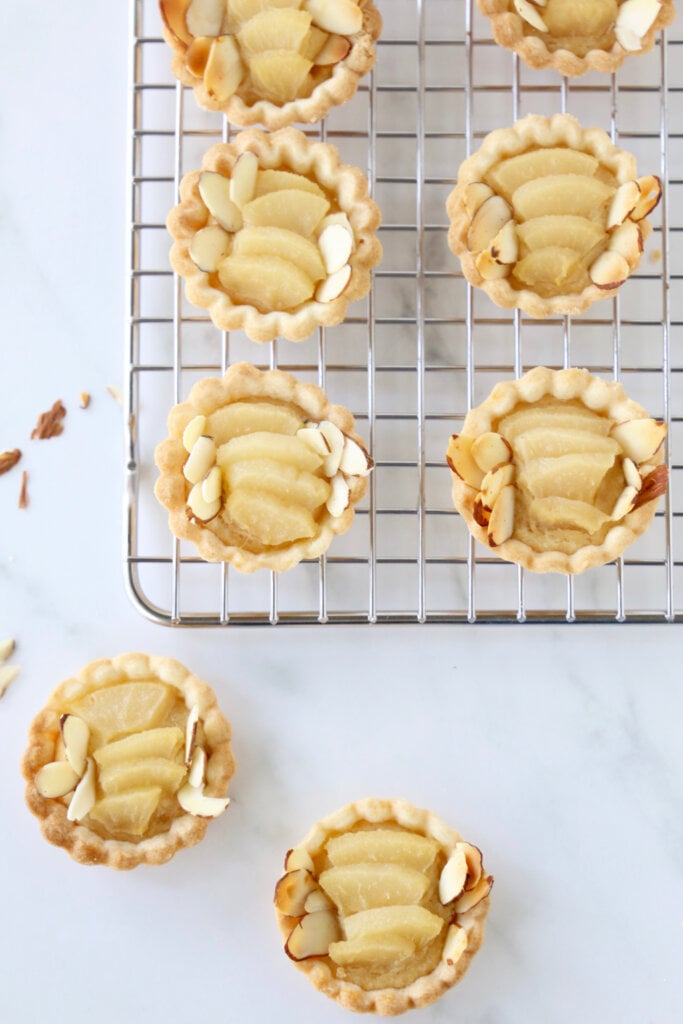 Print
Pear + Almond Tart
1

recipePie Dough

1

recipe Frangipane

2

Bosc Pears

¼ cup

Sliced Almonds
Frangipane:

½ cup

Almond Paste

¼ cup

Granulated Sugar

3 Tbsp

Butter, unsalted

2 Tbsp

Cake Flour

1

Eggs
Instructions
Preheat oven to 350 degrees F
Shape pie dough into 24 mini tartlet molds or a 9" round tart pan , refrigerate until ready to use
Prepare the frangipane:
Cream almond paste and sugar together in a mixer with paddle attachment
Add butter and cream together until fully combined
Add cake flour and then add egg
Mix until there are no lumps and all ingredients have come together
Spread or pipe a very thin layer on the bottom of the chilled unbaked tart shell
Peel pears, cut them in half and remove seeds using a melon baller
Slice each pear in half and cut into thin slices keeping the half together and place on top of the frangipane (for the mini tartlets, cut into small sections and fan out over the frangipane)
Sprinkle the area around the pears with sliced almonds
Bake at 350 degrees F for 15-20 minutes (tartlets) or 30-40 minutes (9" tart) or until frangipane is light golden in color and baked through
Serve warm