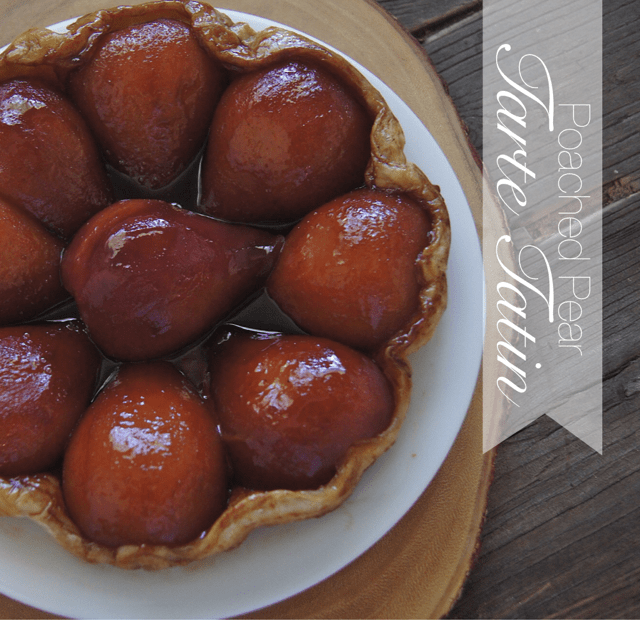 Tarte Tatin is a classic French dessert, an upside down apple tart, made with sugar, butter and puff pastry. Really simple flavors, but absolutely delicious and perfect to end any fall meal! What I really love about Tarte Tatins, you can change up the fruit and add some great spices, but you still get the classic French feel.
Pears poached in red wine with cinnamon, cloves and vanilla bean are the flavors that I wanted for my Tarte Tatin...if you like red wine you are going to love this dessert! If you are not patient enough to make it through baking the pears with the puff pastry, you can go ahead and enjoy these wonderful poached pears with a dollop of mascarpone cheese sweetened with a little powdered sugar. I would highly recommend finishing the dessert all the way through...it is well worth the wait!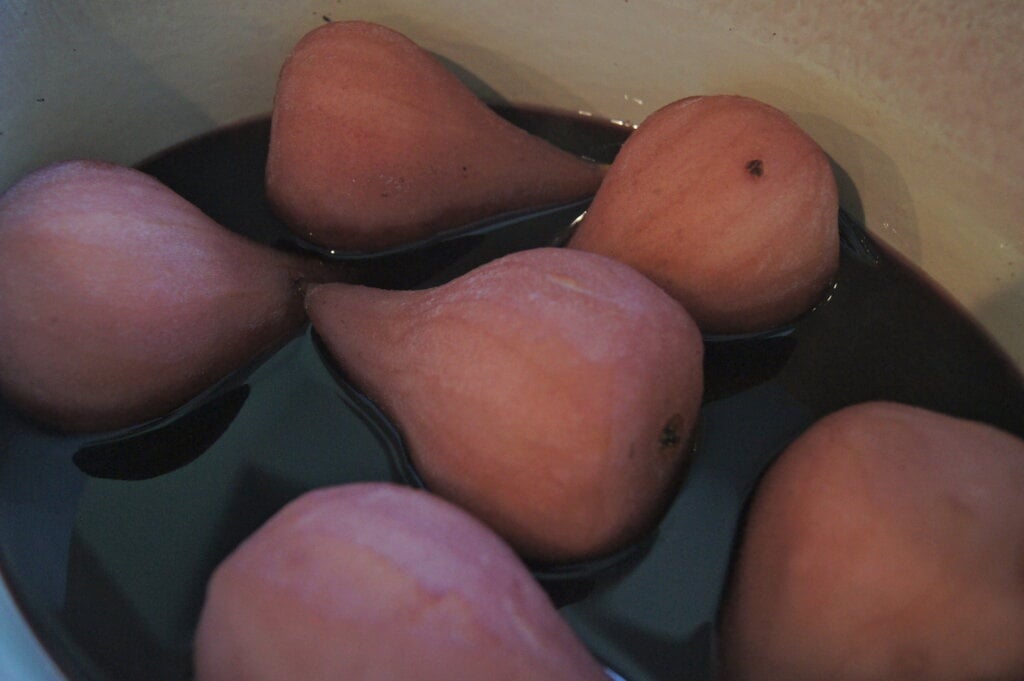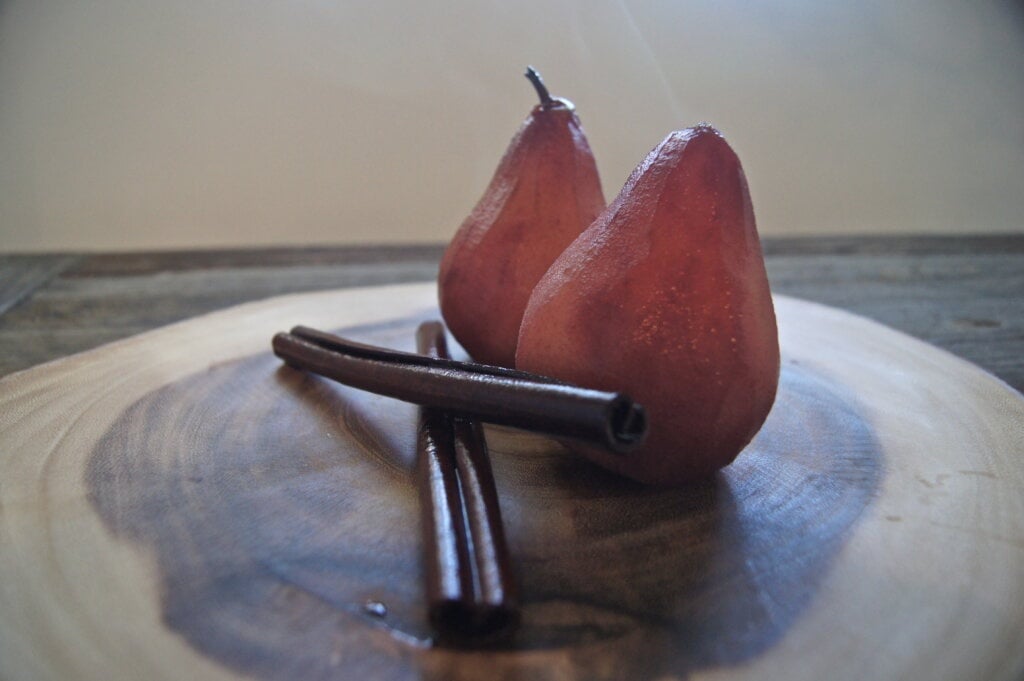 Once the pears are poached, cut them in half and take out the core before placing them in your saute pan...you can make this design your own! Gently place your puff pastry (homemade or store bought) over the pears and tuck in the sides...now it is time to bake
Baking the Tarte Tatin is going to take 20-30 minutes or until the puff pastry is golden brown. Once you remove the pan from the oven you will flip it onto a serving platter while the caramel is still hot (WARNING: This can burn you if you are not careful...wear oven mitts while flipping the Tarte out of the pan)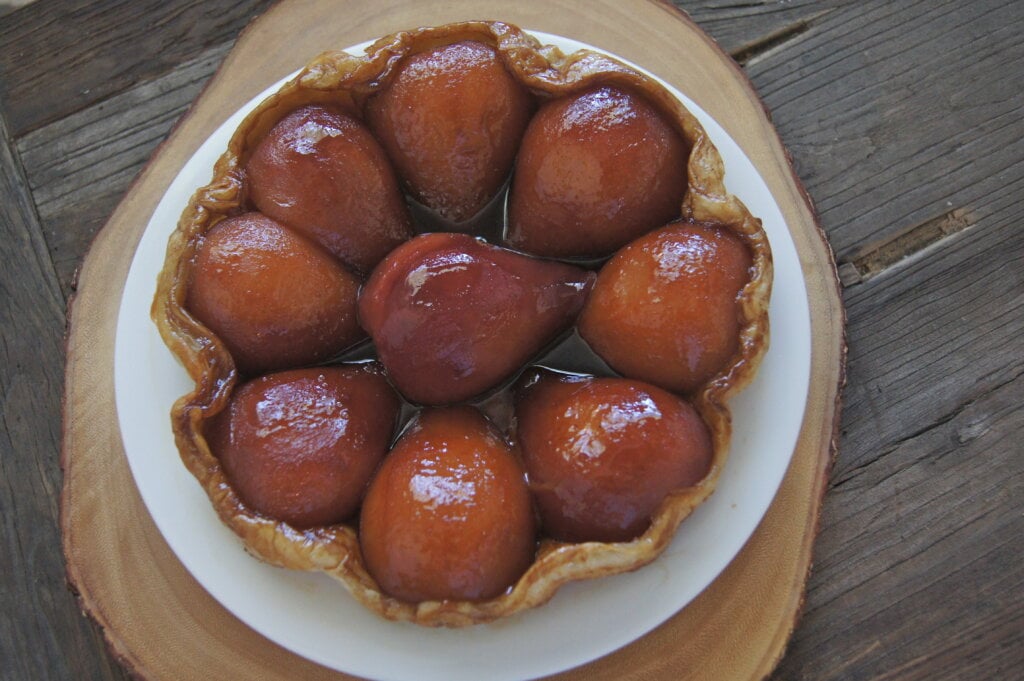 Allow the tarte tatin to rest for 10-15 minutes before serving! Enjoy!!
Print
Poached Pear Tarte Tatin
4

-

6

pears

1

bottle red wine

6 cups

water

2 cups

sugar

2

cinnamon sticks

1 tsp

whole cloves

1

vanilla bean, split and seeded

¼

stick butter, unsalted

¼ cup

sugar
puff pastry
Instructions
Preheat oven to 425 degrees F
Peel pears leaving the stem on
Fill a large pot with wine, water, sugar, cinnamon, cloves, vanilla bean and pears
Allow pears to boil in poaching liquid for 30-40 minutes (turning pears if the are not fully submerged)
Once pears are completely poached, melt butter in a oven proof saute pan
After butter is melted, add in sugar and cook until golden brown (caramel color)
If butter and sugar seperate, whisk until it comes back together
Cut pears in half and core them
Place pears core side up on top of the caramel sauce in the saute pan
Lay the puff pastry on top of the pears and trim to be the size of the pan and tuck the edges into the pan
Bake at 425 degrees F for 20-30 minutes or until puff pastry is golden brown
Remove from oven and flip onto a platter (the caramel will be extremely hot...BE CAREFUL)
Allow tarte tatin to cool for 10-20 minutes before serving
Notes
Reduce extra poaching liquid to become a sauce for your finished Tarte Tatin and serve with mascarpone cheese!! Enjoy