This post has been sponsored by Fleischmann's® Yeast. All thoughts and opinions are
my own.
Homemade Almond Cinnamon Knots are here to start your mornings strong. Made with a simple and quick yeast dough, twisted with almond cream and cinnamon sugar and knotted for the perfect bite.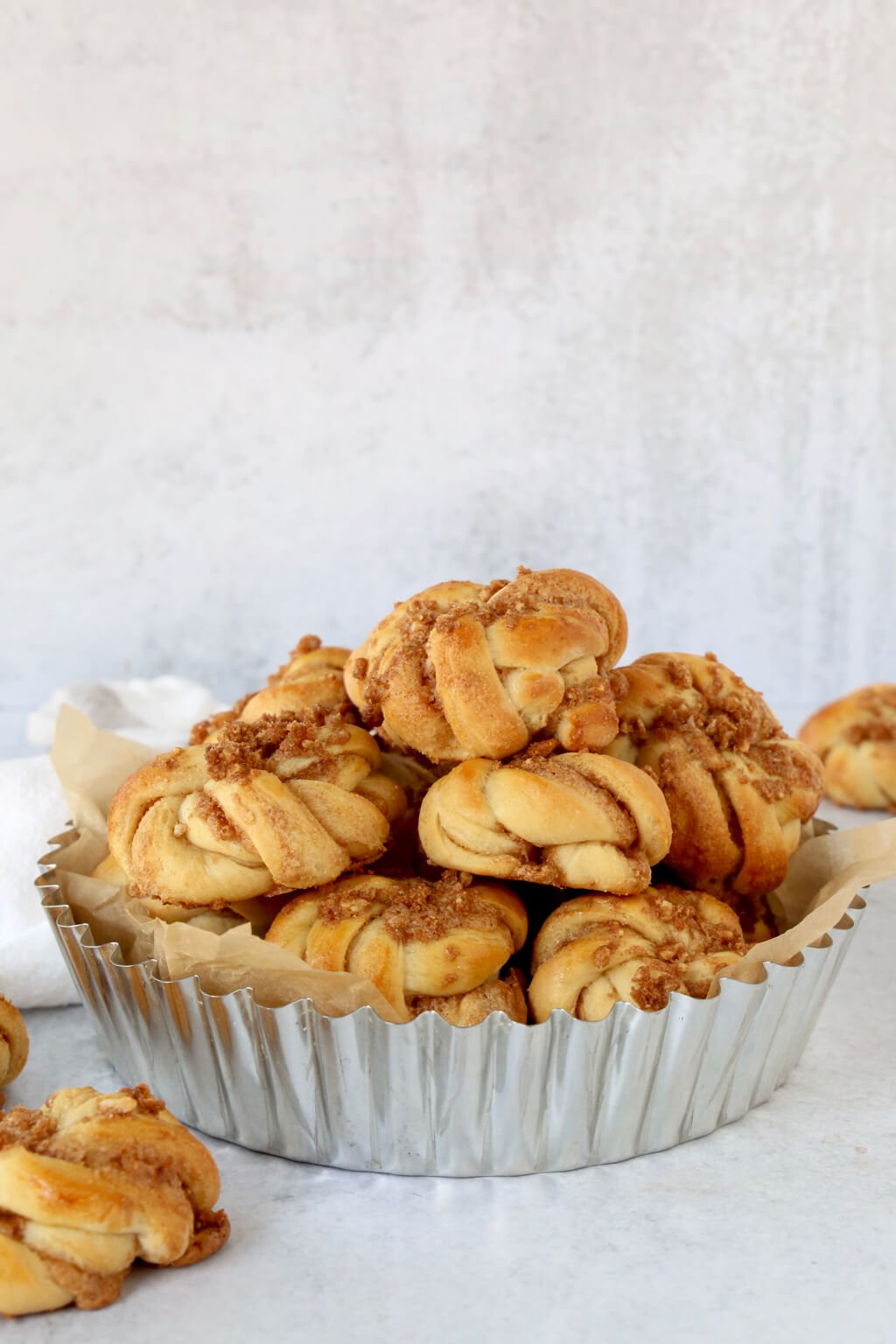 When it comes to fall mornings, coffee and Almond Cinnamon Knots are exactly what we all need. They are made with a combination of the most smooth almond cream, a cinnamon sugar filling and a soft dough made with Fleischmann's® RapidRise® yeast for a quick and easy process. There is something so fulfilling about homemade dough and when it doesn't take all day, you will be the hero in your home. From the start of shopping at Tom Thumb stores or logging into their user friendly app, it will be a one stop shop to find the RapidRise® you will use for this recipe. Once you are home and have started making the dough you will quickly appreciate the ease in making homemade dough and will make Almond Cinnamon Knots a fall tradition.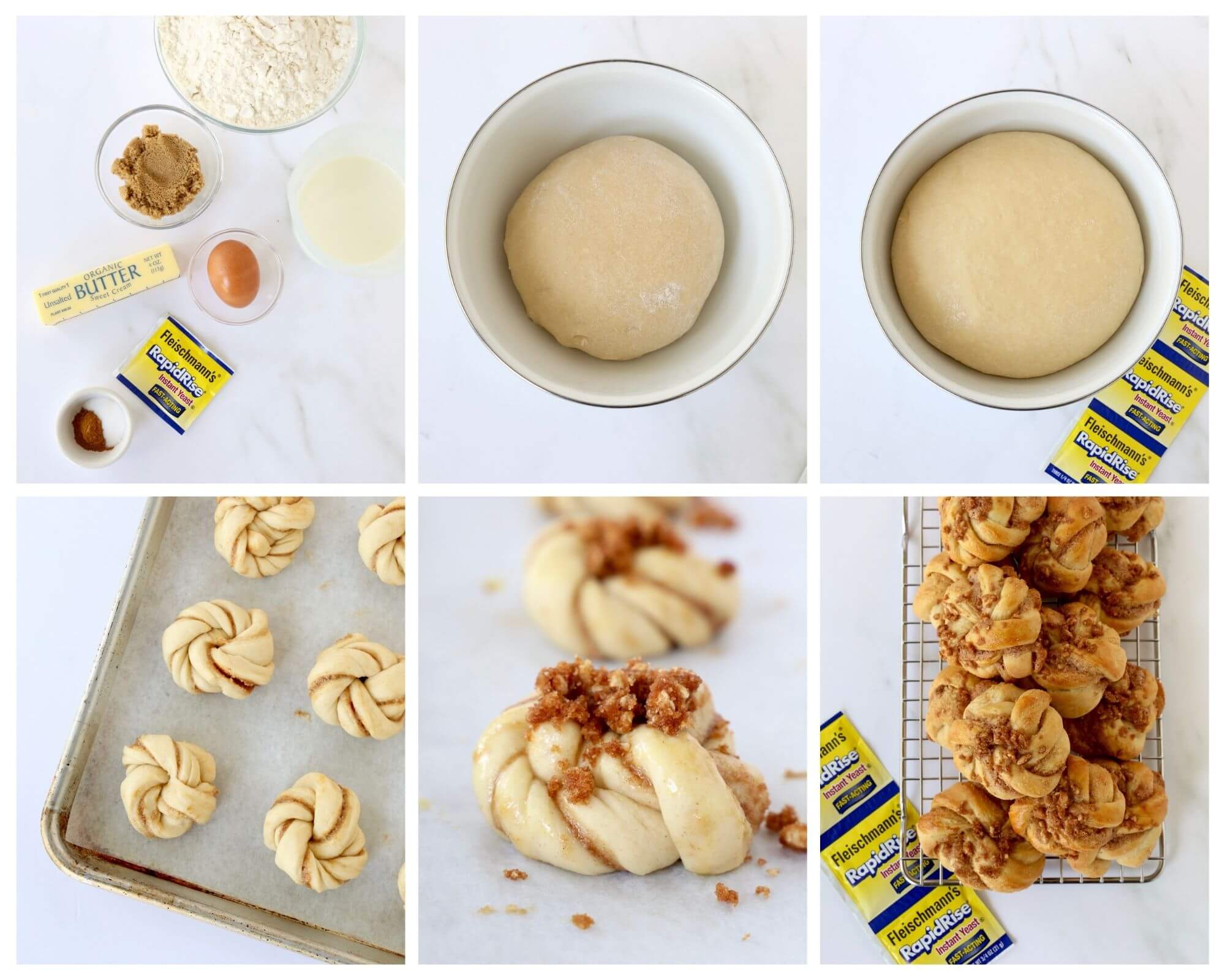 Almond Cinnamon Knots
A similar process to making a classic cinnamon roll, Almond Cinnamon Knots is the same technique with a different design. The swirl of the knot guarantees almond and cinnamon in every bite. The dough is a classic yeast dough made with flour, sugar, RapidRise®, salt, milk, butter and eggs but the addition to the light brown sugar and cinnamon adds extra flavor and a sneak peak of fall. Almond cream, also known as frangipane is one of my favorite additions to tarts and croissants and it is equally as amazing spread over this dough and covered in cinnamon sugar. What I love most about the Almond Cinnamon Knots is the simple process that RapidRise® gives them. There is only one twenty minute rise time to get a fresh homemade dough that you will love and can use in so many different ways. Once the dough is rolled out and filled with almond cream and cinnamon sugar, the twist is what makes these extra special. Twisting each piece of dough and tying them in a knot makes the beautiful shape, topped with a buttery cinnamon sugar almond crunch!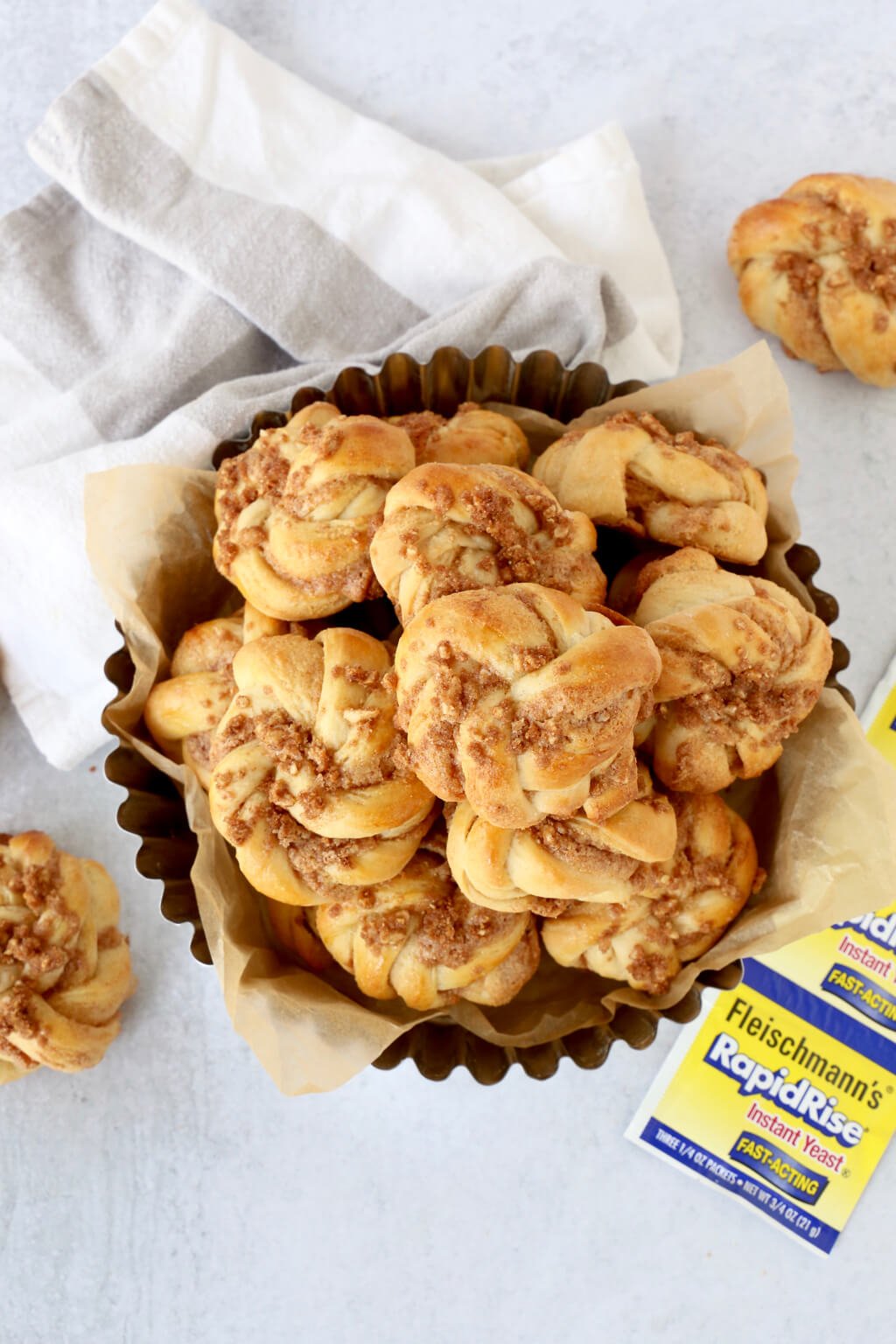 Ingredients To Make Almond Cinnamon Knots
Flour
Light Brown Sugar
Granulated Sugar
Fleischmann's® RapidRise®
Cinnamon
Salt
Milk
Butter
Eggs
Almond Flour
Vanilla Extract
Almond Extract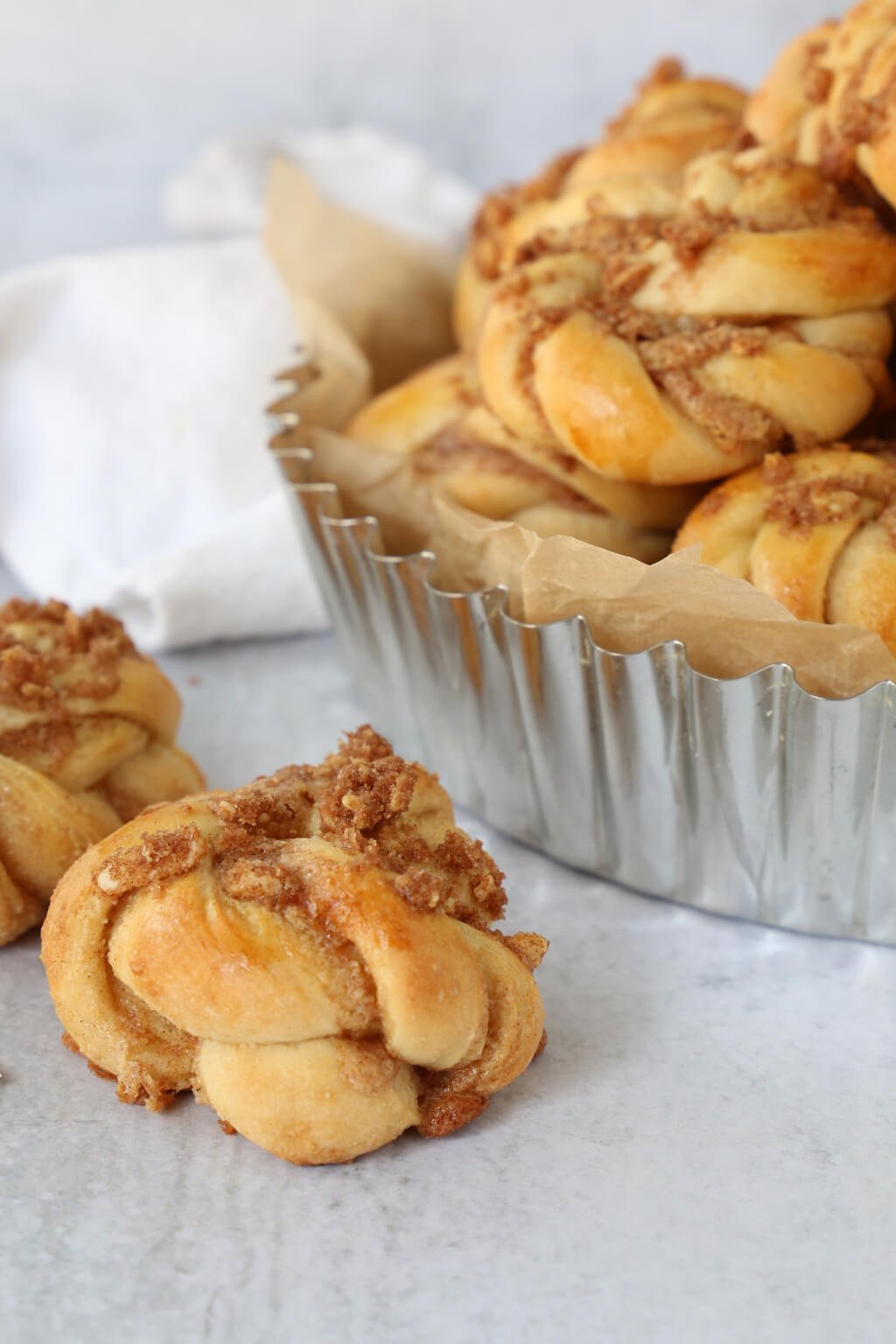 Recipe Tips To Make Almond Cinnamon Knots
Using yeast recipes can be intimidating, but it is easy and simple if you follow a few simple rules.
RapidRise® is also known as Instant Yeast
Make sure the the RapidRise® is not expired
When warming your milk, heat it to approximately 120 degrees F and nothing above because if it is to hot it will kill the yeast
Make sure to knead the dough for 4-5 minutes to allow the gluten to develop
Allow the dough to rest/rise for 20 minutes or doubled in size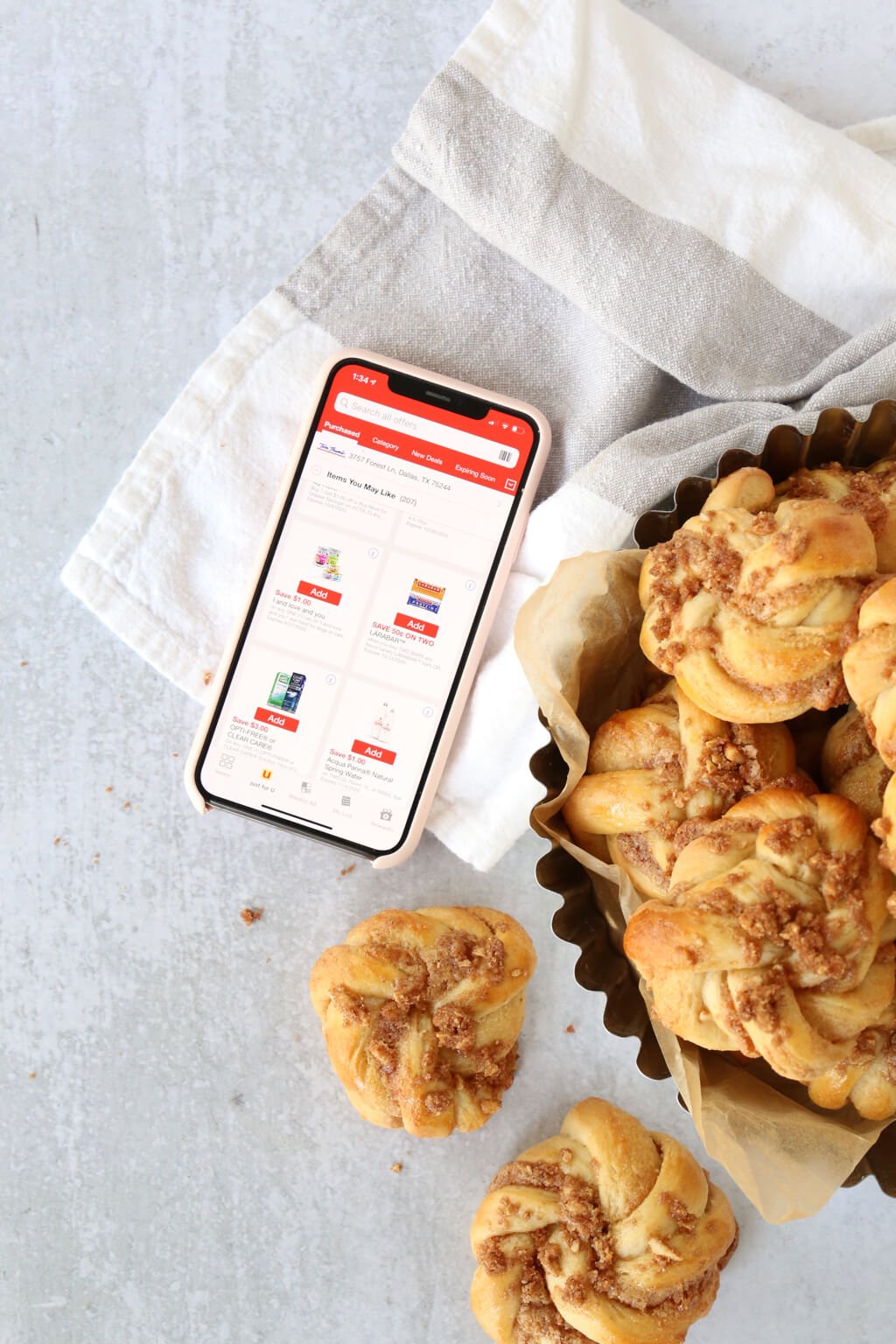 Other Recipes Using Fleishmann's® RapidRise® Yeast You Will Love
Cranberry Orange Cinnamon Roll Wreath
Honey Pear and Prosciutto Pizza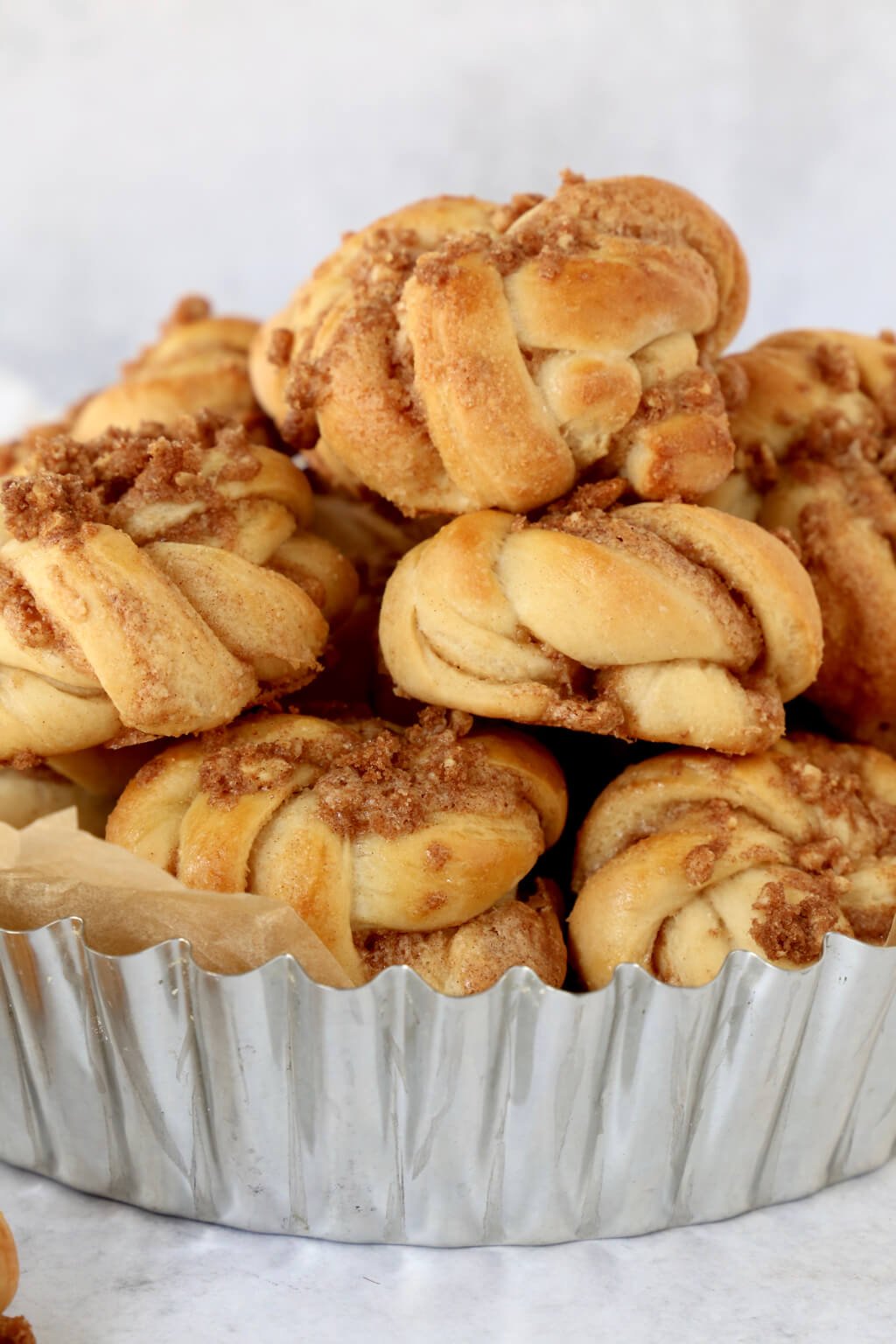 Print
Almond Cinnamon Knots
Author: Kristen Massad
Prep Time:

45 minutes

Cook Time:

15 minutes

Total Time:

1 hour

Yield:

18

-

2

0

1

x
Cuisine:

breakfast
Dough
3 ¾ - 4 Cups All Purpose Flour
¼ Cup Light Brown Sugar
1 packet (¼ ounce) Fleischmann's® RapidRise®
1 teaspoon Ground Cinnamon
1 teaspoon Salt
1 ½ Cup Whole Milk, Warmed
⅓ Cup Unsalted Butter, Melted
1 Egg
Almond Cream Filling
¼ Cup Unsalted Butter, at room temperature
¼ Cup Granulated Sugar
1 Egg
½ Cup Almond Flour
2 teaspoons All Purpose Flour
⅛ teaspoon Vanilla Extract
⅛ teaspoon Almond Extract
Cinnamon Sugar Filling/Topping
½ Cup Granulated Sugar
1 Tablespoon Ground Cinnamon
¼ Cup Raw Almonds, Chopped (topping only)
1 Tablespoon Unsalted Butter, Melted (topping only)
Instructions
Prepare The Dough
In a mixing bowl with dough hook attachment, combine the flour, Fleischmann's® RapidRise®1, light brown sugar, cinnamon and salt; mix on low speed until combined 

Warm the milk and butter in a microwave safe bowl and heat in 30 second increments until the temperature of the milk reaches 120 degrees F (its ok if the butter is not fully melted) 

Add the warm milk and butter mixture to the flour mixture and then add the egg 

Mix on medium speed until all ingredients are combined, scraping down the sides to be sure that all ingredients are incorporated 

Turn the mixer up to medium/high and continue kneading for 4-5 minutes or until the dough starts to pull away from the sides of the bowl (the dough will still be sticky but should start to form a ball; add more flour if needed) 

Remove the dough from the mixer and place on a lightly floured surface to bring the dough together to form a ball

Place the dough in a bowl and cover with plastic wrap or a towel and let it rest for 15-20 minute or until if has doubled in size

While the dough is resting, prepare the almond cream filling and the cinnamon sugar filling 
Almond Cream Filling 
In a mixing bowl with paddle attachment, cream together the butter and sugar until light and fluffy

Add the egg and mix until fully incorporated 

Slowly add the almond flour and all purpose flour to the butter mixture 

Add the vanilla extract and almond extract and mix on medium speed until the almond cream is smooth

Remove the almond cream from the mixing bowl and set aside until you are ready to use (if you are not using immediately, store the almond cream in the refrigerator)
Cinnamon Sugar Filling
In a small mixing bowl, combine the cinnamon and sugar; set aside until ready to use 
Assemble Almond Cinnamon Knots  
Preheat the oven to 350 degrees F and prepare 3 baking sheets with parchment paper 

Once the dough has rested and is ready to use, place the dough on a lightly floured surface and using a rolling pin, press the dough down to release air bubbles 

Roll the dough out into a 16 x 16 inch square and spread the almond cream filling to cover the entire square of dough and then sprinkle ¾ of the cinnamon sugar filling to cover all of the almond cream 

Fold one half of the dough over to meet the edge of the other half of the dough to create an 8x16 inch rectangle 

Cut the dough into ¾ inch strips, twist each strip, knot each strip, tuck the ends under and place each on a parchment lined baking sheet (spaced apart about 3 inches each)

Once all the dough is knotted, egg wash the top of each knot 

Make the cinnamon sugar almond topping by combining the remainder of the cinnamon sugar filling, chopped almonds, and melted butter; sprinkle on the top of each knot  

Bake the Almond Cinnamon Knots for 15-16 minutes until lightly golden and dough is cooked through

Remove from the oven and ENJOY!    
Keywords: Almond Cinnamon Knots