This Chocolate Caramel Tart is the perfect combination of rich and creamy goodness. With layers of buttery crust, smooth caramel sauce, and dark chocolate ganache, this Chocolate Caramel Tart is as good as your favorite candy bar!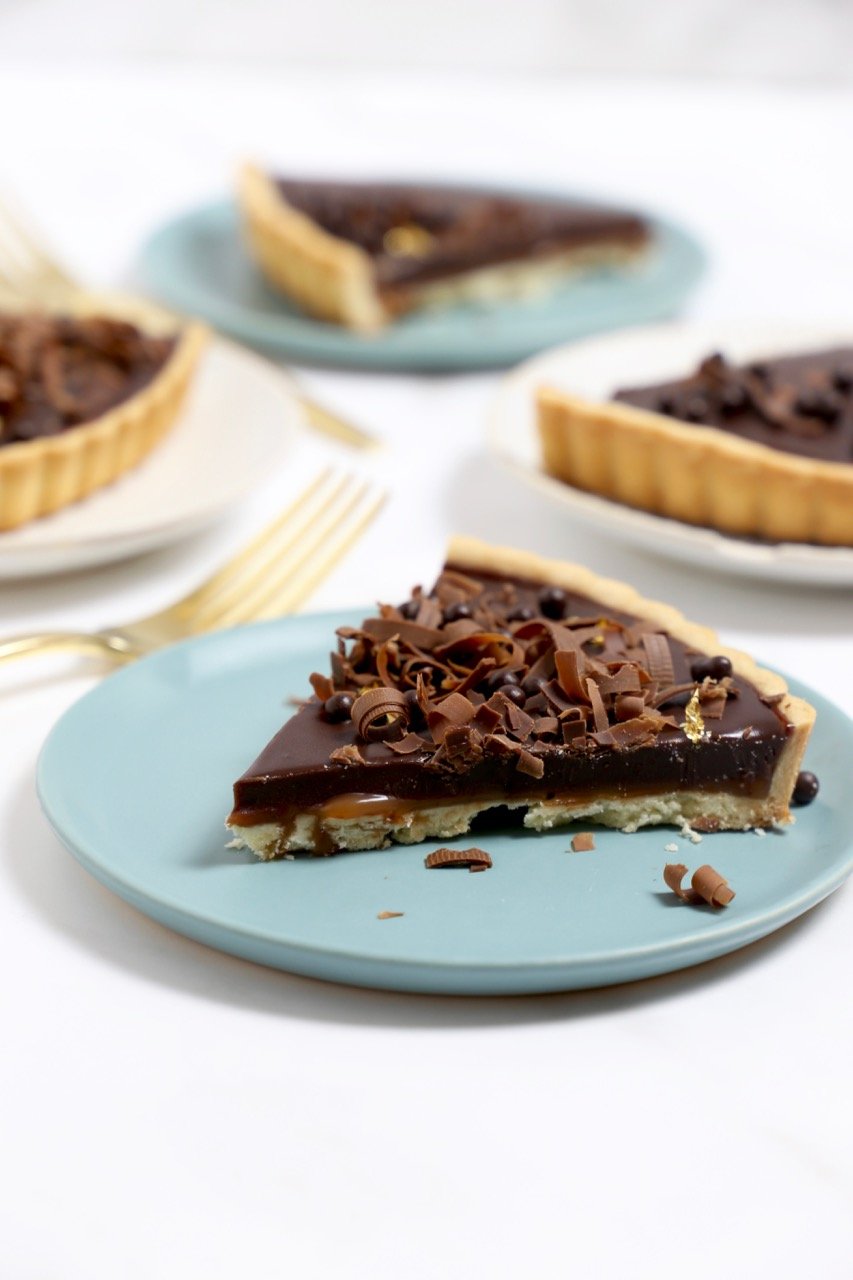 It feels like the months are flying by and before we know it, it is going to be my favorite holiday: Thanksgiving! So right now all I can really think about is entertaining, the busy weekends full of celebrating, and what desserts I'm going to make for Thanksgiving.
One of my all-time favorites from my bakery days is this Chocolate Caramel Tart. This one is perfect if you're looking for a chocolate candy bar taste. It is truly like eating the best candy bar you are ever going to eat, but full of the best quality ingredients. And if you're looking for something heartier with a variety of nuts, try this Caramel Nut Tart, too.
Ingredients
Butter- Unsalted, which will be used in both the crust and the caramel sauce
Sugar- Powdered for the crust, granulated for the caramel sauce
Corn Syrup- To keep the caramel smooth and soft
Cream- Heavy cream, for the caramel sauce and chocolate ganache
Chocolate Chips- Semi-sweet is what I always like to use (for a darker, slightly less sweetness you can use dark chocolate)
Garnishes- Chocolate shavings and chocolate pearls
Pate Sable
Pate Sable is the dough that is traditionally used for tart shells. It is buttery, tender, not too crumbly, and not overly sweet. For the Chocolate Caramel Tart, you will prebake the tart shell completely before filling.
Caramel Sauce
There is really no explanation for the Caramel Sauce, it is the best thing you will ever eat. After you spread the caramel sauce to cover the surface of the tart shell you will have leftovers and I promise you will pour it over everything. Perfect over ice cream, your favorite apple pie, a filling for cookies or just dip your spoon in it and eat it by itself!
Chocolate Ganache
Two Simple ingredients make up this dark, rich and creamy filling. I like to use semi-sweet chocolate mixed with heavy whipping cream. Chocolate ganache is the filling for most truffles, so imagine it melted into a tart shell…yes please!
Directions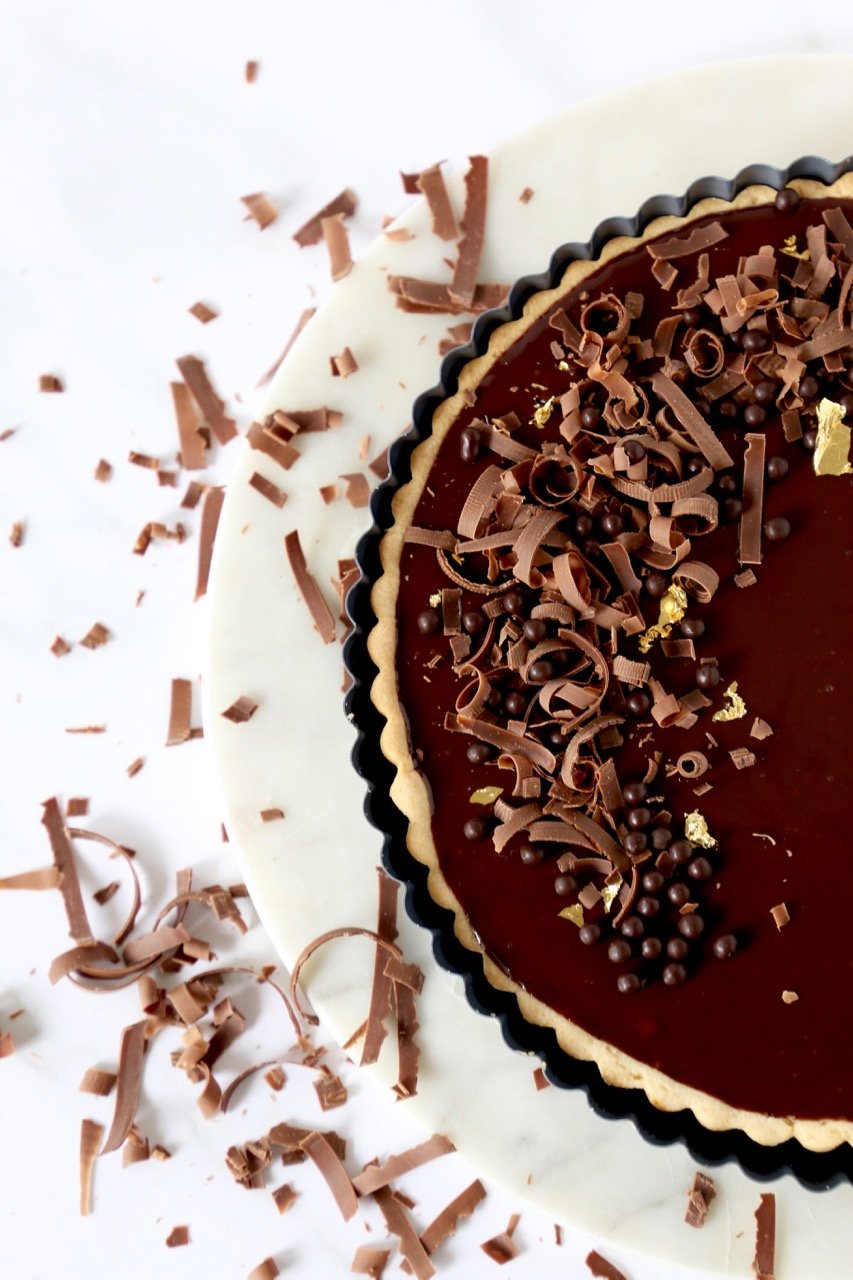 Pate Sable (Crust)
In a mixing bowl with the paddle attachment, cream the butter, powdered sugar, salt, and vanilla until smooth
Incorporate eggs one at a time until combined, then add the flour and mix
Form the dough into a ball on a floured surface, then wrap in plastic wrap and chill for 30 minutes
Let dough sit on the counter for 5-10 minutes until slightly softened
Roll out dough to about ⅛ inch thick and 12 inches round
Press into a tart pan, cover with plastic wrap, and freeze for 20 minutes before baking for 10 minutes (see recipe card for more details)
Allow to cool completely before removing from pan
Caramel Sauce
Combine sugar, corn syrup, and water in a large saucepan
Boil and cook until it's a dark amber color, then remove from heat
Add butter and cream, whisk until combined
Pour caramel into a glass jar or bowl and allow to cool
Chocolate Ganache
In a small saucepan, bring the cream to a simmer
Pour in the chocolate chips and allow to sit for 2 minutes
Whisk the ganache until shiny and smooth
Assemble the tart immediately after the ganache is done
Assembly
Place the baked shell on a serving platter
Cover the surface of the shell with caramel sauce, and allow to sit 5 minutes
Pour the ganache to fill the rest of the shell
Allow ganache to set (put in the fridge if you're in a time crunch) before garnishing
Garnish with chocolate shavings, chocolate pearls, or any other garnish of your choice, and enjoy!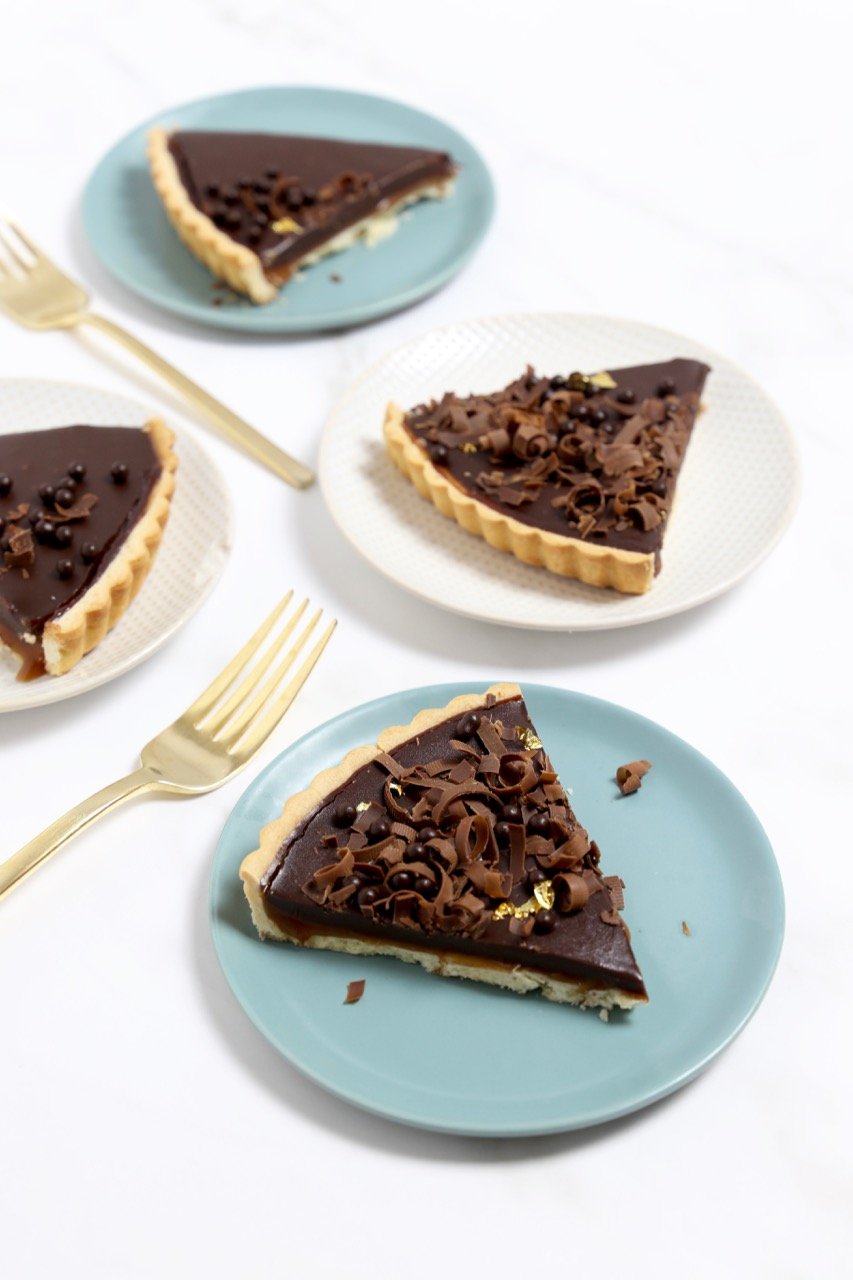 Tips and FAQs for Chocolate Caramel Tart
With a bit of planning, you can make two tarts at once since the recipe for the pate sable makes two crusts (or you can freeze for later)
Supplies you'll need include: 9" Tart Pan, Pie Weights, and Chocolate Pearls
Why did my chocolate caramel tart not set?
If the tart isn't holding up when you cut into it, you probably didn't leave it to set long enough. Make sure you let the chocolate ganache completely set after you assemble the tart.
More Recipes You Will Love
Print
Chocolate Caramel Tart
Pate Sable (Crust)
1 Cup

Unsalted Butter

¾ Cup

Powdered Sugar

¼ tsp

Salt

½ tsp

Vanilla Extract

2

Eggs

2 ½ Cups

All Purpose Flour
Caramel Sauce
1 ½ Cup

Granulated Sugar

4 Tbsp

Corn Syrup

½ Cup

Water

4 oz

. Unsalted Butter

⅔ Cup

Heavy Cream
Chocolate Ganache
2 Cups

Semi Sweet Chocolate Chips

1 Cup

Heavy Cream
Garnish
Chocolate Shavings
Chocolate Pearls
Instructions
Pate Sable (Crust)
Preheat oven to 350 degree F
In mixing bowl with paddle attachment, cream together the butter, powdered sugar, salt and vanilla extract
Scrape down the sides of the bowl and mix until butter is smooth
Add in eggs one at a time and mix until fully combined
Slowly add in the flour
Continue mixing on low speed until all the dry ingredients are incorporated
Remove the dough the bowl onto a lightly floured surface and form it into ball
Wrap the dough in plastic and chill for 30 min
Once the dough is chilled, remove the dough and let it sit on the counter for 5-10 minutes to slightly soften
roll the dough out on a lightly floured surface to approx. ⅛ inch thick and 12 inches round
(this recipes makes 2 tart shells, so wrap the other half up and refrigerate or freeze for another time)
Place the dough into a tart pan and press to form the shape of the pan
Cover the dough with plastic wrap and stick in the freezer for 20 minute before baking (this prevents the dough from shrinking)
Press a piece of parchment paper into the center of the tart shell and fill with pie weights or uncooked rice to cover the entire surface of the tart
Bake the crust for 10 minutes, remove the parchment paper filled with pie weights and place the crust back into the oven for 2-4 minutes (to quickly cook the surface of the crust
Allow the tart shell to cool completely before removing from the pan
Caramel Sauce
In a large sauce pan, combine all the sugar, corn syrup and water
Bring to a boil and cook until it become a dark amber color
Remove the pan from the head and add in the butter and cream
Whisk until smooth and all ingredients are combined
Pour the caramel into a glass jar or bowl and allow it to cool completely before using and storing
(You will have extra sauce and it can be refrigerated and enjoyed over ice cream, drizzled over cakes or just spooned in your mouth 🙂 for 2 weeks!)
Chocolate Ganache
In a small sauce pan, bring the heavy cream to a simmer
Pour the chocolate chips into the heavy cream and allow it to sit for 2 minutes
Whisk the ganache until shiny and smooth
Use immediately or store in an air tight container and refrigerate for 1 week
Assembly
Place your baked tart shell on a serving platter
Cover the surface of the shell with caramel sauce
Allow the caramel sauce to sit for 5 minutes before adding the ganache
Pour melted ganache over the caramel sauce to fill the remaining shell
Allow the ganache to set (refrigerate if you are in a hurry) before adding the garnish
Add shaved chocolate, chocolate pearl and any other garnish you like!
Enjoy