The Best Ever Caramel Apples are tart and sweet, made with green granny smith apples dipped into the creamiest most decadent caramel.  One bite of these is what fall is all about, you don't want to miss it.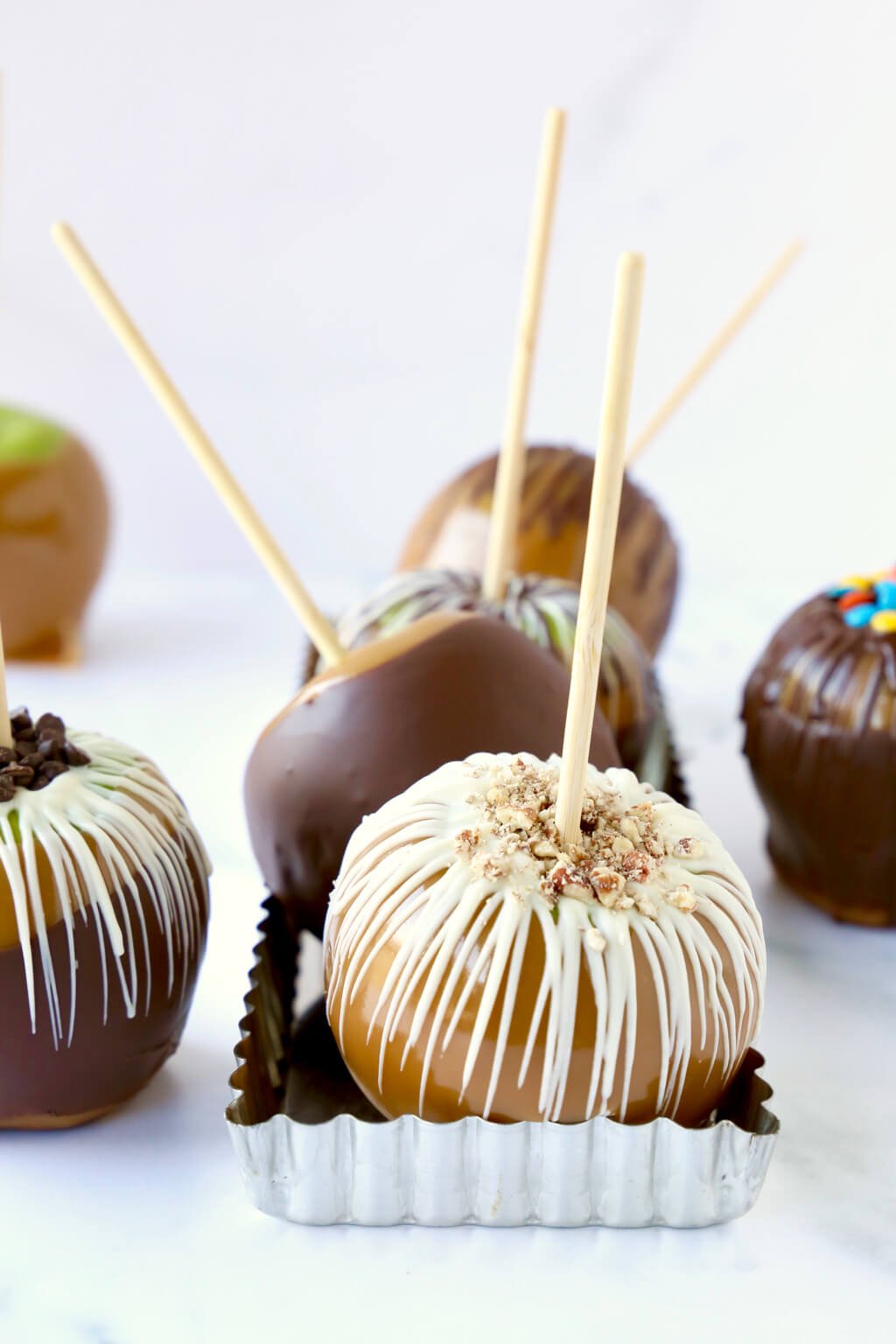 Every year, these caramel apples make their way into our kitchen and become our favorite recipe all over again.  Right around Halloween and all the way through Thanksgiving, caramel apples are exactly what we all need and we all crave; even if you don't know it 🙂  Once you take one bite of these tart, sweet and extra creamy caramel apples, you will definitely be in love.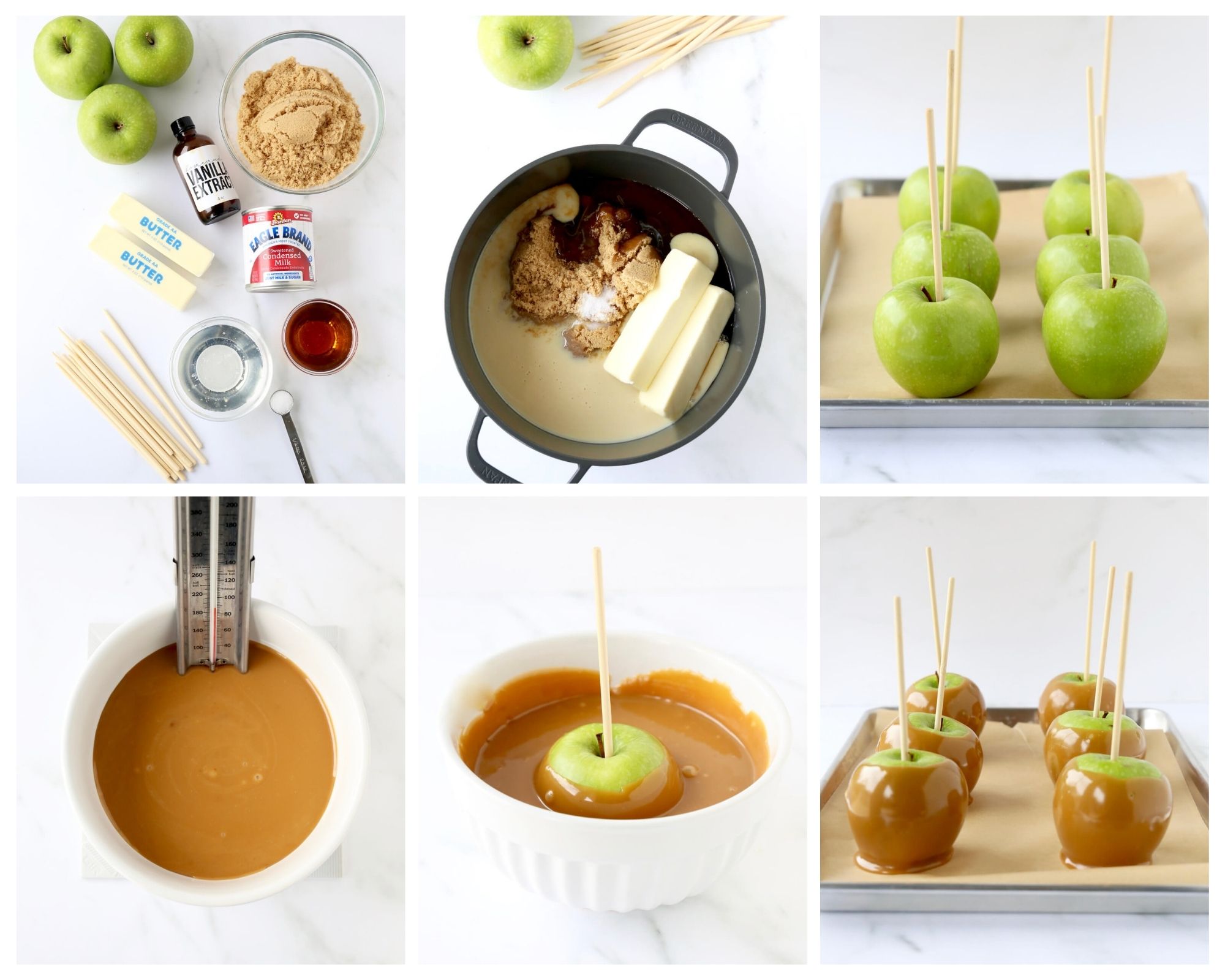 How To Make The Best Ever Caramel Apples
It is super important to grab your favorite apples to eat, but if you love the combination of tart and sweet, granny smith apples are the way to go.  Once you have chosen your apples, add the skewer to the apple and you are ready to start preparing the caramel that will enrobe the apple and knock your socks off.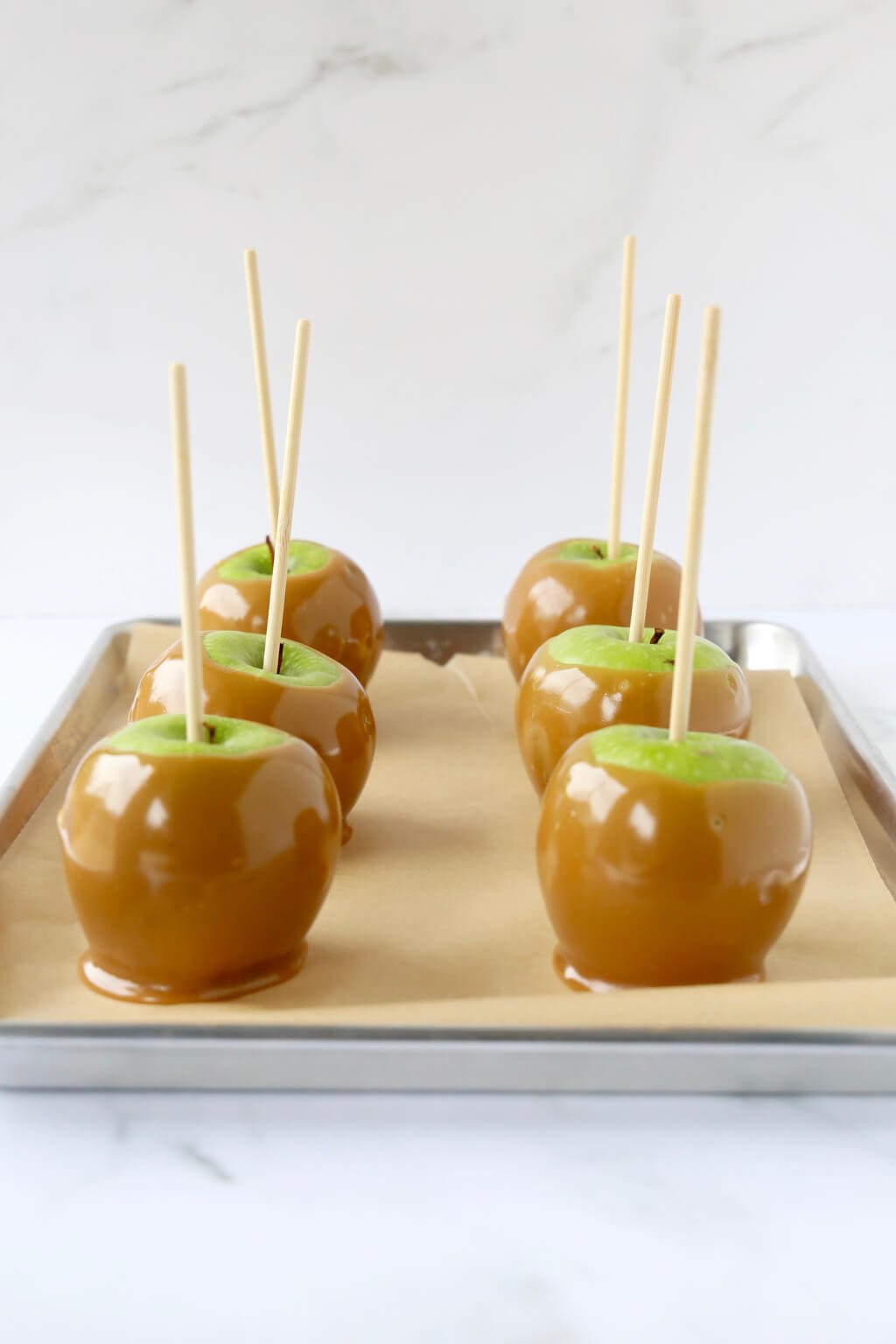 How To Make The Caramel For Dipping 
The Caramel is made with light brown sugar, butter, sweetened condensed milk, corn syrup and maple syrup.  Once this mixture is brought to 238 degrees F or soft ball stage on the candy thermometer, remove the saucepan from the heat and allow the caramel to cool to 200 degrees F.  Once the caramel has cooled it will be a thicker consistency and ready to dip.  Dip the apple 3/4 or all the way into the caramel and allow the caramel to dry for approximately thirty to forty five minutes before adding optional toppings, packaging or eating!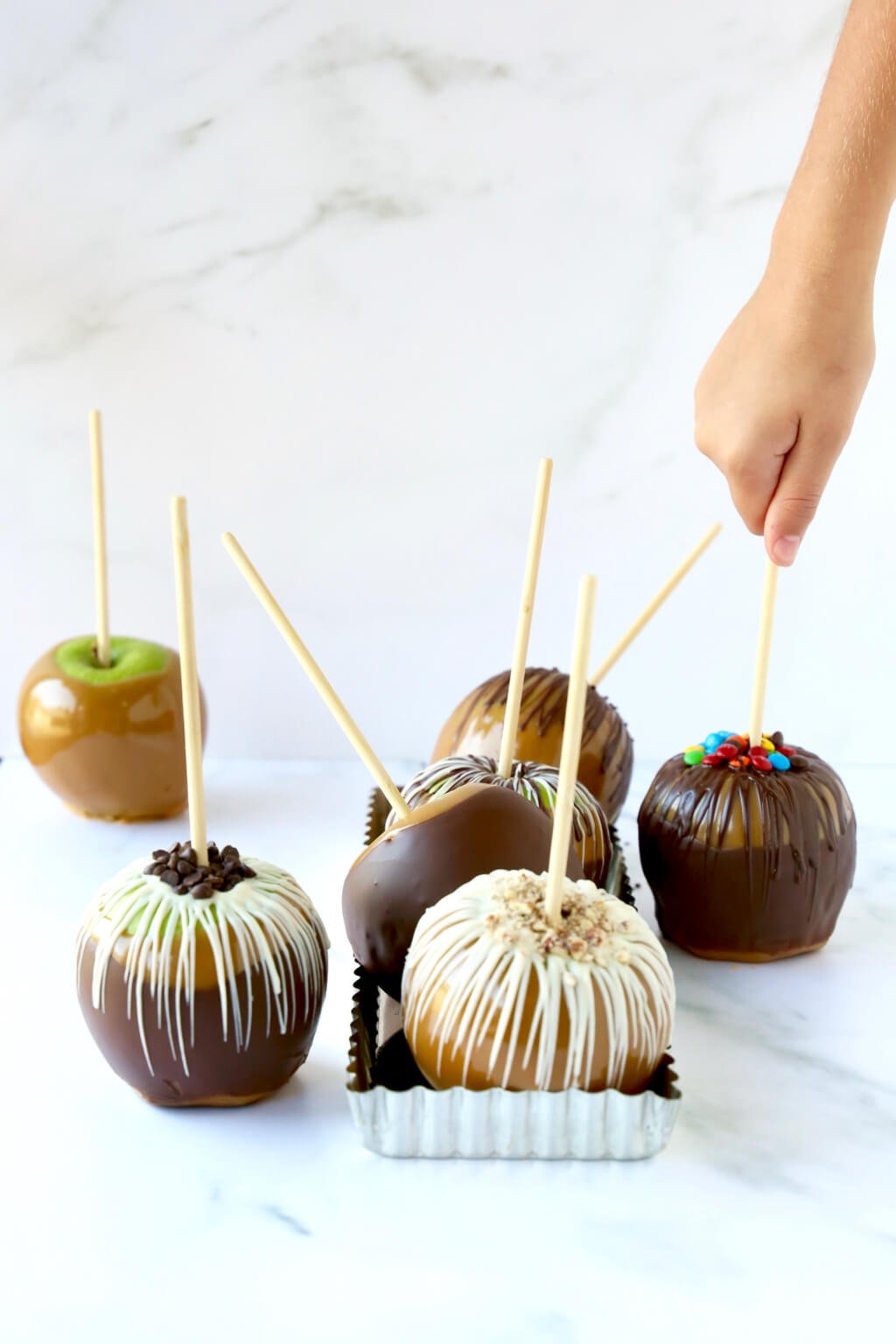 Optional Toppings
Apples dipped in caramel might be enough for you, but take these caramel apples to the next level by adding some toppings that you and your family might love.  Dip the caramel apple or drizzle melted dark or white chocolate over the apple for an extra sweet touch and a beautiful look or add chopped nuts or sprinkles for texture.  Here are a few toppings that we love:
Tips and FAQs For The Best Caramel Apples
Making caramel apples takes some time, but making these homemade is well worth the wait.  Take your time and you will have success.
Make sure that your apples are completely dry before dipping
Push the skewer all the way into the apple to ensure that the apple doesn't slip off into the caramel while dipping
Stir the caramel continuously until the sugar reaches 238 degrees F on a candy thermometer, if you don't stir the caramel it will burn on the bottom of the pan
Allow the caramel to cool to 200 degrees before dipping the apples so that the caramel is thick enough to stick on the apples
Once the caramel reaches 200 degrees F, start dipping and don't let the caramel cool to much more because it will start to get very thick
If the caramel gets very thick before you are don't dipping, you can reheat the caramel in the microwave for 30 seconds increments to make it easier to dip (don't do this more than 1 or 2 times)
Allow the excess caramel to drip off the apple before placing the caramel dipped apple on the parchment paper.  If the caramel puddles, you can trim the caramel with a knife to create a clean edge around the apple.
Allow the caramel to cool completely before removing the apples from the parchment lined baking sheet
If you want to wrap the caramel apples for  gifting, it is best to put one of the optional toppings over the caramel so that it doesn't stick to the cellophane bag.  I like to dip mine in chocolate if I am going to bag them up
Caramel Apples can sit out at room temperature for 2-3 day or refrigerate to keep the apples fresh longer
Print
The Best Ever Caramel Apples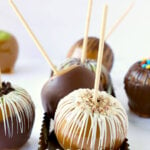 Author:
Prep Time:

20 minutes

Cook Time:

30-45 minutes

Total Time:

2 minute

Yield:

8

-

10

apples

1

x
Ingredients
Caramel:
2 ½ Cups Light Brown Sugar
1 Cup Unsalted Butter
1 14-Ounce Can Sweetened Condensed Milk
½ Cup Corn Syrup
⅓ Cup Maple Syrup
1 teaspoon Vanilla Extract
½ teaspoon Salt
Granny Smith Apples
Skewers 
Optional Toppings: 
Dark Chocolate Melting Wafers, Melted
White Chocolate Melting Wafers, Melted
Pecans, Chopped
Sprinkles
Instructions
Prepare the apples: wash the granny smith apples, allow them to dry completely and place the skewer in the center of the apple next to the stem

Place the apples on a large sheet pan lined with parchment paper; set aside  

Prepare the Caramel: In a large saucepan, combine the light brown sugar, butter, sweetened condensed milk, corn syrup, maple syrup, vanilla extract and salt

On medium heat, stir the mixture continuously until 

the sugar mixture reaches 238 degrees F on a candy thermometer 

Remove the saucepan from the heat and pour the caramel into a large heat proof bowl and allow it to cool to 200 degrees F

Dip the Apples: Once the caramel has come to 200 degrees F, dip the apple to cover ¾ or all of the apple 
Let the caramel drip off the apples and then slightly scrape the bottom of the apple to remove the excess caramel

Place the apples on the parchment lined sheet pan and allow them to cool completely for 30-45 minutes 

Optional Add On: Once the caramel is cool, dip the caramel apples in melted chocolate, drizzle with chocolate, add nuts, sprinkles or other additional toppings