Oreos and Rice Krispie Cereal combined make the best summer dessert ever.  No baking required, super quick, only four ingredients and Cookies and Cream Rice Krispie Treats are ready to enjoy!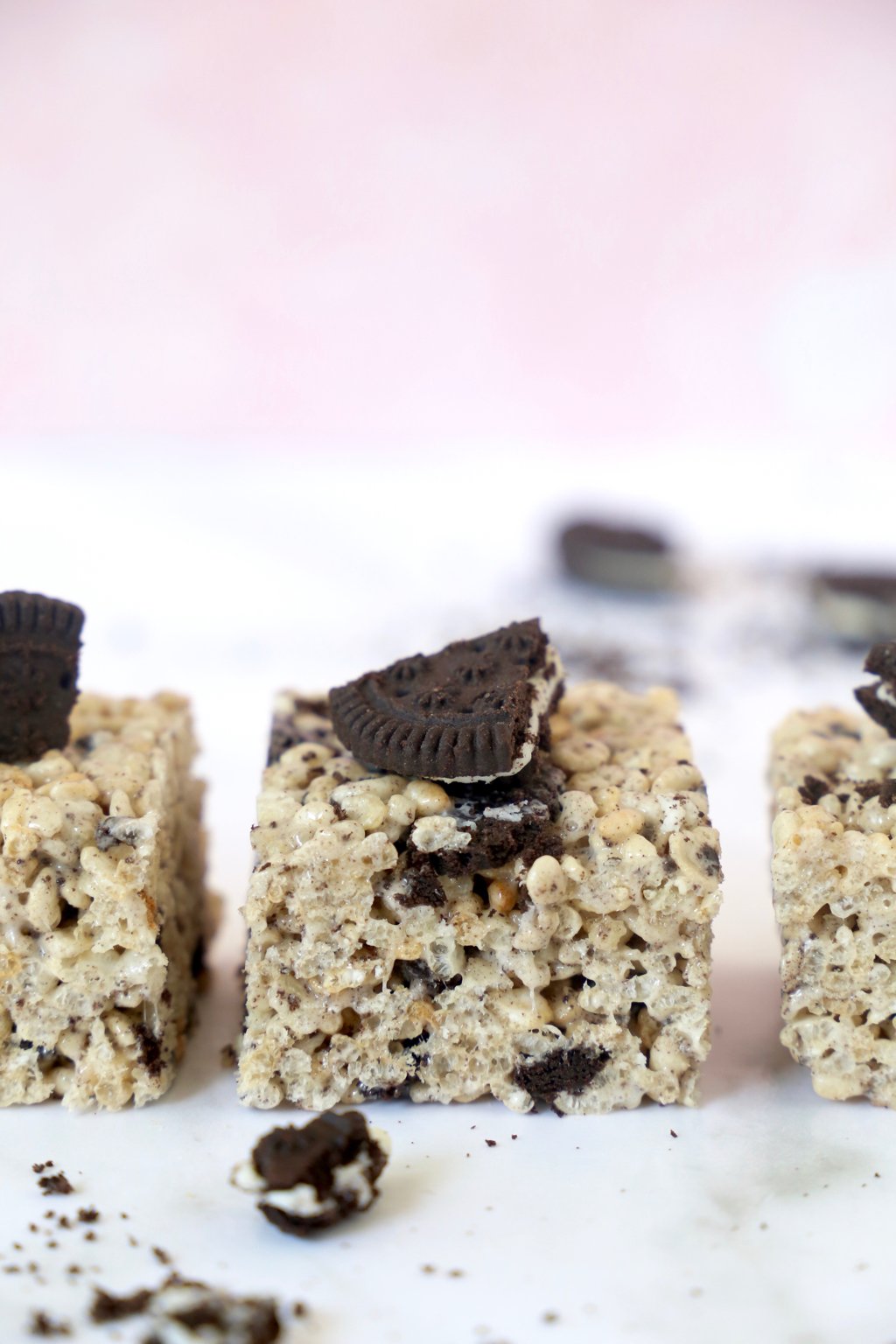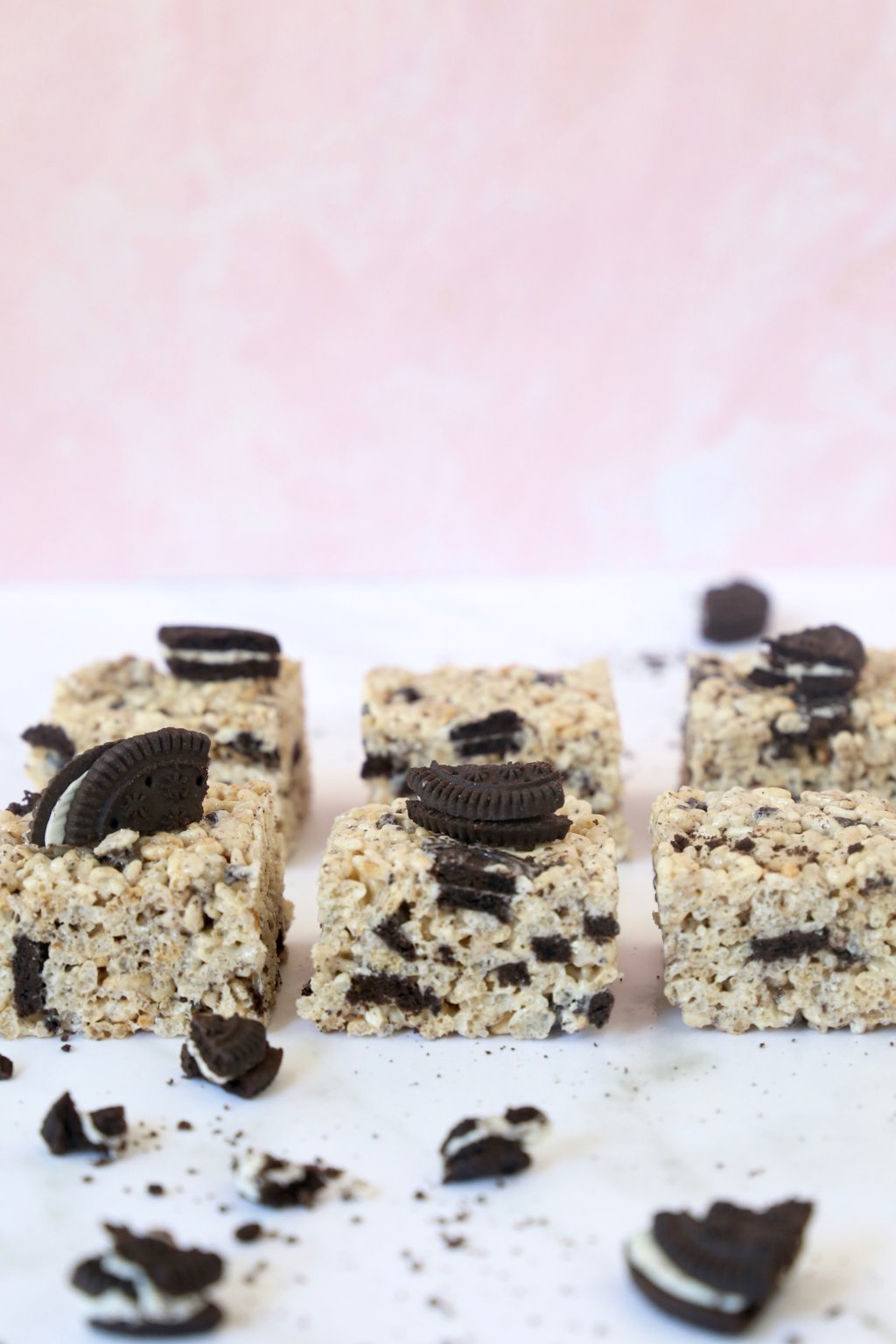 Ingredients To Make Cookies and Cream Rice Krispie Treats
Unsalted Butter
Mini Marshmallows
Rice Krispie Cereal
Oreo Cookies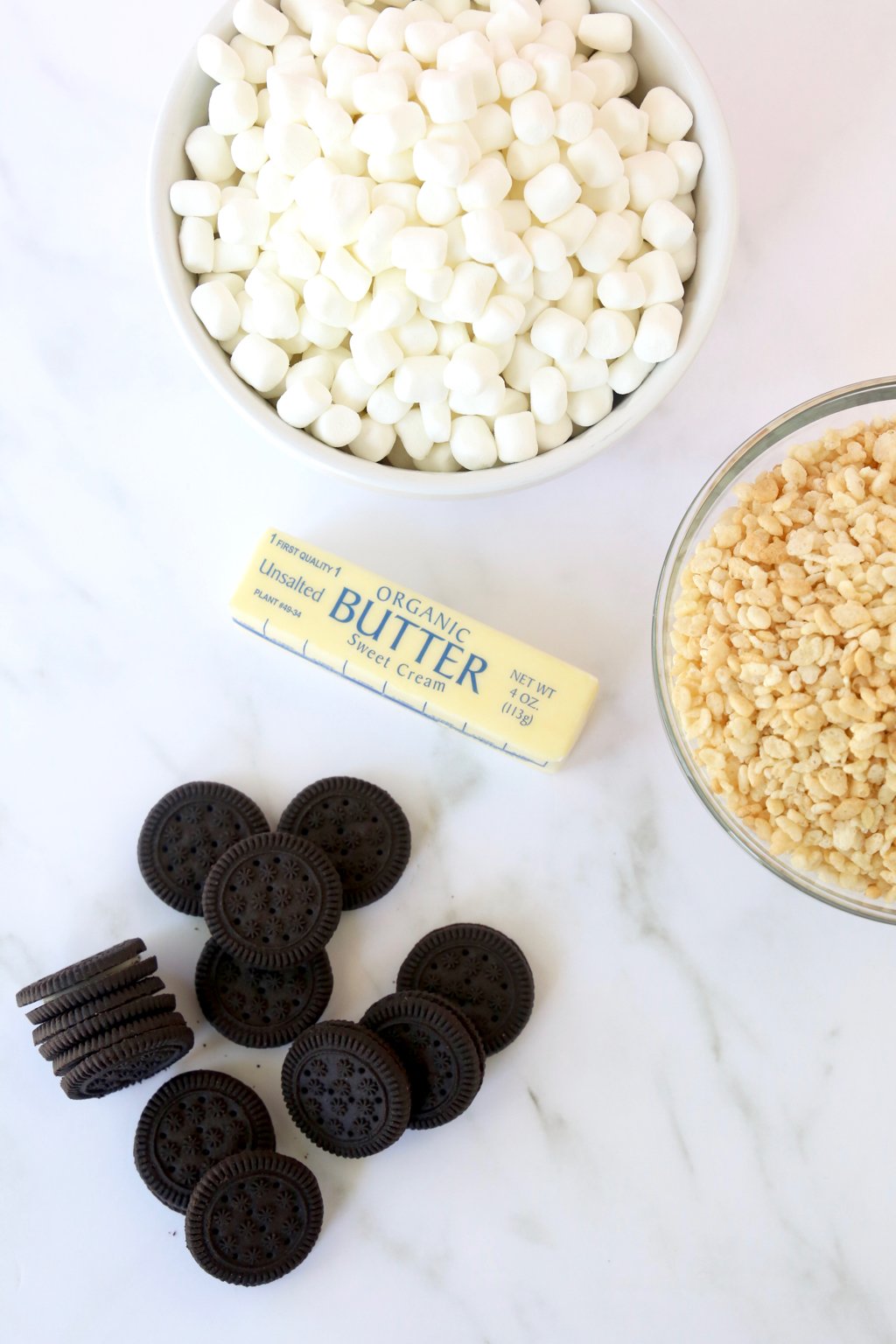 No Baking Required
Rice Krispie Treats are the ultimate summer dessert.  They are kid and adult friendly, they only have four ingredients, they are quick to make and eat and they don't have to be baked.  The goal is to keep the oven off as much as possible in the summer and these are the perfect dessert.
In a large saucepan, melt the butter completely before adding in the mini marshmallows.  I love extra marshmallows in my Rice Krispie Treat recipes, so if you want them even more gooey, you can add one more cup of marshmallows.  Once the marshmallows are completely melted, remove the pot from the stove and stir in the Rice Krispie cereal and the chopped oreo cookies.  Once the Cookies and Cream Rice Krispie Treats are completely combined, spread them into a line 8x8 inch pan.
Pressing the Rice Krispie Treats down can be tricky and super sticky.  I take a small sheet of parchment paper and press the sticky treats down until evenly spread throughout the pan.  These will cool super fast and will be ready to cut and enjoy in no time.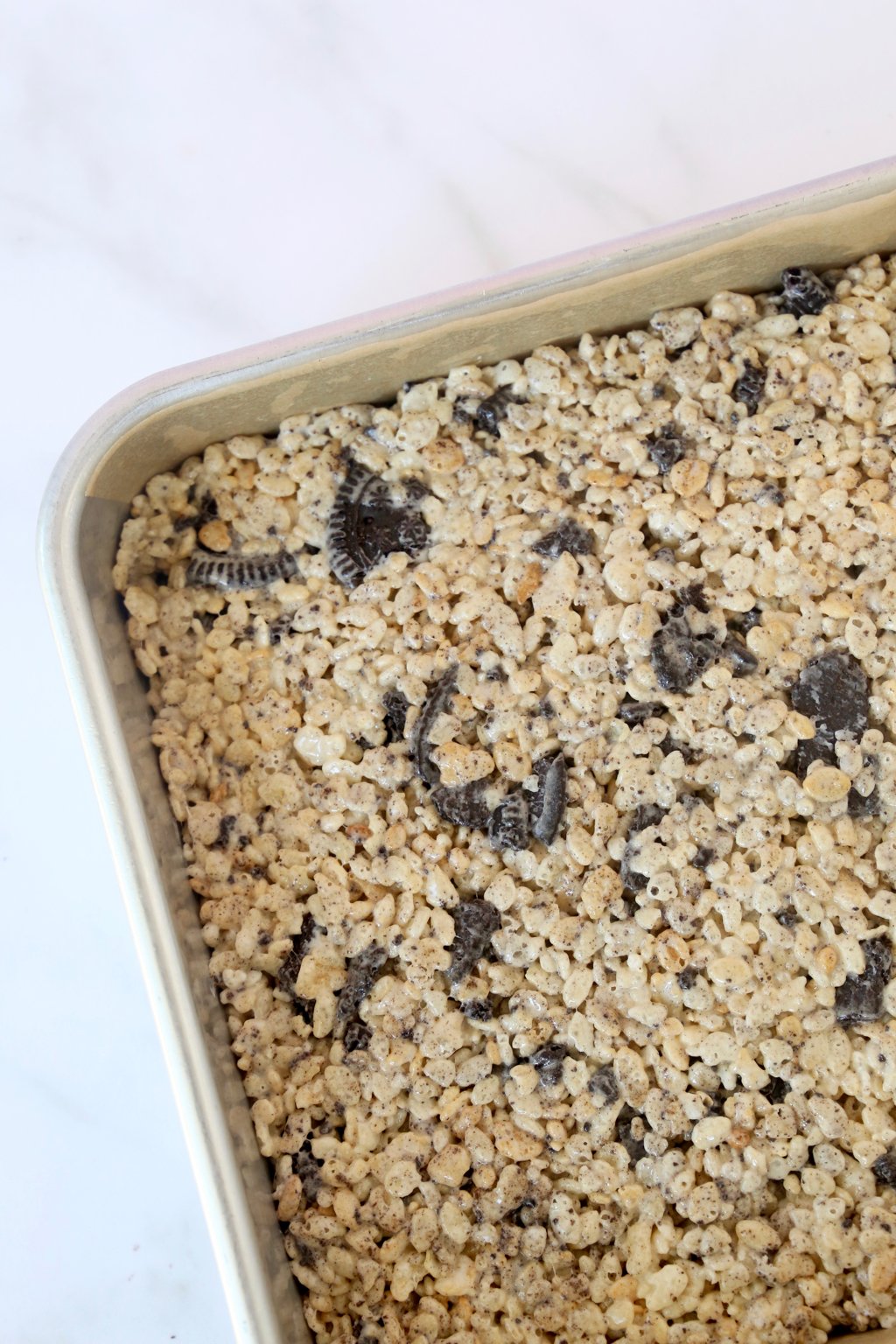 Cut and Enjoy!
Once the Cookies and Cream Rice Krispie Treats are cooled in the pan, you can remove them from the pan, place them on a cutting board and cut to your desired shape and size.  The bigger the better for these ooey gooey treat and they can always be stored in an airtight container to save for another day.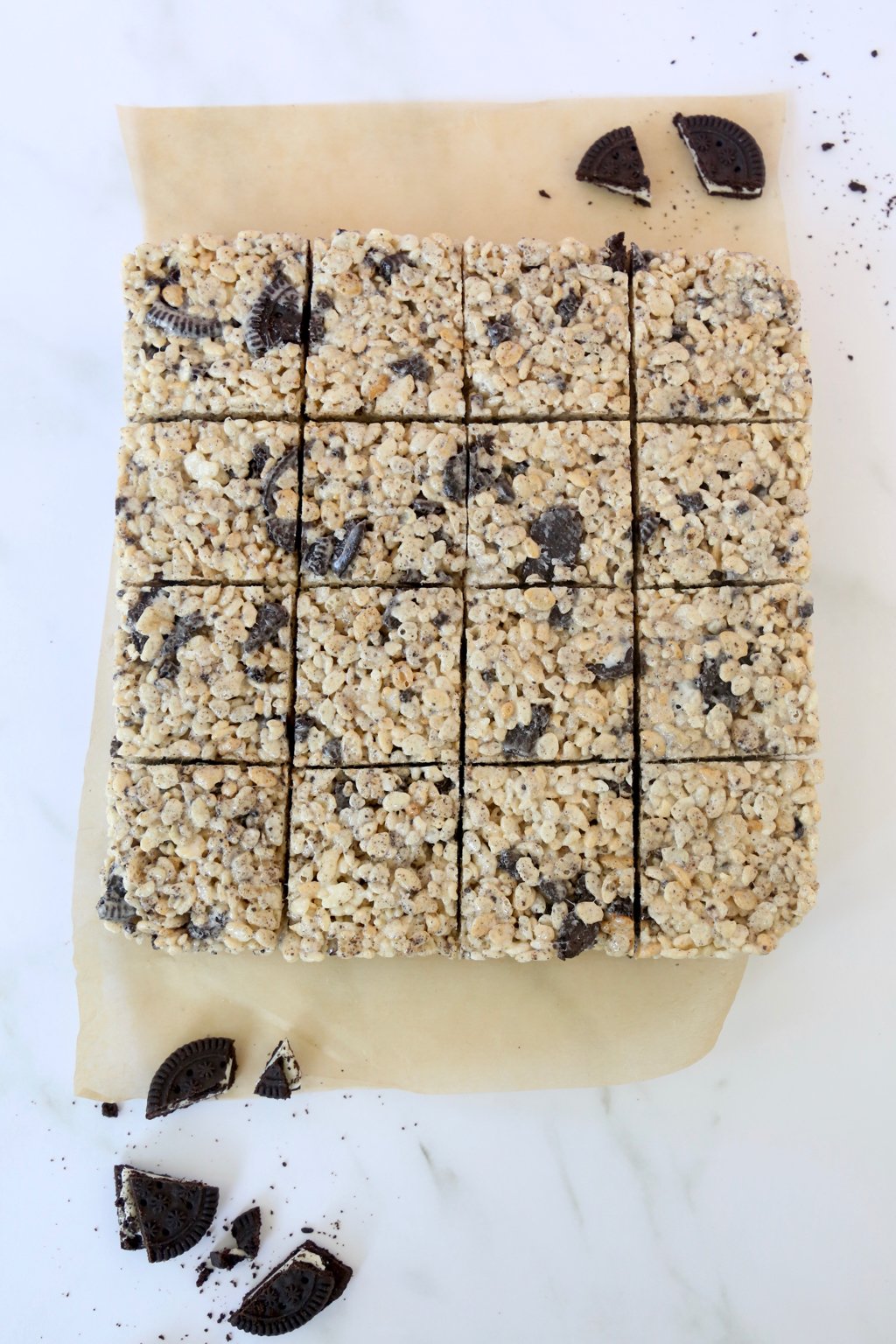 More Rice Krispie Treat Love
Peanut Butter Cup Rice Krispie Treats
Strawberry Rice Krispie Treats
Chocolate Caramel Rice Krispie Treats
Funfetti White Chocolate Rice Krispie Treats
Chocolate Rice Krispie Treats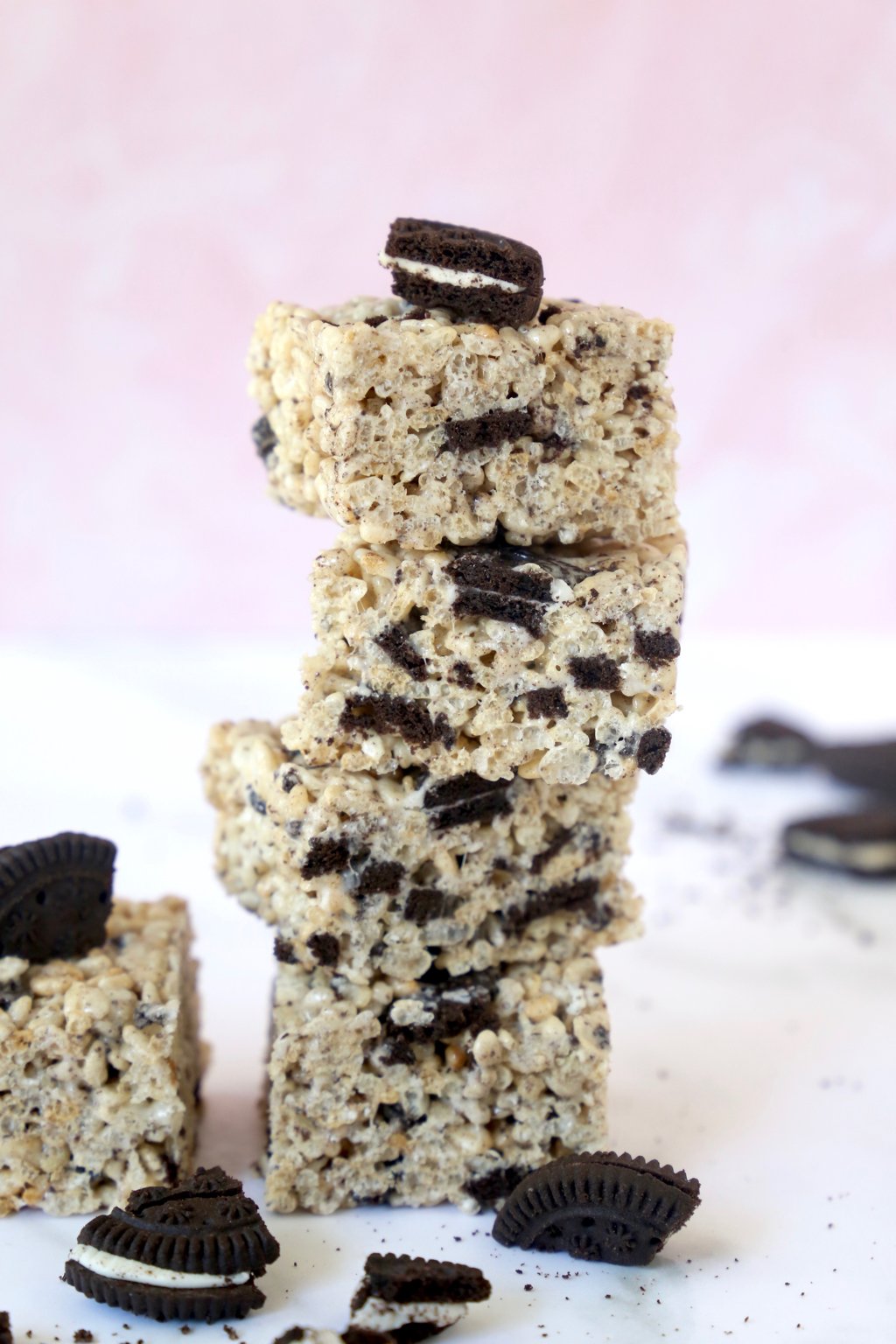 Print
Cookies and Cream Rice Krispie Treats
4 Tablespoons Unsalted Butter
6 Cups Mini Marshmallows
6 Cups Rice Krispie Cereal
2 Cups Oreo Cookies, Crushed (approximately 12 cookies)
Instructions
Prepare an 8×8 inch square pan with parchment paper

On a cutting board, roughly chop the oreo cookies to make two cups; set aside

In a large saucepan, melt the butter completely

Once the butter is melted, add in 6 cups of mini marshmallows and stir until completely melted

Remove the saucepan from the heat and add the and stir in the Rice Krispie cereal and chopped oreo cookies into the marshmallow mixture and mix until fully combined 

Pour the mixture the prepared pan and allow it to cool completely before cutting

Once they are ready to cut, remove the Cookies and Cream Rice Krispie Treats from the pan and cut into desired size